'BJP on Speech Twisting Spree', Say Activists After Umar Khalid, Harsh Mander Are Targeted
In the past two weeks, speeches of several civil society activists have been pulled out of context by the ruling party's IT Cell, circulated across social media to create a campaign against those questioning the government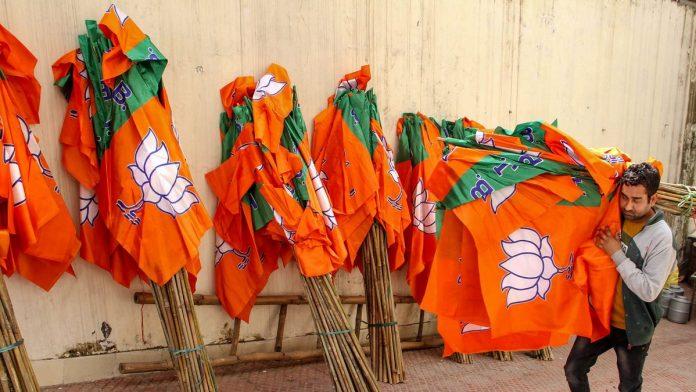 New Delhi: While addressing the nation in his recent speech in Parliament, Home Minister Amit Shah, followed by a string of BJP Members of Parliament, such as Meenakshi Lekhi and Tejasvi Surya, alleged that the Delhi riots were sparked by "hateful comments" made by student activist Umar Khalid in a speech.
"United Against Hate – the name sounds so pious but look what they advocated. They said, '(Donald) Trump is about to come, we should block the streets'," said Shah, insinuating that this led to violence in North-East Delhi. The Wire reported the full text of Khalid's speech to highlight how 40 seconds of his speech were taken out of context and selectively quoted, while references to the ideas of Gandhi and appeals for peace remained completely oblivious.
The following is an excerpt from Khalid's speech as reported:
"We will not respond to violence with violence. We will not respond to hate with hate. If they
spread hate, we will respond to it by spreading love. If they beat us with lathis, we will hold
aloft the tri-color. If they fire bullets, then we will hold the Constitution and raise our hands.
If they jail us, we will go to jail happily singing, "Saare Jahaan Se Accha Hindustan
Hamara". But we will not let you destroy our country."
Khalid, a former JNU student, is not the first one whose speech has been selectively quoted. Activist Harsh Mander is currently facing legal repercussions and an investigation after a viral clip of his speech was circulated on social media by Bharatiya Janata Party (BJP) members and supporters. The clip of the speech was used to allege that Mander instigated violence in Delhi during protests against the Citizenship (Amendment) Act (CAA).
The Mander speech clip that went viral was just a small part of a press conference addressed by him in January 2020 where he spoke of the dangers of CAA, the National Register of Citizens (NRC) and the National Population Register (NPR). The video of the full address was uploaded by Karwan-e-Mohabbat on January 3. Mander was critical of political parties that have failed to show moral conviction against the NRC, and said: "Given the record that they've had so far, I do not think that we can have faith that these issues can be resolved in the Parliament."
A minute after the previous statement began, Mander spoke about the judiciary. "Now where is the second place where it can be resolved? That is in our higher courts and we must approach them, we must approach the Supreme Court. I am one of the many petitioners who has challenged the CAA but I would like to say again very clearly that the working of the Supreme Court in recent years – and it's important for a majority in a democracy to not turn majoritarian – the Supreme Court has a very important role, the judiciary has a very important role – and I think they have failed India's minorities…" The viral video starts just after this statement.
Hence, 45 seconds were cut out of Mander's speech and uploaded on social media to try and project that he had instigated violence. The social activist, however, was referring to protests and said that issues can only be resolved if citizens do not allow hate to colonise their hearts. Alt News had earlier fact-checked another video which was clipped to falsely project Mander as promoting violence.
'Selective Targeting Reminder of Nazi Germany'
Activists are highlighting the pattern of selective targeting by the BJP's IT Cell saying that while the pattern is not new, it is alarming to see the extent of false narratives being spread. Speaking to NewsClick, activist Teesta Setalvad said: "The speech twisting spree reminds me of the regime version of the Brownshirts and SS seen during the Third Reich with obvious differences like social media orchestration and trolling. There is a broad list of those marked as their enemies. Each public action is tracked, manipulated and demonised. More recently, on invitation to Shaheen Bagh and my speeches in CAA-NPR-NRC have been twisted out of context. It's an all-out war against a proto-fascist majoritarian state."
Setalvad added that she had been a "survivor of this since 2010 when Gujarat carnage cases reached a peak, and we managed to expose diabolical levels of conspiracy through the Zakia Jafri case. Thereafter every public intervention be it in court, or through education etc was pulled out of context and vilified."
The speech-editing spree of the BJP comes at a juncture where civil society activists are building pressure on the government to take action against its own leaders like Kapil Mishra and Anurag Thakur, who are being accused of hate speeches leading to the violence in Delhi from February 24.
Activist Shabnam Hashmi said the government wants to hide facts about the Delhi riots and instead of ensuring a proper investigation, is shifting blame to activists. "The government has not taken any steps against their own leaders, instead Kapil Mishra has been given security. They want to portray as though it is Muslims along with civil society activists and NGO's who are responsible," she said.
Earlier, JNU student Sharjeel Imam was arrested on charges of sedition for his statements on blocking Assam from the rest of the country. Following this, he was sent to judicial custody on February 28. The Guwahati City Police (Crime Branch) has registered a case against Imam under sections of the Unlawful Activities (Prevention) Act (UAPA) and the Indian Penal Code (IPC).
Imam was arrested on January 28 from Bihar's Jehanabad, after sedition cases were registered against him in five states for a speech in which he asked Muslims to block Assam from rest of India to make the Centre to hold a dialogue on the Citizenship (Amendment) Act (CAA). However, many have pointed out that his speech was taken out of context as he as was referring to use of roadblocks as a means of protest.
Questioning charges of sedition on Imam in a speech taken out of context, Prof. Apoorvanand from Delhi University wrote: "Sharjeel calls for a long road blockade, which may last even a month or two. Whatever the rights and wrongs, a road blockade is a way of agitation that has been adopted numerous times across India over the past 70 years. In recent years, the United Naga Council has used this strategy in Manipur, sometimes for weeks on end. Never ever has the BJP or the big TV channels called those agitationists "anti-national," unlike in the case of Sharjeel."
Get the latest reports & analysis with people's perspective on Protests, movements & deep analytical videos, discussions of the current affairs in your Telegram app. Subscribe to NewsClick's Telegram channel & get Real-Time updates on stories, as they get published on our website.
Subscribe Newsclick On Telegram