BJP's Divisive Identity Agenda May Lead North Bengal to a Dangerous Bend
While the Left-Congress campaign for peace, Sangh Parivar's 'social engineering' bid may lead to strife, seen in the hills so far, spill over to the plains, too, say political analysts.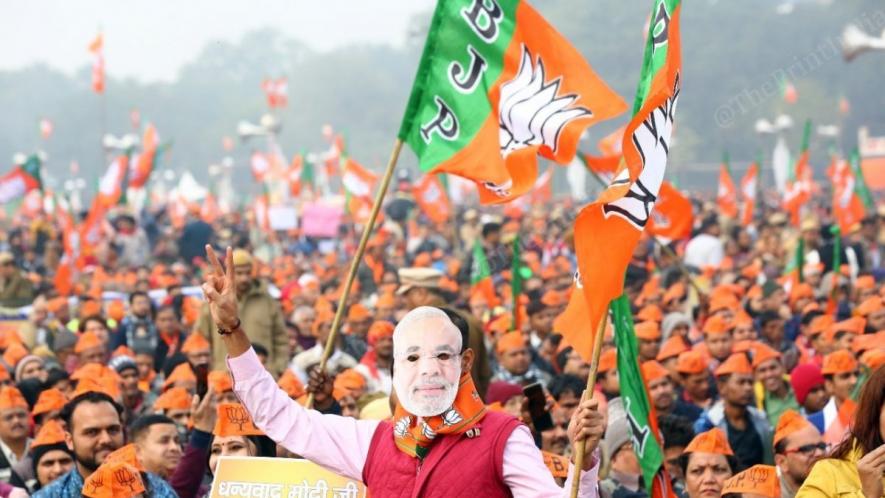 Representational Image. Image Courtesy: ThePrint
Siliguri/Kolkata: Since time immemorial, Bengalis, Marwaris, Rajbongshis, Nepalis and Biharis have been staying peacefully in the same mohalla (neighbourhood) in North Bengal. Even after political turmoil started raising its head in the region, it rarely took an identity colour.
The first alarm bell on identity politics taking a wrong direction in North Bengal was sounded in early 2000 when a political party, called the Greater Kamatapur Peoples Party, was formed. Its armed wing is said to have carried subversive activities under the leadership of Atul Roy and Tom Adhikari. However, both of them came down from their armed position after their arrest (in 2014) in connection with a blast in Jalpaiguri in December 2013, and started supporting the main opposition party of the state --  Trinamool Congress (TMC) ---  which had then supported their demand for a separate state.
The Nepali Factor
This time round in the Assembly elections, chief minister Mamata Banerjee seems confident of winning North Bengal with support from Bimal Gurung, one of the founders of the Gorkha Janmukti Morcha (GJM), who now heads a separate faction.
Read Also: TMC Government Withdraws Over 79 Cases Against Gorkha Leader Bimal Gurung
Banerjee, who has withdrawn 79 cases against Gurung,  is confident of  getting support from the 25% Nepali vote bank for her party, TMC,  in Terai and Dooars regions and in areas like Kalchichini  in Dooars area and even in Siliguri .
Some analysts, however, feel that Gurung, who has returned after a long hiatus from regional politics after he was forced to flee after the murder of a police sub-inspector, is a 'spent force' in Darjeeling, Kalimpong and Kurseong. But, that remains to be seen.
The split in Nepali votes looks inevitable in the plains as well in the hills, where the Communist Party of India (Marxist) candidate, Uttam Brahman, from Kurseong is making some impact by campaigning for bringing back the hills-plain bhaichara (brotherhood) of the earlier decades, in contrast to the divisive campaign by TMC and Bharatiya Janata Party (BJP).
Speaking with NewsClick, CPI(M) leader Ashok Bhattacharya, who is also a candidate in the Siliguri Assembly segment,  said while Greater Cooch Behar Kamatapuris were demanding a separate state, as was the GJM, the alliances drawn by BJP and TMC were only strengthening these forces.                      
 Read Also: Despite Gorkha Leaders' Support, Trinamool's Prospects in North Bengal Uncertain
In the midst of all this, the Rashtriya Swayamsevak Sangh is working on 'social engineering' in North Bengal to expand its footprint and win votes for BJP.  After 2012, the Sangh Parivar has been working to increase its influence in this region, which was once a stronghold of Left politics of class and peace.
The language of Rajbongshi community, which is being wooed by both TMC and BJP, as it holds influence in 27 constituencies in North Bengal,
The Rajbonghshis
Language-wise, the Rajbongshi community, which is being wooed by both TMC and BJP, as it holds influence in 27 constituencies in North Bengal, shares close affinity with Bengali language.  Late Panchanan Barma, a Rajbongshi leader and reformer from Cooch Behar, had once said that their dialect shared close affinity with Bengali. 
Read Also: Bengal Elections: Why TMC, BJP Are Pulling Out All Stops to Win Over Rajbanshis
During the time of the Left Front government, to give incentive to the Bhawaiya folk songs of the Rajbongshi people, a Bhawaiya Academy was created and awards were named after Panchanan Barma.  Mamata Banerjee, too, after coming to power, created a university named after Barma in Cooch Behar. However, the state  Bhawaiya Academy has almost ceased to exist under her regime -- functioning on a minimal scale.
The Sangh Parivar, on the other side, is trying to draw political mileage from the anti-incumbency factor and is drawing the predominantly agrarian Rajbongshi community to its divisive politics, especially in the vicinity of Siliguri, especially in areas where Bengalis comprise about 50% of the population and Rajbongshis constitute 35%. However, many Rajbongshis still feel part of the Bengali community and are resisting the Sangh Parivar's attempt to foist a separate identity on them, thereby further fragmenting North Bengal. 
The 25% Nepali community in the plains has for the last 75 years settled in the plains of Terai, Dooars and Siliguri and the suburbs, as have the Bihari community,  the Marwaris and even Punjabis.  In the Siliguri Assembly segment, the non-Bengali-speaking vote (Bihari, Marwari and Nepali) is said to be 38%.
In Cooch Behar, Alipurduar and Jalpaiguri, the BJP's campaign has been on communal polarisation lines, countered by the Left's campaign, helped to a great extent by the Congress, which held seats in Matigora of Naxalbari and Jalpaiguri town.  Political observers say a lot depends this time on the impact of the Left's campaign to defeat the Sangh's designs in the fragile demographic composition of North Bengal.   
This Assembly election, fear some political observers, may well see an upsurge of the divisive Sangh Parivar, at least in the second position, even though voting in North Bengal has never been on community lines, except in the Hills. With BJP now following the same divisive agenda in the plains, too, this election may lead North Bengal's politics to a dangerous bend.
Get the latest reports & analysis with people's perspective on Protests, movements & deep analytical videos, discussions of the current affairs in your Telegram app. Subscribe to NewsClick's Telegram channel & get Real-Time updates on stories, as they get published on our website.
Subscribe Newsclick On Telegram