BJP's Hindutva Agenda May Affect Indo-Bangladesh Relations
Considering that Bangladesh has never been a overtly religious nation, being lumped with Pakistan and Afghanistan in the CAA is not amusing to the country as a whole.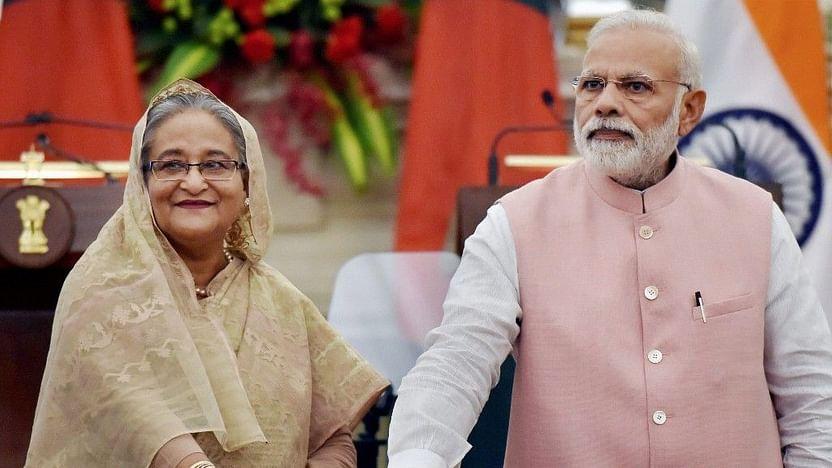 Thanks to the world-wide concern over coronavirus, Prime Minister Narendra Modi had to scrap his visit to Dhaka and address the 100th birth anniversary of Bangabandhu, Sheikh Mujibur Rahman via video conference. Protests planned in Bangladesh against Modi's trip, are now being shelved, but they are keeping their fire power on hold, till such time he decides to go ahead with his "deferred'' visit. Privately, the administration has heaved a sigh of relief, considering that the visit would have led to unnecessary focus on the current anti-Modi sentiments in Bangladesh.
Communists, Islamic groups like Hefazat-e-Islam and university students had been holding demonstrations against the visit. They believe that the invite is an insult to Sheikh Mujibur Rahman who stood for a non-communal and secular Bangladesh.
Bangladesh has witnessed a number of protests since the Delhi riots. The protesters had urged the government to withdraw the invite it will be a disrespect to the 1971 liberation war of Bangladesh. But these are not just those opposed to Prime Minister Sheikh Hasina's government, but ordinary Bangladeshis—including ruling party supporters—are also unhappy with India's Hindutva politics and frequent insults to Bangladesh by Bharatiya Janata Party supporters, including its senior ministers. Imagine that happening to Indians or India. There would be protests galore and the government would have called in the country's top diplomat and warned him/her. Yet, Sheikh Hasina has not publicly protested against any of this. But people in general are disappointed. Dhaka university students had held protests against the Delhi riots and the alleged targeting of India's Muslim minorities.
Despite the effusive exchange and public show of trust and friendship during Tuesday's centenary celebrations, India -Bangladesh relations have taken a major hit in recent months. Much of this has nothing to do with India's foreign policy or any shift away from Bangladesh, but is a direct result of New Delhi's domestic issues. Unfortunately, some of this has a direct bearing on Dhaka.
Also read: Delhi Violence: Bangladesh Erupts in Protest Ahead of Modi's Visit
Ironically, India-Bangaldesh ties are thriving. Ever since assuming office in 2009, relations have taken an upward swing. Modi has expanded on the UPA government's close ties with Sheikh Hasina and built on it. So much so, that apart from Bhutan, Bangladesh remains India's closest ally in South Asia. Sheikh Hasina had ensured that India's security concerns are addressed. New Delhi also backed her during the 2013 elections, which was boycotted by opposition and thrashed by the opposition as a farce. Since then, she has managed the nation's economy well and her country is now thriving.
India has tried to insulate Bangladesh from the BJP and the toxic anti-immigrant narrative which the party has used in Assam, Bengal and other eastern states in elections after elections. The kind of language used is an insult to democracy and more so to the Muslims across Bangladesh. A senior leader like Home Minister Amit Shah had referred to immigrants from across the border as "termites.'' The Sheikh Hasina government has not reacted, letting it pass as a part of election rhetoric. But this constant reference to Bangladeshis as parasites has naturally irked people in Bangladesh. It is like putting a tap off and on. When it suits its politics, BJP leaders go all guns blazing and insult Bangladeshi immigrants, and at the same time, Delhi makes all the right noises to placate the leadership.
The National Register of Citizens (NRC) in Assam and threats to deport illegal migrants rattled Bangladesh. Dhaka had said time and again that they are ready to take back their citizens if there is proof. However, with the majority of the immigrants poor and illiterate that would be hard to come by. India has repeatedly told Bangladesh that the NRC process is an internal matter and would not impinge on ties with Dhaka. Foreign Minister S. Jaishankar said so during a visit to Dhaka last year. More recently, Foreign Secretary Harsh Vardhan Shringla, who was earlier India's high commissioner to Bangladesh, went to Dhaka and again gave the necessary reassurances to the top leadership.
Also read: NRC Looms Over Modi-Hasina Talks
The current crisis in ties has everything to do with the BJP government's Hindutva agenda. Having won last year's national elections with a handsome 300+ majority, Prime Minister Modi's second term has been largely focussed on implementing the BJP's hardline right-wing politics. The BJP/RSS opposition to granting of special status to Kashmir by the Congress government in 1948 was finally realised. Article 370 was scrapped. People in the valley have been subjected to over five months of a virtual internet and mobile lockdown.
In Parliament, Home Minister Amit Shah spoke of extending the National Register of Citizens, initially meant only for Assam, across the country. The Citizenship Amendment Act, which granted persecuted religious minorities fast track citizenship, from Pakistan, Afghanistan and Bangladesh, pointedly left out Muslims. The Indian Constitution had never considered religion a criterion for granting citizenship. But, Shah argued that minority Hindus were persecuted in these three countries. Realising that Bangladesh was peeved at this projection of the Awami League government as anti-Hindu, Shah quickly changed his statement in the Rajya Sabha, saying it had happened before Sheikh Hasina's term. Bangladesh has never been a overtly religious nation. Its language and culture is much more moderate. Considering all this, being lumped with Pakistan and Afghanistan in the CAA is not amusing to the country as a whole. It gives a handle to anti-India and anti-Hasina forces to embarrass the government.
The Delhi riots, where 54 people, mainly Muslims, were killed in February 2020, exposed India as a place where minorities are no longer safe. During the three days of violence in North East Delhi starting on February 24, 14 mosques and a Sufi dargah were burnt by Hindu mobs. The Delhi riots disturbed the world community, and people in Bangladesh were equally repelled.
For Bangladesh, it is a double whammy as it has always been at the centre of India's domestic narrative over illegal influx. This began as early as 1979, as an agitation spearheaded by the All Assam Students' Union. However, despite the movement, Bangladesh-India ties were not affected. But, today the ugly face of Hindutva is out in full force and damage-control is not easy. Prime Minister Modi will have to rein in his party leaders and workers to stop the anti-Muslim rant that they regularly indulge in.
Though the Awami League leadership has been circumspect in public, Dhaka had cancelled a number of high-level visits to India. If India continues to press its self destruct button the repercussions would reflect on Bangladesh's internal politics. Despite the fantastic growth rate that Sheikh Hasina's government has achieved, it has suppressed dissent with a strong hand. The anti-India protests could turn into anti-government protests in a matter of time.
For now the coronavirus has prevented Prime Minister Modi's visit. But the issue goes much beyond that. The BJP has been pushing the envelope as much as it can, but beyond a point the chickens would come home to roost. Prime Minister Modi's advisers, including External Affairs Minister Jaishankar and Foreign Secretary Harsh Vardhan Shringla need to warn their boss of the consequences.
Also read: India's Neighbourhood First Policy Crumbles
Seema Guha is an independent journalist who has been covering foreign policy and North East India for decades. The views are personal.
Get the latest reports & analysis with people's perspective on Protests, movements & deep analytical videos, discussions of the current affairs in your Telegram app. Subscribe to NewsClick's Telegram channel & get Real-Time updates on stories, as they get published on our website.
Subscribe Newsclick On Telegram