BSNL Employees Await Salary, Pension Revision Since January 2017
BSNL Employees Union has said that the Centre is more interested in blaming the employees for the PSU losses and wants to promote private players.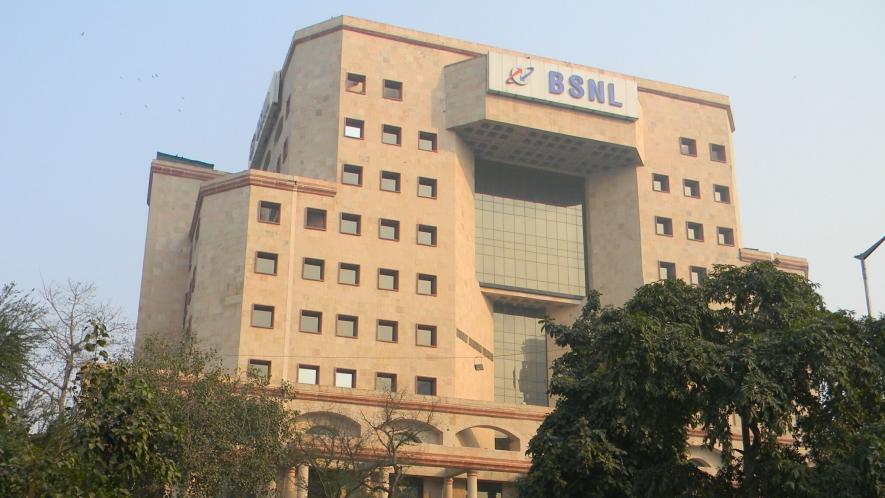 Image Courtesy: Wikimedia Commons
Kolkata: The going remains tough for Bharat Sanchar Nigam Limited (BSNL) employees and pensioners following its corporatisation on October 1, 2000, with the management and the Centre silent on salary revision, which is due since January 1, 2017.
Had the salaries been revised, department of telecommunications (DoT) pensioners absorbed in BSNL too would have benefitted. Nominees of dead pensioners are unsure whether and when, if at all, they will benefit from revised pensions.
Under the biggest Voluntary Retirement Scheme (VRS), 92,000-plus employees of BSNL and Mahanagar Telephone Nigam Limited (MTNL) were struck off the rolls on January 31, 2020, as part of a recast plan targeted at making the company viable over time following massive losses.
Currently, the company has about 62,000 executive and non-executive employees, including a few thousand in MTNL, which is being managed by BSNL pending a merger.
Wage revision remains a contentious issue with department of public enterprises (DPE) guidelines issued on August 3, 2017, tying salary revision to earning profit in the preceding three years. DPE contended that DoT should get an exemption for BSNL from the Union Cabinet and should set the process in motion by moving a cabinet note.
Interestingly, the then-DoT secretary Aruna Sundararajan responded to DPE on March 20, 2018, saying that BSNL being a strategic public sector unit won't attract the affordability clause and, therefore, DPE should okay the salary revision proposal. However, DPE differed with the DoT and pointed out that Clause 3.2.7 (V) of the guidelines won't apply to BSNL.
A letter written by Bharatiya Telecom Employees Union (BTEU) national president VVS Satyanarayana to Union finance minister Nirmala Sitharaman on October 28 shows that the DoT, in a surprise move, gave consent in a letter dated April 27, 2018, to BSNL to start salary negotiations for non-executive employees with recognised unions.
The then-BSNL chairman Anupam Shrivastava informed the DoT in September 2018 about the management's willingness to revise salaries. However, company-unions talks were abruptly suspended till November 17, 2021.
Satyanarayana, whose union is affiliated to Bharatiya Mazdoor Sangh (BMS), pointed out to Sitharaman that BSNL resumed negotiations on November 18, 2021, wherein it was mentioned that salary revision for non-executives "is interlinked" with the salary revision of executives and "case-specific approval is needed from the Union Cabinet".
For the record, it may be mentioned that recognised and unrecognised unions have demanded a 15% fitment in salary revision. At one stage, then-minister of state for communications and current Jammu and Kashmir lieutenant governor Manoj Sinha suggested 0% fitment under which the final benefits will be much less. The unions requested Sinha to give his proposal in writing but to no avail.
BSNL Employees Union (BSNLEU) president Animesh Mitra says salary revision is due for the last five years but the "Centre is just not serious. It is more interested in blaming the employees for the losses but completely silent on the discriminatory treatment meted out to BSNL".
Mitra alleges that the "Centre wants to promote private players. BSNL was deprived of 4G spectrum and several of its tenders for upgrade of its facilities had to be cancelled at the DoT's instance. Large sums of money, including that for viability gap funding for rural telephony and services provided to the DoT, were not released for months".
A letter written by BTEU general secretary RC Pandey to Union communications minister Ashwini Vaishnaw on September 18, 2021, mentions that 13 items the DoT owes to BSNL accounted for nearly Rs 30,000 crore. The major ones are Rs 13,789 crore for viability gap funding for rural telephony from 2014-15 onwards; Rs 5,850 crore as interest for the surrendered Wimax spectrum; Rs 2,472 crore for the surrender of CDMA spectrum; Rs 1,996 crore towards refund of excess paid pension contribution; Rs 1,051 crore for Bharat Net project; and Rs 2,998 crore towards reimbursement of leave encashment of DoT employees absorbed by BSNL.
"When the cost of living has sharply increased and the rupee has considerably weakened, the Centre doesn't realise the ramifications of its silence on salary revision and consequential benefits for pensioners," says BSNLEU's former senior office-bearer Swapan Chakraborty.
The Centre is "silently flouting the then-government's notification regarding pension and retirement benefits notified by the ministry of telecommunications on September 25, 2000", Chakraborty alleges.
According to the notification, employees will be "entitled to the government's scheme of pension/family pension even after their absorption [in BSNL]. Payment of pension will be made by the government. Arrangements will be worked out for obtaining pension contribution from the PSU [BSNL] to be deposited with the government. The pension framework has been made part of CCS Pension Rules by amending Rule 37 using powers under Article 309 of the Constitution of India".
Senior BTEU leader Ghosh Dastidar says there is "considerable discontent among telecom employees. The government should resume negotiations with the honest intention of settling their genuine demands".
The writer is a Kolkata-based senior freelance journalist. Views are personal.
Get the latest reports & analysis with people's perspective on Protests, movements & deep analytical videos, discussions of the current affairs in your Telegram app. Subscribe to NewsClick's Telegram channel & get Real-Time updates on stories, as they get published on our website.
Subscribe Newsclick On Telegram