BSNL to Soon Launch 4G, Delay Due to Gear Supply & Indigenous Technology Issues
Prime Minister Narendra Modi may launch BSNL's 4G on Independence Day this year.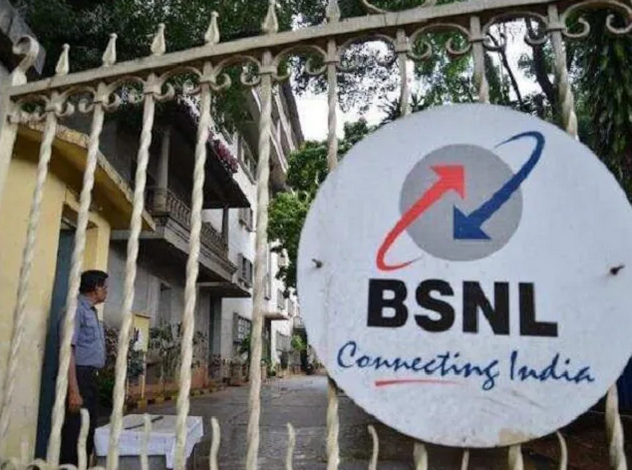 Kolkata: Several officially indicated dates for the regular launch of 4G service by public sector Bharat Sanchar Nigam Ltd (BSNL) and Mahanagar Telephone Nigam Ltd (MTNL) have been missed since the announcement of a revival package on October 23, 2019, and the implementation of independent India's most sweeping VRS with effect from the close of office hours on January 31, 2020.
This happened despite Union finance minister Nirmala Sitharaman's claim during the discussion on the general budget in Lok Sabha on February 8 that the Centre "considers BSNL to be a part of our strategic asset, and we are giving money to the company to buy 4G spectrum and become competitive."
President of BSNL Employees Union Animesh Mitra said ground realities do not bear out the generosity of the finance ministry. In 2020-21 the Centre dithered on 4G for BSNL and supported the private sector players, gearing up for the 5G launch. Thus, BSNL/MTNL became victims of "the generation gap," Mitra observed.
The rescue package had provided for MTNL's merger with BSNL. That has not happened because of further deterioration in MTNL's financial condition. What, however, has happened is that with retirement in normal circumstances at over 5,000 persons/year, BSNL's employee strength has dropped to 64,000 from around 74,000 post-VRS.
As the VRS implementation was through on January 31, 2020, the company had to simultaneously carry out the Department of Telecommunication (DoT) order to abolish the posts held by the VRS-opted persons.
Subsequently, the new abolition of posts has cut the sanctioned strength further. The scheme for appointments on compassionate grounds has been kept in abeyance. No heed has been paid so far by the management to the repeated demand of the union to take a sympathetic view and recruit some 300 people from amongst the eligible kin of staff who died during the COVID waves and due to accidents while being on the regular BSNL rolls, the union's general secretary P Abhimanyu told NewsClick.
As the abnormal staff shrinkage was telling on the execution of work at hand and regular maintenance of assets, the management tried to rehire VRS-opted persons on a contract basis. As the remuneration offered was found relatively low, there were few takers, Abhimanyu said.
The Rs 69,000 crore revival scheme envisaged mobilisation of Rs 37,500 crore from asset sales, mainly land. After a delayed start, BSNL faced an unforeseen hurdle in some states as the land had been allotted only for telecom facilities and, therefore, warranted land-use change. Then, the setting up of the National Monetisation Pipeline (NMP) and National Land Monetisation Corporation robbed it of the right to dispose of its assets and utilise the proceeds straightaway for regaining viability.
Apart from DoT, the revival exercise is being overseen by NITI Aayog and the finance ministry's department of investment and public asset management. [NMP, it may be mentioned, has seen an opportunity to mobilise Rs 8,800 crore by monetising mobile towers – 13,567 of BSNL and 1,350 of MTNL.]
Therefore, the company's move for 4G connectivity at 50,000 sites and equipment procurement was firmed up towards the end of 2019, and a tender was floated. Had this plan materialised, it would not have been a victim of the 'generation gap'.
Parliament's standing committee on information technology, in its report submitted to Lok Sabha and Rajya Sabha on March 10, 2021, recorded that DoT informed that the tender had been cancelled as "the department wanted to encourage BSNL as a vehicle for Indian telecom equipment."
In the then prevailing sentiments in the country, New Delhi also veered to the view that a tender would offer scope to Chinese companies to participate and that won't be advisable. And therefore, the decision to look for capable Indian companies was taken. According to sources, the work done by the government-owned Centre for Development of Telematics (C-DoT) is available for application and commercialisation.
DoT also acknowledged before the standing committee that, as of date, there is not a single Indian company which can give the two PSUs 4G connectivity equipment that can be used for vast networks. BSNL floated a fresh tender stipulating 'proof of concept' (PoC) as a substitute for experience. PoC documents were procured by Tata Consultancy Services, Tech Mahindra, Sterlite and L&T.
DoT, in its submission to the parliamentary committee, made another interesting point – the spectrum is allotted for 20 years; it is in the interest of BSNL and MTNL to start once they have the 4G equipment and are more prepared to use the spectrum. Else, the PSUs will be paying for an unutilised spectrum. DoT also indicated to the panel that the PSUs would get spectrum in June-July of fiscal 2021-22. This was the last of the officially indicated three-four dates for spectrum allocation.
On October 23, 2019, when the revival plan/VRS was announced by the then communications minister Ravishankar Prasad, it was indicated that the 4G spectrum would be "administratively' allocated in a month, that is, by end-November 2019.
After tackling nearly 1,600 inquiries post the pre-bid meeting, BSNL zeroed in on TCS, which later tied up with C-DoT. But circumstantial evidence and assessment given to NewsClick by knowledgeable quarters suggest that the PSU telco is being extremely cautious and will be content with a very modest 4G foray. Against its original plan for 1.2 lakh towers for a phased pan-India launch and the fact that the cancelled tender was for 50,000 towers, it has awarded a Rs 550 crore contract to TCS to procure just 6,400 equipment. [In mobile network parlance, these are called Base Transceiver Stations (BTS), which are fixed radio transceivers mounted on the towers to receive and send signals].
In this context, two observations warrant mention. According to Mitra, telcos have to go for 4G as that is the market craze and is considered more advanced. Otherwise, for the intended purposes, 3G is sufficient. According to Abhimanyu, in 3G, hardware is dominant, and software notches lower in criticality. It is the reverse in 4G.
Much will depend upon the performance of the first lot of 6,400 BTS. If satisfactory and if BSNL sticks to the supply source, it will take up to two years for BSNL to achieve pan-India 4G connectivity. Knowledgeable sources point out the company has at least one significant advantage – the 4G network will be upgradable to 5G on a non-standalone basis. For standalone basis 5G, the exercise will have to be spread over 18 months.
Signals from Sanchar Bhavan indicate the possibility of the PSUs' 4G launch by the Prime Minister on I-Day and project it as an example of Atmanirbhar Bharat in the Modi regime.
For the record: On January 31, 2020, out of BSNL's then employee strength of 1,53,00, VRS was accepted by 78,569 employees. In MTNL, 14,400 employees, which counted for 80% of the company's strength at that time, had opted for VRS. TU leaders acknowledged that employees are receiving their salaries regularly. But, a fairly large number of contract labour are yet to receive their wage dues as the PSUs have not been able to clear contractors' dues in full.
Get the latest reports & analysis with people's perspective on Protests, movements & deep analytical videos, discussions of the current affairs in your Telegram app. Subscribe to NewsClick's Telegram channel & get Real-Time updates on stories, as they get published on our website.
Subscribe Newsclick On Telegram