Bangladeshis Say Amit Shah Playing Jinnah's Game
Shah's escalation of the NRC issue will only bolster the Jamaat-e-Islami, and its brand of majoritarian Islamist politics.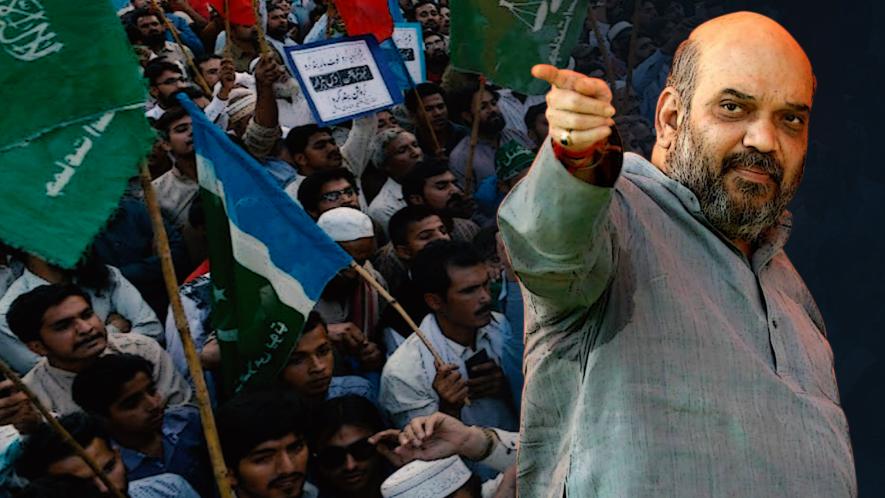 On the night of October 3, the day Prime Minister Sheikh Hasina winged to Delhi on a state visit, Democracy Now, one of her country's popular TV talk shows, focused on the Bangladesh-India relationship. The four guests on the show—a retired Brigadier General, a leader each from the ruling party and the Opposition and an academician—were engaged in a staid foreign policy conversation before they became animated at the mention of India's National Register of Citizens project. They took to parsing Home Minister Amit Shah's statements on the NRC to fathom their implications for Bangladesh.
"Shah has brought to the fore the great communal divide of 1947," Mesbah Kamal, one of the four participants in Democracy Now, told me over the phone from Dhaka. A professor of history, Dhaka University, Kamal was specifically referring to the Home Minister's October 1, speech in Kolkata.
In that speech, Shah declared that the NRC exercise will be undertaken in West Bengal, but those who are religious minorities in Bangladesh, Afghanistan and Pakistan need not fear it as they will be protected from detention and deportation under the Citizenship (Amendment) Bill, which is scheduled to be enacted later this year.
Ever since the updating of NRC for Assam began in full swing in 2015, Bangladeshis have been worried over its spill out. At the nub of their worry is Assam and India's common sense that those excluded from the NRC are primarily Bangladeshis. Will India deport or dump them on Bangladesh?
This question fans anxiety in Bangladesh as it is already reeling under the burden of hosting an estimated 1.1 million Rohingya refugees evicted from Myanmar. With a population density of 1115.62 persons per sq km, Bangladesh just doesn't have space to accommodate more people. (India's population density is 416 persons per sq km.)
Although a senior Bangladeshi government official told the media that Hasina, during her state visit, found Prime Minister Narendra Modi's explanation on the NRC reassuring, the worries in Bangladesh go beyond the possibility of feeding and settling the deported from India.
"Shah's implicit and repeated targeting of Muslims in India will have serious repercussions for Bangladesh's minorities," Kamal pointed out. This is because the sub-continent remains trapped in the cycle of 'action-reaction' established in 1947. For instance, when the Babri Masjid in Ayodhya was demolished on December 6, 1992, scores of temples in Bangladesh were ravaged.
There are already alarming signs that Shah's statements have come in handy for Muslim clerics and fundamentalist groups. "Some maulanas have already started referring to the NRC and Kashmir," said Kamal. "They have openly said that if Muslims are targeted in India, they will not spare the Hindus in Bangladesh."
Shah and India have gifted the clerics a compelling talking point for thousands of waz, or religious congregations, which are held between October and March countrywide.
Shah's escalation of the NRC issue will only bolster the Jamaat-e-Islami, the right-wing Islamist party, which has been on the back foot because of the pressure brought upon it by the ruling Awami League government. Not only is it ideologically opposed to India, the Jamaat has been traditionally at the forefront of fomenting anti-Hindu sentiments in Bangladesh. The NRC issue could well give a fillip to the Jamaat's brand of majoritarian politics.
"Bangladeshis have been trying to bridge the communal divide, to put communal behind us. Shah's statements will have a regressive impact on our efforts," said Kamal, ruefully.
Ironically, Shah's cranking up of the NRC issue has elicited opposition from Bangladeshi Hindus as well. Rana Dasgupta, general secretary of the Bangladesh Hindu Bouddha Christian Oikya Parishad, or Hindu-Buddhist-Christian Unity Council, feels Shah's citizenship offer to Bangladeshi Hindus and other minorities will only "lure them to leave for India."
The rush of Hindus for India will prompt the fundamentalists to drive out even those who wish to remain in Bangladesh. That should be bad news for India, said Dasgupta. "Bangladesh without minorities will become a Syria or Afghanistan. Religious minorities constitute the very basis of the democratic process, which will be subverted," he said.
Both India and Bangladesh will also have to contend with the reverse process that Shah's citizenship offer to only religious minorities will only trigger. Dasgupta said, "Muslims pushed back into Bangladesh will inevitably become anti-India and the Jamaat will seek to exploit it. Does Shah want a neighbour that is religiously radical and opposed to India?"
Dasgupta is among an impressive array of doughty civil society leaders who have been working to reconfigure Bangladesh's social architecture to put an end to the flight of Hindus from their country. At the heart of this campaign is to estimate the number of Hindus who left for India over the years and identify the push factors behind their exodus for nullifying them.
For this purpose, almost all civil society leaders rely on the brilliant work of Abul Barkat, professor of economics, Dhaka University, who links the exodus of Hindus to the appropriation of their property under the Enemy Property Act (EPA) and its successor legislation, Vested Property Act (VPA). Initially passed as an ordinance during the India-Pakistan war of 1965, the EPA declared India as an enemy and empowered the Pakistani government to seize the property of an Indian citizen. (Such a law was enacted in India, where it still exists).
But a Hindu residing in what was then East Pakistan was not Indian. "However," as Barkat told me, "under the Act, Hindustan became equal to Enemystan and Hindu, irrespective of his or her residence, was equated with the enemy." The Act was invoked to appropriate properties of Hindus and other religious minorities.
After the birth of Bangladesh in 1971, the liberation government repealed the EPA on March 23, 1974. At the same time, the VPA was enacted to administer properties already vested in the government as well as those left behind by people who, in the wake of Bangladesh's liberation, moved to Pakistan, India or elsewhere.
But hopes of Hindus enjoying security of property were dashed as Sheikh Mujibur Rahman, the founder of Bangladesh and its Prime Minister was assassinated on August 15, 1975. Appropriation of properties owned by Hindus continued unabated under successive military dictatorships and the Bangladesh Nationalist Party (BNP)-Jamaat coalition governments.
In 2001, the Awami League government repealed the VPA, but Hasina was voted out in 2002. Once again, the Bangladesh government continued the policy of depriving the Hindus of their properties. Finally, in 2013, a tribunal was constituted to return the vested properties to their original owners. The process is undoubtedly tedious. According to Dasgupta, only 8%-10% of 1.60 lakh applications for restitution of property have been disposed of till date.
To study the impact of the two acts, Barkat carried out extensive surveys and perused government records. His verdict: Approximately 1.2 million Hindu households were affected by the EPA and EVA. This became the principal driver for the outflow of Hindus from Bangladesh.
"Between 1964, when East Pakistan [now Bangladesh] was rocked by riots, and 2013, the total missing Hindu population was around 11.3 million. There should have been 28.7 million Hindus in 2013 instead of 12.2 million," Barkat said. Or, to put it another way, Hindus should have accounted for 16-18% of Bangladesh's population, not 9.7% as they do currently.
However, the irony is that it is not the Hindus whom Shah is keen to deport to Bangladesh, which could have been hard put to deny them as their own, at least statistically. Shah wants to boot out Muslims. The common sense among civil society leaders is that it is India's self-serving narrative to claim that Bangladeshi Muslims constitute the dominant chunk of "infiltrators" into India. Why is it that there is no comprehensive Bangladeshi study to estimate the outflow of Muslims into India?
Barkat answered, "The outflow has to be statistically negligible. On all my studies over the last three decades, I haven't come across anything to suggest that Muslims are leaving for India in large numbers." Likewise, Kamal said, "Bangladesh has an expat population of nearly a crore. They have more economically lucrative places to go to than India."
For sure, those Indians who see a Bangladeshi in every Bengali Muslim will diss Barkat and Kamal for spinning a narrative advantageous to the Bangladeshi state. But then, Barkat and Kamal did not shy away from batting for the Hindus even during the heyday of BNP-Jamaat coalition governments, which brazenly targeted religious minorities. Would Barkat and Kamal play the state's game? They rail against the idea of deporting Muslims from India to Bangladesh because of the popular perception that Muslim outflow into India is negligible.
The Hindu-Muslim debate aside, Shah's offer of citizenship to Christians also leaves Nirmal Rozario, president of the Bangladesh Christian Association, cold. Rozario told me, "Bangladeshi Christians are well-educated because they studied in missionary schools and colleges. They prefer to migrate to the United States, Canada and West Europe. For instance, thirty members of my sister's family have settled in the US. Really, why would they go to India, although some did way back in 1947?"
Rozario thinks Shah's privileging of Christians over Muslims is not only illogical, but will also spell trouble for his community. "Happenings in West Asia and India have their echo in the Muslim-majority Bangladesh," he said. For instance, when the US invaded Iraq in 2003, there were protests in Christian localities. In the Christian villages of Barisal district, to which Rozario belongs, there was an attempt to burn down a church. Rozario explained, "When people have been living in a country for a long time, it is a violation of human rights to deny them citizenship or deport them."
Dr Jinabodhi Bhikkhu, professor at Chittagong University, said that Bangladesh's Buddhists, who total around 15 lakh and have been gratuitously brought under Shah's protective umbrella, have nothing to "say on or do with the NRC matter." He added, "NRC is not the question of majority-minority relationship. Rather, it will have an adverse impact on global peace. Chaos, tension, disagreement, discontent, dissatisfaction and arms race will, undoubtedly, take place."
Bangladesh's fundamentalists and the state did indeed target the Buddhist Chakmas, many of whom fled to India. In an email response to questions, Jinabodhi adopted a lofty philosophical position and advised forbearance regarding the past: "Harassment and discrimination against the Chakmas is [or was] possible because of a lack of proper religious, ethical, spiritual and philosophical understanding of the people who are plunged into the darkness of ignorance." He cited Buddha to say, "Our sufferings are because of ignorance."
Indeed, ignorance of the cause and effect of any action creates a vicious cycle of retribution. What appears plain politics today can destabilise society and erode civilisational values. Barkat alluded to this circle of unreason: "Hindus and Muslims were united in their opposition to the British, who tried to divide them. In a year or two, [Muhammad Ali] Jinnah's two-nation theory wrecked that unity. The Muslim-Hindu unity was forged again after Pakistan tried to make Urdu the official language in East Pakistan. But this unity was torn apart because of the 1965 war and the military dictators of Bangladesh. If India were to implement Shah's NRC proposal, there will be nothing left of the Hindu-Muslim unity in the subcontinent."
Barkat's remark makes it appear that Shah is playing the 21st Century version of Jinnah's politics. "He is definitely doing that," he said. This is why Bangladeshis, regardless of their religious identity, think Shah's NRC statements are a portent of the dark times ahead.
Ajaz Ashraf is a freelance journalist in Delhi. The views are personal.
Get the latest reports & analysis with people's perspective on Protests, movements & deep analytical videos, discussions of the current affairs in your Telegram app. Subscribe to NewsClick's Telegram channel & get Real-Time updates on stories, as they get published on our website.
Subscribe Newsclick On Telegram