India Is Back To A Time Before The Bhopal Gas Tragedy
In 1994, public hearings were open to anyone. In 2006, they were open only to project-affected people with a "plausible" stake. In 2020, a draft notification that will further change the law, makes public hearings optional. We track the dilution of environmental impact assessment law over 26 years.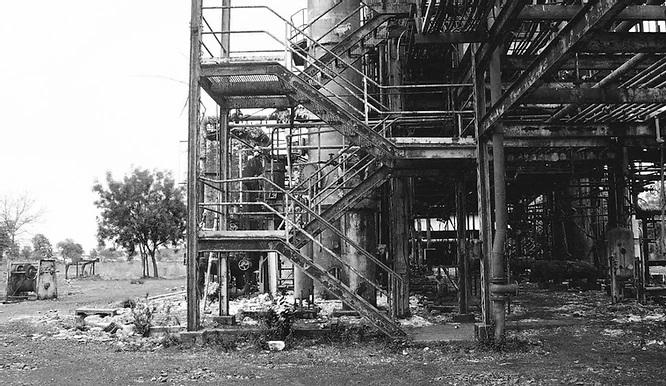 The defunct Union Carbide plant in Bhopal/M RAJSHEKHAR
Bengaluru: "Around 2 am, we were woken up by what people are now saying was Styrene gas. Since it is summer, we had left the windows open. Our skin started to burn and eyes began to water. We couldn't breathe. We tried to leave the house but the gas was everywhere, like the winter fog. We could not see anything clearly, could not understand what was happening. People started falling down while walking on the streets. Children and elderly people were just falling unconscious."
This account by a survivor of the gas leak this May from LG Polymers Pvt Ltd's factory in Visakhapatnam, Andhra Pradesh, should have caused consternation across India because within two days it emerged that the factory was running without an environmental clearance.
After a deadly night in December 1984, when methyl isocyanate gas leaked out of a Union Carbide's plant in Bhopal, Madhya Pradesh, killing over 15,000 people and affecting over 600,000, India had passed new laws, such as the Environment Protection Act (EPA), 1986 and the Public Liability Insurance Act (PLIA), 1991 and amended existing ones, such as the Factories Act, 1948, to rein in the public costs of industries working with hazardous technologies and chemicals.
Another ten years later, to assess the environmental risks of an industrial unit before allowing it to come up, the Environmental Impact Assessment (EIA) Notification, 1994, followed.
In subsequent years, these laws and notifications have not been enforced well. Some, such as the EIA notifications, were diluted repeatedly. The EIA Notification (1994) was amended 13 times in 11 years. Its successor, the EIA Notification (2006), 15 times in 14 years. These amendments mostly exempted industries from the environmental clearance process, limit the scope of public hearings, and push projects ever deeper into critical habitats and ecosystems.
The ruling Bharatiya Janata Party-led National Democratic Alliance government now wants to dilute the environmental clearance process further. Two months before the Visakhapatnam leak, the country's Ministry of Environment, Forests and Climate Change (MoEFCC) placed an even weaker EIA notification (2020) on its website and invited public comments.
When protests began, the government cracked down. It blocked three websites— LetIndiaBreathe.in, Fridaysforfuture.in and ThereisnoEarthB.com—running campaigns where protestors could email the ministry against the EIA notification. One of the laws invoked to justify the block was the Unlawful Activities (Prevention) Act (UAPA), 1967, India's draconian anti-terror law. Four days later, after an outcry, Delhi Police's cyber crime cell called the imposition of UAPA a mistake, and reissued the notice under India's Information Technology (IT) Act, 2000.
The last date for comment on the latest EIA notification was 11 August 2020. Despite Delhi and Karnataka High Court orders directing the government to publish it in each of India's 22 official languages, India's environment ministry had only released it in English and Hindi. The Delhi High Court deadline expired on 10 July.
That night in Visakhapatnam, India witnessed the effects of successive dilutions of EIA law. When a poisonous gas leaks, from a poorly maintained industrial unit operating without an environment clearance in the midst of residential neighbourhoods, it invites more than comparisons with Union Carbide. It forces the belated recognition that, in terms of effective protection against industrial pollution, India is back where she was before the Bhopal Gas Tragedy.
Pollution, however, is just one cost of industrial activity. There are others, such as forest loss, greenhouse-gas emission (GHG) emissions and impacts on local biodiversity and communities.
As the NDA government tries to weaken the EIA notification further, here is how far backwards cumulative dilutions have already pushed India.
1975-1994: Early Action, Early Dilutions
India began assessing environmental fallouts of large projects almost 50 years ago.
In 1977, pushed by the Planning Commission, the country made assessments of ecological impacts an administrative prerequisite for funding large public sector industrial projects like dams, thermal and atomic power projects, mines and polluting activities.
Project proponents had to submit environmental information, such as project location, to the environment ministry. Its Environmental Appraisal Committees took a call.
Legislative backing arrived in 1994, after the MoEFCC passed India's first EIA notification making an environmental clearance (EC) mandatory for public and private firms in 29 designated industries with high environmental footprints.
It was a timely call. India had newly liberalised, and private sector activity was about to spike.
Project proponents had to submit information about the project—the ecosystem that would be affected; a draft EIA report; an environmental management plan with steps for mitigating significant impacts—to the MoEFCC's Impact Assessment division.
After checking these, the division forwarded them to the relevant State Pollution Control Board (SPCB), which made "parallel 'consent to establish' determinations under the applicable air, water and hazardous waste regulations" and conducted a public hearing to discuss the project with local communities.
Those comments were, next, relayed to the division and the committee of experts reviewing the application.
India had avoided what William Lockhart, professor emeritus at the University of Utah's SJ Quinney College of Law, had called a key weakness of similar laws in other countries, such as the US. In a 2004 unpublished critique of the Indian notification, he wrote: "Rather than prescribing a solely procedural framework for acquiring and assessing environmental impact data and project alternatives, the Indian program provides explicitly for... government authority to disapprove projects on environmental grounds." Public hearings, he added, flagged environmental issues missed by the EIA documents.
The lacunae, however, were considerable too. Most EIA reports were of poor quality: partly because the consultants writing these were hired (and paid) by project proponents; and partly because there was little guidance on the scope and depth of environmental impact.
Cut-and-Paste EIA reports were a common occurrence. It wasn't always easy to catch these mistakes at the evaluation stage, I had found while reconstructing the drafting process that yielded the 2006 EIA notification for my MA thesis.
Expert committees were weakened by their dependence on data submitted in applications; their lack of domain and site knowledge; the lack of standards for application analysis; and the absence of legal requirements to ensure independence of members.
Apart from these, once environment ministers and mandarins realised they could make money selling environment and forest clearances, I was told in interviews at the time, committee members came under additional pressure to clear projects.
Public hearings were a travesty as well. They were open to locals and environmental organisations but the data communicated in these wasn't always relevant, researchers like academic MV Ramana had told me at the time. They were often marred by intimidation and violence to silence opposition.
Ensuring compliance with clearance conditions was another weakness. In 1995, when the MoEFCC surveyed 300 river valley authorities granted conditional clearances – pertaining to afforestation, rehabilitation of affected people and treatment of the catchment and command area to prevent biodiversity loss. It found that 88 percent hadn't complied.
One reason was the federal design of environmental governance in the country. The MoEFCC has few regional offices. Local regulation is done by SPCBs which, however, answer to state governments. Underfunded and captured by state politicians, these, as Tata Institute of Social Sciences (TISS) professor Geetanjoy Sahu described in 2003, were not effective regulators.
In the 12 years the 1994 notification lasted, few of these infirmities received much attention. Instead, as companies jockeying to grow in liberalising India chafed at the environmental clearance process, it was amended 13 times, most of these dilutions.
"(They) narrowed the reach and requirements of the EIA process and exempted additional categories of projects or developments," wrote Lockhart. These, he said, limited and abandoned "authority to review many projects capable of causing significant environmental harm".
The 2006 Notification: Few Steps Forward, Many Steps Back
By 2006, India's unregulated iron ore mining boom was wrecking forests in Karnataka, Goa, Odisha, Chhattisgarh and Jharkhand. As it tapered, India saw fresh booms in thermal power generation (which triggered a second boom in coal mining) and hydel power generation, especially in the Himachal Pradesh, Uttarakhand and Arunachal Pradesh.
Environmental violations grew. Adani's Special Economic Zone at Mundra came up without an environmental clearance. Others, like Lafarge's limestone mining operation in Meghalaya, misrepresented its project location – a "natural and virgin" forest – as a wasteland.
With environmental scrutiny parlous, India's environment took heavy losses. By 2006, two of every three rivers in the country were polluted. Of all the forest land diverted for non-forest use since 1980, I was told during my MA research, half had been diverted between 2000 and 2006.
This was the backdrop to the 2006 EIA notification. Under the Congress-led United Progressive Alliance (UPA) government, environment secretary Prodipto Ghosh began reworking the notification to speed up clearances. Overriding protests from greens, he asked ERM, an environment consultancy in the business of environment impact assessments, to suggest a new Environmental Clearance process.
The report it submitted was promising. Among other things, it suggested committees dictate EIA questions ("Scoping") to project proponents. The affected public, it added, should have a role in these committees so that its concerns enter the study. It also recommended multiple public hearings —with women, marginal groups, local political groups, community-based organisations and government agencies —to ensure no voice was missed out.
The outcome, it added, should be mutual agreement and consensus between the local community, regulatory bodies and project proponent regarding the mitigatory measures to be adopted.
To redress low domain knowledge within appraisal committees, ERM suggested the MoEFCC's preliminary scrutiny of the EIA report be followed by a second vetting by specialists—from industry and from the region where the project would be located. Their comments should accompany the final application to the expert committee.
On monitoring, it recommended a mix of voluntary and regulatory instruments— including the use of local communities for monitoring. Such a system, it said, would protect post-project monitoring from derailment due to lapses by a single authority. It also advocated decentralisation, saying the current system, of SPCBs and regional MoEFCC offices, was fragmented and lacked clear roles and responsibilities.
Despite these additions, said the ERM report, the time taken for adjudicating on applications could be brought down to 110 days.
The final version of the 2006 notification, however, was very different. Most of ERM's recommendations had not made it. Neither had some good suggestions made during the consultations that had followed. If an SPCB felt a project needs an EC, Himachal Pradesh had suggested, it should be made to get one whether its industry is in the schedule or not. It had not been incorporated either.
Instead, a clause in the 1994 notification, empowering the MoEFCC to reject outright projects in critical habitats, was removed.
The number of businesses cleared only by the centre fell to 12. Some activities (batteries, automobile manufacturing and mass rapid transit systems) were exempted from the Environmental Clearance process. Real estate extricated itself (after lobbying) from both scoping and public hearings. It also became a state subject. In an interim draft, central clearance had been mandatory for construction projects in cities with a population above 3 million.
Companies were allowed to withhold "confidential" information at public hearings. The requirement of quorum at public hearings was scrapped. Where the 1994 notification said people "functioning in the field of environment" could participate in public hearings, the 2006 notification said written responses could be obtained from "other concerned persons having a plausible stake in the environmental aspects of the project or activity." What constituted "plausible" was left undefined.
After two years of toil, the MoEFCC had unveiled a new EIA notification that left almost every shortcoming of the previous notification untouched.
Environmental costs mounted. The pace of forest clearance, for instance, doubled between 2006 and 2011. Protests and PILs grew as well. Only towards the end of its second term did the UPA try to modernise India's environmental governance architecture. National Green Tribunals were established, despite questions whether a few environmental courts could better dispense environment justice than the more dispersed array of India's courts.
More promising was the idea of an independent environment regulator, which would take over project clearances and environmental monitoring from the MoEFCC, leaving it as a purely policy-making body. The 2014 elections, however, were nearing. The UPA left the idea incomplete, for the BJP-led NDA government to steer it through.
The 2020 draft notification: New Additions To Old Failings
In the six years that have passed since, not only have the old ills of the environmental clearance process remained intact, newer ones have taken root.
Large projects initiated by the government, for instance, now skip environmental scrutiny as well. Consider the Char Dham highway project. Being constructed in the fragile upper Himalayas, it has been broken into 53 separate projects, each less than hundred kilometres long. This enables the project, citing a 2013 MoEFCC guideline exempting expansion work on national highway stretches shorter than 100 kilometres from environmental clearances, to evade appraisal. Instead of opposing this legerdemain, the MoEFCC has argued the project did not need a clearance.
Between 2006 and 2020, India's environmental foundations have weakened further. Climate change has dug deeper. Air pollution is now a major health hazard. Water pollution has worsened. India continues to lose forests, while hiding behind unconvincing dissimulation.
Ignoring all these trends, the draft 2020 notification stays on the path set by the 2006 notification.
It makes public hearings optional; exempts more projects (including inland waterways, which need continuous dredging of river beds to maintain shipping channels, and project expansions adding up to less than 50 percent of installed capacity) from the environmental clearance process; weakens scientific scrutiny; increases the validity period of a clearance; instead of cracking down on violators, it offers post facto clearances.
The Law As Contested Commons
In Feral, his book on rewilding, George Monbiot alludes to the shifting baseline syndrome.
As every generation perceives the environmental conditions in which it grew up as "normal", conditions are created where people's standards for acceptable environmental conditions steadily decline.
We see that with India's environmental clearance process as well. As this account stresses, the Indian state's usurpation of environmental rights runs very deep—it includes protections that were diluted and improvements that weren't accepted. For these reasons, it's not enough that the 2006 notification not be diluted further.
Instead, India needs to reclaim a larger terrain of usurped rights. Environmental clearances need to be taken out of the MoEFCC and established in a more scientific, autonomous body.
The National Green Tribunals and SPCBs need to be better supported. The country also needs more rigorous, updated information about the state of its critical ecosystems and the carrying capacity of degraded landscapes. Above all, it needs far greater public scrutiny.
Each of these is an uphill struggle. After 1984, India had taken stock of looming environmental challenges and created a new environmental governance architecture. We need such an exercise again.
(M Rajshekhar is an independent reporter with interests in political corruption, oligarchy and the political economy of the environment.)
This story first appeared in http://www.article-14.com a website focused on issues related to the rule of law in India.
Get the latest reports & analysis with people's perspective on Protests, movements & deep analytical videos, discussions of the current affairs in your Telegram app. Subscribe to NewsClick's Telegram channel & get Real-Time updates on stories, as they get published on our website.
Subscribe Newsclick On Telegram