Bihar: Can Tejashwi Fulfil RJD's Manifesto Promise of 10 Lakh Jobs?
As the chief ministerial candidate of the Grand Alliance in the 2020 Bihar Assembly polls, Tejashwi had promised 10 lakh government jobs to the youths of Bihar.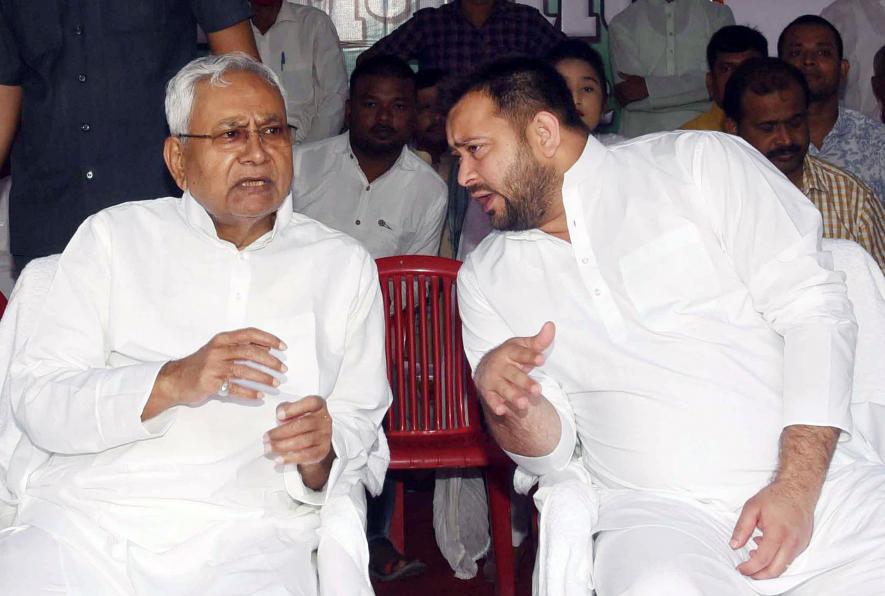 Bihar Chief Minister Nitish Kumar interacts with Deputy CM Tejashwi Yadav while attending a Martyrs Day program at Shaheed Smarak, in Patna on Thursday. (ANI Photo)
Patna: With a new seven-party Grand Alliance, the second Mahagathbandhan government has been formed in Bihar. Now, the jobless youth, poor and marginalised communities, and political and social activists expect the Rashtriya Janata Dal leader and Deputy Chief Minister Tejashwi Yadav to fulfil promises made to the people. One of the key promises is employment generation. 
Tejashwi, the chief ministerial candidate of the Grand Alliance in the 2020 Bihar Assembly polls, promised 10 lakh government jobs to the youth of Bihar if elected. It was part of the RJD's manifesto. This attracted a large number of youths to his election rallies and compelled the ruling Bharatiya Janata Party, then an ally of Nitish Kumar's Janata Dal-United (JD-U), to promise 19 lakh jobs in the next five years in its own manifesto.
Nearly two years ago, the Grand Alliance of RJD, Congress and Left parties missed the bus to form the government by a narrow margin. But two days after ending the alliance with the BJP, JD-U chief Nitish Kumar joined hands with the Grand Alliance and headed the government.
Sensing high expectations from himself, soon after taking oath on Wednesday, Tejashwi expressed his commitment to fulfilling the promises made to people. "I will ensure jobs to youths within one to two months," he said.
Questions have risen on whether it will be easy for Tejashwi to provide promised jobs to youths and if CM Nitish Kumar will allow him to fulfil a major agenda of the RJD manifesto. "We are hopeful that young Tejashwi may fulfil job promises to youths. Even if he provides government jobs to thousands of youths, not lakhs, it will work in his favour," said Ravi Ranjan, a jobless youth who has been preparing for exams to get a government job for the last three and half years.
Echoing Ranjan, Atul Kumar, another unemployed person, said he was expecting Tejashwi to fulfil his promises to youths. "Tejashwi has a long inning in politics as he is in his early 30s now. He can emerge as a strong leader by providing the jobs that he promised," he said.
This is a big question on the lips of hundreds of thousands of jobless youths across impoverished Bihar.
"It will be a big challenge for Tejashwi to implement the main promise of jobs to youths. So far, Kumar's policy during the last 17 years has shown no serious effort or attempt on the employment front. Tejashwi should not expect much from him. But the Deputy CM has to work hard on this," said political activist Satyanarayan Madan.
Mahender Yadav, the founder of Koshi Navnirman Manch, a local organisation helping flood victims in the Koshi region (known for high migration due to joblessness and poverty), said that Tejashwi has to prove himself because he has got an opportunity to work for the people. He added that RJD has the upper hand in the second Mahagathbandhan government with 79 MLAs compared to 45 MLAs of Kumar's party.
A social activist, who wished to remain anonymous, said that despite Kumar joining hands with the RJD again, he will never give space to Tejashwi to become popular by providing jobs. Unemployment is not new and it has been a major problem in Bihar for years. "The promise to provide jobs created hope among youths. There is not much scope for government jobs in the state, which has virtually no industry or manufacturing units. Only the agriculture sector has substantial hope for the creation of more jobs in Bihar if the focus shifted to develop it and adequate investment is made in it," he said.
It was Tejashwi who repeatedly raised the issue of joblessness in the state after the last Assembly polls when RJD emerged as the single largest party in Bihar, but the Grand Alliance lost after falling short by a few seats as it got 110 seats.
The RJD leader had frankly admitted then that the party had contested the polls on issues like "rozgar" (livelihood) that attracted a large number of people, mainly youths. "Our main agenda was employment and joblessness," he had said.
In the 16-page RJD manifesto entitled 'Hamara Pran' (our resolution), that focus point was a promise of 10 lakh jobs and equal pay for equal work for thousands of contractual government employees. Tejashwi had then announced that he would fulfil the promise of 10 lakh jobs in the first meeting of the Cabinet because there were 4.5 lakh vacancies in the government and will create 5.5 lakh permanent jobs for school teachers, professors, junior engineers, doctors, nurses, lab technicians and others, including clerical jobs.
As his party then failed to come to power, Tejashwi regularly attacked the BJP-led NDA government till recently for failing to keep its promise of providing 19 lakh jobs, which was made during last year's Assembly election campaigning. He accused the NDA government of making "a false promise" to the people of Bihar because it had failed to provide jobs. He went to the extent of saying that Bihar has become a "centre of unemployment; the state government has not taken any initiative to create employment opportunities."
In fact, joblessness in Bihar increased during the last two years when the COVID-19 pandemic resulted in a lockdown that forced thousands of migrant workers to return to the state, as per official data. Most of them went back to their workplaces after the pandemic situation improved.
The issue of unemployment is such in Bihar that it witnessed a massive protest by thousands of jobless youths against alleged irregularities in the results of the Railway Recruitment Board's (RRB's) Non-Technical Popular Categories examination-I in January 2022.
Again in June 2022, Bihar witnessed widespread protests against the Agnipath scheme. Protests against the scheme first erupted in Bihar and soon spread to several other states after the Modi government announced that 45,000 soldiers, airmen and sailors in the 17.5-21 age group would be recruited as Agniveers for only four years, with only 25% of them being absorbed for another 15 years based on merit and performance. The rest will get a one-time tax-free Seva Nidhi package of around Rs 11.71 lakh with no gratuity or pension.
Get the latest reports & analysis with people's perspective on Protests, movements & deep analytical videos, discussions of the current affairs in your Telegram app. Subscribe to NewsClick's Telegram channel & get Real-Time updates on stories, as they get published on our website.
Subscribe Newsclick On Telegram