Bihar Elections: Former Mauritius President's Relative Continue to Live in Poverty
The brothers said that while Rajkeswur Purryag ignored them after his visit in 2013, the Bihar government has done no better.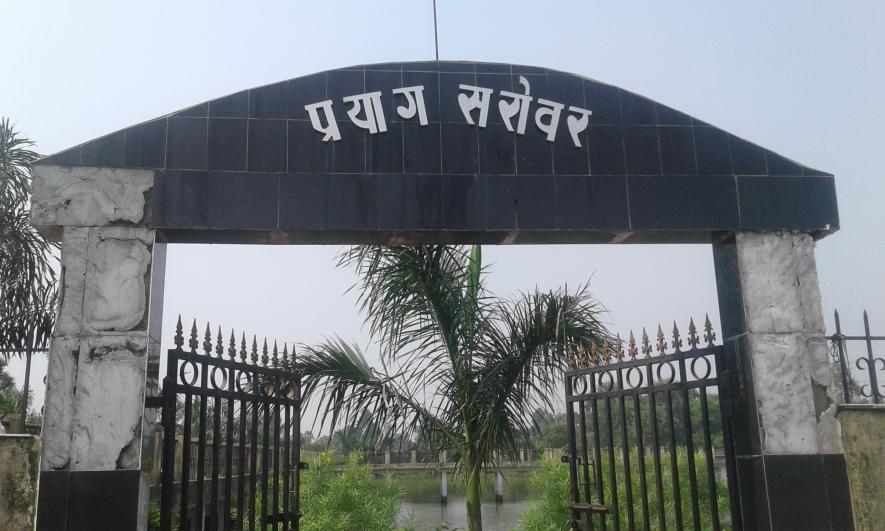 Sarovar,neglected stone plaque -Wajidpur
Wajidpur (Bihar): More than seven years ago, when Rajkeswur Purryag, then President of Mauritius visited his ancestral village of Wajidpur and met his poverty-stricken relatives, Ganesh and Mahesh Mahto, it infused a sense of hope in them that acche din would finally be here. However, what pained them was that at the time, Bihar Chief Minister Nitish Kumar projected Purryag's visit as a mega event and spent crores to ensure its success. However, their lives have remained unchanged, despite promises.
The brothers continue to work as daily-wage masons to earn their livelihood. "Nothing has changed for us. As usual, we are living amid a lack of basic amenities. What can we do? We hardly get any help from our rich relatives in Mauritius or from the state government," said Ganesh, now in his mid 60's.
Similarly, Mahesh, in his early 60's, says that they were hopeful of better days after the CM and the Mauritian president came by. "Ironically, there was no change. Both of us work out of helplessness, even in old age, as there is no other source of livelihood," he said.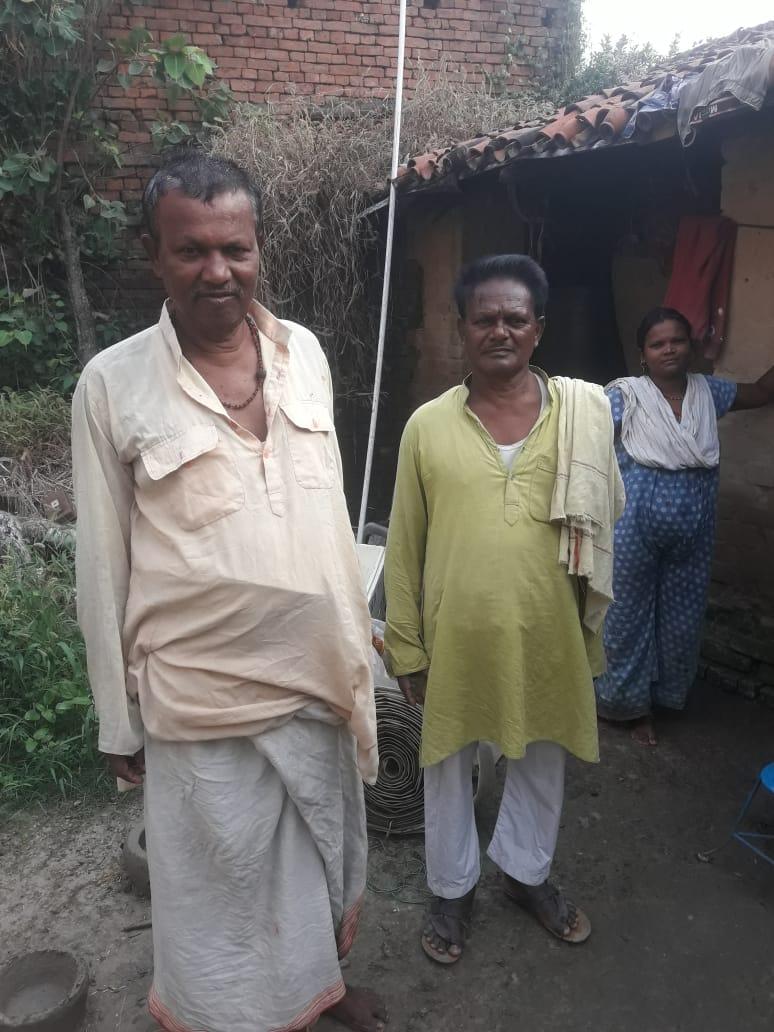 Ganesh and Mahesh at Wajidpur
The Mahto brothers are members of the Nonia caste, an extremely backward category. They are one of only two such households from their caste in a village of nearly 200 homes.
Purryag's great-grandfather, Prayag, lived in Wajidpur village – now under Punpun block in Patna district – before they were taken away by the British to Mauritius in the 19th century as indentured labour.
Wajidpur, about 25 kms from Patna, was a sleepy village before the Mauritius president visited in early January, 2013. It hit national headlines a few days before and after his visit, drawing interest from neighbouring villages. It falls under semi-urban and rural Phulwari Sharif assembly constituency in Patna district.
This assembly seat is witness to a direct contest between a Communist Party of India (Marxist-Leninist) Liberation candidate and a JD-U hopeful. The CPI-ML has a strong support base among Dalits and other backward castes in certain rural pockets in the constituency. Besides, Yadavs and Muslims, considered loyal to Grand Alliance led by the RJD, have a sizable population. However, the Lok Janshakti Party, a BJP ally, has fielded its candidate against the JD-U, which may lead to a triangular contest.
Ganesh recalled that the event brought much hype and temporary name and fame, not tangible change. He said he does not keep good health and that if the government wished, he was open to being employed as caretaker-cum-gardener of a big pond constructed in the memory of his great grandfather in the outskirts of the village after Purryag visited.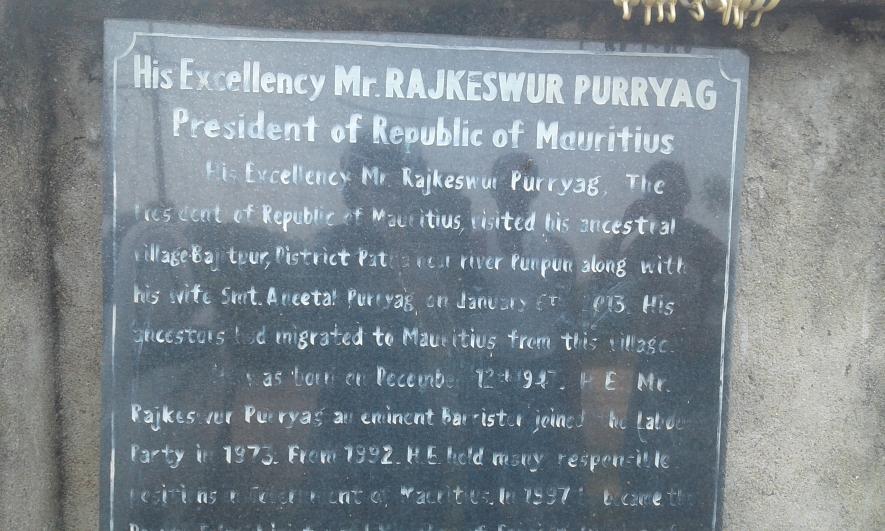 "We were overjoyed and unable to express our feelings. It was the happiest moment of our life. We were invited on the dais, touched Purryag's feet to honour him as an elder of our family. We never thought that members of our family members would reach such a high post in a foreign country," said Ganesh.
They gifted him soil from the village, a white dhoti, a red sari for his wife and a bouquet of paddy. "Purryag chatted with us and inquired about our family," he said. He still remembered that when both brothers requested Purryag for help for his poor relatives, Purryag then told them that Nitish Kumar would help them and take care of them. However, that was not to be.
"Even if we did not get much, the village did benefit and some development happened," Ganesh said.
Anantu Malakar, a middle-aged resident of the village said the Mahto got nothing. "Like the other poor people in the village they are struggling for survival," he said.
Mahesh said both brothers together have ten kathas of agricultural land. It is not adequate to produce paddy, wheat and pulses for their families. Ganesh is father to four married daughters while Mahesh has four sons.
Ganesh's daughters, Soni Devi and Chanda Devi, said there had been no contact from the island nation. "We expected that someone from Mauritius would visit us as this village is the ancestral land of Purryag's family. No one returned. We want our children to study in good schools but are unable to send them to a private school in Patna," they said.
Phulwatia Devi, Mahesh's wife said they did not get a single rupee and are still poor. She recounted how Purryag spoke to her and hugged her and her husband and brother-in-law. "He had also spoken in broken Hindi to express his bond with his roots. However, after returning, it seems he forgot us. We were hopeful of getting something," she said.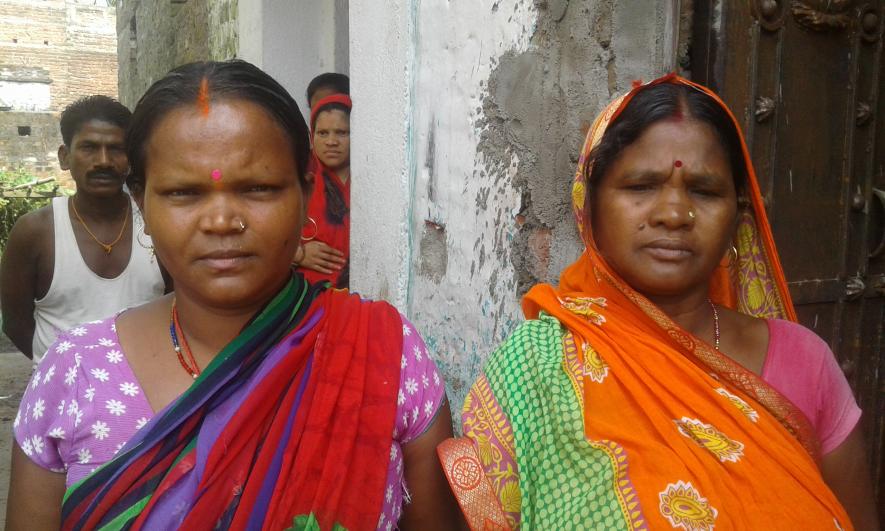 According to reports from 2013, Purryag had said that he was "filled with emotion on reaching the land of my forefathers about 150 years after he left it for Mauritius," he said in Hindi after breaking down in front of the10,000-odd people in Wajidpur.
Before he visited Wajidpur, Purryag had requested the state government to identify his ancestral village in Bihar. A team of the government officials succeeded in locating the village and also dug out the family tree of Purryag's ancestors. Ganesh and Mahesh were identified as his relatives.
Nagendar Singh, a resident, said that thanks to his visit, concrete roads, the big pond, a water tank and high school building were constructed. The school is not functional yet though.
Another villager, Sachin Kumar, said a government-run primary health centre in the village remains closed most of the time. "Doctors have not visited the centre since for four to five months. Besides, villagers hardly get any medicine. This centre is only functional on paper," he said. Ajay Kumar, another resident, said the pond was not being maintained either. Even the stone plaque made with black granite in Hindi is broken while the English one hasn't been fixed yet.
A large number of people from Bihar had been forced by the British to move to places like Mauritius, Fiji, Trinidad, Suriname, South Africa and other places in the 19th century to serve as indentured labour in sugarcane and rubber plantations.
All Photo's by Mohd. Imran Khan
Get the latest reports & analysis with people's perspective on Protests, movements & deep analytical videos, discussions of the current affairs in your Telegram app. Subscribe to NewsClick's Telegram channel & get Real-Time updates on stories, as they get published on our website.
Subscribe Newsclick On Telegram