Bihar Elections: The Tragic Face of De-Industrialisation
The JDU-BJP govt. failed to boost industry, leading to continuing under-development and poverty.
If you ever want to see what the lack of industrial production does to a society and its economy, Bihar is the place to visit. Despite all the claims of 'development' and 'sushasan' (good governance), Bihar's Nitish Kumar-led government presided over not just industrial stasis, but an actual decline in the number of factories and workers in the last few years of its present term.
Remember that these were the years when he had switched over to cosying up with the Bharatiya Janata Party (BJP) after winning the 2015 State Assembly Election with the Grand Alliance. So, he had the full backing and political clout of the Modi government behind him. Yet, the result was a disaster for Bihar's nascent industrial sector.
As the chart below shows, the number of factories steadily dipped from a high of 3,623 in 2015-16 to 3461 in 2017-18, according to latest data available from the Annual Survey of Industries (ASI), which carries out yearly surveys of units registered under Factories Act.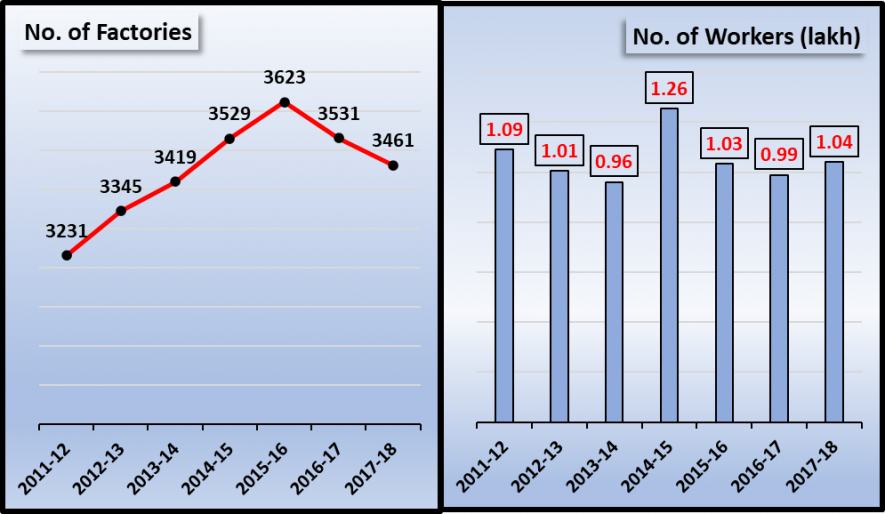 The striking feature of this industrial scenario is that the number of workers employed in factories is abysmally low and stagnant at around one lakh over the years. For a state with over seven crore people among theworking age population, this represents about a 0.1% share.
It is thus not surprising that the contribution of the industrial sector to the state's economy (as measured by the Gross State Domestic Product (GSDP) remains at around 19% – the lowest among all major states in the country. In fact, only the north-eastern states and Union Territories have a lower industrial contribution to their respective GSDPs.
What about the MSME Sector?
It may be thought that perhaps the Micro, Small and Medium Enterprises (MSME) sector may be flourishing, and at least partly making up for this chasm in Bihar's economy. But it doesn't appear to be so.
According to the Reserve Bank of India's collection of data provided by state governments, in 2015-16, there were 35 lakh MSMEs in Bihar, up from about 15 lakh reported in 2006-07 in the All India Census of Small Scale Industries. This would seem to be a splendid – indeed dramatic – growth. However, these data is wrapped in a fog of definitional uncertainty.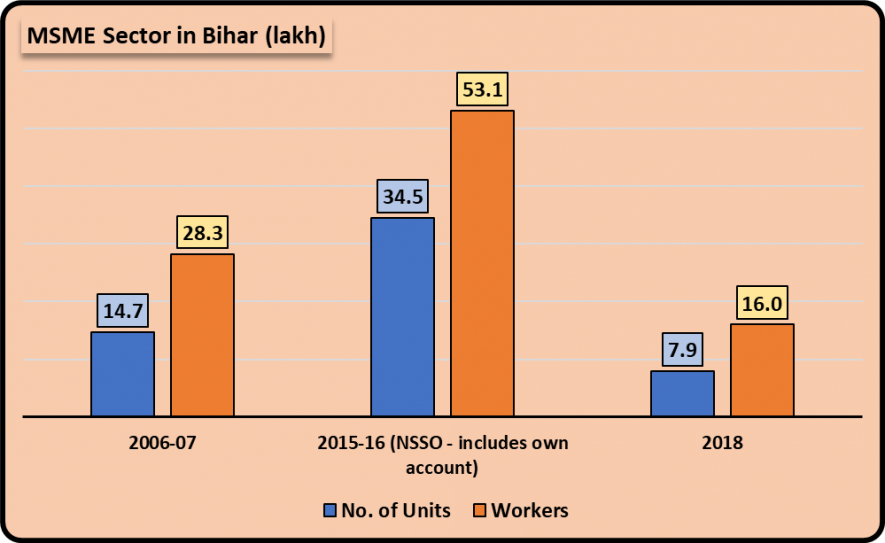 The high figure was reported by the National Sample Survey Office (NSSO) survey of unincorporated enterprises and covered all non-crop growing enterprises (barring public sector and non-profit enterprises). This included 'Own Account Enterprises' too, which are such outfits with no hired workers. In other words, they are household businesses – like selling pakoras. tea or tobacco products on the roadside, or repairing motorbikes, even street vendors.
The MSME sector, as defined by the law and by the central ministry, and as considered conventionally, does not include such own-account enterprises. In fact, the official definition of MSMEs was not based on employment but on investment. In May this year, the Modi government amended this definition and defined micro enterprises as those with up to Rs one crore investment and up to Rs five crore turnover. Similarly, onward for small and medium enterprises. It is clear that enterprises being considered have investments running into lakhs or crores of rupees, and are not the individual roadside vendor or repair mechanic who barely have any investment or turnover to speak of.
Hence, the inclusion of these own account enterprises in Bihar's MSME sector is a sleight of hand, which appears to have emanated from the central ministry itself because they too quote the same NSSO survey report while giving data.
So, what would the real numbers in Bihar be? According to the industry department data, quoted in the state government's official publications, there were 7.89 lakh MSMEs in Bihar as of 2018. Their employment was stated as around 16 lakh. This figure is arrived at on the basis of registration with the department and hence represents a more valid picture, although how many of these are still functional is anybody's guess.
Clearly, the MSME sector too is not doing well in Bihar. Nitish Kumar's government was quick to follow several other states in extending the working day for workers and employees from eight hours to 12 hours, taking the pretext of the pandemic and lockdown. This goes to show that he and his well-wisher, PM Modi, are keen to protect the interests of whatever industrialists remain in Bihar.
But both these wise men, who both claim to be the high priests of 'development' have singularly failed in Bihar – and condemned the state to more years of de-industrialised misery and backwardness.
Get the latest reports & analysis with people's perspective on Protests, movements & deep analytical videos, discussions of the current affairs in your Telegram app. Subscribe to NewsClick's Telegram channel & get Real-Time updates on stories, as they get published on our website.
Subscribe Newsclick On Telegram