Bihar Elections: Why Jobs Have Become the Key Issue
Double digit jobless rate, crashing women's employment and absolute fall in number of employed have left people in th state devastated – and furious.
Unemployment, it is often said, is death by a thousand cuts. It pushes families into hunger, snatches away children's education, prevents medical care, and propels people into debt. And, if you are already poor and disadvantaged and living on the edge, unemployment is like a death sentence.
A few days ago, new monthly unemployment estimates were released by Centre for Monitoring Indian Economy or CMIE. Bihar's jobless rate was nearly 10% in October 2020. It's the 21st consecutive month of double-digit unemployment rate. [See chart below] That's an unbearable burden that the people of Bihar have been shouldering and it is this that is making them see the ongoing election as a chance to change course, set things right (hopefully) and step back from an abyss they are staring into.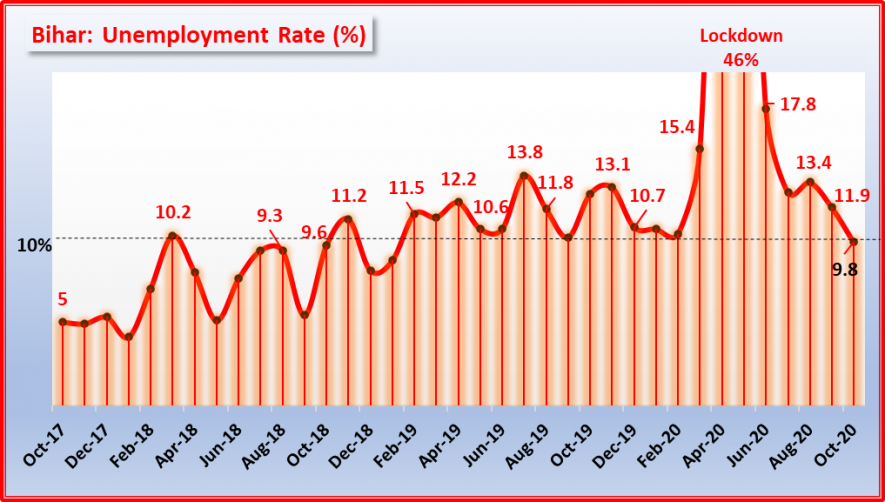 During the two months of complete lockdown – April and May – Bihar registered some of the highest jobless rates in the country – around 46%. Half the workforce was without jobs. Remember that Bihar is one of the poorest states in the country and for a large majority of people, the heartless lockdown meant going hungry, surviving on minimal food and putting aside their pride to await patchy government handouts. Now, things are supposed to be back to normal – which means they are back to double-digit joblessness, out-migration and the daily struggle to survive.
Falling Employment
It is not as if joblessness is happening because new young entrants into the job market are not getting jobs. That may be true, but even existing jobs are being lost, as the chart below shows.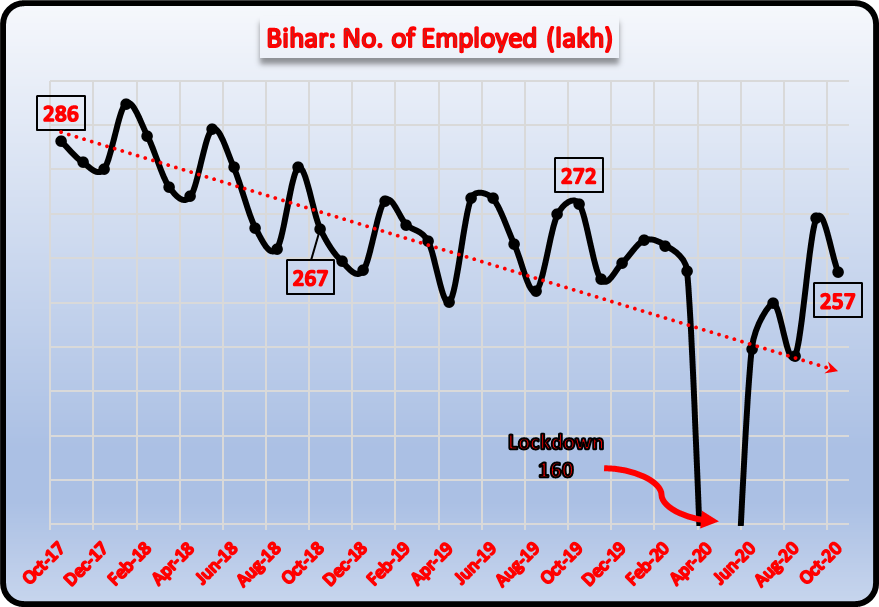 In October 2017, around the time Nitish Kumar betrayed the people's mandate and switched sides to join hands with Bharatiya Janata Party and continue as Chief Minister, Bihar had an estimated 286 lakh (2.86 crore) employed persons. Since then this number has been declining steadily, though going through an up and down cycle, which is determined by the largely agriculture-dependent economy. During the lockdown this number dropped dramatically to just 160 lakh (1.6 crore) – a 44% decline. Since then, it has increased – people have to work to survive – but the latest October figure shows that the number of employed is 257 lakh (2.57 crore).
These are 'jobs' mostly related to agriculture or casual labour in the non-farm sector. These are back-breaking jobs and give very poor returns. These are also seasonal, so people may not earn for weeks before getting a few weeks of work. It is the bottom rung of economic activity.
Women's Work Has Crashed
Contrary to the perception that women usually find work in largely agricultural economies, Bihar has the most shocking rates of women's work participation in recent times, according to CMIE, as well as the government's own Periodic Labour Force Survey (PLFS). [See chart below, based on CMIE data]
From a 'high' of about 8% in May-August 2016, women's participation fell to just 2.4% in January-April of 2017, and since then it has remained around that level. In May-August 2020, it was recorded at 2.2%. This is the lowest work participation rate among all states in the country.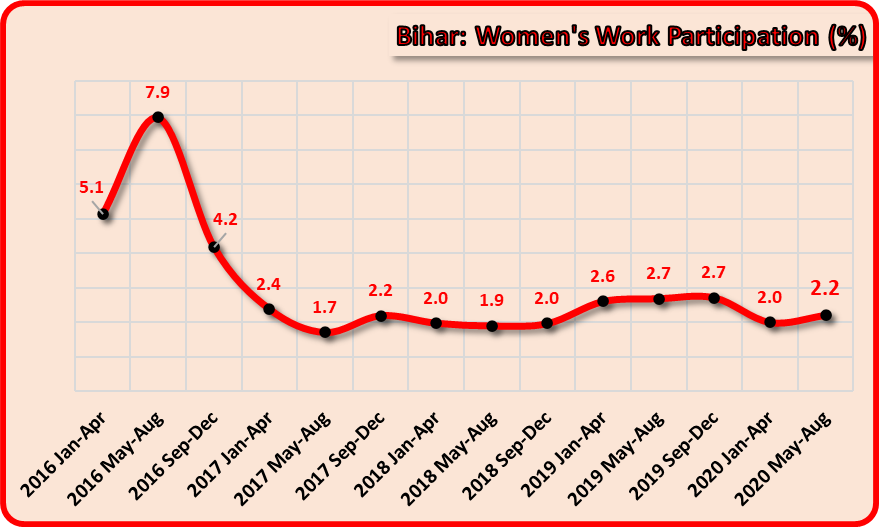 The PLFS report for 2018-19, too, reported that in Bihar women's work participation rate was just 4.2% in rural areas and 6.2% in urban areas, giving an overall rate of a mere 4.4% for the state.
Part of the reason for this tragic state of affairs is that there are no jobs and agriculture is the only sector that is absorbing all the job seekers. Under such conditions, men tend to displace women from all work. Another factor is that many of the agricultural activities that were traditionally done by women, like weeding and caring for crops, are now being done through use of chemical weedicides etc. which are done through sprayers used by men.
The drastic fall in women's work participation has caused overall work participation rate to dip to unprecedented levels – in October this year, the overall work participation rate in Bihar was just 35%, according to CMIE. That means only about a third of the working age population in the state is working. This is catastrophic for the people and a macabre waste of human capabilities.
All this will require a major reorientation of governance and policy- making. The Narendra Modi government at the Centre and its junior partner, Janata Dal (United), in Bihar is working in the reverse direction – by bringing in new farm laws it plans to hand over agriculture to big traders and land owners, and agri-business companies. By diluting labour standards, it is further crushing workers into poverty.
The people of Bihar have come to understand this instinctively – that's why the mood is to throw out the incumbent Nitish Kumar government. And, for that, they are willing to rise above caste and religious divisions.
Get the latest reports & analysis with people's perspective on Protests, movements & deep analytical videos, discussions of the current affairs in your Telegram app. Subscribe to NewsClick's Telegram channel & get Real-Time updates on stories, as they get published on our website.
Subscribe Newsclick On Telegram