Bihar Elections: Women Bear the Brunt of JD(U)-BJP Jungle Raj
Crimes against women have tripled with four out of five accused getting acquitted under Nitish Kumar's watch.
The ruling Janata Dal (United)-Bharatiya Janata Party combine in Bihar, facing a tough election, is harping on the so-called 'jungle raj' during the preceding Rashtriya Janata Dal government 15 years ago. But crime data collected by the National Crime Records Bureau (NCRB) shows that crimes against women have more than tripled between 2005 and 2019. This is the period in which JD(U)-BJP have themselves have been continuously ruling, except for a brief two-year hiatus in 2015-17. [See chart below]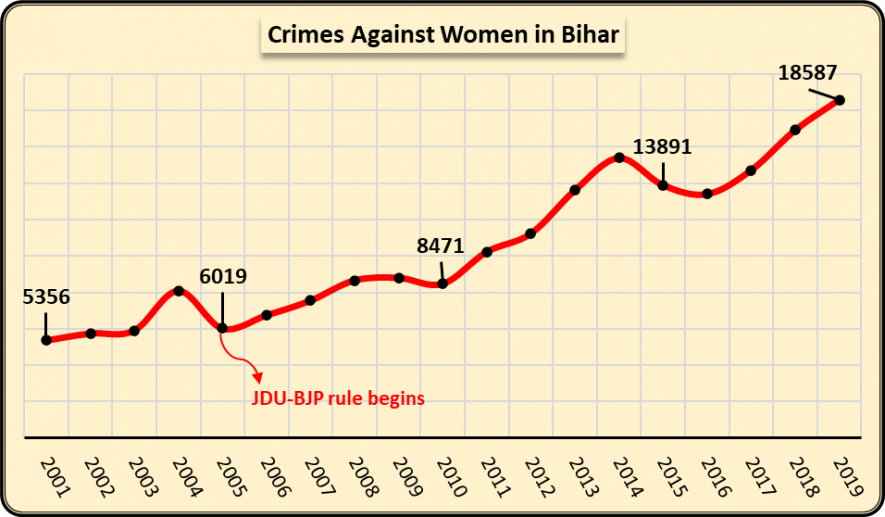 Worrying Increase in Crimes Against Women
Crimes against women include murder, rape, child rape, dowry deaths, sexual assaults and harassment, acid attacks, kidnapping, trafficking of women and several other crimes, enumerated in either the Indian Penal Code (IPC) or various special laws like the Dowry Prohibition Act or the Protection of Children from Sexual Offences (POCSO) Act.
In Bihar, crimes of rapes have increased over 40% in just the past five years, from 1,041 in 2015 to 1,460 in 2019. These include rapes of children which are covered under the POCSO Act. In the past three years, since rapes of children have been listed separately, there has been a shocking 19% rise in cases from 1,333 in 2017 to 1,590 in 2019.
One of the most barbaric crimes -- dowry deaths -- perpetrated by husbands and relatives while pressuring wives for getting more dowry, have increased from 987 in 2016 to 1,127 in 2019, a 14% increase. In the same period, there were 12,814 cases of husbands and relatives being booked for cruelty towards wives (Section 498A of IPC), a usual concomitant of precursor to dowry death.
Bihar is certainly not the leading state in terms of crimes against women. But what is worrying is the rate at which these crimes are increasing, fast catching up with other leading states like Uttar Pradesh, Madhya Pradesh or Rajasthan.
Although controlling crimes against women cannot merely be done by policing and laws, it is an essential prerequisite to any effective societal battle against the patriarchal ideology that considers women as just objects for sexual gratification and second class citizens. How have Bihar's police and courts – under the jurisdiction of the state government -- dealt with crimes against women?
Police Bungling and Low Conviction Rates
In the past four years for which data is available, conviction rates for crimes against women have been abysmally low in Bihar – in the range of 16-18%, except in 2018, when it improved slightly to 28%. [See chart below] This is primarily because cases take too long, police investigations are patchy and often bungled, and courts too tend to be lax.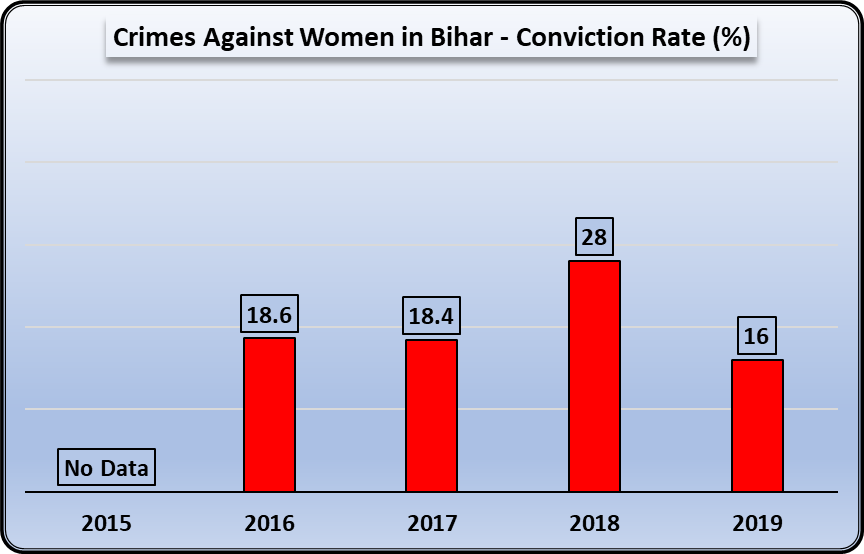 It is well known that women are pressured by family members and friends not to report crimes as it would "dishonour" them in some way and leave them "tainted". So, a large number of cases are not even reported to the police.
But even those that are brought to the notice of the police face relentless pressure of settling the matter without getting involved in legal wrangles. Often, the police themselves try to mediate and settle matters. But the fate of those cases that do get registered is nothing better, as the following data from 2019 shows.
At the start of 2019, there were 9,854 cases of crimes against women pending investigation from last year. Added to this were 18,857 cases in the year, making a total of 28,441 cases that were under investigation. Of these, 4,175 cases (15%) were closed at the police level itself because of 'mistake of fact or law' (2813), 'false' (725), 'no evidence found' (607), and 30 others.
The police completed investigations and filed chargesheets in 10,859 cases. That left 13,407 cases that are still being investigated in 2020. The pendency rate is thus 47%, that is, nearly half the cases spill over to the next year. The comparable figure for the whole country is 33%. Of the total cases the police started off with at the beginning of 2019 (28,441), chargesheets were filed in just 38% cases.
Now have a look at how courts in Bihar dealt with crimes against women cases.
The situation is worse in courts. The year 2019 started with a staggering 74,099 such cases pending in the courts. To these were added 10,859 more cases through the year, giving a total of 84,958 cases. Some 387 cases were compounded, that is, a compromise was effected between the victim and accused. Convictions were handed out in 463 cases while 51 accused were discharged and 2,379 were acquitted. That means, the conviction rate was a mere 16%. The rest of the cases – 81,678 of them – carried over to 2020, and many will continue to wind their weary way through the labyrinth for years.
These two snapshots of the investigative branch and the judicial branch show how tardy the law is and how slippery is its grip over criminals. Yet, the Bihar government is blithely claiming that it was they who ended the 'jungle raj' and brought in an era of peace!
Get the latest reports & analysis with people's perspective on Protests, movements & deep analytical videos, discussions of the current affairs in your Telegram app. Subscribe to NewsClick's Telegram channel & get Real-Time updates on stories, as they get published on our website.
Subscribe Newsclick On Telegram