Bihar: Maize Growers Launch Satyagraha, Demand MSP for Crop
Many farmers initially refused to sell maize as prices plunged to unforeseen depths. Others were left without an option, and were forced to sell their produce at low prices after months of hard labour.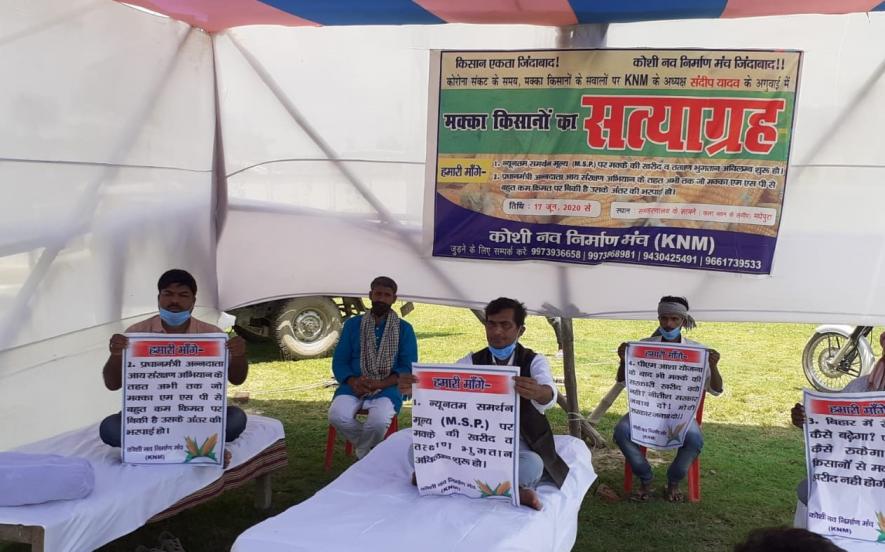 Patna: Demanding that the state government procures maize and sets a Minimum Support Price (MSP) for the crop, farmers in Bihar's Madhepura district protested on Wednesday. The maize growers adopted the non-violent, Gandhian satyagraha as their method of protest.
The lack of government support has forced thousands of farmers from Bihar's Koshi and Seemanchal regions, known as hubs of maize cultivation, to resort to a distress sale this year. Unhappy and angry over the government's failure to provide them with an MSP for maize, multiple small groups of farmers have staged sit-in protests and blocked roads over the last month.
Dozens of maize growing farmers from Araria district have been on a relay hunger strike since Monday. They have been demanding an MSP and procurement by government agencies.
Under the banner of the Koshi Nav Nirman Manch(KNNM), maize growers have been staging a sit-in satyagraha in Madhepura. They have been demanding that the government procures maize, the same way that it does paddy and wheat.
"Farmers are in distress as they have been forced to sell maize at low prices. Traders took advantage of the long lockdown period and exploited them," said Mahendar Yadav, Convenor of the KNNM, who added that the farmers were following social distancing norms while protesting.
Yadav said that amid the COVID-19 pandemic, maize growing farmers had been left at the mercy of traders, agents and moneylenders. "The government should have initiated a process to procure maize at MSP from farmers. But nothing has happened so far, despite our demands," he added. It has been a month since they first made their demand to Chief Minister Nitish Kumar, Yadav said, mentioning that they are still "waiting for a response from the government."
Unlike paddy and wheat, which the state government procures directly from farmers through Primary Agriculture Credit Societies (PACS), it does not buy maize. Hence, there is no minimum support price (MSP) for maize farmers in Bihar. They are deprived of an MSP and are exploited by traders as a result, he said.
To help minimise their losses, the KNNM has demanded that the government helps the farmers under the Pradhan Mantri Annadata Aay SanraksHan Abhiyan (PM-AASHA). The farmers have blamed the lockdown for a fall in the price of maize, which is the lowest in a decade.
Sambhu Mandal, a maize grower, said the crop is a lifeline for farmers in the Koshi region. "The extra income from maize helps us to invest in education, health, the construction of our houses and in the marriage of our daughters. The government should help us by procuring maize at MSP, in the same way that it does for paddy and wheat farmers. We hardly get any support but are exploited by local traders in the absence of government support," he added.
Mandal's views were echoed by other farmers, including Triloki Das, Abhinandan Yadav and Mantu Kumar, all of whom were part of the satyagraha. They expressed their dismay over the government's "step motherly treatment" to them.
According to them, if farmers do not get the right price, they will not be able to repay their debts to moneylenders and that debt-ridden farmers were prone to suicide.
The farmers said that due to the lockdown, non-local traders have not been able to make their way into the area to purchase maize directly from farmers in the villages. Local traders and their agents, who have been visiting the farmers in their absence, offer lower prices which range between Rs 1,000 and Rs 1,100 per quintal. Last year, the farmers said they sold maize at Rs 2,200 per quintal.
The Centre has fixed an MSP of Rs 1,760 per quintal of maize.
Many farmers refused to sell maize as prices plunged to unforeseen depths. Others were left without an option, and were forced to sell their produce at low prices after months of hard labour, given their investments in seeds and fertilisers.
The farmers who ended up selling their produce were primarily marginal farmers. They had stored their crop in makeshift arrangements close to their houses, after drying it for days under bright sunshine in April and May. They had hoped for a better return in June, expecting that prices would go up later.
"The lockdown has affected demand, sales and purchase to an unforeseen extent," said Mandal. The KNNM has threatened a mobilisation of farmers for a bigger protest.
Manch leaders recalled that over six years ago, Prime Minister Narendra Modi had promised an adequate MSP for maize crop, during his election campaign ahead of the 2014 general elections.
According to officials from the agriculture department in the state, nearly 65% of the total maize from Bihar is grown in the Seemanchal and Koshi regions alone. Maize is mainly grown in the four Seemanchal districts of Purnea, Kishanganj, Araria, Katihar and in the neighboring districts of Madhepura, Saharsa, Supaul and Khagaria, areas that form the Koshi region.
As per government data, maize is grown in about 1,40,000 hectares in the Seemanchal region and over about 90,000 hectares in the Koshi region.
More than 17 lakh MT of maize is grown annually in Seemanchal and Koshi. Of this, more than 14 lakh MT is purchased by traders and MNCs and sent outside the area, while around three lakh MT is consumed locally, according to data till 2019.
A decade ago, maize was grown on a small scale. As high yields, high demand and a good profit got the crop its pila sona (yellow gold) tag, more and more farmers took to cultivating maize. Village after village in the two regions switched from paddy and wheat to maize.
According to agriculture department officials, Bihar has a high maize productivity of 3,904 kg/ha, more than the national average of 2,889kg/ha. The state has witnessed a sizable growth in maize production over the past decade.
Bihar is India's third largest producer of maize. The state produced 1.36 million tons of the crop in 2005-06. This increased to 3.85 million tons in 2016-17, as the high-yielding maize of Rabi season has been replacing the winter crops of wheat and paddy in the state.
Get the latest reports & analysis with people's perspective on Protests, movements & deep analytical videos, discussions of the current affairs in your Telegram app. Subscribe to NewsClick's Telegram channel & get Real-Time updates on stories, as they get published on our website.
Subscribe Newsclick On Telegram