'80% Bihar Migrant Workers in Delhi-NCR Had Zero Income in April-May'
A total of 87% workers said they had no jobs and no clue about how to earn enough to feed their families, says a survey report on the impact of the sudden lockdown announced on March 24, to prevent the spread of COVID-19.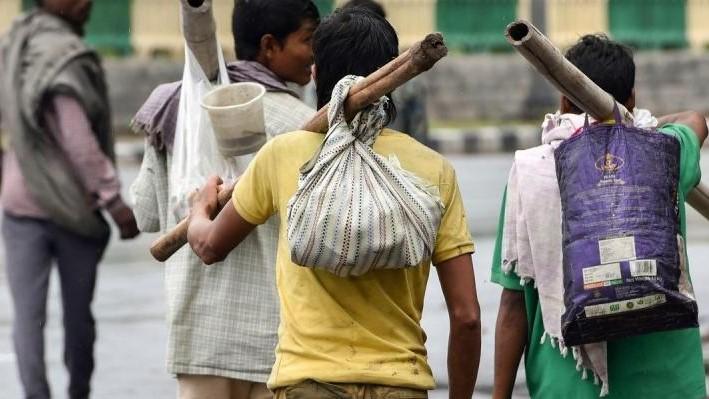 Representational image. | Image Courtesy: The Wire
Three months after the sudden lockdown announced on March 24, extreme hopelessness and insecurity about jobs continue to stare at migrant workers from Bihar in the Delhi-National Capital Region, with 87% them saying they have no jobs and no clue about how to earn enough to feed their families, according to a survey report on the impact of the COVID-19- induced countrywide lockdown announced by the Centre. The telephonic survey of 310 migrant families working in Delhi-NCR from Bihar, done in June, covered 1,586 people.
The deep financial crisis and an uncertain future being faced by these migrant workers from Bihar can be gauged from the fact that over 80% families said they had zero income during April and May, while 87% respondents reported that their future income in the next six months was "extremely uncertain" as they were jobless as of now.
A total of 48% families said they could manage to earn some income during the lockdown but, on an average, their income was about half (56%) as compared to their average pre-lockdown earnings. As a result, the average monthly expenditure of a majority of these families had become half (48%) of their pre-lockdown spending.
More than 70% respondents said they wanted and MGNREGS-type scheme in urban areas as well, with enhanced wage rates – some of them (30%) said they already have MGNREGS (rural job guarantee scheme) job cards.
The respondents were originally from Araria, Aurangabad, Begusarai, Bettiah, Bhagalpur, Champaran, Chhapra, Darbhanga, Hajipur, Madhubani, Motihari, Patna, Rohtas, Saharsa, Samastipur, Sasaram, Sitamarhi and Siwan districts from Bihar and were working in Delhi, Gurgaon, Noida etc.
The survey also found that more than 70% families did not receive any money in Jan Dhan accounts and 90% households said they did not receive any free gas cylinder even after three months of the announcement of the PM Garib Kalyan Yojana.
Living in fear amid the raging pandemic, 96% of the families reported having members with some ailment apart from COVID-19, adding that they were facing difficulties in treatment of the patients due to the lockdown.
Incidentally, the PM Garib Kalyan Yojana, announced in March, had made three concrete promises to provide some relief to the toiling poor of the country due to the lockdown. These were – free ration, free gas cylinder and direct cash transfer of Rs.500 per month for three months in Jan-Dhan bank accounts.
However, the survey, led by the authors, found that 14% families had not received free ration, 72% families said they had not received any cash transfer and 89% of households reported not getting any free gas cylinder even after three months of the lockdown. Such a dire situation underlines the need for more efficient implementation of the schemes by both the Central and state governments.
The hopeless and abandoned condition of migrant workers and their families was evident in all our telephonic calls for the survey, with most of them asking for basic help for survival, such as rations, house rent, medicine and some cash support from any agency of the State.
Most of the workers who are still in Delhi-NCR, said they were trying to go back to their native places. The need of the hour, therefore, is to provide them some employment of last resort (urban job guarantee), some cash transfer and free food along with quality healthcare facilities at affordable cost.
Survey Break-Up
While the survey sample may not be a representative one, it gives some idea about the ground level situation.
Among the migrant families covered by the survey, there were 198 Hindu families and 112 Muslim households. There were nine Scheduled Tribes, 40 Scheduled Castes, 148 Other Backward Classes or OBCs and 113 families from the other caste backgrounds.
As far as the educational background of the respondents is concerned, there were three graduates, 119 who had passed Class 10, as many as 170 school and Madrasa drop-outs and 18 illiterate respondents in the sample.
The respondents were from diverse occupational backgrounds, including factory workers, daily wage earners, housewives, vegetable venders, garment workers, electricians, automobile mechanics, drivers, hawkers, shop keepers etc. The average monthly earning of these households was slightly above Rs.12,000 per month before the lockdown. The average family size of our sample households was slightly above five, ranging from two to 10 members. The per capita income of these families varied from Rs.600 to Rs.17,500 per month, with an average of Rs.2,650, before the lockdown.
The class perspective within this group of people is extremely interesting. If these 293 households are divided into five roughly equal groups on the basis of their per capita pre-lockdown family incomes, we see that the expenditure compression for the poorer section of population has been relatively much lower than that of the comparatively richer sections within this class of people. Since, the poorer section of people mostly consume the essentials, it was not easy for us to cut down those expenditures. A total of 245 respondents out of 310 (79%) reported increase in indebtedness due to the lockdown.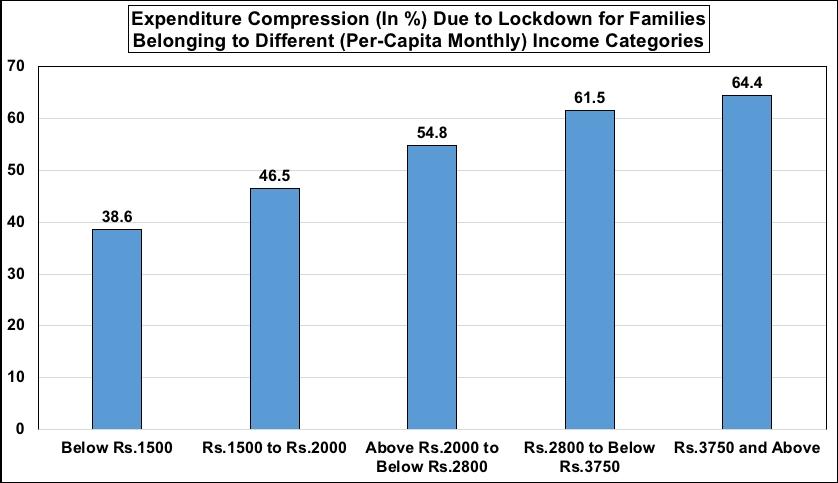 Overall, the survey paints a dismal picture of the condition of Bihari migrant workers in Delhi-NCR, who are living in a state of complete hopelessness and abandonment. It is after the declaration of the sudden lockdown that the plight of migrant workers came to the fore, underlining the fact that this vast section of the Indian population is among the most vulnerable ones today, as they are neither here nor there ('na ghar ka, na ghaat ka'). They are being treated as outsiders in their own villages and towns, and there is no work for them in places where they were working till now. In fact, migrant workers are socially, economically and educationally among the most deprived sections of the population today. The need of the hour, therefore, is to provide them some employment of last resort, some cash transfer and free food along with quality healthcare facilities in affordable cost. Hope, their issues would be addressed sooner than the later in the world's largest federal democracy.
Surajit Das is assistant professor at the Centre for Economic Studies & Planning, Jawaharlal Nehru University, Delhi, and M U Farooque is managing editor of the MASS journal.
Get the latest reports & analysis with people's perspective on Protests, movements & deep analytical videos, discussions of the current affairs in your Telegram app. Subscribe to NewsClick's Telegram channel & get Real-Time updates on stories, as they get published on our website.
Subscribe Newsclick On Telegram