Bihar: Nitish Kumar Disappoints Thousands Living Without Basic Amenities Within Koshi Embankments
Kumar, during his Samadhan Yatra in Supaul, visited one village outside the embankments of Koshi on Wed to review different government schemes, but he did not visit any village within the embankments as requested by local people.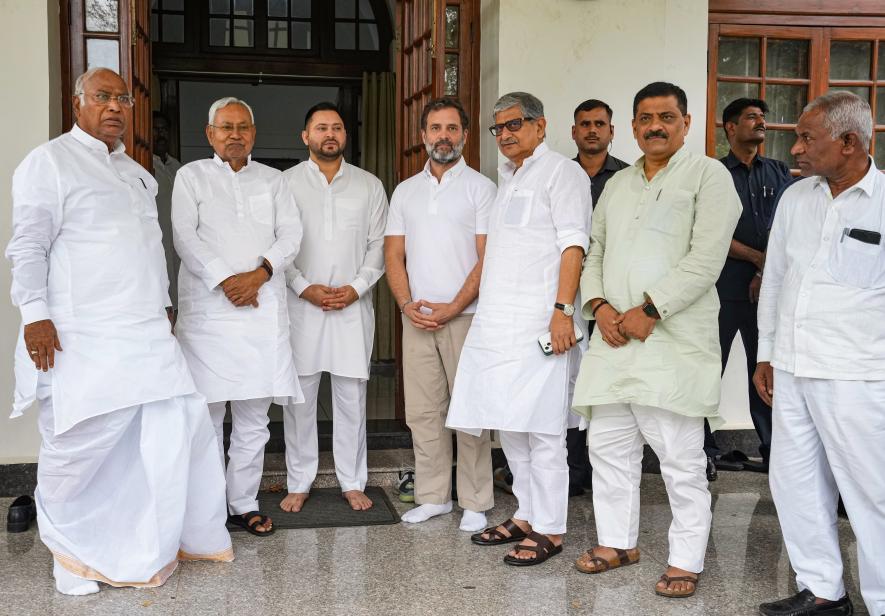 Patna: Thousands of people, mostly poor farmers, living without basic amenities within the embankments of the Koshi river in Bihar's Supaul district and struggling for survival for years, were left disappointed as Chief Minister Nitish Kumar failed to visit them.
They invited Kumar to visit them during his ongoing Samadhan Yatra to make him aware of the prevailing ground reality of development, contrary to what his party leaders, cabinet colleagues and government officials claim. 
Kumar, during his Samadhan Yatra in Supaul, visited one village outside the embankments of Koshi on Wednesday (February 1) to review different government schemes, but he did not visit any village within the embankments as requested by local people.
"As expected, Kumar disappointed people within the embankments by not visiting us to understand the human sufferings and to see the hot spot of underdevelopment. We waited hours for him to share our problems, but he ignored us," said Yogendar Mandal, a resident of Jobha village.
Mandal is one of the hundreds of villagers whose house was submerged in the river due to erosion in 2021, but the government has not compensated him.
"It is disgusting that villagers lost their houses during repeated floods, and those houses were submerged in the river due to erosion. The district officials denied compensation claiming there was no flood and no houses washed away," Mandal told NewsClick.
Ironically, Kumar claimed on the first day after he launched Samadhan Yatra last month that it was a move to understand the people's grievances and solve their problems. Taking this announcement seriously, people within the embankments invited him to visit their villages to solve their genuine problems.
Rajkumari Devi, a dalit woman and a resident of Sonbarsha village, told NewsClick that she was hopeful that CM would visit to see how her house was washed away in flood and river erosion in 2021. She was forced to live in others' houses. Similarly, Priyanka Devi, a resident of Khokhanha village, also saw her house getting submerged in the river due to erosion.
"I wanted CM to see our problem and solve the compensation issue that was not paid, but he did not visit here."
In an open invitation letter to Kumar, the Koshi Nav Nirman Manch (KNNM), a local organisation, assured CM that if he visits and interacts with people, there will be no protest, and they will not submit a demand letter. They promised to leave it to his inner conscience to decide the solution after seeing the reality.
"We humbly request you and want you (CM) to visit at least once the villages and people within the embankments of Koshi river and talk to them to see for yourself the reality. We assure you that people will not do anything, show black flags, or block the national highway or Koshi Mahasetu to express their grievances and anger for neglect. If you do not visit, it will disappoint people with your Samadhan Yatra and upset them," KNNM's founder convenor Mahendra Yadav and its Supaul president Inder Narayan Singh said in the invitation letter.
The KNNM further informed Kumar through this letter that people living within Koshi's embankments had been duped since independence. Even the promises made by the first Prime Minister and President (of India) remain unfilled. The current PM, Union ministers, other leaders, and top officials have yet to visit them.
Yadav and Singh said that ironically when the government has been setting up a medical college and hospital in the district, there is not a single primary health centre for people living within the embankments of Koshi. There is also a need for children's immunisation facilities.
"The government should establish a primary health centre in each village and start boat hospitals for people within the embankment."
Similarly, schools were also affected by annual floods and river erosion, which are increasing yearly.
"There is no arrangement of school education for children in villages washed away by river erosion," they said.
According to them, the pain and misery of those living within the embankments of Koshi are not known to outsiders. They have been facing damage and devastation caused by annual flooding, erosion, and displacement that badly affects those living within the embankments.
There are more than one lakh inhabitants in 380 villages located between the embankments of Koshi in Supaul. They have been forced to fight for survival for years as the government did not provide any help. Besides floods, the threat of river erosion is real as it washes away everything, including homes, agricultural land, school, mosque and temple.
"River erosion is a reality threatening us every year that turns hundreds homeless, displaces many and forces them to migrate," Singh said.
Yadav told NewsClick that floods and erosion victims living within the embankments have been demanding relief help, assistance, and other compensations. They did not receive the required relief and compensation after the floods two years ago, which violates the state government's norms. The villagers are also demanding rehabilitation and land tax abolition.
"It is a recorded fact that repeated floods and untimely heavy rainfall created more problems that badly affected them in 2021. Despite this, the government failed to provide Rs 6,000 relief help for each of them. Similarly, the government has not compensated for houses damaged during repeated floods and those houses were submerged in the river due to erosion," Yadav said.
He further said that the river erosion victims were demanding rehabilitation on the government land, and those who did not benefit from rehabilitation should be included in the fresh surveys.
"We want the government to ensure the abolition of land tax on Koshi flood and erosion victims, who have been living within the embankments for years, suffering and struggling for survival," he said.
They want the government to ensure ownership of their farmland submerged in the Koshi river. Fearing the loss of ownership of their farmland submerged in Koshi, farmers have been protesting against the provision of the land survey that any land submerged in the river will be surveyed as government land.
The land between the two embankments is full of silt, making farming impossible. Life is full of challenges and difficulties here. Because of this, the victims have been demanding freedom from lagan or land tax and cess collected by the government. According to Yadav, the land is cultivable only six months of the year when there is no flood. Most of the farmers and workers were affected and displaced by the construction of the embankment, but they were made to pay tax for the silted land and produce.
After the embankments were constructed in the early 1950s, thousands of people were left within the embankments at the mercy of floods. There are 3,789.96 kilometres of embankments in Bihar.
Koshi is known as the 'sorrow of Bihar' for devastating floods that cause heavy damage annually. It is a river of unstable nature and shifts its course frequently. The river, which flowed near Purnia earlier, now flows west of Saharsa; the distance between the two is close to hundreds of kilometres. Its uncertain nature has been attributed to the heavy silt carried during the monsoon season. The eastern Koshi embankment was breached in 2008, flooding five districts in northern Bihar and affecting millions of people. During the monsoon season this year, Koshi continued to create havoc in large areas of the state. It travels 205 km in Bihar to join the Ganges near Kursela in the Katihar district.
Get the latest reports & analysis with people's perspective on Protests, movements & deep analytical videos, discussions of the current affairs in your Telegram app. Subscribe to NewsClick's Telegram channel & get Real-Time updates on stories, as they get published on our website.
Subscribe Newsclick On Telegram