Bihar: Nitish Kumar's 'Har Ghar Nal Jal' Scheme Hit by Corruption, Incomplete Work
A recent government-led survey has shown that the tap water scheme is gasping to reach households in the state with several projects being non-functional.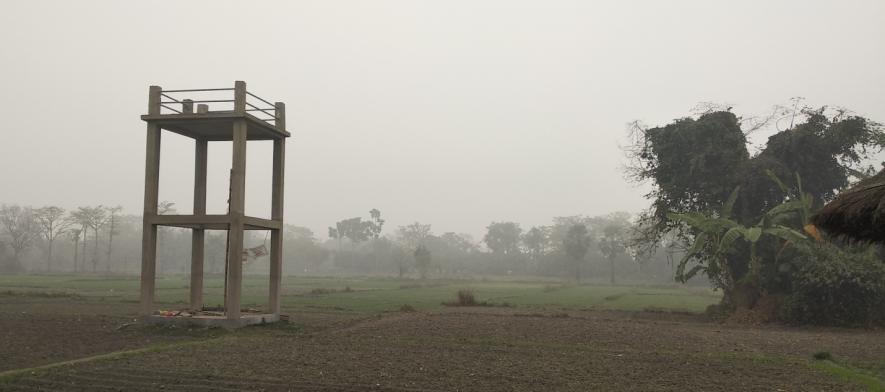 Incomplete Nal-Jal set up in East Champaran
Nitish Kumar's pet project 'Har Ghar Nal Jal' is mired in controversy with complaints of corruption and work being incomplete. Being part of the chief minister's cornerstone scheme 'Saat Nischay Yojna', the tap water project has become one of the priorities of the state government since it stormed into power. But a recent government-led survey shows incomplete and non-functional projects with financial irregularities across state.
In one of the early meeting with legislators, CM Nitish ordered to garner complaints of people pertaining to the ambitious Nal-Jal scheme and directed officials to redress grievances at district levels. The government has announced linkage of Aadhaar to all beneficiaries of tap water project by February next year.
The recent survey conducted by the state's Public Health and Engineering Department (PHED) exposes the gasping reach of the scheme to households. As per the reports submitted by the District Magistrates of 28 districts, 186 out of the 2,954 projects inspected were found incomplete while 279 projects were found to be non-functional during the inspection. As many as 1,952 projects were running without any complaint, but 562 projects of different scales had minor issues and 189 were suffering from major problems.
The district-wise summary report marks Khagaria with highest incomplete projects (49 out of 231) while 144 projects in Purnea and 82 in Kishanganj were reported to have most number of minor and major complaints.
Another government report in the month of October showed the project's snail pace with least penetration into rural areas. No work of it was witnessed in Katihar, Kishanganj, Purnea, Araria, Khagaria, Madhepura, Supaul and Saharsa. The data is turning claims made by the government on Nal-Jal into factoids engrossed in massive ground-level corruption.
Witnessing a streak of complaints regarding massive corruption and incomplete work in the tap water scheme, the PHED has come up with new set of promises entailing the addressing of grievances by linking Aadhaar cards. District Magistrates have been ordered to undertake continuous field visits to check and verify the scheme's functionality.
Underground pipes for the project found lying unused (East Champaran)
There is no dearth of incomplete Nal-Jal projects across Bihar amid tall claims of project completion by the government. In many blocks and panchayats of several districts, the water pipes are lying unsued and awaiting connection to all households and to the water tank. The above pictures of Chakia and Sugauli blocks in East Champaran raise questions over serious reachebility of the project.
Foundation work of Nal-Jal water tank, Purnea
Likewise, Tarabadi panchayat in Purnea district, which has an estimated 1,400 households in eight wards, is devoid of a Nal-Jal water tank till date. The panchayat secretary Mahroof said to NewsClick that underground pipes are being laid down in just two wards under the PHED's monitering. In the last four years, foundation work of Nal-Jal water tank has started after state polls got over. Adjoining panchayats are also way behind in receiving tap water. It is to be noted that PHED surveys have shown most number of incomplete or non-functional work in the state's Seemanchal region comprising Purnea, Kishanganj, Katihar and Araria.
In an embarrassment to the government, irregularities in Patna district were reported during the project's implementation. More than a dozen panchayats including Paliganj, Masaudi, Pandarak, Athmalgola, Ghosbari and Danapur have reported corruption. The district administration is prepared to file FIR against all 12 panchayat heads.
Last week, locals of Chiksi panchayat in Paliganj alleged siphoning of Rs. 36 lakh from public funds, which raised eyebrows of the administration.
For the opposition, the 'Nal Jal Yojna' appears to be most controversial among all policies that has instilled corruption at the root. Communist Party of India (Marxist Leninist) MLA from Paliganj, Sandeep Saurav while speaking to NewsClick said, "Nitish Kumar's much-hyped Nal-Jal to every household has decentralizsed corruption in Bihar. In my constituency itself, people complained against the incomplete project. The structure remains either incomplete or non-functional. I have questioned the Block Development Officer to reason out lagging pace of the scheme that started four years back. In upcoming time, we are planning to have press conference unearthing the decentralised corrupt model of susashan."
Apart from the Mahagathbandhan (Grand Alliance) constituents, Lok Janshakti Party (LJP) chief Chirag Paswan during election rallies had publicly claimed that the Nal-Jal Yojana was a major scam.
Nal-Jal set up under construction in Muzaffarpur
In Begusarai's Mansurchak block, the tap water structure was found debilitated just few days after its inauguration. According to Md. Izhaar the overhead tank collapsed just after water got filled for storage and supply. Likewise, a water tank had fallen down endangering lives in Shivajee Nagar block in Rosera, Samastipur district. Complaints also poured in from Bangra Nizamat panchayat in Sahebganj block, Muzaffarpur, where villagers wrote to the state government demanding proper investigation into alleged corruption at hands of panchayat officials in implementation of the tap water project. The agony of villagers in Nariyar panchayat under Motipur block is all about inefficient water supply despite a standing water tank. According to Rameshwar Rai, the Nal-Jal water tank got erected last year with assurance of water three times a day but no water supply to any of the village household is ground reality. Moreover, no permanent panchayat official is designated to operate the set up. As per survey of PHED, the inefficient Nal-Jal in Nariyar falls under minor problem having issues with pipe connectivity or leakage.
Meanwhile, the Muzaffarpur administration has been setting up back-to-back committees to probe irregularities in different blocks. Reports of corruption mostly from Paroo and Sahebganj compelled DM Dr. Chandrashekhar Singh to swing into action ordering a probe against negligence. A source in the PHED requesting anonymity informed that continuous complaints regarding Nal-Jal have pushed the government on back-foot, so all DMs have been instructed to be keep a hawk eye on execution of the projects and act firmly against miscreants.
After victory in the recently finished Assembly elections, Nitish Kumar announced the second part of the 'Saat Nischay Yojna', i.e. Seven Resolves-2, which includes youth-women empowerment, rural road connectivity, water to every farmland, solid-waste management, street solar lights in villages and health services at every doorstep. But ironically, Nal-Jal Yojna of the first part of the seven resolve programme has itself turned out to be problematic.
Get the latest reports & analysis with people's perspective on Protests, movements & deep analytical videos, discussions of the current affairs in your Telegram app. Subscribe to NewsClick's Telegram channel & get Real-Time updates on stories, as they get published on our website.
Subscribe Newsclick On Telegram