Bihar: RTI Whistleblowers Allege No Action by Govt Despite Prolonged Harassment, Intimidation
Among the states faring worst for safety of RTI activists, Bihar has emerged as a hotbed of violence with 17 murders in 10 years, according to a recent revelation by the Nagrik Adhikar Manch.
Last year marked 15 years since the Right to Information Act (RTI) 2005 came into existence. However, even after more than a decade long journey, activists using RTI as a tool to expose the truth behind misdeeds in sociopolitical sphere are facing a dreadful life. Among the states faring worst for safety of RTI activists, Bihar has emerged as a hotbed of violence with 17 murders in 10 years.
A recent revelation by the Nagrik Adhikar Manch (a peoples' initiative dedicated to RTI) has exposed the continuing gruesome attempts of harassment of whistleblowers in the state.
Home Dept letter for action on violence against RTI activists
In response to a streak of complaints of violence from RTI whistleblowers, the Home Department woke up from its deep slumber to order an impartial probe into cases of violence against these activists. The Home Department letter directed the concerned authorities to act on such cases of violence against activists, followed by another order stating that all cases should be disposed within a month under the supervision of Superintendent of Police (SP). In case, there is a complaint against the SP, the Inspector-General of Police must look into it.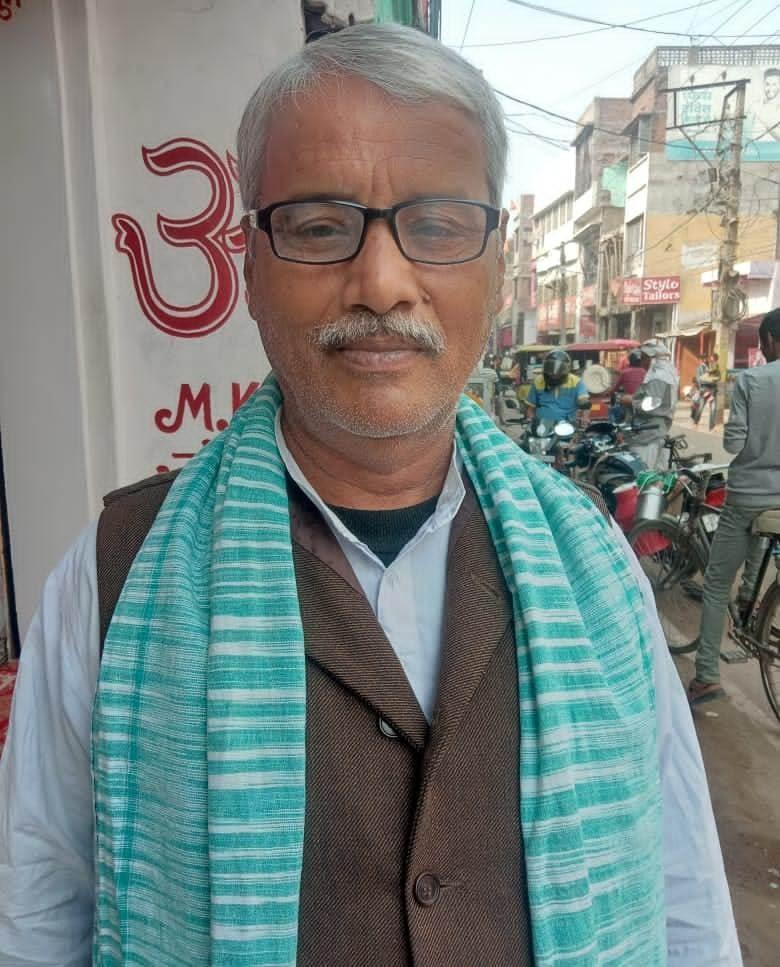 RTI activist Shiv Prakash Rai
However, Shiv Prakash Rai (55) a prominent RTI activist from Bihar and convener of the Nagrik Adhikar Manch has called out the lackadaisical attitude of the Bihar government for taking no action against the violence unleashed on RTI activists across the state. Rai told NewsClick that there are 213 cases of violence and bogus FIRs on whistleblowers by a nexus of police officials, government officers and anti social elements.
Also read: There's a 'Bizarre', Incomplete Logic to Amended RTI Act
"But, all 213 cases of violence submitted to senior rank police officials have resulted in no action by the government. I was told that 185 cases are under clearance but the action details against miscreants were not disclosed. So there is no transparency in the process. Meanwhile, the continuous assaults on whistleblowers and impunity to criminals have taken a heavy toll on our moral fight against wrongdoings of the system," the Buxar-based activist said. He has alone filed over 500 RTIs that exposing the corruption in the state system.

List of RTI activists, hailing from different parts of the state, as complainants with instances of violence, abuse and bogus FIRs which have been reported to police officials of their home district.
Not only, even the COVID-19 induced lockdown did not stop the Bihar Police and corrupt officials from brazenly using their power against whistleblowers, Rai said, adding, "Last year, Buxar witnessed another blow to a whistleblower when a minor son of an RTI activist was arrested under Arms Act just because details of paddy procurement by Primary Agriculture Credit Societies (PACS) in last few years were sought via RTI."
In the recent past, RTIs on road projects, MGNREGA job card being held by children and unravelling of corruption within Saat Nischay Yojana have also led to continued harassment of activists. 
Begusarai-based former lawyer Girish Gupta (75) was allegedly beaten up during the lockdown by government officials and local police. He had filed an RTI on advertisements in media outlets by police and block officials on various occasions such as birthday, festivals, national holiday seeking details of expenditure source.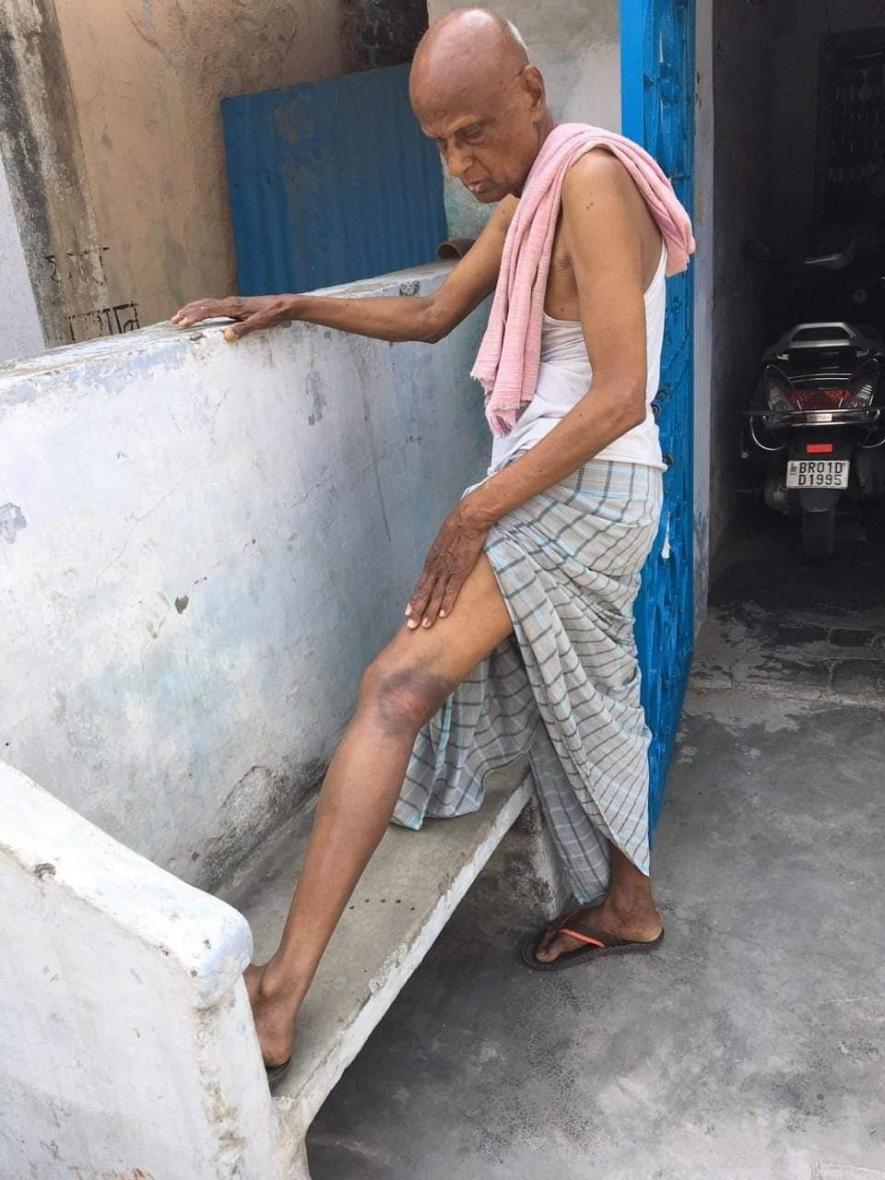 RTI activist Girish Gupta with beaten marks on leg
Gupta told NewsClick, "My continuous use of RTI irked the government babus and police who were known to use public money for personal benefit and as a result I was physically assaulted at my residence on April 4, 2020. Moreover, due to old age I have limited mobility, but despite that the local police had filed bogus FIRs under section 188 on me for violating lockdown rules. I am still waiting for action against power misuse on a senior citizen."
Besides gory murders and physical assaults, corrupt panchayat heads are known for deploying foul tactics to scare away RTI activists. Santosh Kumar Rai was entangled in a false case lodged by a panchayat head as he had exposed the latter's corrupt deals. As a result, the perturbed Madhubani-based RTI activist was forced to send a written plea to the then state's Director General of Police (DGP) Gupteshwar Pandey detailing the panchayat head's foul play.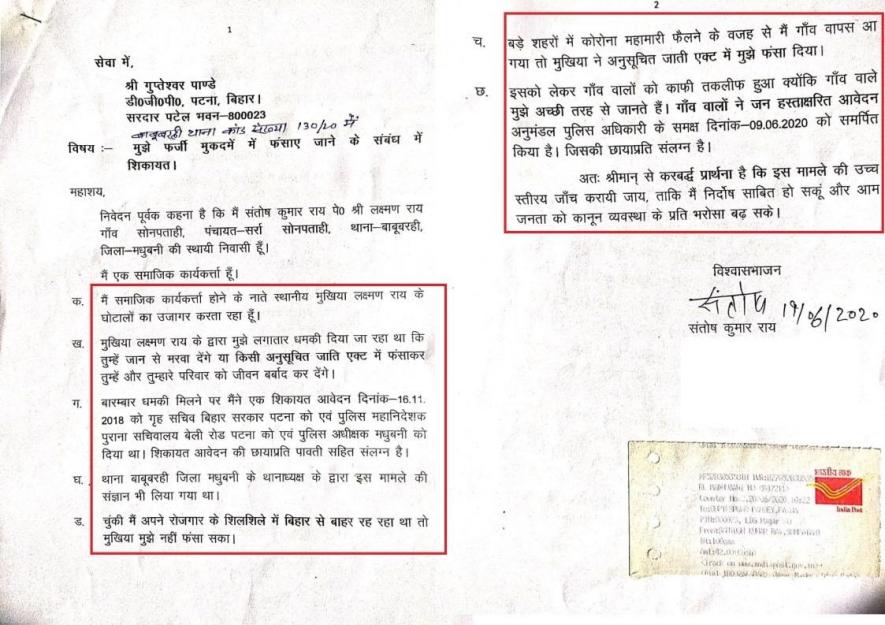 Letter to DGP by RTI activist Santosh Rai
Santosh Rai has remained proactive in unearthing the lack of transparency in government policies and decisions pertaining to so called development. From housing scheme (Indira Awas Yojana) to road, toilet, tap water structure building and rural employment under the Mahatma National Rural Employment Guarantee Scheme, the whistleblower has always attempted to expose the alleged misuse of public funds. But he was in turn, framed in cases under SC ST (Prevention of Atrocities) Act and violating lockdown rules during COVID-19.
Bodh Gaya's lawyer and RTI activist Akhilesh Rajak (53) also expressed his grievances on the ongoing scuffle with corrupt officials, miscreants. He told NewsClick that often police have threatened him to stop filing RTI applications which according to them is a useless activity. Rajak also said that he has been harassed by land mafia who targeted him for his crusade against corruption.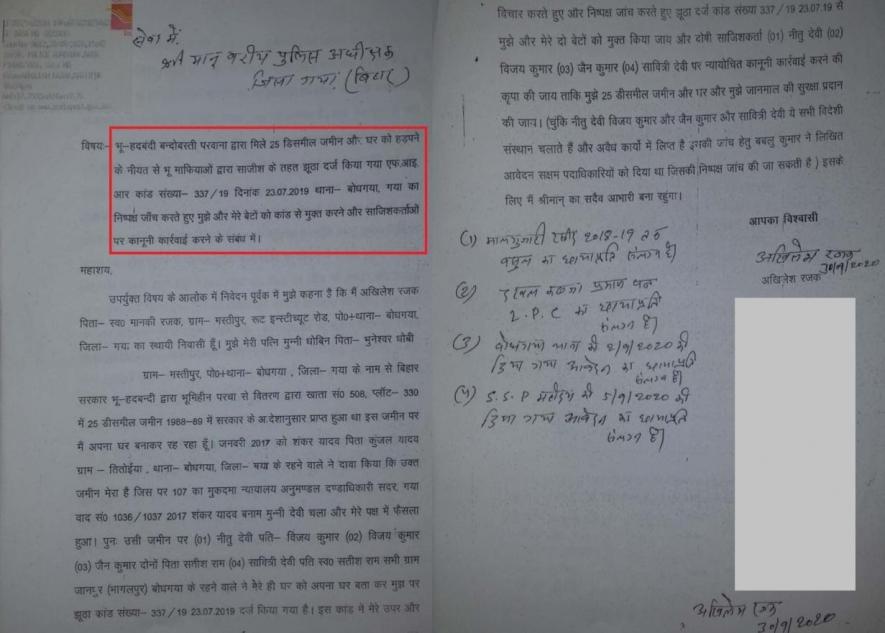 RTI activist Akhilesh Rajak's probe plea against bogus FIRs.
Since 2010, Rajak had filed several RTIs, however, things started going downhill in 2018, when he landed on the radar of criminals and an offensive group of cops. "Everyday abuse at the police station became an intolerable event," he said.
Following continuous assault, he wrote to Senior Superintendent of Police, on September 30, 2020, pleading an immediate impartial probe on the looming threat to his life, family and property. But nearly six months later, he is still awaiting any response from the SSP office. Bodh Gaya MLA Kumar Sarvjeet of the Rashtriya Janata Dal (RJD), too, urged the SSP to take firm action on Rajak's complaints, but to no avail.
As a result of the increasing to his and his family's life, Rajak claimed that he has stopped filing RTIs ever since.
Implicating RTI activists in false criminal cases such as charges of rape and atrocities under the Scheduled Castes and Scheduled Tribes (Prevention of Atrocities) Act or forcible extortion seems to have turned out to be the new normal in the last few years in Bihar. With these bogus charges levelled against activists, the police ensures immediate arrest as the act allows them to procure arrest warrant immediately from magistrates.
Also read: Former Civil Servants Demand Govt Protection for RTI Activists in Odisha
Get the latest reports & analysis with people's perspective on Protests, movements & deep analytical videos, discussions of the current affairs in your Telegram app. Subscribe to NewsClick's Telegram channel & get Real-Time updates on stories, as they get published on our website.
Subscribe Newsclick On Telegram