Bihar Shows What Happens if Agri-Trade is Left to 'Free Market'
In 2006, chief minister Nitish Kumar scrapped the APMC Act in Bihar and the destructive effects can be seen in the seething anger amongst farmers.
What the Narendra Modi government recently did through passing laws to deregulate agricultural trade, Bihar chief minister Nitish Kumar had accomplished 14 years ago, in 2006. Soon after becoming chief minister in alliance with Bharatiya Janata Party (BJP), he scrapped Bihar's Agricultural Produce Marketing Committee (APMC) Act. It was declared that this would lead to increased private investment in agricultural infrastructure, better prices for farmers and an end to middlemen – all of which Prime Minister Modi is also repeating now for the new laws. But what has been Bihar's experience?
Almost 80% of foodgrain needed by the state's people is now brought in from other states. Farmers' are invariably forced to sell their produce at prices much below government declared Minimum Support Prices (MSP). There is high degree of price volatility. Government procurement is shockingly low.
Wholesale markets for foodgrain and fruits and vegetables are privately run, without any required infrastructure, with farmers at the mercy of cartelised big traders. Remember, that about 91% of Bihar's farmers are small and marginal. So these conditions are catastrophic for them. And, with the state's economy largely dependent on agriculture, the distress of farmers perpetuates the state's economic backwardness.
No Procurement, No MSP
The charts below show in stark form, the dire condition of state procurement of rice and wheat. In no year has procurement of rice been more than 20% of the production, mostly it has been far less. This means that only a very small fraction of farmers get the MSP. The state government fixed MSP for rice at Rs 1,815 per quintal but farmers were forced to sell to traders at only Rs 1,350 to 1,400 per quintal.
"We never get the benefit of MSP for paddy because of slow procurement by government agencies and a lot of paperwork and delay of payment by PACS (Primary Agricultural Credit Society) ", Fazlu Khan, a farmer of Raghunathpur village in Aurangabad district told NewsClick correspondent Mohd Imran Khan.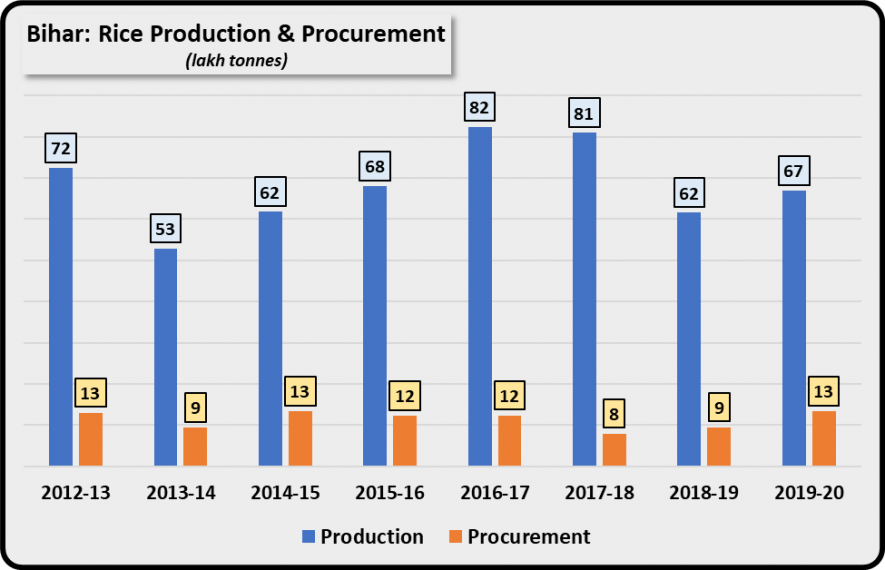 For wheat, the conditions are worse: there were several years when there was zero state procurement, as shown in chart below. Raghuvendar Singh, a marginal farmer of Izarta village under Paliganj block in Patna district, told NewsClick that he was forced to go for distress sale of wheat this year too.
"I sold wheat at Rs 1,800 per quintal, although MSP is Rs 1,925. This is not the first time and I am not alone -- farmers hardly get the proper rate for their rabi and kharif produce," Singh said.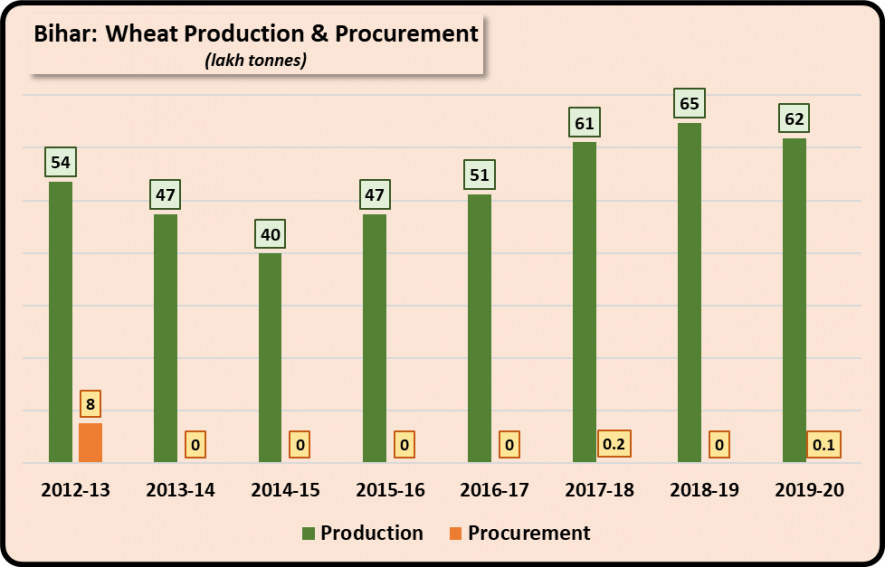 Another big crop in Bihar is maize. In the current year, farmers reported getting a price of Rs.1,000-1,300 per quintal while the official MSP was fixed at Rs.1,850.
According to reports, the number of government-run grain procurement centres has gone down from about 9,000 in 2015-16 to only 1,619 in 2019-20. This was the direct fallout of the 'free market' approach and the thinking that farmers will sell their produce to the highest bidder. In practice, this has meant that farmers are just selling to traders who mostly offer prices below MSP.
In fact, it has also been reported that big companies that use wheat for making and selling flour or flour products, like biscuits, are buying wheat – mostly below MSP. Buyers from other states congregate in Bihar because they get wheat at lower prices. Bihar deputy chief minister and BJP leader Sushil Modi proudly said: "It is (through a) direct marketing module approach that ITC, makers of Aashirwaad flour, is procuring 2-3 lakh tonnes of wheat yearly directly from farmers".
Deregulated Fruit & Vegetable Markets
Bihar is the country's third largest producer of fruits and vegetables (F&V) after Uttar Pradesh and West Bengal. Farmers could have benefitted from government regulation and monitoring. But the absence of wholesale markets and cold chain infrastructure – that private sector was supposed to set up -- and a 'free market' approach means that poor farmers have to quickly dispose of the perishable produce to whoever buys it at whatever price.
According to Sukhpal Singh, professor at IIM Ahmedabad writing in Hindu Businessline, private traders set up roadside wholesale markets in all major fruit and vegetable pockets of the state, charging 2% fee from farmers and lot-based fee from buyers. There are no weighing scales or bridges, no sheds or records, no regulation of quality or prices. Although Singh says that farmers are happy they don't have to transport their produce too far away, they are paying fees which were not charged in earlier APMCs, and prices are determined by traders. In case of any dispute or malpractice, there is no redressal.
Price Volatility & Decline of Agriculture
This free-for-all, jungle raj that Nitish Kumar and his ally, BJP, introduced in Bihar – and that is now sought to be imposed across the country – has led to quite the reverse of the claimed benefits. Persistent price uncertainty and wild swings in prices offered, have led many farmers to ruin and subsequent decline in productivity. They are unable to invest in agricultural inputs or become indebted trying to raise resources. Floods are an annual problem in Bihar, especially north of the Ganga, and this only adds to insecurity and swings in agricultural output, as can be seen in the first chart's rice output figures.
In a study published in November 2019, the National Council of Applied Economic Research (NCAER) pointed out that agricultural growth decelerated to a mere 1.3% per annum in the period 2012-13 to 2016-17, compared with 3% in 2008-09 to 2011-12, and 2% in 2000-01 to 2007-08. This is what the report had to say about the causes of this crisis:
"Despite the abolition of the Agricultural Produce Market Committee (APMC) Act in 2006, private investment in the creation of new markets and strengthening of facilities in the existing ones did not take place in Bihar, leading to low market density. Further, the participation of government agencies in procurement and the scale of procurement of grains continue to be low. Thus, farmers are left to the mercy of traders who unscrupulously fix lower prices for agricultural produce that they buy from farmers. Inadequate market facilities and institutional arrangements are responsible for low price realisation and instability in prices."
Another study on Bihar's post-APMC abolition scenario was done by the government-run National Institute of Agricultural Marketing (NIAM) in 2011-12. It came to the rather reluctant conclusion:
"The step to move towards the free market regime from that of regulatory mechanism has been taken in a right spirit to make the system more efficient and congenial to the farmers. However, the same has created a vacuum in terms of institutional mechanism for administering the functioning of markets. The small-scale farmers have no alternate channels of marketing except to use the current trader dominated system."
In the coming Assembly elections, there are persistent reports of widespread farmer distress and discontent, including with the proposed new farm laws. Chief Minister Nitish Kumar has been forced to say that he won't implement these laws in Bihar, although the APMC abolition part is already a fait accompli in the state. This fire-fighting by the ruling Janata Dal (United)-BJP alliance indicates the extent of farmers' anger, which will have a decisive impact on the election results.
(Mohd Imran Khan contributed to this story from Patna)
Get the latest reports & analysis with people's perspective on Protests, movements & deep analytical videos, discussions of the current affairs in your Telegram app. Subscribe to NewsClick's Telegram channel & get Real-Time updates on stories, as they get published on our website.
Subscribe Newsclick On Telegram