Bihar Elections: Musahars, Numerically Significant Yet 'Otherised'
The marginalised community, majority of which continue to live in abject poverty, is likely to play an important role in king making, post the three-phase elections in the state.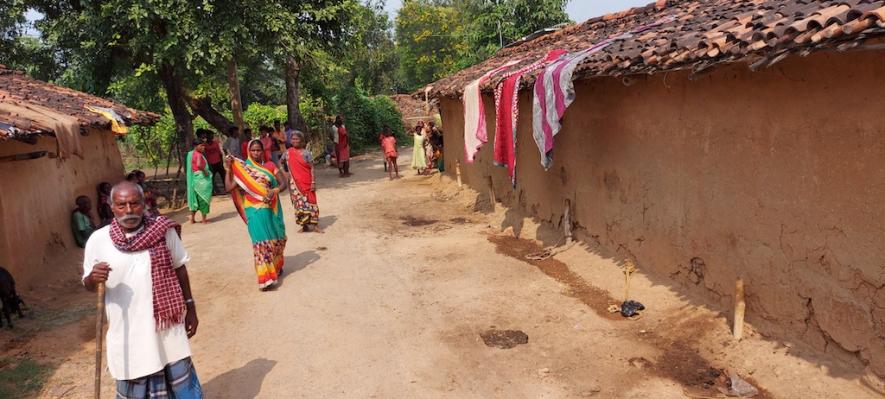 Sasaram/Nawada/Gaya/Darbhanga (Bihar): Dahur Sada, a 33-year-old man from Bharhi-Usrar village at Kusheshwar Asthan Assembly constituency in Darbhanga district, spreads out a jute bag to sit since the "upper" caste people in the area do not allow the Musahars to keep chairs in their houses.
"You may find it uncomfortable to sit on this rug, but consider my restrictions," he told NewsClick in an apologetic tone, implying the atrocious caste-ridden social set up under which the community has been forced to live for centuries.
Working as a medical representative with a Delhi-based pharmaceutical company, Dahur is the first person from his community in the locality who attended college and graduated with a degree in English literature.
"What did I get despite preferring higher education over supporting the family financially? A private job, which always demands you to be fit and productive? Didn't I and others from my downtrodden community deserve a government job? If the governments are so honest while making tall promises with regard to our upliftment and mainstreaming, why are we facing social exclusion even in this 21st century?," he showered a battery of questions.
Traditionally considered as floating voters, the numerically significant Scheduled Caste (SC) communities are set to emerge as king-maker in Bihar in this election. The biggest among them are the Musahars, who, despite bifurcation of the state in 2000, still remain the third largest SC group in the state.
POLITICAL SIGNIFICANCE
As per the 2011 Census, the Musahar population stood at around 27.25 lakh, which — according to official estimate — must have gone up to 35 lakh by now. Former Bihar Chief Minister Jitan Ram Manjhi, who belongs to the same community, opined that Musahars, who come after the Ravidas and Dusadhs, are not less than 60 lakh even by conservative estimates. The community has dense population in certain areas such as Gaya, Madhepura, Khagaria, Purnea, etc.
The community has a big say in ensuring victory for candidates in these districts, which have reserved Assembly constituencies.
"Sada in northern Bihar, and Manjhi and Rajwars in southern Bihar are offshoot of the Bhuiya tribe. They — if put together — will be the largest SC group in Bihar who can bargain for a bigger share of the political cake," said Jesuit priest Fr. T Nishant, principal of St Xavier's College, who has authored the book, Musahars: a Noble People, a Resilient Culture.
Also read: Bihar Polls: Few Takers Among Dalits for Nitish Kumar's Scheme of Giving Jobs When Kin is Murdered
To understand different aspects of their life and their exclusion from the mainstream despite being in such huge numbers and possessing a resilient culture, NewsClick visited their hamlets in different districts such as Rohtas, Nawada, Gaya, Darbhanga and Madhubani.
As majority of these villages start, single lane concrete road ends. There are no pucca or brick houses, just a collection of straw huts. There are no street lights, no television sets at their homes or even the Swachch Bharat toilets.
Most of the children can be seen walking around barefoot and only a few have clothes covering their backs. Abject poverty, illiteracy, landlessness, alcoholism, malnutrition, ill health, etc. appeared to be their fate.
FLOODGATE OF COMPLAINTS
One question was enough to open a floodgate of complaints, with a group of women, men and youth all trying to speak at the same time to report their different set of complaints related to ration cards, old-age pension, Indira Awas Yojna, developments works, employment opportunities, etc.
Kunti Devi, from Gangti village in Gaya district's Imamganj, the Assembly constituency represented by Jitan Ram Manjhi, is a landless lady. She knows her MLA, who, she said, belongs to her caste. She was extremely unhappy with her representative but said she will vote for him as he belongs to her caste.
When Nitish Kumar had come to power in 2010, he had promised that the landless from the SC community would be given 3-dismil (approximately 1306.8 square feet) land. Though the government claims that the promise was implemented, yet ground realities suggest very few people were given the land. Many of those who got papers are yet to get possession on the allotted land.  
Rajesh Bharti is a migrant labourer who earns livelihood as a daily wager in Punjab. "Manjhi ji never comes to us, not even during elections. He has done nothing for our upliftment. But we don't have any other option but to vote for him because he belongs to our caste," he said.
He will leave for Punjab after elections as there are no job opportunities back home.
"If there were factories here, why would we need to go to Punjab. Who wants to live away from family? Once officials had come here to know if we want to work here. We had conveyed to them that we would not go anywhere if the government does something to resolve the issue of livelihood. We were assured that we would get financial assistance from the government for occupation of our choice, but nothing happened after that," he added.  
Also read: COVID-19: Landless Musahars Receive No Help from Govt, Starve Amid Bihar Lockdown
Raj Kumar, who belongs to the same village, is a daily wager but does not get work everyday. He is annoyed with Manjhi.
"Manjhi was given a chance to represent and work for our betterment. But he betrayed us. We don't have access to clean water, education for children, employment opportunities, electricity and even a pakka house to live. We only get ration (wheat, rice and a small amount of pulses) from the government (under the public distribution system) every month. But it is not enough. It only gives a bit of food security. We have to find work to bear other necessary expenses. But the work we get is also not regular. Except sowing or harvesting seasons, we get work for about 12-13 days a month. The earning of daily wagers like us are not enough to sustain the entire month. It's our irony that we are still struggling for a dignified life even in this era of technological advancement," he added.
The PDS coverage is scanty, some in the villages have managed to get a BPL card but most are not covered under the National Food Security Act.
On being asked about his choice of candidate, Raj Kumar dodged the question with a smile.
Surji Devi, a resident of Parasia village in Rohtas district, has been running from pillar to post for years to get old-age pension, but has been unsuccessful so far. "I am above 60 years of age, but not getting old-age pension. Every time I go to concerned offices, I get the same assurance: 'it will be credited in your bank account'. I go to my bank every month to return empty handed. How will I survive without money? I have three sons, but they don't look after me," she said.
She had not eaten anything till 1 PM, at the time when NewsClick met her.
CORRUPTION IN BUREAUCRACY AND NEGLECT
There is uniformity of complaints about largescale corruption in bureaucracy. Among the litany of complaints, the primary plea is "koi na sunat hayi" (No one listens to us). 
Majority of people NewsClick spoke to said they did not get funds under Indira Awas Yojna for construction of a house. Those who get the first instalment are still awaiting for the next instalment as officials or mukhiya (village head) allegedly ask for money as bribe before the release of funds.   
In her early 30s, Kajal Devi was cooking pork in the local weekly market at a village in Nawada district. The mother of a three-year-old son, she was abandoned by her liquor-addict husband two years ago. Since then she has been living with her parents. She does not go to fields belonging to mighty "upper" caste landlords, fearing sexual assault.
"We are considered untouchables by upper caste people, but when it comes to fulling sexual desires, they never hesitate to exploit us against our wishes. And therefore, I avoid working in the field. Being a divorcee living with parents is considered a social stigma, but I cannot help as I have no other place to go. This is a weekly market where people buy pork and get it cooked by us. We have to use our own ingredients such as oil, onion, spices, etc. The earning is hardly enough for sustenance because of the skyrocketing prices of the spices and oil," she said.
There were plenty of complaints with regard to caste discrimination in government offices. "Upper caste people sitting in blocks and other government offices don't listen to us. They make us run from pillar to post for a small bit of work. Majority of people here don't have ration cards. A small section of people got Rs 6,000 (announced by the Bihar government as a flood relief sum). But when we go to complain, nobody, be it BDO (block development officer), CO (circle officer), SDO (sub-divisional officer) or a karamchari (a clerk) listens to us," said Nathuni Sada from Bharhi-Usrar village in Darbhanga district.
Musahars are still not allowed to live anywhere in Bihar except in hamlets (which are known as musahari) earmarked exclusively for them. They are forced to live in unhygienic conditions, with very little benefits and lack of basic needs.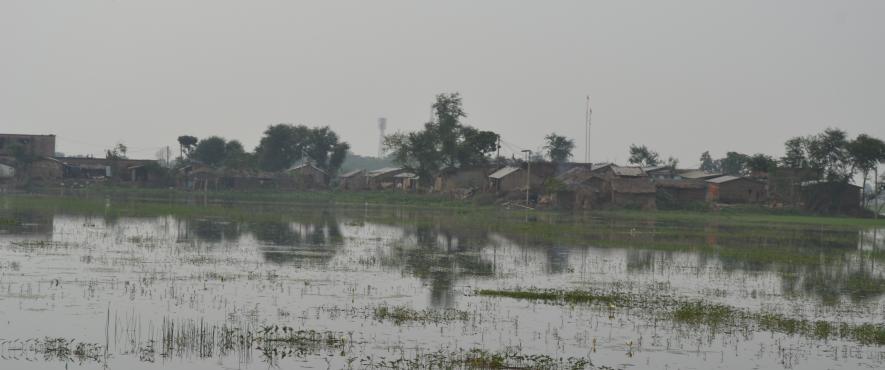 The Bharhi-Usrar Mushari and many such other settlements of the community in Mithanchal region remains submerged in water for around six months every year because of annual devastating floods. The residents here depend on tube wells for water, which is contaminated and unable to drink with huge concentration of iron, sulphor and arsenic.
The Nal-Jal Yojna (chief minister scheme for tap water to every household) appears to be a big scam. The water pipes, which should ideally be over a feet deep under soil, can be seen lying here and there over the ground.
Also read: Bihar Elections: Musahar Village's Lost Hope in Bill Gates Promises of Development
"You will spot pipelines everywhere, but there is no water supply. Some villages get tap water, but it is useless because of the presence of soil and sand in it. If it was raining, you could not have reached the village as there is no road. No household in the entire area has a toilet. Two-three people from the villages got Rs 12,000 from the government for construction of toilet under the Swachch Bharat Abhiyan after paying Rs 2,000 to officials as bribe. But they never used the amount it was meant for," complained Uday Sada.
NITISH NO MORE A POSTER BOY
There is deep cynicism among the community with village after village echoing the same hopelessness that nothing is going to change for them no matter who comes to power.
Though the community like others is disenchanted with Nitish Kumar, their opinions are divided when one asks "kya mahaul hai" (how is the political atmosphere). Majority of them will vote on the basis of their caste, the Mahagathbandhan is also likely to get a good share of their votes.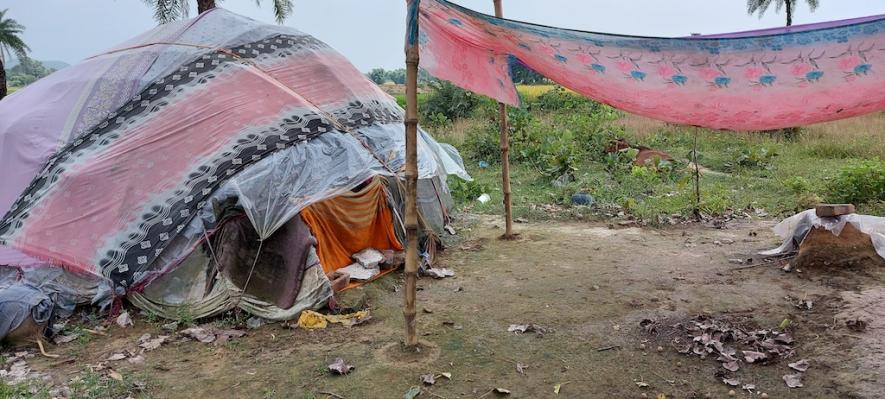 The Musahars are part of the 21 Mahadalit castes in Bihar created by Kumar in 2007 during his first term. He had carved out this section to create a constituency for his party, the Janata Dal (United). But Kumar is certainly no longer their poster boy, who gave them special status.
All governments, said Fr Nishant, keep making promises and announcing schemes for the downtrodden community, but the impact is dismal when one looks at the ground reality. 
"One good thing that happened to them during the RJD government in the state is that many of them benefited from the Indira Awaas scheme. This is due to the ingenuity of Lalu Prasad Yadav, who asked the people to build their own houses in three stages instead of asking the greedy and corrupt contractors to build house. This ensured the participation of people's labour and  construction of rather liveable houses," he told NewsClick.
The Nitish government, he said, too came up with schemes in the name of the Mountain Man, Dashrath Manjhi. "But I do not think that the Musahars largely benefit much from these schemes as the middlemen loot quite a big percentage," he said, adding, "Lack of enlightened and empowered leadership among the Musahars is a big drawback."
Asked why their condition remains the same despite so much of social and political focus on Musahars for so long, he listed out reasons such as "lack of empowering and enlightening education, no political mobilisation as it happened in the case of Paswans because of late Union minister Ram Vilas Paswan." He further said, "Centuries of oppression resulting in a rather dead consciousness and lack of motivation, severe caste oppressions, no effective land distribution and no cultural revolution are among the various causes which pose hurdles in the development of this community."
"The first elected Marxist government in Kerala in 1956 passed a bill which ensured 10 decimals of land to all landless. Almost 95% of Musahars are landless labourers. If they were given some land by the state government like in Kerala, their power of assertion would have been much stronger," he concluded.
He suggested that nothing short of a paradigm change is necessary for the integral development of the Musahars: cultural revolution and socio-economic and political empowerment.
Several NGOs like Nari Gunjan run by Padmashrii Sudha Vargheese are working for the upliftment of the community's women. "This is bringing about some changes such as cultivation by a few women and some of them have bought a few kathas of land," she said.
"The community still does not have any leadership and therefore, it is lagging behind," said Vargheese.
She added there is no dearth of talent in the community if given a chance. "The girls living in our hostel get free education till 10th standard. They are trained in sports and music, apart from knitting, sewing and cooking. They are very good in martial arts. They have also gone to Japan and Armenia to take part in several competitions. They have brought several medals as well. Some of them play at state level. But because of lack of opportunity, their talents are yet unknown (to the country)," she said.
On being asked about the lack of political and social mobilisation, she said, "Reasons such as lack of confidence to stand up for their rights and bargain have led them to the place where they are right now."
With regard to untouchability, she said, "You won't see Musahar boys and girls, if they are working men and women, going to tea shops as they know they are untouchables. They are not allowed in temples. They know these places are not for them. They are given food and water from distance in the utensils meant for them."
Whether a government that will work towards bringing a paradigm change, as suggested by Fr Nishant, will only be found out after November 10, when the results will be declared.
Get the latest reports & analysis with people's perspective on Protests, movements & deep analytical videos, discussions of the current affairs in your Telegram app. Subscribe to NewsClick's Telegram channel & get Real-Time updates on stories, as they get published on our website.
Subscribe Newsclick On Telegram