Bihar Elections: In Phase 1, Grand Alliance Holds the Advantage
Anger against Nitish Kumar's government will inflict a heavy damage on NDA in the 71 seats going to polls on October 28.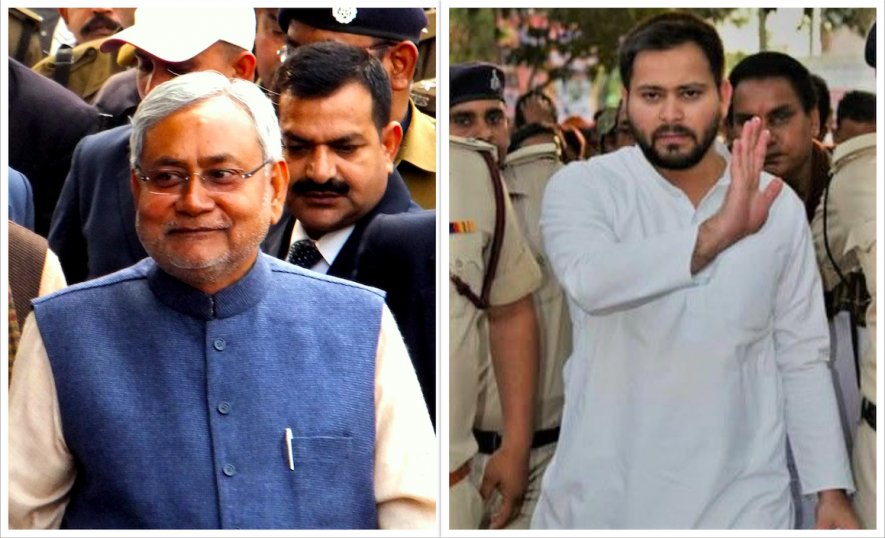 Elections in Bihar are never lacklustre, but this year's cliff hanger promises to upend all earlier predictions. Polling for the three-phase election kicks off with 71 seats in southern Bihar, stretching all the way from the hilly rice bowl of Kaimoor- Rohtas districts in the west to the eastern border of the state abutting Jharkhand. Nearly 1.9 crore voters, distributed over 14 districts south of the Ganga, can exercise their votes in these seats.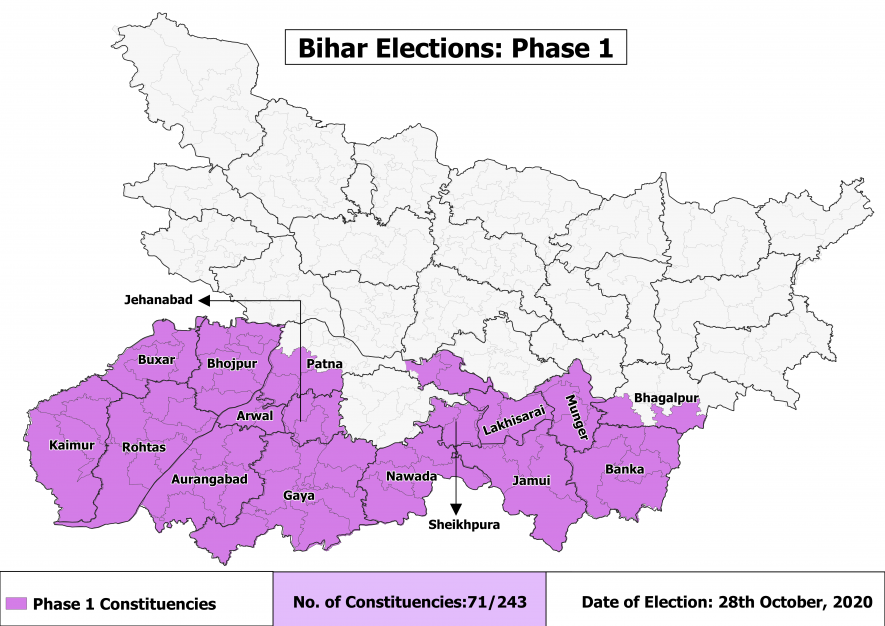 In the last Assembly elections in 2015, this region was swept by the Mahagathbandhan (Grand Alliance) of that time – Rashtriya Janata Dal, Janata Dal-United and Congress, along with some smaller outfits. They won 56 seats leaving the Bharatiya Janata Party far behind with just 13 seats, the rest going to others. RJD won 27 seats and JD(U) 18.
However, that was then. The alliances have turned inside out in the meantime. Throwing the mandate to the winds, Nitish Kumar led his JD(U) out of the alliance and joined up with his favourite ally, the BJP. This is the alliance now, supplemented by some of the smaller outfits. On the other side, the Grand Alliance has been strengthened by inclusion of the Left, which had got over 4% votes in 2015.
But it is not arithmetic that will win this election for either side. This has become clear in the past few weeks of campaigning which has completely changed the political atmosphere in the state.
Jobs Is the Biggest Issue
The announcement by the Mahagathbandhan that its first priority will be giving government jobs to 10 lakh persons has touched one of the most sensitive issues before the people – unemployment.
"This, and also, other issues raised in the Mahagathbandhan's  Sankalp-Patr (manifesto) have infused hope in Bihar's long suffering and dispirited populace. The revelation that 4.5 lakh government posts were lying vacant and the promise to fill them up, while creating another 5.5 lakh jobs in the government has turned the tide against the JD(U)-BJP government," says Arun Mishra, a leader of the Communist Party of India  (Marxist) which is now part of the Grand Alliance.
Bihar has had double digit unemployment for the past nearly two years, and it reached a staggering 46% in April this year, during the lockdown, according to estimates by Centre for Monitoring Indian Economy or CMIE. Over 77% the state's population is still dependent on agriculture and allied activities. The industrial sector is nascent, contributing only about 19% to the state's domestic product, and unable to provide jobs to more people. So, an over-saturated agriculture sector is causing massive out-migration, still leaving huge numbers of educated youth jobless in the state.
"Nitish Kumar's last term has been disastrous, although bizarrely, PM Modi praised him for precisely that period only because he (Modi) was sitting at the Centre. People have lost all faith in him and his promises are considered worthless. That is why the JD(U)-BJP combine's counter announcement of giving 19 lakh jobs has been dismissed as a meaningless jumla by all," Mishra explained.
 Cutting Across Castes
One significant aspect of the new situation in Bihar is that economic issues are drawing support, cutting across caste lines. For instance, the jobs crisis has affected youth from all castes. As a result, their political response is rising above conventional caste divisions. Support for the Mahagathbandhan's promise of 10 lakh government jobs is drawing approval from people across the board.
This doesn't mean that caste divisions – or more precisely, exploitation of such divisions by political parties – are not taking place. All the traditional instruments of caste mobilisation, enriched by new communication tools, like social media, are in play in Bihar. But after a long time, a counter narrative is also there.
How does this play out vis-a-vis the two alliances? It seems to be benefitting the Grand Alliance more because it is at the forefront in raising various economic issues, including unemployment, industrialisation, remunerative prices for farmers, wages, equal pay for equal work, etc.
In this, the Left's presence has been a big help, both in terms of public campaign as well as in formulating the issues because it has been the Left that has been consistently fighting for these issues over the years.
Modi Magic Not Working
In a series of public rallies in Bihar, on October 23, Prime Minister Narendra Modi raked up the scrapping of Article 370 for Jammu & Kashmir, and patted himself on the back for helping out Nitish Kumar for the past three-four years. He failed to mention anything about the dire economic situation facing the people, including joblessness. As a result, a disconnect was palpable, unlike earlier times.
It has been shown time and again that Modi may be still preferred by certain sections for the job in Delhi, but his party, the BJP, is certainly not preferred for running state governments. BJP has lost several states which it governed previously and in others its strength in Assemblies has come down. That it manages to cling on to power by hook or by crook, either by engineering defections or by riding piggy back on regional parties, has not endeared it any further.
Modi, as the magic wand for winning elections, doesn't seem to be cutting much ice in Bihar, too, and its cascading effect on the morale of the party and its allies is too visible.
If the JD(U)-BJP combine loses considerably in phase 1, this too will effect the following phases. The BJP may win some of the urban seats but that won't be sufficient because JD(U) is definitely sinking. It appears that a new political dispensation is on the cards in Bihar in coming days.
Get the latest reports & analysis with people's perspective on Protests, movements & deep analytical videos, discussions of the current affairs in your Telegram app. Subscribe to NewsClick's Telegram channel & get Real-Time updates on stories, as they get published on our website.
Subscribe Newsclick On Telegram