Bihar: Victim of Illegal Kidney Removal Seeks a Transplant for Survival
Sunita Devi, in her late 30s, has been undergoing regular dialysis in the government-run Sri Krishna Medical College and Hospital (SKMCH) since September. She is restlessly awaiting the much-needed kidney transplant.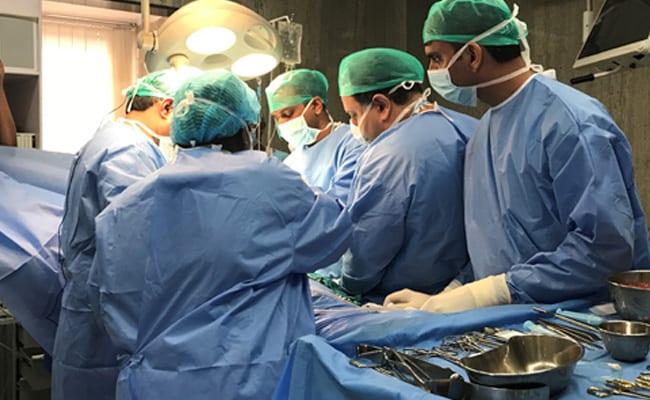 Representational Image. Image Courtesy: NDTV
Patna: "Main Jeena Chahti hun apne bachchon ke liye, sarkar mera kidney transplant kara ke mera jeevan bacha sakta hai.Main marna nahi chahti (I want to live for children, the government should arrange kidney transplant to save my life. I don't want to die)," said Sunita Devi, a dalit woman, who has been battling for life after both kidneys were allegedly removed at a private nursing home in Muzaffarpur District of Bihar, nearly two and half months ago.
Sunita Devi, in her late 30s, has been undergoing regular dialysis in the government-run Sri Krishna Medical College and Hospital (SKMCH) since September. She is restlessly awaiting the much-needed kidney transplant. But it does not seem likely in the near future due to the negligence of top officials of the health department.
In a shocking incident, Devi's kidneys were removed and stolen at a private nursing home in the name of a uterus removal operation in early September. Days after, it came to light that an initial probe had revealed that there was no operation theatre in the private clinic and lacked all basic facilities. In violation of fundamental medical ethics, Subhakant Clinic in rural Muzaffarpur was conducting surgery without any official approval from the government agency.
According to police, the clinic neither has its registration number nor the degrees of its doctors displayed on a board. Locals alleged that the clinic is run by self-proclaimed doctors. The doctors are absconding, and the clinic is shut, the police said.
"I have been demanding the government for over two months to arrange a kidney transplant, but nothing has happened as it is not a serious issue. We are poor, powerless and voiceless. Who will listen to us? Officials have been ignoring us." Devi, a mother of three, told NewsClick from her hospital bed after dialysis on Monday.
Devi has expressed anger over the failure of the police to arrest the doctor and owner of the private clinic, who are directly involved in the illegal removal of her kidneys.
"Why have police failed to arrest the accused in the FIR in connection with my kidney removal?"
Devi said police should arrest the doctor who removed both her kidneys illegally, and the court should order him to donate one kidney for her kidney transplant as a punishment to him.
"This action will give a hard lesson to all such doctors not to illegally remove the kidneys of the poor like us."
Devi's husband Aku Ram, a landless farm labourer, also questioned the police's failure to arrest a doctor accused of illegally removing his wife's kidneys and the lack of government seriousness to arrange her kidney transplant."
Neither the accused doctor nor clinic owner has been arrested; even the government has not fulfilled promises of kidney transplants.
"We have been in the hospital for over two months for her treatment and dialysis. As doctors informed us, it is full of risk to take back her home without a kidney transplant. We are still hopeful that government will ensure her kidney transplant," Ram told NewsClick.
Ram recalled that Devi was rushed to Subhakant Clinic in early September following stomach pain. After examining her and conducting an ultrasound, doctors asked the family to deposit money immediately and admit her for a uterus removal operation. But hours after the operation, Devi's health deteriorated fast, her body swelled, and she complained of uneasiness and extreme weakness. Sensing trouble, a doctor at the clinic advised Ram to take her to Patna for better treatment.
However, the family was shocked when doctors of the government-run Patna Medical College and Hospital (PMCH) informed them that both her kidneys had been removed and she needed urgent treatment.
"We took her to PMCH, where doctors performed some tests and ultrasound and informed us that both her kidneys were missing. We were shocked," Ram said.
Later his wife was admitted to SKMCH in Muzaffarpur, where doctors again conducted tests and confirmed that both her kidneys were removed, after that she was shifted to Patna-based Indira Gandhi Institute of Medical Sciences and soon sent back to SKMCH, where her regular dialysis is going on.
Police had lodged a case against the clinic's doctors, including the owner Pawan Kumar, at Bariyarpur Police Station, based on the statement of Devi's mother, Tetri Devi. The FIR was lodged under the Transplantation of Human Organs and Tissues Act, 1994, and the Scheduled Castes and the Scheduled Tribes (Prevention of Atrocities) Act, 1989.
A Special Investigative Team (SIT) has been constituted to arrest absconding owners cum self-claimed doctors of the clinic.
Tetri, Devi's mother, told NewsClick, "We are poor; we don't have money for her treatment. The government or anyone should arrange for a kidney transplant for her daughter. Only a kidney can guarantee her life. Otherwise, her life will end soon."
In the first week of November 2022, the National Human Rights Commission (NHRC) issued a notice to the principal secretary of the state health department in connection with the illegal removal of Devi's kidneys and sought a reply within four weeks about the action taken in this regard.
SKMCH superintendent BS Jha told NewsClick that Devi's dialysis is being done regularly, and doctors have been directed to take extra care of her and monitor her condition daily. Regarding her kidney transplant concern, the proper process is on to arrange a kidney for her transplant.
Similarly, Muzaffarpur civil surgeon UC Sharma said that a team of doctors in SKMCH have been monitoring her condition and treatment. Her kidney transplant is very much in our knowledge and will be done after a donor is arranged.
Meanwhile, it was reported by local Hindi dailies an old man Shyamsundar from a village in Muzaffarpur, has come forward to donate one kidney to Devi to save her life. This has come as a big hope for Devi and her family. Now all eyes are on Shyamsundar, who works as an electrician and announced his decision in this connection. If he gives his consent in writing to the SKMCH where Devi is undergoing treatment, it will help her kidney transplant to save her.
However, Devi's kidney removal incident has exposed the pathetic healthcare situation in rural Bihar. It seems nothing has changed in Muzaffarpur regarding health facilities for the poor and marginalised. Last year sixteen women and men, most elderly, had their eyes removed following alleged negligence during cataract surgeries by the private hospital in the district. Most of them are poverty-stricken and landless people from different villages of Muzaffarpur and neighbouring districts of Vaishali, Samastipur, Champaran and Sitamarhi.
In the latest incident of health scandal in Bihar early this month, the uteruses of seven poor women were reportedly allegedly removed at a private nursing home. All of them are in the age group of 22 to 35 years. The women were admitted for a minor operation or baby delivery at Om Sai Nursing Home in Ramnagar in the west Champaran district.
Get the latest reports & analysis with people's perspective on Protests, movements & deep analytical videos, discussions of the current affairs in your Telegram app. Subscribe to NewsClick's Telegram channel & get Real-Time updates on stories, as they get published on our website.
Subscribe Newsclick On Telegram