Brazil's Justice Minister Quits Bolsonaro Govt Due to "Political Interference"
Brazil's Justice Minister quits Bolsonaro government over alleged "political interference".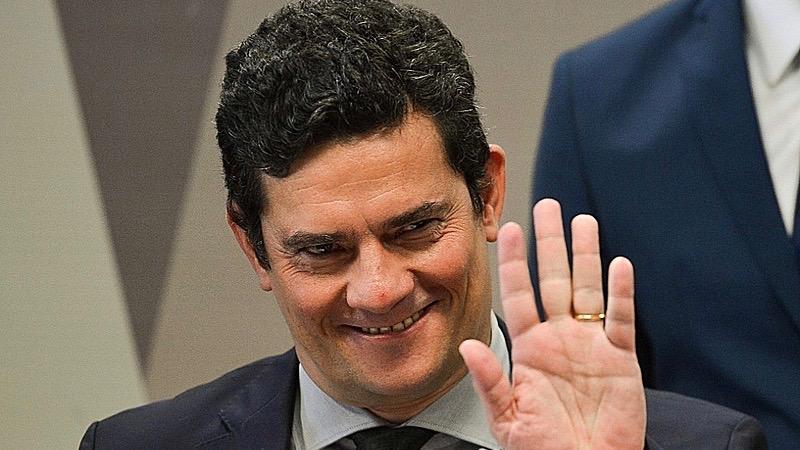 Moro leaves office 16 months after abandoning his career as a judge - Marcelo Camargo/Agência Brasil
Former judge Sergio Moro resigned as Brazil's Justice Minister on Friday, April 24th. He leaves office 16 months after abandoning his career as a magistrate, to accept president Jair Bolsonaro's invitation to the top law enforcement job in the land.
His departure was a reaction to the removal of the director-general of the Federal Police (PF), Maurício Valeixo, announced via an official press release the very same day. Bolsonaro made the decision without Moro's consent, though the minister's name appears on the official announcement as a formality.
Valeixo was the Federal Police superintendent in the city of Curitiba, where alongside then judge Sergio Moro, they spearheaded the largest anti-corruption investigation in Brazil's history, the Lava Jato, or "Car Wash" operation. It was Valeixo's responsibility for example, to oversee former president Luis Inácio Lula da Silva transport to jail, in April 2018.
The deposed Federal Police chief and former Justice Minister also worked together on the "Banestado" case, which unearthed a money laundering scheme at the Paraná State Public Bank in 2003. It was the first noteworthy case Moro worked on before rising to national prominence years later.
Lame-duck Minister
Moro did very little while a subordinate of Jair Bolsonaro. Given the title of "super-minister" with a "national hero" status, the ex-magistrate tried to consolidate his anti-corruption image.
However, he ended up bogged down by proposals that went nowhere and by staying silent in the face of allegations of corruption involving the president's family, in a supposed money laundering scheme linked to Flávio Bolsonaro, the head of state's son.
One of Moro's biggest defeats while in office, was the Supreme Court's overturning of a decision allowing for incarcerations before all appeals were exhausted, in November of last year. This allowed for the release of former president Lula, who had been sentenced to jail by the ex-judge.
The Lava Jato head also lost in regards to the so-called "anti-crime" package. The project was approved by Congress without Moro's main demands, like amnesty for policemen who killed while on the job and the aforementioned clause allowing incarceration before appeal.
Sergio Moro was also against the measure that instituted the "guarantor judge", which saw legal proceedings now split up between two judges. Bolsonaro ignored his then minister's wishes and signed the bill into law without any amendments.
Another set back for the former Justice Department boss was the loss of COAF (Financial Activities Control Council). Created in 1998, the entity investigates suspicious financial transactions and saw Bolsonaro name Moro as its director in 2018. However, Congress ended up reversing this decision, removing Sergio Moro and returning COAF to the Finance Ministry's patronage.
Vaza Jato
During his time as Justice Minister, Moro also became embroiled in investigative reporting series "Vaza Jato", published by the Intercept Brasil and partners since June of last year, which showed that the resigned magistrate acted with partiality in the Lava Jato operation.
Sergio Moro denies these accusations. At the time, Bolsonaro stood by his Minister, however, indicated to the Folha de S. Paulo newspaper that there was no such thing as "100% trust".
Get the latest reports & analysis with people's perspective on Protests, movements & deep analytical videos, discussions of the current affairs in your Telegram app. Subscribe to NewsClick's Telegram channel & get Real-Time updates on stories, as they get published on our website.
Subscribe Newsclick On Telegram