Budget 2019: As Tax Revenues Fall, Govt. Squeezes Expenditure
Tax revenues are estimated to have fallen short by a whopping Rs.1.67 lakh crore in 2018-19. So, the govt. has put the screws on public spending, cutting it by Rs.1.46 lakh crore.
If you want to see neoliberal dogma in action, have a look at the finances of Modi government's last year of the first term. Details of will emerge in the full Budget for 2019-20 to be presented in Parliament on 5 July, but the Controller General of Accounts (CGA) has all the data about last year's spending and income.
In the Interim Budget presented in February this year, just before the general elections, the outgoing Modi-led BJP government had estimated that Rs.17.3 lakh crore was expected as revenue receipts, mainly made up of tax collections. However, the CGA shows that by March end (which is the end of financial year 2018-19), revenue receipts were Rs.15.6 lakh crore. That's a shortfall of Rs.1.665 lakh crore.
The reason for this shortfall is not difficult to work out. Net tax revenue was wildly estimated at an exaggerated amount of Rs.14.8 lakh crore in February whereas by end of March it turned out to be Rs.13.2 lakh crore – a shortfall of Rs.1.674 lakh crore. This was contrary to the big claims of rising GST returns, better income tax compliance, wider tax net and so on.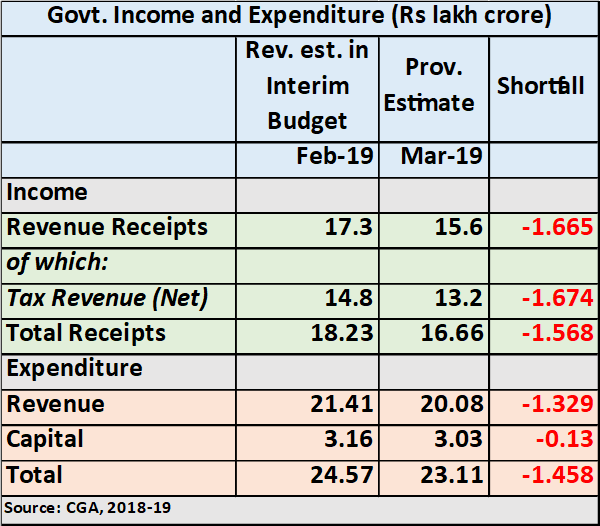 After adding up various other sources of revenue to the tax revenue, the final figure for total receipts of the government was Rs.16.66 lakh crore, short of the estimated Rs.18.23 lakh crore in the Interim Budget.
It is difficult to believe that just one month before the financial year ended, the government had no idea that this was the sorry state of affairs. The only conclusion is that figures were artificially hiked up in February with an eye on the upcoming elections.
It is customary for mainstream economists and financial gurus to go into paroxysms of hand wringing when confronted with revenue shortfalls. They immediately trot out the global neoliberal prescription of cutting spending, which should be practiced by all governments at all times, according to them, but especially so if revenues are falling. Otherwise, they say, deficit will grow, and that is a strict no-no for any true-blue neoliberal.
The Indian finance ministry mandarins are steeped in this mythology, and so, of course, they too put the squeeze on expenditures, as can be seen in the table above. Total expenditure was estimated at Rs.24.57 lakh crore in the Interim Budget in February but come March, the CGA reveals that it had actually subsided at Rs.23.11 lakh crore. That's a cut of Rs.1.458 lakh crore.
This squeeze did not happen in just the last month of the financial year, that is, in March. Actually, the finance ministry had squeezed funding across the board throughout the year. But that was in preparation for various expenditures that had to be incurred as the year ended. For instance, Rs.20,000 crore was allocated for the first tranche of the scheme for income supplement of farmers (PM-KISAN), to be followed by another tranche of Rs.75,000 crore this year. Several other instances of this kind can be cited, including the so-called social security scheme. Apart from such special political decisions, pick up any year and you will see that govt. spending spikes in March as the financial year end. It is after accommodating this kind of last-minute spending, as also the election related spending that the govt. has ended up with a total reduction in expenditure.
The question now is this: in the upcoming budget, how is the govt. proposing to tackle the crisis of falling revenues? This is of concern to the people because the govt. will be inclined to cut spending if that happens. And, that will be disastrous at a time when the economy is going through a slowdown, demand is flagging, investment is stagnating, and joblessness is raging.
Get the latest reports & analysis with people's perspective on Protests, movements & deep analytical videos, discussions of the current affairs in your Telegram app. Subscribe to NewsClick's Telegram channel & get Real-Time updates on stories, as they get published on our website.
Subscribe Newsclick On Telegram