What Economic Slump Really Means for Workers
Punjab is industrialised and its agriculture is mechanised. The state is in the grip of a downturn which has hurt the migrant poor most.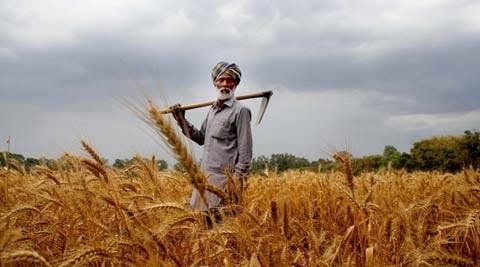 The Union Budget is the talk of the town, but the economic downturn is not. The prevailing economic situation has hurt all sectors of the business and economy. One symptom of the downturn is that unemployment has broken a 45-year record. Even if these facts are known, little is ever said about those who are actually bearing the brunt of this loss of livelihood: the working classes.
The most severe impact of the slowing economy is on workers in the unorganised sector. They make up 93% of the labour force but lack social and food security. The government simply does not hear their voice. Along with the steady de-industrialisation of the economy and a weakening service sector, the growing trend of agricultural mechanisation has also come to haunt them. Even the fundamental right to work under schemes such as the rural job guarantee scheme -- MGNREGA -- is being curtailed for workers in rural areas.
There is no better place than Punjab to study the combined effect of all these changes—declining demand, closing industries, weakening service sectors, and agricultural mechanisation. The startling figures from a recent report of the Centre for Monitoring the Indian Economy (CMIE). It records the unemployment rate of the unorganised sector in Punjab at 4.9% in November 2016, which rose to 6.1% in December 2016, 8.9% in June 2017, 11% in October 2018 and 12% in February 2019.
After these figures, it need hardly be said that construction work is nearing a halt in the state—as it is in the rest of the country. This sector is said to employ at least 60 million Indians, and their fate is anybody's guess. In the once-prosperous state of Punjab, the official minimum wage for unskilled labourers is Rs 311.12 per day, while skilled labourers get Rs 375.62 a day.
But is the state able to generate jobs at all? Chief Minister Amarinder Singh came to power on the promise of jobs for the youth. His government claims to have employed 5.5 lakh youth so far, 1.72 lakh of them in the private sector. But experts think otherwise. No new industries are being set up in the state while the existing units are shutting down. To get a picture of the real situation of workers, consider the following words of economist Sucha Singh Gill. "There is no need to travel very far into Punjab's interiors to see the real employment story," he says. "Just go from Rajpura to Ambala [a half-hour drive] and you'll see the dilapidated remains of two industrial units, polytechnic colleges and the roadside eateries that once catered to them," he says.
Farm-sector employment is declining too, as part of a trend—which is picking up across the northern states—of mechanisation. In this situation, the Centre's MGNREGA scheme, which assures 100 days of employment every year for rural labourers, would be a tremendous help. But the scheme mostly works on paper. Though designed to support rural families and boost consumption, in Punjab, workers are constantly struggling to get the government to make it work.
Hamir Singh, an expert on Punjab's rural economy and a journalist, says that Punjab has 32 lakh rural families. Of them, 17.8 lakh have been issued job cards. Further, only 10.81 lakh families have current job cards and they found only 27.6 days of work in 2019-20 under the MG-NREGA.
The scheme requires that 60% of a project's spending should be on daily wages and 40% on materials. Secondly, the state does not implement that part of the scheme which allows labourers to work on the land of farmers who own up to five acres. Nor has this issue become a part of the struggle of peasant and labour organisations.
According to Hamir Singh, the MGNREGA offers possibilities for employment beyond daily labour; such as in supervisory roles. For instance, the rules allow one 'Mate' to be engaged for every 50 job cards issued. Similarly, every small village is allowed to pay for one Employment Assistant and a big village can have more than one. Similarly, four junior engineers, social audit teams, data-entry operators and other supervisory staff can be recruited for every 2,500 job cards issued. If all this had been done, it is estimated that around 70,000 new jobs would have become available in Punjab.
If Punjab's mechanisation sets the standard for how the entire country should manage its agriculture sector, then it is important to note that instead of implementing MGNREGA, Punjab's government has decided to give the shyamalat or common lands to corporate houses, which is only going to create more problems for the working class.
The backbone of MGNREGA is an individual worker's job card. After securing a card, a worker writes an application seeking work, and gets a receipt that he or she has to preserve. Thereafter, an appointment letter is given. Work begins only after a muster roll is prepared and released, as per the letters handed out. The problem is that in Punjab these receipts are not being handed out. Therefore, the question of appointment letter does not even arise. As a result, the labourers are not even able to secure unemployment allowances. And if they do get work under MGNREGA, payments are not released on time.
Consider now the construction sector workers—who make up the biggest chunk of informal sector workers in the country. They are also out in the cold. For days on end, they come to city- and town-squares looking for daily-wage work, but return empty-handed. Even travelling from place to place, where they have to pay for boarding and lodging, is a financial burden on them. Most daily wage-earners are not educated and so they can be easily deprived of the little government assistance they are entitled to.
Most migrant workers in Punjab used arrive from Uttar Pradesh and Bihar, but in recent years people from West Bengal and Jharkhand have also started coming here in search of work. Also, Punjab has more than 3.20 lakh workers registered as construction workers, but non-government organisations tracking this sector say that the actual number is higher than 20 lakh. This discrepancy has further exacerbated the crisis for workers.
Manoj Kumar, a labourer at a construction site near the Airport Road in Mohali is originally from Uttar Pradesh. He came to Punjab four years ago looking for work and after some time, his two children and wife, who also works, followed him to Punjab. He is not aware of any government schemes for the poor or unemployed.
Ramlal, 48, also from Uttar Pradesh, works as a mechanic. His wife and two children support the family's income too. The family is unable to visit his native village because they depend on his daily wages almost completely. The family has no access to any benefit from any employment, health or medical insurance scheme launched for the working class by the central government. "If we leave our work, our daily wages are cut. We do not get any leave when we work on the construction of big buildings," he says.
Rajkumar is seeking work in the fort city of Patiala. The sole earner in his family, he travels five kilometres into the city every day. He is facing severe financial troubles. He got a gas cylinder under the Ujjwala scheme of the central government, but the refills have been getting progressively more expensive, until they can barely afford them.
Daily-wage earners in the state's financial capital, Ludhiana, are in a similar situation; literally at the mercy of fate. These workers leave their homes every morning praying they are able find work so that they can buy food. Many return home empty-handed from the labour mandis where people seeking workers go to find them.
Chhinder Singh, a labourer in Ludhiana for the last 20 years, says that he does not get more than 20 days of work a month. Kamlesh, who has come to Ludhiana from Uttar Pradesh, has been working for daily wages for seven years. He gets 400 to 500 rupees a day at the mandi in Shivpuri, but sometimes less. If he works with a contractor, many times a part of his earnings are siphoned off. A mason, if he finds work, is paid close to Rs 600 a day. A semi-skilled labourer who works with a skilled tradesman is paid Rs 450 a day. A plumber earns wages in accordance to his work and the woodworker takes a daily wage of 500 to 600 rupees. Domestic workers, most of them women, earn 1,500 to 2,000 rupees per month.
The condition of the unorganised sector workers, which includes daily-wage labourers, plumbers, carpenters and labourers who work in homes is the same everywhere, not just in this industrial city. Everywhere, the downturn is pushing them further below the edge of poverty, putting out the hearths in homes of the labouring class.
Rekha Rani also came to Punjab from Uttar Pradesh, works in homes. She has been living in Ludhiana with her family for over a decade. She sweeps two houses and an office, which pays her Rs 800 to Rs 1,500 a month. Her husband works in a factory, but still they barely survive. The couple has enrolled their children in a private school, whose fees takes away half their income. The family's biggest fear is that if one of them falls sick, they would not be able to afford the treatment.
After a series of Supreme Court rulings, Punjab launched many schemes to support construction workers. It has a fund worth more than Rs 700 crore for construction workers and announced welfare schemes—a compensation of Rs 4 lakh to the family of a registered construction worker in case of an accidental death, Rs 2 lakh on general death, and a scholarship scheme for children. But most workers could not register as construction labourers, depriving them of all these benefits.
According to Vijay Walia, director of the Centre for Social Change and Equity, the Punjab government has to charge a 1% cess to generate funds for the welfare of construction workers, but this cess is not charged on works in rural areas. Nor is it charged for the construction of [brick] kilns or government and private schools. In this way the state has been forgoing crores of rupees meant for workers. Besides, enforcement is poor. For instance, it is necessary to provide safety shoes to all workers, but most of them work wearing slippers. Helmets are essential while constructing buildings more than five feet in height, but nowhere are they provided. Contractors are required to register workers, but this does not happen either. They also have to fund the workers' welfare fund, but with the connivance of government inspectors this is not done either.
Farm workers have it even worse. Industrialisation has brought great turmoil to their lives. As most zamindars have away their land on contract, workers are only hired on daily wages as and when they are needed. Therefore, agriculture no longer provides labourers work even in an agriculture-dominant state. This has forced workers to seek other kinds of employment.
Lachman Singh Sewwala, state secretary of the Punjab Khet Mazdoor Union, says that the condition of farm workers is very bad. They have no food to eat, no schools to send their children to. Rural labourers are in urgent need of permanent employment in villages, education for children, health and sanitation arrangements. In these conditions, struggle remains the last resort for farm labourers—and that is what they have been doing.
The author is an independent journalist. The views are personal.
Get the latest reports & analysis with people's perspective on Protests, movements & deep analytical videos, discussions of the current affairs in your Telegram app. Subscribe to NewsClick's Telegram channel & get Real-Time updates on stories, as they get published on our website.
Subscribe Newsclick On Telegram