Budget: Customs Duty Hike on Yarn Last Nail in Coffin, Say Weavers In PM Modi's Varanasi
'Fulfilling orders at old rates is proving to be difficult. Buyers who had placed orders with weavers at old rates reneged on their commitment. Due to these circumstances orders worth Rs 70 to Rs 80 crore are stuck.'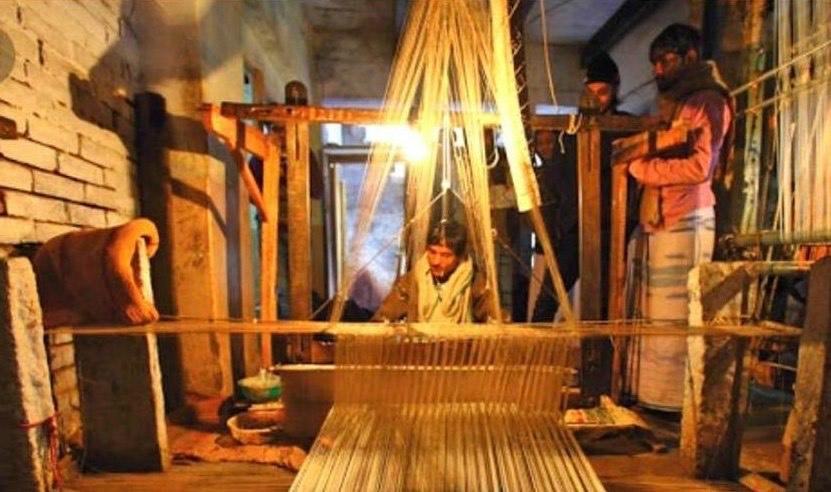 Lucknow: After a revised electricity tariff was imposed on powerloom weavers, the five per cent hike in customs duty on silk in the Union Budget would act as the final nail in the coffin for the Banarasi sari and textile weaving industry in Prime Minister Narendra Modi's constituency of Varanasi — one of the finest producers of Banarasi saris in India.
Customs duty on cotton was increased from nil to 10% and that on raw silk and silk yarn was raised from 10% to 15 per cent. The revised custom duty – implemented immediately after the budget announcement on February 1 – has resulted in the weavers fraternity refusing to make saris and handloom dress materials at earlier rates.
As a result, orders of about Rs 80 crore of saris for textile traders have been stuck in powerlooms across the state. According to insiders it will have an effect on business during the festive season and later, on the wedding season in summer. Varanasi's textile industry relies heavily on the wedding season.
According to Iftekhar Ahmed Ansari, president of the Uttar Pradesh Weavers' Association, in January, the price of silk was around Rs 4,100 per kg; it has now gone up from Rs 4,400 to a further Rs 4,600. Prices of zari (golden/silver thread) or brocades have also increased alongside silk. In January 2021, a bundle of zari used to cost between Rs 360 and Rs 380. The going rate for the same is now Rs 450, he said. The price of cotton yarn has also increased from Rs 450-500 to Rs 550-600 kg. Prices of Chinese silk, coral, tusher have increased by Rs 200 to Rs 250 while that of yarn katan has reached Rs 4,600.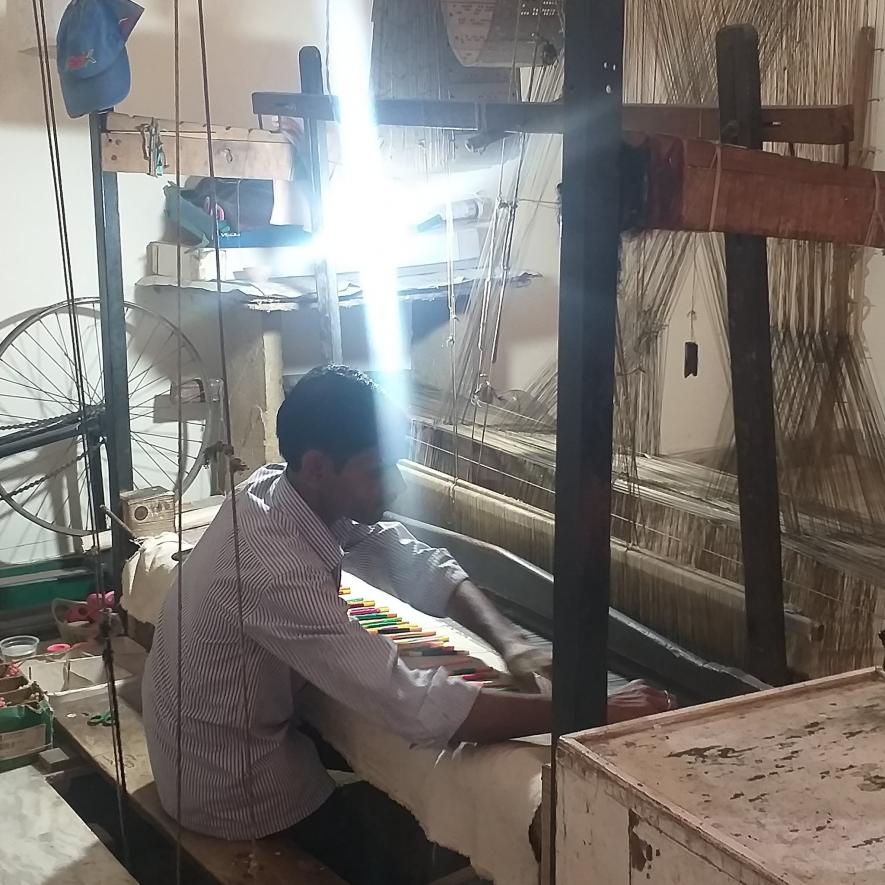 Reacting to the budget announcement, Ansari said: "Despite the severe impact of COVID-19 in the handloom industry – we are also being charged as per the electricity meter since January 2020 after the government withdrew the 'flat rate' subsidy – weavers in Varanasi had pinned their hopes on the Budget, but were left disappointed," he told Newsclick.
He added that COVID-19 has indeed hit their business and that raw materials have become more expensive. "The hike in custom duty has resulted in older orders for saris and dress material being put on hold. Businessmen, who had received orders for Holi and the wedding season in summer cannot dispatch them due to the rise in yarn prices. Fulfilling orders at old rates is proving to be difficult. Buyers who had placed orders with weavers at old rates reneged on their commitment. Due to these circumstances orders worth Rs 70 to Rs 80 crore are stuck," Ansari told Newsclick.
Hashim, who heads twelve weavers' groups in Varanasi, said that due to government policies and the COVID-19 pandemic their business is among the worst-hit. Weavers, not just from Varanasi but from across Uttar Pradesh are now struggling to meet their daily needs.
"There was nothing in this budget for us and we have been disappointed as we were expecting a relief package in view of the COVID-19 losses suffered in 2020. We hoped that the government will prioritise necessary measures to control cost inflation with a liberal budget allocation focused on strengthening domestic manufacturing and setting up a component ecosystem this year. We were also expecting to get raw material at a reasonable rate and yarn should have been made available cheaper. Weavers pay GST and tax," Hashim told Newsclick.
According to Hashim, Varanasi's weaving industry generates revenues of about Rs 50 billion annually. The industry wanted the government to be more considerate to the poor but the budget has left them disappointed. "First it was demonetisation; then goods and services tax (GST) hit the industry hard. Then, at a time when industry was slowly recovering, China stopped the export of silk yarn last December due to the pandemic. When was it resumed in March India imposed the lockdown. Aside from all of this weavers are being charged as per the electricity meter since January last year after the government withdrew the 'flat rate' subsidy. It will potentially cause permanent damage to the textile sector and will have a cascading effect – from the closure of units to eventually huge employment losses," Adil Zubair, secretary of the Bunkar Mahasabha, said.
"Many weavers have stopped working due to the increase in prices of silk and cotton yarn. Most of the silk and cotton yarn is used in Varanasi, so customs duty should not been raised. At the same time, the price of nylon yarn has gone down which is helping businesses in Surat more," Zubair claimed.
Silk from China, which was selling at a low rate of Rs 2,700 per kg during the lockdown, now costs between Rs 4,200 and Rs 4,300 – a rise of close to 55%. The absence of a wedding season over the next three months also does not seem to have helped business. Each year weavers wait for a favourable budget; they did so this time around too, hoping that the government would help them recover losses sustained during the lockdown.
"We are being charged for power based on meters instead of a fixed rate as was being practised till 2019. It was one of our key demands during more than 10 days of protest. We were assured by the government that our demands would be met but that has not happened," said Ateeque Ansari, a weaver.
Notably, powerloom weavers in Varanasi and in other parts of the state hit the streets last year in September under the banner of the Uttar Pradesh Bunkar Mahasabha and Varanasi-based Biradarana Tanzim against the sudden rise in power tariff. The organisations have claimed that it has increased overhead and may lead to the complete closure of the textile weaving industry. They had three key demands: electricity at flat rate, a stop to harassment in the name of recovering pending bills and that the electricity connection of weavers should not be disconnected. Newsclick had covered the protest extensively.
There are about five lakh weavers associated with weaving Banarasi saris, stoles and other clothes in the city. They said that the government's moves had left them with no other option but to work in construction sites, drive E-rickshaws or sell vegetables and fruits by the road side.
Get the latest reports & analysis with people's perspective on Protests, movements & deep analytical videos, discussions of the current affairs in your Telegram app. Subscribe to NewsClick's Telegram channel & get Real-Time updates on stories, as they get published on our website.
Subscribe Newsclick On Telegram