BJP's Jan-Jagran: The Calculus of Lies
In a belated attempt to counter the upsurge against CAA-NRC-NPR, the BJP is carrying out a 'mass awakening' programme based on half-truths, lies and distortions of history.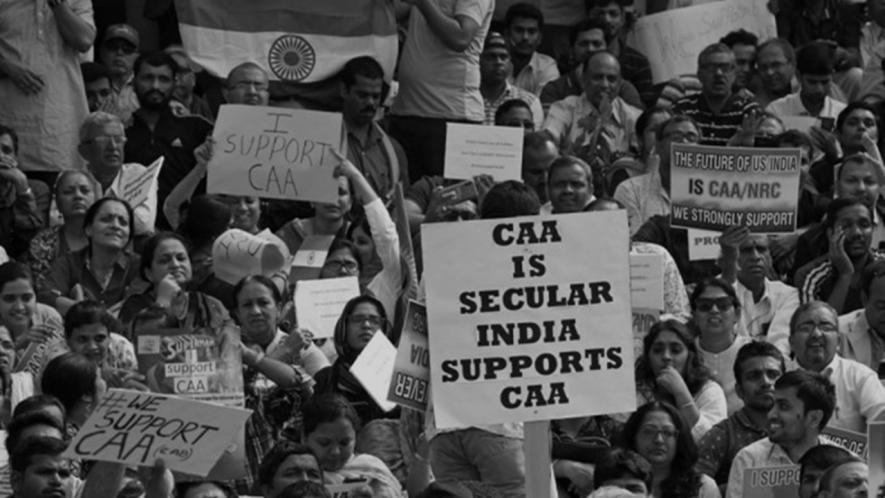 Representational image. | Image Courtesy: Deccan Herald
After watching the unprecedented country-wide wave of protests against the new citizenship law and the proposed population register (NPR) and citizens register (NRC) in stunned disbelief, the Bharatiya Janata Party (BJP) top brass has finally got their act together and launched a fire-fighting exercise on January 2.
Almost 20 days had lapsed since the new law was passed by Parliament and each of those days was overflowing with angry protests. Named "jan jagran abhiyan" (mass awakening campaign) as usual, the BJP campaign has seen party bigwigs addressing public meetings, after an initial ritual photo-op of a door-to-door campaign.
What stands out in this campaign is the brazenness with which responsible party leaders, holding constitutional positions, are going about weaving a spurious and untruthful fabric of lies in defence of the Citizenship Amendment Act (CAA).
The BJP's campaign is also marked by deliberate omissions on issues that are agitating people in the country. It is perhaps a measure of the rot that afflicts the political system. The only political takeaway from this botched abhiyan is that it is an unintended acknowledgement of the power and sweep of protests against the hated law and surveys of citizenship. Even so, it is necessary to parse this calculus of lies.
CAA Half-Truths
Let us take Amit Shah, who is acting president of BJP and Home Minister, as an example of what the BJP campaign is saying. Addressing a public meeting in Vaishali, Bihar, on January 16, Shah's key argument was this: the CAA is not about snatching anybody's citizenship but it is about giving this right to persecuted people who escape and come to India from neighbouring Pakistan, Afghanistan and Bangladesh. He specifically mentioned the persecuted communities: Hindus, Sikhs, Christians, Jains, Parsis and Budhhists. This is correct, that's what the CAA does.
What Shah fails to add or clarify is that it omits one community -– Muslims. Illegal immigrants from any of the other six communities will get fast-tracked citizenship, Muslims won't.
The BJP president also brought in an inflamed imagery of persecution, albeit only of Hindus in the neighbouring countries. Attacking those who talk of human rights, he said that "thousands of girls were raped, dozens of mandirs (temples) destroyed…".
The picture he is painting is that the BJP government is trying to do the right thing for Hindus who face attacks in Pakistan, Bangladesh and Afghanistan. And the political message is that other parties are opposed to this, and only BJP cares for Hindus.
Why this is disingenuous and dangerous is that nobody is opposed to giving shelter and citizenship to persecuted people coming to India. The opposition is to singling out one community – Muslims – to be left out of this benign shelter. This sows the seeds of discrimination against Muslims and, in doing so, is violative of the Constitution in letter and spirit.
This lie (or half-truth), that BJP is protecting persecuted Hindus while all others are opposed to it, has been repeated ad nauseum. Its intent is clear: try to win over Hindus.
But maybe that was the whole idea behind CAA.
Silence on NRC-NPR
There is another aspect of the citizenship issue. Shah had repeatedly stressed that CAA will be followed by the making of a National Register of Citizens (NRC). The purpose was to check and weed out illegal immigrants. In the context of India's neighbours, and now with CAA exempting all other communities except Muslims, the logical conclusion was that NRC will target Muslims. Not just illegal immigrants, but anybody who may not be able to show proof of parents' birth and other such absurd requirements.
The whole wave of protests was against CAA as well as NRC. When the government tried to mollify people that only a population register, NPR, will be made, that too was objected to because NPR was now supposed to collect information about parents' birthplace – a step towards declaration of doubtful citizenship.
Yet, Shah completely omits any mention of NPR-NRC in his address, as far as one can make out. He doesn't clarify anything, he doesn't even educate anybody. He glosses over the whole thing. To be fair, he has earlier tried to suggest that NPR is not meant to check documents and Modi has said that NRC is not on the table. But they speak different tongues in different places. Modi hotly denied NRC in Delhi's rally on December 22, even though Shah twice asserted in Parliament that NRC will come. Then, in the current abhiyan, the two simply go silent on it.
This is ludicrous, too, besides being untruthful. Shah should know that all the protests, including the ones in Bihar, are as much against NRC-NPR as against CAA. He should be addressing the issue.
But, maybe silence is also a way of addressing an issue.
What BJP's abhiyan and its content does show is this: to garner support for the citizenship law and NRC-NPR, the ruling BJP is playing an even more dangerous game -- of posing it as a Hindu issue. They hope to divide the whole country on communal lines. The prospect is chilling, and unimaginably fraught.
But maybe this was the whole idea.
Get the latest reports & analysis with people's perspective on Protests, movements & deep analytical videos, discussions of the current affairs in your Telegram app. Subscribe to NewsClick's Telegram channel & get Real-Time updates on stories, as they get published on our website.
Subscribe Newsclick On Telegram