CAA Protests: Eerie Silence! Why the Indian Sports Star Refuses to Speak Up
Citizenship Amendment Act protests (CAA protests): In a healthier and more robust society sportspersons would have plenty to say about our problems — from caustic Hindutva, to the vast inequities in our society, to the very idea of sport as something that binds people together.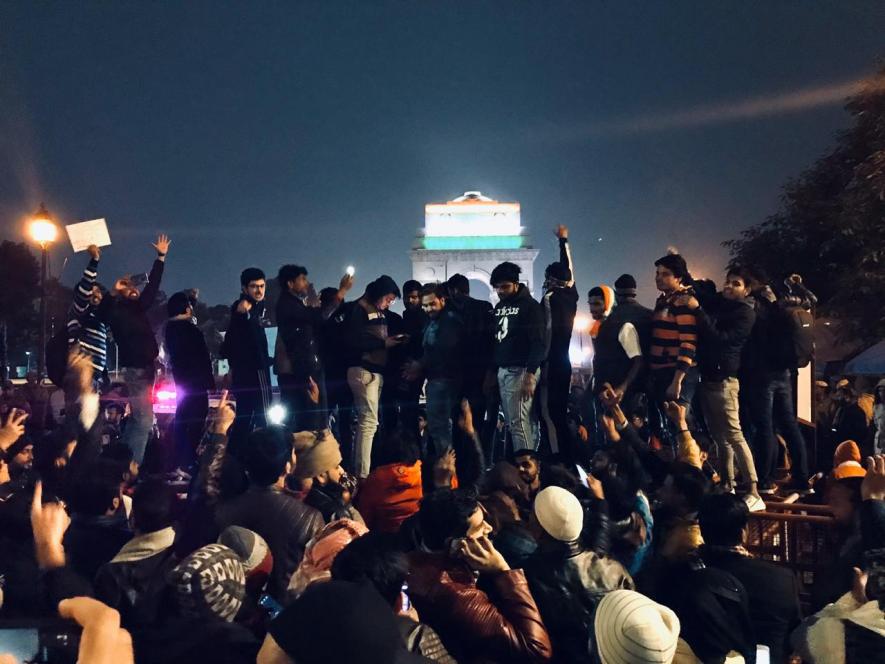 Even as protests against the Citizenship Amendment Act (CAA) rages across India, sportspersons, barring two or three, have been silent about it (Pic: Protest at India Gate by Vaibhav Raghunandan).
Try being a sports journalist at a protest march against the Citizenship Amendment Act (CAA). People who know you will come up and ask you what you are doing there because sports journalism is devoid of politics. People who don't know you will ask what you do, and then, once you tell them, ask what you are doing there, because sports journalism is separate from politics. Disguise your answer, say you are there in the capacity of a protester, and the question will change. Yaar yeh batao, yeh sports wale kuch bolte kyun nahi hei (why aren't the sports people saying anything)?
So perhaps the most interesting faultline in previous week has not just been between saffron and the rainbow, but between engagement and apathy. Between the vast majority of professional athletes content simply to keep their hands clean and a small but intriguing minority who have coloured them saffron. There is a feeling too, perhaps given the noxious state of our public discourse and the widespread disillusionment with politicians, that there is little to be gained from wading into an unwinnable debate.
But, to tell you the truth, it is too simplistic to say sportspersons aren't saying anything.
Also Read | CAA 2019 to Tokyo 2020: Mary Kom Hones Evasion Tactics Outside the Ring
The ones who have said the things you may like have disguised their words appropriately to leave wiggle room. Akash Chopra has called to stop violence against the student protests, but refrained from commenting on what he thinks about the reason for the protests. Irfan Pathan has earned accolades for saying something first up (first up being applause worthy in itself). However, he doubled down by insisting he doesn't pick his politics based on religion. His is the echoing voice in the valley of sporting silence.
Fear not though. There are the others. Saying the things you would not like. Yogeshwar Dutt is an erstwhile sportsmen and a current Bharatiya Janata Party (BJP) member. He contested the Haryana elections earlier this year from Baroda and lost by over 4,000 votes. His views are firmly aligned with the ruling party's. He has no remorse for the police action against unarmed students because, in his opinion, protest against establishment is worthy of retribution. Addendum: he was formerly an officer the Haryana police force.
There are subsets in this pro government stance. One subset is the Copy Paster. The athlete content with doing what the PR says. And it isn't as if this is a first time. The only saving grace here is the fantasy that perhaps these guys are great trolls, doing this deliberately with the intention of being caught.
A second subset is the clarifier. Those who believe ignorance is bliss. "I am not a politician. If the Government has taken a decision then even if I request them to withdraw CAB. It's not going to be withdrawn. At this stage, it's not going to stop. If the decision is already taken, then I will just follow that," Mary Kom said right after casting her vote in favour of the Citizenship Amendment Act in the Rajya Sabha. The boxer was pushed for a further comment and asked what she would like, and she said she wanted to win a medal at the Tokyo Olympics next year. Right then and there she provided us with the clearest glance of why sportspersons hug the system.
Then there is Sourav Ganguly, unnecessarily drawn into a debate he had no need to get into, and for a man known for his choice of words, choosing them awfully. It is tough to miss the irony. He asked that an 18-year-old student, his daughter who voiced her protest against the CAA on Instagram, be kept out of conversations that are being vocalised by students across the country.
The reason sportspersons stay silent is simple. Sportspersons are dependent on the system, the regime for survival. Those who don't work/are posted in state jobs aspire for them. Those that don't desire them rely on their federations and ministries for support. Those that have private funders rely on keeping their PR clean to attract more. This is a fault of the system that creates them — and in turn binds them.
And those asking for their voice do very little to enable them. It seems callous to say this from afar but the protests in Assam could have entered the stadium doors of the North East United FC Indian Super League (ISL) game in Guwahati. They used to at the Camp Nou. And some snuck into the stadium in Bengaluru — if you blinked you missed it on the feed. There is a section of fans asking sportspersons to speak up. But this same section also asks them to 'stick to sport' and barely watches them when they do.
And this isn't just true for India. It is global and has history. For every Megan Rapinoe speaking out against discrimination and endorsing a Democratic presidential candidate, there is a World Cup winning football team that is ignored because they avoided speaking out against a millitary regime 'disappearing' their countrymen.
In a healthier and more robust society sportspersons would have plenty to say about the problems — from the cancer of Hindutva, to the vast inequities in our society, to the very idea of sport as something that binds people together. But for most of Indian society, sport does not matter. And so for sportspersons politics does not either.
Also Read | Inside Story: Why South Africa Bombed Out of the Cricket World Cup
Speaking out has no purpose. At least no clear economic benefit. Silence is golden. Silence is self control. Silence is powerful. Silence also gives you leg room. At least till you can clearly tell which way the tide shall fall. If all goes well, they may even join in. Protest may even become an advert. Imagine a corporate powerhouse, a brand, a manufacturer wading into this debate. Imagine for a moment a Nike ad that proclaims that its shoe isn't just for athletes. It is also for protestors marching for a cause.
Alternatively, be an idealist and imagine this: A sportsperson captains a country to a first ever medal at the Olympics, but refuses to play the final, citing racial discrimination. The sportsperson returns outraged and wages a one-person war for minority rights — first against the colonial oppressor and then against the party in power. His struggle is epitomised by his party, whose name loosely translates as liberation front. The sportsperson is almost completely wiped out of history and relegated to the sidelines in the country's sporting annals. Almost a century later, that same party, fighting on his principles — the protection of an oppressed minority — displaces an authoritarian, divisive regime in his 'liberated' state. This happens at a time when student protests are rocking the country but big names are rarely speaking up. This story is real. This is history not advert. It is the story of Jaipal Singh Munda.
Go again. Ask yourself this: Why don't sportspersons speak up? Because no one remembers when they do.
Get the latest reports & analysis with people's perspective on Protests, movements & deep analytical videos, discussions of the current affairs in your Telegram app. Subscribe to NewsClick's Telegram channel & get Real-Time updates on stories, as they get published on our website.
Subscribe Newsclick On Telegram