CAA is Violative of the Spirit of Constitution, say Protesters in Delhi
Thousands gathered in Jantar Mantar on Saturday to oppose the recently cleared Citizenship (Amendment) Act, 2019, saying it would affect the poorest of poor the most, including dalits, adivasis.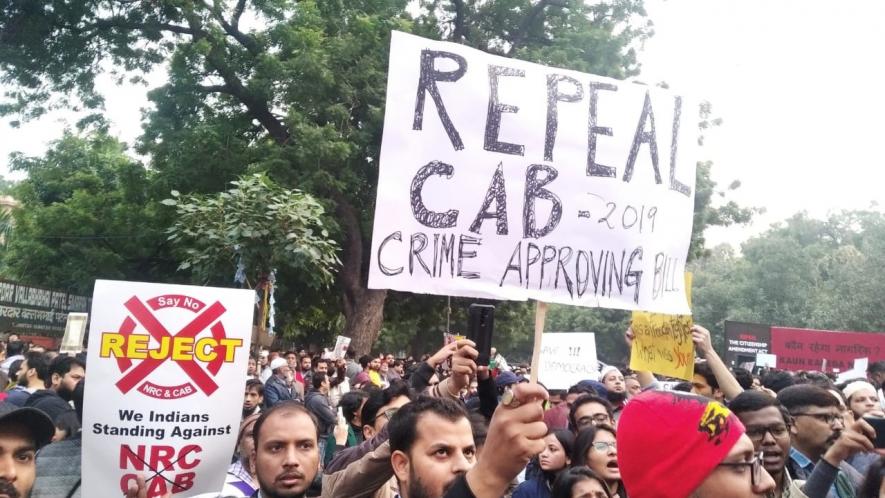 New Delhi: Holding a posster resembling the Preamble to the Constitution of India, Kasturi Borkotki, a student from Assam has only one appeal to make, "This is our Constitution and we cannot allow anyone to undermine it by introducing an illegal piece of legislation".
Kasturi, like thousands other people, thronged to Jantar Mantar today to register a citizens' protest -- #NotInMyName -- against the Citizenship Amendment Act (CAA) which was passed in the Rajya Sabha on Thursday and later got the Presidential assent. The Act enables the Hindu, Sikh, Jain, Buddhist, Christian and Parsi refugees of Pakistan, Afghanistan and Bangladesh to be eligible for India's citizenship. Notably, it does not allow Muslim refugees to be the country's citizen. However, the Act, and earlier the Bill, evoked massive protests from people living in the North Eastern states who argue that it endangers their unique identity, culture and traditions.
Elaborating her position, Kasturi said the Act was violative of the Assam Accord, an agreement in 1985 between the Government of India and student organisations of Assam, agreeing to stop the influx of illegal immigrants from Bangladesh, both Hindus and Muslims.
Talking to Newsclick, Kasturi said: "We are peace loving people but this government has compelled us to take to the streets. They are repeating the similar situation which existed in 1980s. The then government had forced Bangla (language) on us whereas the people in Assam speak Assamese. This government is imposing this Act on us. The Assam Accord had already fixed the cut-off date of 1971. This Act has changed it to December 31, 2014. They are changing the date without our consent."
Kasturi further maintained that the impact illegal migration was clearly visible in Tripura where the indigenous minority had been reduced to a minority within few years. Now, they want a similar thing in Assam.
Kartik, a student of journalism in University of Delhi, felt that the Act should be opposed from people across all sections and religions. "Why I am saying so is because we need to identify our privileges. They removed Article 370. I am not a Kashmiri and it did not affect us. They introduced Transgender Bill. I am a straight guy. It did not affect us. Now, they have brought this Act. I am a Hindu and it may not affect us. But I am opposed to all of these as I know my privileges. But not everyone is privileged enough. So, we need to stand by our countrymen because they are fighting a just fight."
Another student who requested anonymity said, "The government has made clear that after the passing of CAA, they will introduce National Register of Citizens (NRC) across India. In order to prove your citizenship, you may require to furnish documents about your lineage living in India before a said date. Since poor people hardly keep any record, they will surely lose their citizenship despite their religion. In this case, most sufferers will be dalits, adivasis and women. This is complete nonsense."
Journalist and author Saba Naqvi, too, had serious concerns. Talking to Newsclick, she said, the government run by the Narendra Modi and Amit Shah duo are ignorant of history. Why did Bangla-speaking people rise up in arms against the Pakistan Army? Were they not Muslims? Of course, they were. They were fighting the Pakistan Army just because they imposed an alien language on them. Similarly, when I was young, a Pakistani man visited our house. I was told that he was a revolutionary poet who was being persecuted by the regime. Later, I came to know that he was none other than Faiz Ahmad Faiz. Was he not a Muslim? So, peddling this idea that no Muslim can be persecuted in a Muslim country is flawed. Second, why do they want to create another Pakistan? Those who wanted to go there had already made their decisions. This is our country and our grandparents decided to stay here. We will not go anywhere."
Get the latest reports & analysis with people's perspective on Protests, movements & deep analytical videos, discussions of the current affairs in your Telegram app. Subscribe to NewsClick's Telegram channel & get Real-Time updates on stories, as they get published on our website.
Subscribe Newsclick On Telegram