CAA Violence: Neta Danga Bharka Kar Chale Gaye, Says Family of Shahid Who Was Killed in Clashes
Twenty-two people, including a Delhi Police head constable, have died so far in the riots that broke out on Sunday in Delhi's Northeast district's localities.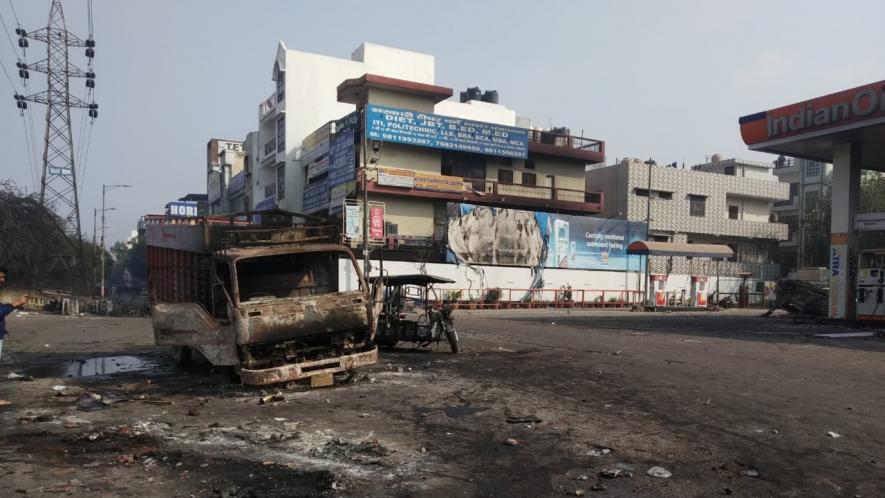 New Delhi: Irfan and others had tough time to console 20-year-old Shazia and bring her back home safely from Guru Teg Bahadur (GTB) Hospital, where her husband Shahid was lying dead. The 22-year-old auto-rickshaw driver had received a bullet in his stomach near Bhajanpura 'dargah' (shrine) at around 3:30 pm on February 24, the first day of "targetted violence" that erupted in Northeast Delhi following the clashes between pro and anti-CAA (Citizenship Amendment Act) protesters.
The two had got married just four months ago. Since Shazia is expecting a baby, she was not allowed to see her husband's body.
Irfan, Shazia's brother in-law, while dealing with his own grief, also had the responsibility to take the entire family safely to his relative's place in Seemapuri in the frenzied atmosphere.
He asked Shazia to remove her veil so that the rioters don't recognise them as Muslims. "Women in our family observe purdah (a practice of female seclusion). But we cannot afford this when Muslims are being targeted in the city because of their religious identity. We don't want to be seen as Muslims," he said during a brief interaction.
Back home, the family was making arrangements to take the body to their native town of Bulandshahr in Western Uttar Pradesh.
Shahid is one among the 20 killed in the communal riots that have erupted in Northeast Delhi localities of Khajuri, Bhajanpura, Gokalpuri, Kardampuri, Noor-e-Ilahi, Chand Bagh, Maujpur, Jaffrabagh and Seelampur.
Irfan said that Shahid always came home for lunch and made sure that Shazia had food, but he did not return on the fateful day. "Instead, an unfortunate news came that he has been shot and taken to the GTB Hospital. When I rushed to the hospital, he was declared brought dead," said Irfan.
The entire family was persuading the inconsolable Shazia to have something because she had not eaten anything since she got the information that her husband is no more. "Let me at least see his face. What will I do without him? Who will take care of his child? Why are you all not letting me see him the last time?" she could be heard while crying at home.
A large number of those who have been killed in the violence, which continued unabated till last night despite curfew being imposed on February 25 evening, are daily wage labourers and were out to earn a living.
While talking to the family of a deceased, NewsClick found out that a man has been shot at Vijay Park colony in Barbarpur.
A blood-stained body was lying at the location for a few hours. The deceased was identified as 28-year-old Mubarak Hussain. According to eyewitnesses, he was caught in the indiscriminate firing by the rioters and was shot dead. He had a bullet in his chest. Those who were present at the spot said the incident took place somewhere around 1:30 pm on February 25.
Also read: Journalist Bodies Express Concern over Safety of Reporters Covering Delhi Violence
An eyewitness said Hussain was killed by a bullet fired by a man wearing black jacket from across the street.
His younger brother, Sadaqat (18), who was also present there alleged that around 100 calls had been made to the police, but no one came to the spot. "Even the government's ambulance service is unresponsive," he alleged.
Neither the police nor the ambulance reached the spot till around 3:10 pm to take the body to the hospital.
Mubarak, a migrant labourer, was originally from Darbhanga district in Bihar and had been staying in the national capital for the past 10 years.
Mohammad Zubair, a resident of Vijay Park, said, "The locality has only 4-5 gullies, where only Muslims live. The area is surrounded by Hindus from all sides. They have literally made us hostage. The trouble began on Tuesday morning at around 10 am when people woke up. People from Maujpur and Gokalpuri, which is around 1.5 km away from here, are wreacking havoc here. Though we are not any allowing any suspicious movement here, we are sacred as there is no police presence. Those who had gone out for ijtema (an Islamic gathering) were attacked while returning. The rioters first ascertained their identity by seeking their genitals. This all happened after BJP leader Kapil Mishra made a provocative speech at Maujpur chowraha."
There was a chaos outside the GTB Hospital's mortuary, where family members of the deceased were waiting for bodies of their relatives and family members to be handed over to them for last rites.
"The doctors are not saying when exactly the autopsy will be performed. We only hear that postmortem will take place soon. Policemen are rude," said many of them.
A young man could be seen rushing an injured Hindu man shot at his waist to the hospital. "Neta bhashan de kar aur danga bharka kar chale gaye, ab Hindu-Musalman dono mar raha hai (Politicians went back after making provocative speeches and inciting violence, now Hindus and Muslims are being killed)," said the visibly angry man.
The rioters had even surrounded the hospital and were allegedly keeping an eye on the visitors. Some of them were even pretending to be as security staff and checking identity cards, asking for details. They were not allowing anyone to click photos and make video clips.
Several journalists were thrashed at Maujpur and Khureji while covering the riots. "While reporting, I was beaten up in West Karawal Nagar around 1 pm. I was robbed of my phone and a notebook. They broke my glasses before slapping me. My crime: I was reporting from a Hindu area. Within a distance of 300 metres, I was waylaid by three mobs — each 50 strong. All had the same question: why don't you go to Muslim areas for reporting? Are you a Hindu? Are you fron JNU? Did you click any photo or make any video? They wanted me to chant Jai Shri ram. For the first time as far as I can remember, I felt helpless. Somehow, I managed to escape on my bike as another mob chased me. There was no police present here," Shivnarayan Rajpurohit, a journalist with The Indian Express, described his ordeal on Facebook.
Twenty-two people, including a Delhi Police head constable, have died so far in the riots that broke out on Sunday in Delhi's Northeast district's localities. Nearly 150 were wounded and property — vehicles, homes, shops and a petrol pump — were set on fire amid heavy stone-pelting and violence that was unleashed on the streets of India's national capital.
In the past two and a half months since Parliament passed the controversial citizenship legislation, Delhi has seen frequent protests, many of which have turned violent. The turn of events indicate that no pre-emptive measure was taken in Delhi by law-enforcing agencies. The intelligence gathering system appears to have collapsed.
The incident raises several questions: Did the Intelligence Bureau and the local intelligence units alert the Delhi Police and the Union Home Ministry about the possibility of such widespread violence in Delhi? If they did provide intelligence inputs, why did the Home Ministry and the Delhi Police not act in time to avert the mayhem?
Also read: Delhi: Poison Seeds, Bloody Harvest
Get the latest reports & analysis with people's perspective on Protests, movements & deep analytical videos, discussions of the current affairs in your Telegram app. Subscribe to NewsClick's Telegram channel & get Real-Time updates on stories, as they get published on our website.
Subscribe Newsclick On Telegram