CEL Employees Continue Fight Against Privatisation, Dharna Crosses 27 Days
The company is engaged in supply of strategic products to the defence sector, including phase control module for radars employees, and had a turnover of over Rs 337 crore even in the pandemic period, claim the employees, who allege that disinvestment would compromise the defence sector.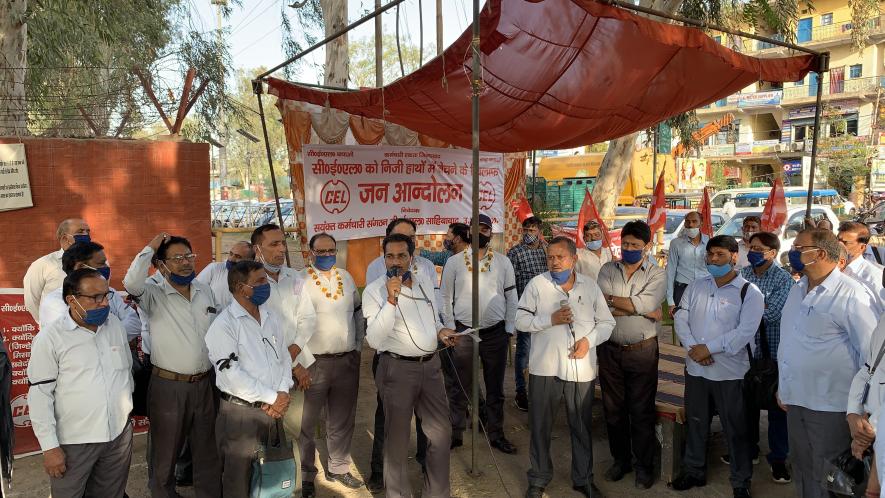 "In order to run a household, you do not sell your personal assets. Instead you look for alternative options," this was the first reply of Biren Kumar from the Central Electronics Limited (CEL) when NewsClick asked him about the reason behind the 27 days long agitation by its employees at the main gate of the company.
He was referring to the decision of the government to sell 100% of its shares in this strategically crucial company to meet the disinvestment target. Kumar has come to the gate of this sprawling campus in Sahibabad, at the outskirts of the national capital, to greet his comrades in arms sitting at a dharna to resist the privatisation bid. The permanent employees, on the call of the Employees' Union affiliated to the Centre of Indian Trade Unions (CITU), have been taking leave from office to stage their dharna which began at March 15 after the government issued Expression of Interest for inviting investment through the transaction partner, Resurgent India.
Founded in 1974, CEL is a fully owned government company under the Department of Scientific and Industrial Research, Ministry of Science and Technology, and specialises in production of critical defence equipments such as phase control modules for radars, Radom and bullet proof armour for military needs. In her Budget Speech this year, Finance Minister Nirmala Sitharaman marked it as one of the companies from which government would sale its stake to meet the disinvestment target of Rs 2.1 lakh crore.
"The problem is that the people who are making the decision regarding the sale did not visit the factory even once. Had they visited the campus, they would have found out the importance of our work. We have been earning profits for last seven years consecutively with highest turnover of Rs 337 crore even during the time when nobody dared to step outside their homes (pandemic period)," Prem Raj, another worker at CEL.
"We have been telling every official in the government that it is a strategic company and opening private investment in such a critical avenue is not good for country's interests. Yet, the DIPAM (Department of Investment and Private Asset Management) and its secretary did not pay heed. Not only that, they even diluted the terms in the EOI bypassing our concerns," he added, while proudly showing the product portfolio of the company which illustrates a range of products used in military and railways for signalling and, of course, its solar panels. The company is credited with producing first solar cell indigenously developed in the country in 1977 and first solar panel in 1978. The company also manufactured India's first indigenously designed colour TV with CSIR-CEERI, Pilani, in 1985.
The employees of the company maintain that the government diluted its own terms to desperately sell its stake. Harish Verma, president of the CEL Executives Association, reiterated that the government is not following its own rule for the sale.
Also read: Several Ministries, Departments Raised Concerns over Modi Govt's Privatisation Push: Report
"In the first Expression of Interest which was released in September 2018, it was mentioned that the bidder will have to continue the business in its entirety for five years. Similarly, the bidding company should have been earning profits for last five years. This time, that term has been omitted completely. This effectively means that anybody, even if he has experience of running such businesses or not, can bid for it. Our experience from the adjacent public sector undertakings which were privatised earlier suggest that the bidders were not at all interested in retaining the work force. The company now has about 900 employees. Who would give them work?," he questioned.
After taking a long pause, Verma added, "Our biggest worry is that why other public sector companies are being denied the opportunity. The government could have generated the money even by retaining the control of management."
"The decision will make us jobless at a juncture when we are well past our youth. We could have moved to other professions or businesses earlier, but it was the government that had earlier assured us that we would get salaries till the age of 60. We could not even take leave without informing the government, it was our boss. Now, all of sudden they are saying that they are no longer interested in hiring us. How is this fair!," said an enraged T K Thomas, who had led the heroic struggle of 69 days in 2018 when the Expression of Interest was released for the first time and employees vociferously opposed it.
Talking to NewsClick, Thomas said that the new EOI too downplays the portfolio of the company as it added several critical products since September 2018. "We began producing Radom which is used in missiles. Similarly, we are researching on remote voting machines for Election Commission of India which cannot be hacked and are temper proof. This would help all those people who fail to exercise their right to vote as they remain stranded in distant lands. No such projects have been mentioned in Preliminary Information Memorandum," he said.
"Between 2018 and 2019 we have done several strategic important TOT (transfer of technology) with defenCe labs like DRDO, ISRO, etc., but they are not included in the company preview. CEL has made capital investment in these projects and have already started supplying finished products like silica Radom. None of this is mentioned in the EOI. It is a clear attempt to downgrade CEL's strategic importance and their worth in defence production. By omitting these important projects, the new buyer will have no obligation to continue these projects, and it will be free to refuse acknowledgement of CEL's contribution in these projects. That will be a clear betrayal of trust of the defence labs which had transferred these technologies to CEL as a CPSE," he further added, highlighting the company's role in strategic defence production.
Also see: Employees' Protest Against CEL Disinvestment Continues!
When asked if the government was aware at all about the strategic products that the company produces, Thomas said, "Even though the disinvestment project began with NITI Aayog's recommendation, it was only this body which later retracted and suggested other methods to save the company."
Following a meeting to discuss proposals made by Standing Finance Committee, Shekhar Mande, secretary of the Department of Scientific and Industrial Research, wrote to V K Saraswat, member of the Niti Aayog, saying, "During that meeting, a suggestion was given for conversion of the CEL, a public sector undertaking – which works in the strategic area and has been in profit since last few years – to a society as a solution to its proposed disinvestment. It was brought to the attention of NITI Aayog that the disinvestment process being carried by the Department of Investment and Public Asset Management was in an advanced stage. Considering the strategic relevance of the CEL for the nation and the consistently evolving geopolitical dynamics, the DSIR should herald the cause of saving the CEL from proposed disinvestment."
However, the minutes of Core Group of Secretaries on Disinvestment (CGD), accessed by NewsClick, suggest that DIPAM completely overlooked the proposal by NITI Aayog and went ahead with decision. The minutes read, "Secretary, DIPAM stated that Secretary, DSIR had requested Vice Chairman, NITI Aayog to put on hold the ongoing strategic sale of CEL citing the turn around of CEL and its strategic importance. Secretary, DSIR proposed that CGD may consider the option of divestment in favour of an existing CPSE if the strategic sale is unavoidable. In response to their request, VC NITI Aayog advised Secretary DSIR to move a CCEA note in case DSIR finds it necessary to review earlier CCEA decision on sale of CEL."
It adds, "Secretary, DIPAM proposed that to take forward the case of CEL, the following alternatives may be considered by CGD :- a. To Continue with ongoing procedure for strategic divestment of CEL as approved by CCEA on 27.10.2016 as per approved procedure.  b. To recommend partial revision of CCEA decision dated 27.10.2016 for the strategic divestment of CEL by allowing other CPSEs to participate in bidding. After detailed deliberations, the committee recommended that DIPAM may proceed with mtrategic disinvestment of CEL as decided by CCEA on 27.10.2016. Further, DIPAM may process the proposal for announcement of EOI to delete the condition for interested bidder that positive PAT (Profit After Tax) for 3 out of last 5 years and also to retain its existing net worth condition of Rs 50 crore as on 31.3.2019 in place of as on 31.3.2018."
At the end of the day, Anurag Saxena, general secretary of Delhi CITU, during the address to the employees, suggested that it was imperative for the employees of different PSUs to come together to fight as privatisation has now become a universal assault. When asked if they were collaborating with other PSU unions, Thomas said, "The situation in each PSU is different. Some employees are under the impression that they would not be touched. But if we do not protest, our fate will be similar to that frog on the stove who kept adjusting to the rising temperature, to finally get burned to death."
Get the latest reports & analysis with people's perspective on Protests, movements & deep analytical videos, discussions of the current affairs in your Telegram app. Subscribe to NewsClick's Telegram channel & get Real-Time updates on stories, as they get published on our website.
Subscribe Newsclick On Telegram