COVID-19: 94% ICU, 87% Oxygen Beds Full in MP, Patients Dying in Front of Hospital Gates
While the state is witnessing an average of 13,000 cases daily, 23 districts have run out of ICU beds and 10 districts are out of oxygen beds by April 26, as per reports.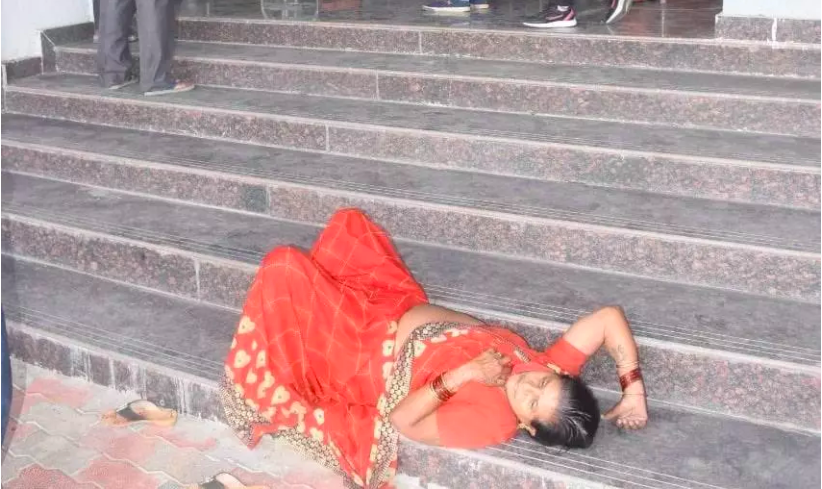 A woman lies unconscious at the stairs of a government hospital in Vidisha.
Bhopal: Anil Tiwari, a personnel of the Border Security Force (BSF) posted in Tripura returned to his home in Sidhi district of Madhya Pradesh after his wife contracted the COVID-19 infection. As her health deteriorated on April 20, he rushed her to the neighbouring district of Rewa.
After excruciatingly long eight hours, he finally managed to find a bed for his wife at the government-run Sanjay Gandhi Memorial Hospital, when a video of him crying with his wife outside the hospital went viral. 
"Bataiye hum desh ke liye marte hai (we sacrifice our lives for the country). I have come home for a few days only for my wife's treatment and even after running from pillar to post for eight hours I haven't been able to arrange a bed for her," a sobbing Tiwari can be heard in the now viral video.
Soon after, media persons helped to get his wife admitted in the ICU, however, four days later on April 24, she succumbed to the infection. "The doctor said nothing except that the virus had infected her lungs, when she died," the BSF personnel said, adding that he is worried about the future of his children, who are eight and twelve years old.
However, Tiwari was among the luckier ones, as his wife managed to get a bed after struggling, unlike Gaurav Lakhwani and Devendra Billore of Indore. Both succumbed to the infection at the gate of a private hospital in the city after their kin were unable to find beds despite searching for hours.
Just like them, countless lives have been lost owing to the lack of ICU and oxygen beds in Madhya Pradesh in April, said health expert Amulya Nidhi, who is also the state coordinator of the Jan Swasthya Abhiyan.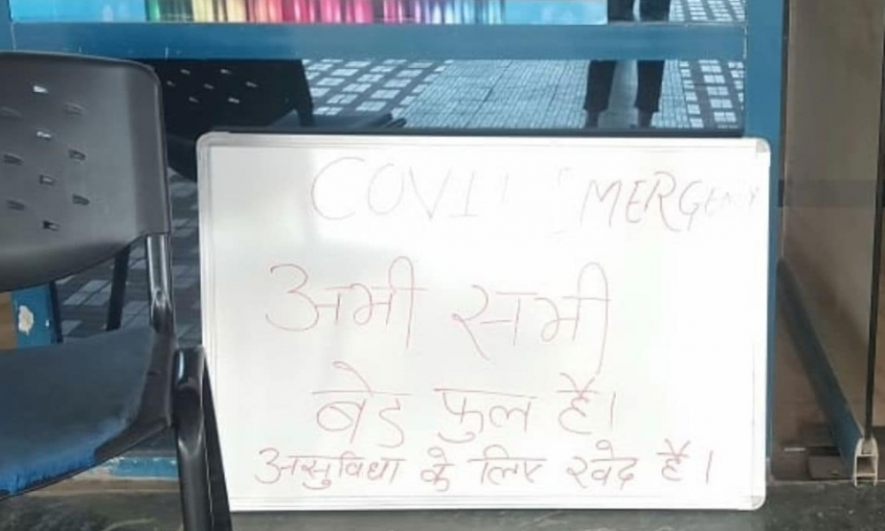 An assessment of the data available on the state portal of COVID-19 Monitoring by NewsClick revealed that only 5.60% of ICU beds out of total 9,350 and 13.7% oxygen beds out of 22,580 total beds are vacant across the state on April 26. (See table below)
Total COVID-19 Beds Available

As many as 23 districts the state are running out of ICU beds including the worst COVID-19 hit districts – Indore, Ujjain, Ratlam, Vidisha, while 10 districts including Vidisha, Balaghat, Bhind, Chhatarupur, Guna have been running out of oxygen beds for days.
In six districts including Vidisha, Balaghat, Dewas and Seoni neither ICU beds are available nor oxygen, as per official data.
Even hospitals like Bhopal's All India Institute of Medical Science (AIIMS) and Sri Aurobindo Institute of Medical Sciences (SAIMS) Indore have put 'No Admission' boards outside the hospitals. In Guna and Morena, the district hospitals have put up notices outside the hospitals that read 'no availability of oxygen and oxygen beds for new patients'.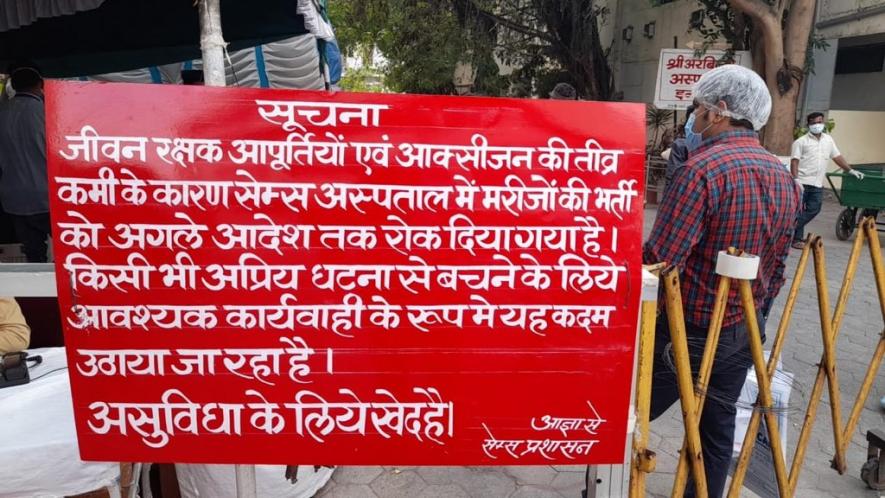 Notice put up outside SAIMS, a private hospital with 400-beds which were overtaken by the state government four days ago.
Madhya Pradesh, which has been witnessing an average of 13,000 COVID-19 cases daily since the past one week, has nearly 92,000 total active cases. The state has 9,340 ICU beds and 22,580 oxygen beds in 829 hospitals, including 520 private hospitals. But, these numbers seem highly inadequate to cater to the growing number of patients. The result being that visuals of patients dying outside hospitals due to lack of treatment have become common.
Also read: COVID-19: CM Chouhan's Unfulfilled Promise Deepens Oxygen Crisis in MP
Out of the 10 worst COVID-19-hit districts of the state, which comprise 45% cases, only Bhopal, Gwalior and Jabalpur have vacant ICU and oxygen beds, and majority of them are in private hospitals, as per reports. (See table below)
"We are constantly increasing the capacity of beds in hospitals as per the demand and trying to supply the growing demand of oxygen," said Chief Minister Shivraj Singh Chouhan on Sunday, April 25, during his address to the state. He also 'apologised' for the 'mismanagement' but emphasised that the efforts taken to prevent the spread of the virus are finally bearing fruit as the positivity rate has declined in the last two-three days.
District-wise Distribution of COVID-19 Beds in Madhya Pradesh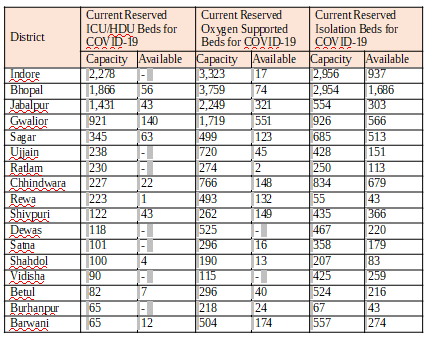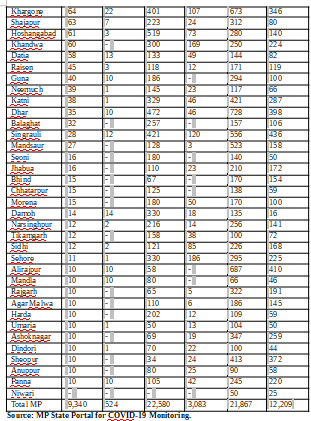 In the state capital Bhopal, as per the government records, out of total 1,866 ICU beds in 105 hospitals, only 56 are vacant on Monday, while 74 beds out of total 3,759 oxygen beds are vacant, maximum in private hospitals. However, without political connections one cannot get a bed either in Bhopal or in Indore, added Amulya Nidhi.
"People are not dying because of COVID-19 but due to the lack of treatment. Nearly 67 have died due to oxygen shortage in the last two weeks in the state and people, as per the media reports, are still dying at the gates of hospitals," Nidhi said, adding that much larger infrastructure is needed to tackle the storm of the second wave of the pandemic.
Meanwhile, in the case of Nasir Khan's family, a resident of Bhopal's Eidgah Hills, even their political connections failed to arrange a bed for him and his mother.
On April 24, Nasir's sister Saulat (45) succumbed to COVID-19 as the family failed to find a hospital to get her admitted. They had been home quarantined after testing positive since 4-5 days.
Also read: MP: Stones Pelted at Police for Enforcing Lockdown During Ram Leela Event
On April 25, when Nasir's mother's health deteriorated, they approached state Congress spokesperson Abbas Hafeez Khan seeking their help to get beds. After several failed attempts, Khan tweeted about the requirement with the patients' details and sought help from Chief Minister Shivraj Singh Chouhan. It was retweeted by former CM and MP Digvijay Singh as well as well-known journalist Ajit Anjum seeking help from the district administration and ministers. But, all in vain.
Both Nasir and his mother succumbed to the infection within a span of 24 hours, after failing to find medical facilities. However, nearly a dozen beds were lying vacant in Bhopal as per the government records on that day.
"The government is forging the data at every step, from death data to availability of beds, to injections and tests. Government data shows beds are available, but in reality it is either full or there are private hospitals which are overcharging and is out of reach of the common man," said the Congress spokesperson, Khan.
Emphasising the need to focus on health infrastructure, Bhopal-based public health expert, Anant Bhan said, "We need to enhance the availability of oxygen beds and ICUs to cater to the new patients. We should also focus on providing doctors, nurses, staffs with life saving injections and medicine in these new facilities. Only beds wouldn't help and isolation beds are entirely unnecessary now."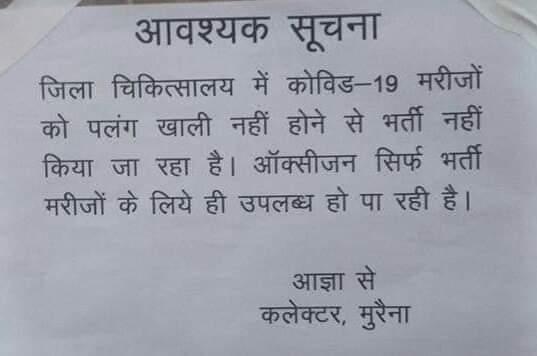 Notice put up outside Guna district hospital on April 26.
He also added that the restriction on movement should continue until the cases drop, with special emphasis on rural areas.
On Sunday, a 300-bed isolation coach equipped with life saving drugs opened at platform number 6 of Bhopal Railway station and another 150-bed ad hoc isolation facility was started at Army's EME Centre of city's Bairagarh. However, nearly 56% of the isolation beds are already vacant across Madhya Pradesh out of total 21, 867 beds, as per reports.
Also read: COVID-19: People Gasping for Oxygen in Maharashtra Shows Lack of Planning by State, Central Govts
With the surge in cases, the oxygen supply has seen a two-fold jump over the weekend from 130 MT on April 15 to 267 MT by April 18, according to government sources. But the demand reportedly surged to 450 MT a day by April 25, even as the state has somehow been managing with 350 MT oxygen daily.
Dozens of hospitals – government as well as private – in many districts are facing massive shortage of oxygen. As per the media reports reportedly, 72 patients have died in MP in past two weeks including a dozen in Bhopal. However, the state government is adamant in denial.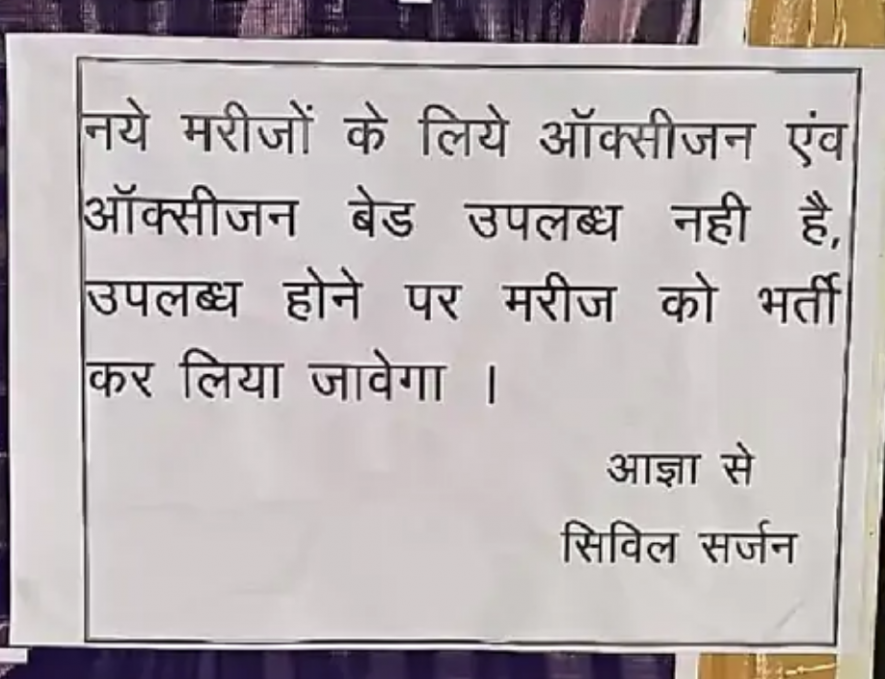 Meanwhile, following the Uttar Pradesh Government's announcement of free treatment for COVID-19 patients in private hospitals, a similar demand has been raised by health experts and social groups in MP as well. The state is almost entirely dependent on private hospitals, as reportedly 80% hospitals and labs are private.
"CM Shivraj Singh Chouhan should announce to pay the bills of the private hospitals as the private players are looting the already suffering people," said a social activist Seema Kurup, adding that "While, we have seen CM Chouhan desperately following footsteps of UP in the past by implementing stringent anti-conversion law, laws to deal with stone pelters and demolition of homes of minorities after the riots last year; this is one decision which he should be following."
(Data inputs by Peeyush Sharma.)
Get the latest reports & analysis with people's perspective on Protests, movements & deep analytical videos, discussions of the current affairs in your Telegram app. Subscribe to NewsClick's Telegram channel & get Real-Time updates on stories, as they get published on our website.
Subscribe Newsclick On Telegram