COVID-19: Bihar Doctors Ask For Safety Gears, Admin Threatens Them With Legal Action
Junior doctors at Bhagalpur's JNMC have allegedly been supplied with HIV kits, instead of PPEs.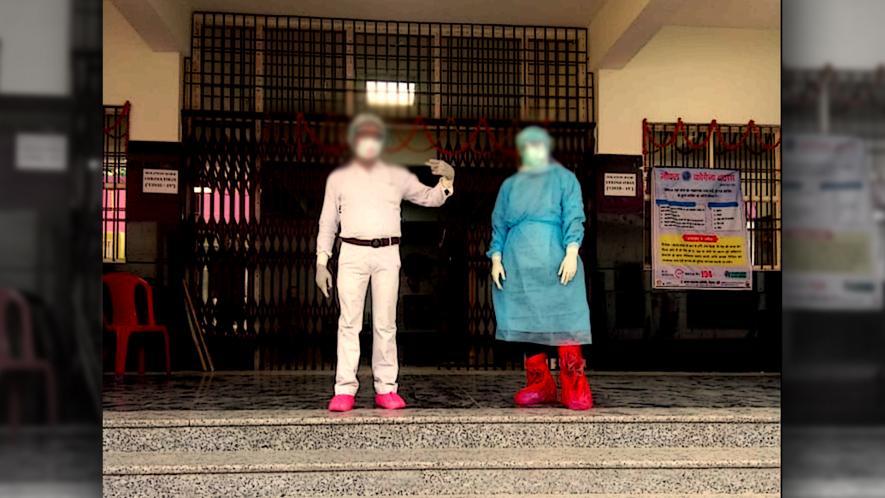 New Delhi: Even as Prime Minister Narendra Modi asked the nation, which is under lockdown, to switch off all lights at home at 9 p.m on April 5 (Sunday) and light 'diyas' or candles or cell phones' flashlights to symbolically mark a collective national battle against the novel coronavirus outbreak, many are still demanding that those on frontlines of this fight (doctors and healthcare workers) be given protective gears kits. 
Junior doctors at Jawaharlal Nehru Medical College and Hospital (JNMCH) in Bihar's Bhagalpur recently expressed their "inability" to serve if they were not provided with the Personal Protective Equipment (PPE) or hazmat suit (hazardous materials suit), sanitisers and simple and N-95 masks.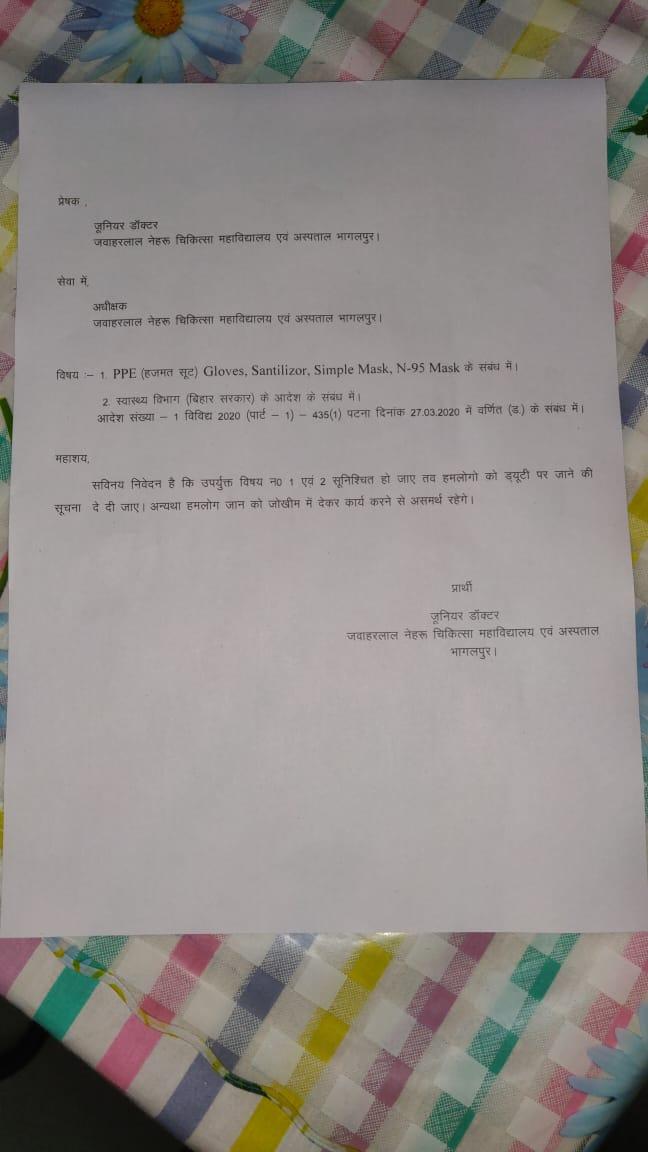 Drawing the Prime Minister's attention to their consistent demand for protective gear and a direction issued by the Department of Health, Government of Bihar, the junior doctors had written to their medical superintendent on March 30, stating that, "...once above mentioned Subject No. 1 and 2 (with regard to safety equipments and deployment of experienced doctors along with junior and senior residents) of the application are addressed, then we can be informed about our deployment. Otherwise, we are unable to work — putting our life at risk". 
The state government, in its direction dated March 27, had ordered all medical colleges of the state to  ensure deployment of doctors who have sufficient experience along with senior and junior residents. "It has come to our notice that medical colleges and hospitals are pressing into service only PG (post-graduate) students/junior residents for treatment (of patients). Deployment of doctors with enough experience must be ensured," read the order signed by Additional Secretary (Health), Kaushal Kishore.
ALSO READ: COVID-19: Why Bihar is Sitting on a Ticking Time Bomb
However, Instead of addressing the grievances, the district administration has shot off a letter to the superintendent of the JNMCH, asking him to provide the law enforcement cell all details of  junior doctors who expressed their inability to work in the absence of personal protective gears so that they could be booked under Section 188 (disobedience to order duly promulgated by public servant) of the Indian Penal Code (IPC), Section 19 of the Bihar Epidemic Diseases, COVID-19 Regulation 2020, and Section 3 of the Epidemic Diseases Act, 1897.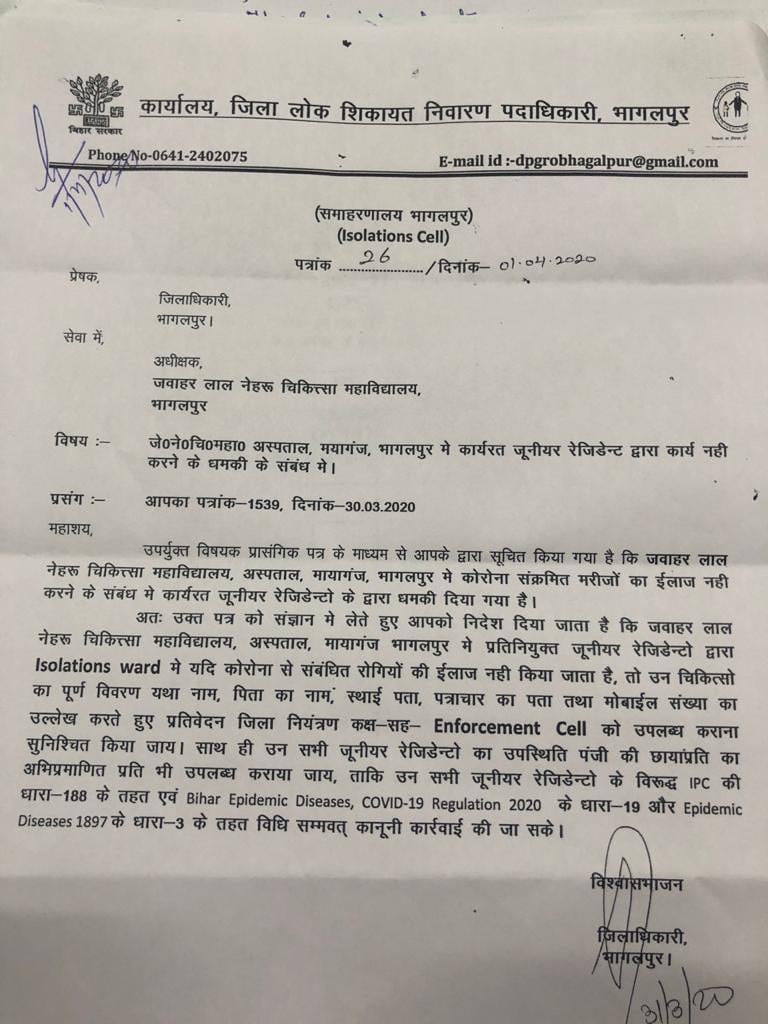 "This is to inform you that junior residents at Jawaharlal Nehru Medical College and Hospital, Mayaganj, Bhagalpur, through a letter have threatened not to treat coronavirus infected patients. So taking cognisance of the aforementioned letter, if the junior residents of the Jawaharlal Nehru Medical College and Hospital refuse to treat coronavirus infected patients at the isolation ward, you are directed to ensure that you will provide the Enforcement Cell of the district control room with the complete details of the doctors such as names, father's names, permanent address, address for correspondence and mobile numbers. In addition, you will make available an attested copy of the attendance register of those junior doctors so that appropriate legal actions under Section 100 of the IPC, Section 19 of the Bihar Epidemic Diseases, COVID-19 Regulation 2020 and Section 3 of the Epidemic Diseases Act 1897 can be initiated against them," read the letter, shot off by the Bhagalpur district magistrate to the JNMC superintendent on April 1, in response to the letter by the junior doctors. Newsclick is in possession of a copy of the letter.        
Now, the doctors on frontlines are asking if they are slaves and if they can be forced to work without protective equipment.
"After our hue and cry and subsequent media reporting, the administration fooled us with HIV kits, which cannot protect us from aerosol (suspended liquid droplets likely to be produced by sneezing and coughing by (COVID-19 infected patients). Only a few doctors who are deputed in isolation wards have been given N-95 masks. Those who are working in other departments, such as medicine emergency, paediatrics, orthopaedics, gynaecology, etc., do not have access to even HIV kits despite the fact they are also exposed to the risk of getting infected with novel coronavirus because the chances of infection in other patients cannot be ruled out," a junior doctor deployed at JNMCH's isolation ward told Newsclick on strict condition of anonymity, fearing repercussion.
Asked if there is no screening of patients when they come to the hospital, he said thermal screening is done and their history is taken before letting them inside. "But the problem is that the suspects don't necessary develop all symptoms (fever, cough and shortness of breath) in initial stage of infection. These symptoms may appear within 2-14 days after exposure (based on the incubation period of MERS-CoV viruses). It is also not necessary that those who are coughing and have temperature are infected as this is also a season of viral fever. But they are suspects for us who may be negative or positive. We need PPE, sanitisers and other facilities to properly examine them," he added.
ALSO READ: COVID-19: Only 2 Testing Centres, 1500 Test Kits for 10 Crore People of Bihar
Another doctor, seemingly angry with the behaviour of the administration, asked since when did seeking protection from a pandemic become a crime. "You are putting our lives at stake, sitting in your cosy offices and drawing rooms. Except lip service and optics, the governments (both in the Centre and the state) are least bothered to fight the pandemic. I want to ask Mr Prime Minister, will lighting candles in balconies lessen our risk of getting infected? We are doctors, we are in direct contact with patients and we don't have safety gear as per your own ICMR (Indian Council of Medical Research) guidelines," he said.
"Are we slaves? Why are we being threatened with legal action? Isn't this blackmail that if you have to take degrees or save your registration, you have to dance to their tunes — no matter what the risk you are exposed to? Left with no option, we are working as we have spent seven years to get this degree and serve the society. We are working just because we cannot sacrifice our careers," he said.
The JNMCH — said other doctors — had four patients in its 70-80 bedded isolation ward. All these patients are said to be family members and relatives of the first person from Munger, who was tested positive for coronavirus after his death on March 22 at All India Institute of Medical Science (AIIMS), Patna.
A few interns deployed in other departments also raised similar concerns. "Our hospital is admitting 30-40 COVID-19 suspects on an average on a daily basis. Those who are tested positive are admitted, while the rest are sent back and advised self-isolation at home. The spike in footfalls has been witnessed after migrant labourers came back from bigger cities," said one of them.
The hospital, said another intern, had separated the entry of suspects and that not used by other patients, yet the threat of infection looms large on the doctors as there are instances of "asymptomatic" patients with COVID-19 infection. 
"The entry gate for suspects has been separated from the common entrance. A guard has been deputed at the main entrance for thermal screening along with two doctors who note down symptoms and his history. If one is found to be a suspect, he is taken into the isolation ward through a separate entrance. But there are several asymptomatic patients who develop symptoms after two-three days of infection or ever after that. If such people with other problem comes to us, he or she will be like a suicide bomber for the doctors, other health workers and even fellow patients," he explained.
Forget about doctors, he said, asking what safety measures was the government  taking for the sanitation workers and guards, who also face the same threat. "The guard who is doing thermal scanning wears surgical gloves and a mask. Is it enough to protect him? Have the sanitation staff who touch liquid wastes been provided safety gear? The answers are in big no," he said.
ALSO READ: Bihar Finally Begins Screening of 1.8 Lakh Migrant Workers for COVID-19
Meanwhile, the JNMCH and the district administrations are claiming that all is well.
Dr Hemshankar Sharma, who is the nodal officer for COVID-19 at JNMCH, however rubbished the allegations, claiming they have 1,000 safety kits for the doctors who are working in the isolation ward. "A group of students who don't want to work are shouting that they are not being provided with the safety gears. The reality is we have 1,000 safety kits and those who are stationed in the isolation ward are given the same. According to ICMR guidelines, the doctors in other departments don't need it at all. We are working as per the hospital management manual," he told Newsclick.
Interestingly, when repeatedly asked if the safety kits they have are PPEs, he said he is giving the doctors what the government is supplying. "The safety kits being supplied to us by the government are being given to them (the doctors)," he said.
Asked once again if the safety kits being supplied by the government are PPEs meant to treat COVID-19 suspects and infected patients or HIV kits as alleged by junior doctors, he stressed, "We are providing the doctors what the government is supplying to us."
Bhagalpur District Magistrate Pranav Kumar too said the same. "Everything needed is available and the doctors are also working. There is no problem," he said.
However, he dodged the question with regard to the letter wherein he had sought details of the junior doctors who had threatened not to work, risking their lives. "There is nothing to worry about. Everything is fine. The doctors are working," he added.
With two more COVID-19 positive cases reported on April 3, the state's total number of coronavirus infected patients has increased to 31 so far. While the first person, a 35-year-old resident of Siwan, had returned from Bahrain on March 21, the other, a 37-year-old from Gaya, had come from Dubai on March 22.
A government press release said 6,681 people with travel history either from other places in the country or abroad had been placed under observation. Of them, 512 have completed the 14-day quarantine period. Of the total 1,973 samples collected so far for testing, 30 were tested positive. Four got rejected, while others were found negative.
Get the latest reports & analysis with people's perspective on Protests, movements & deep analytical videos, discussions of the current affairs in your Telegram app. Subscribe to NewsClick's Telegram channel & get Real-Time updates on stories, as they get published on our website.
Subscribe Newsclick On Telegram