COVID-19: Dalit Woman Says She was Beaten up, Denied Rations in Saharanpur
Mamta, a widow, claims she is among 400 residents who were denied rations being distributed by the local councillor's husband and brother-in-law.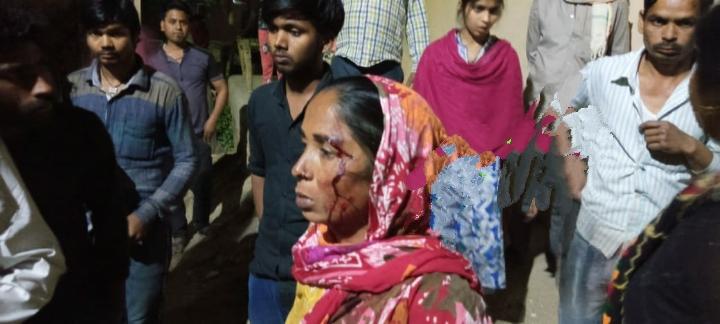 In times of COVID-19, when across the world, people are coming together and responding collectively to survive and make both ends meet, the dalit community has been pushed to edge yet again in India, especially in North India, when it comes to getting relief in the form of free rations during the 40-day countrywide lockdown that has been necessitated to prevent the spread of COVID-19.
In a recent incident in Uttar Pradesh's Saharanpur, Mamta,a 44-year-old dalit domestic worker, was reportedly beaten up badly when she raised her voice against not being given rations that were supposed to be distributed among all the residents of Abhishek Nagar. Mamta, a widow and mother of two sons, one of whom is physically challenged, has blamed the area's Councilor Meenakshi Sharma for the incident.
Commenting on the incident, Beena Pallical, General Secretary of Dalit Arthik Adhikar Andolan (NCDHR), pointed out that "the majority of the migrant workforce in India was from the Dalit community. As a result of the lockdown, they are not being allowed to go to work which is why they have no source of income". In this situation, denial of rations amounted to discrmination.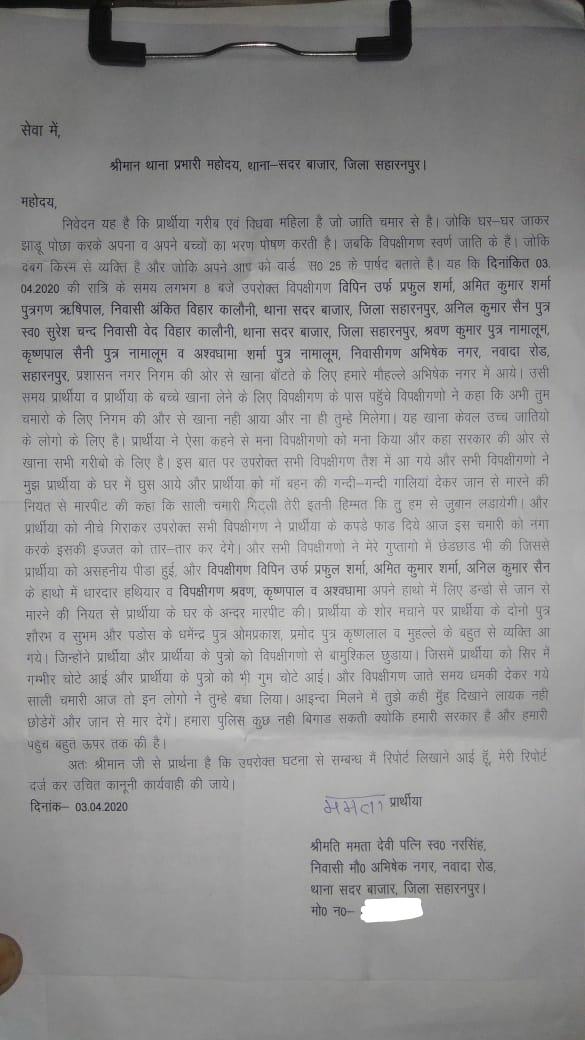 According to Mamta, on April 3 night, she had sent her son to collect ration when she heard that the ward councillor's husband, Amit Sharma, along with a few other people, were distributing rations in their locality. She said her son came back empty-handed, after which she accompanied him back and faced a barrage of casteist remarks: "Tum logon ne hame vote nahi diya, hum tumhe ration nahi denge. Ye tumhare liye  nhi ayya" (You people did not vote for us, so we will not give you rations).
Mamta said when she questioned them and demanded that she be treated equally and with respect, one Anil Saini, rebuked her with the derogatory casteist slurs, such as  "Tum chure chammar ho" and " Marro sali chamaran ko".
Soon the verbal abuse turned into physical assault, with Mamta alleging that Anil Sharma hit her on the head with a brick while she was being beaten up by Saini.
Mamta is among 400 residents who were reportedly  denied ration being distributed by the councillor's husband and brother-in-law.
"They not only took the liberty to not to give her the ration but also beat her up.  They would have never treated a dominant caste woman like this", said Pallical.
Unfortunately, in the wake of the COVID -19 pandemic, India is still chained to  age-old shackles of a larger problem -- caste discrimination and untouchability which continues to blight the lives of dalits, who are still subjected to social boycott in various forms, such as exploitation, discrimination and humiliation.
The practice of untouchability is nothing new to India and has acquired upward mobility and has even seeped into the urban public sphere, where despite the visible signs of modernity and talk of social justice, caste discrimination is still deeply embedded in the society.
What is of serious concern is how people are using COVID -19 as an excuse to perpetuate untouchability, which not only makes dalits  prone to structural discrimination, but also social and economic exclusion.
In another such incident, journalist Vijay Vineet reported how people of the Musahar community in a Uttar Pradesh village  were starving since the 21-day lockdown was suddenly declared on March 24. The story cleated a flutter, leading to the,"The administration's initial reaction was not to provide them with ration but to prove my story wrong. That the District Magistrate, Additional District Magistrate, Sub-divisional Magistrate and tehsildar along with the Police went to Koerpur and destroyed whatever of Akri grass was left", Vineet said over phone.
He  was given a notice that accused him and his editor of  spreading 'fake news' . Speaking about his experience, Vineet said: " In 35 years of my career, this is the first time that I've received a notice for reporting the truth".
Discrimination against dalits comes in various forms. In Gorakhpur, a man refused to eat food since it was cooked by a dalit. The News report suggests,  Siraj Ahmad, a native of Bhujouli Khurd village of Kushinagar district, had returned from Delhi on April 9 and was staying at the village isolation centre along with four others. When the  village head, Lilawati Devi, in absence of the cook, prepared food for all the people who were in isolation, Siraj refused to eat it.
"Physical untouchability has decreased in the last 70 years but what still remains in the society is physical violence. Similarly, at the institutional level, in the name of caste and untouchability, discrimination still goes on; take the example of Rohith Vemula," said Professor Narender Kumar of Jawaharlal Nehru University, adding that "discrimination, which Ambedkar called Notional Untouchability, is still increasing".
Untouchability was abolished with Article 15 of the Constitution, which gives every Indian citizen the right to be treated equally, regardless of religion, caste, creed and gender. Article 17 has made untouchability, a widely practised phenomena in India, a punishable offence.
Speaking about the implications of  COVID-19, Kumar said "we would find a layered impact on different marginalised communities. These kinds of incidents are not something new. Whenever the population is hit by a calamity, be it COVID 19 or, for instance, earthquake in Latur, where many cases of discrimination came forth affecting the vulnerable the most. The vulnerability of the vulnerable multiplies by manifold."
Another story surfaced from the Prime Minister's constituency (Varanasi)  in which families of the Nat community have been reportedly going hungry for days.
Shabnam Begum, a community correspondent of Video Volunteers, reported that the whole community is deprived of any government support. They are without any ration or supplies. In her report, she raised a very fundamental question about the problems of people who do not have sufficient documents to avail governments benefits.
While discrimination against dalits has a long history, the incidents have seen a sharp rise since the advent of the Bharatiya Janata Party-led government in UP.
"We've seen repeated attacks on the members of dalit community ever since Yogi (Adityanath) has come to power in Uttar Pradesh. This is not to say that there were no attacks earlier, but now it has increased", said Nakul Singh Sawhney, a documentary filmmaker and Founder of ChalChitra Abhiyan, adding that he was no longer shocked by hearing about such incidents.
"Dalits and Muslims are the most vulnerable under this (BJP)  government. In order to deflect attention from its own failures, it has made all efforts possible to shift the blame (of COVID-19's spread) on the Tablighi Jamaat", he added.
Sawhney said many activists from Western UP had informed him that there were more such cases where people weren't getting rations.
Commenting on the condition of the dalit community during the COVID 19 pandemic, Professor N. Sukumar from the Department of Political Science, Delhi University, said: "The caste factor has been operating, be it before, during or post-corona….It operates in its own sense, it's not that people would become sympathetic during such times as the privileged caste mentality would never change."
"They (privileged castes) would never consider the dalit community deserving enough of their helping hand even if it is a crisis-like situation, he added.
The post-corona situation would be more troubling as the effects would be greater on marginalised groups, he concluded.
There are reports that dalits involved in humanitarian relief are also facing assault and violence. In Bengaluru, a man and his friends were allegedly abused and assaulted by a businessman for distributing free milk to poor people in KR Puram on Sunday. Their fault was that they belonged to the so-called lower caste.
It is a shame that even in times of a grave health crisis, such as COVID-19,  the marginalised and vulnerable communities continue to face verbal and physical assualts in the country --  while the Muslims are being blamed and terrorised for spreading the coronavirus, the  dalits continue to face discrimination and abuse.
Also watch: 
Get the latest reports & analysis with people's perspective on Protests, movements & deep analytical videos, discussions of the current affairs in your Telegram app. Subscribe to NewsClick's Telegram channel & get Real-Time updates on stories, as they get published on our website.
Subscribe Newsclick On Telegram