COVID-19 in Delhi: How State Govt, MCD and the Centre Failed Its People
Public health experts maintain that majority of the efforts went in vain due to lack of coordination among the Delhi Government and municipal corporations which are run by the Bharatiya Janata Party.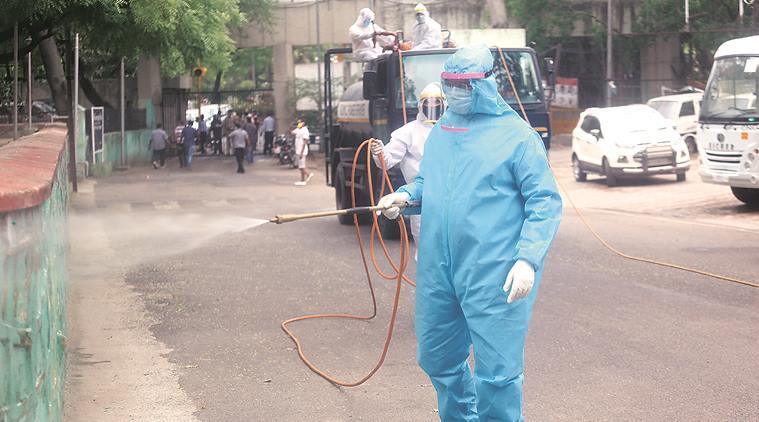 Delhi on Tuesday, June 23, recorded the highest single day spike in the number of COVID-19 infected persons with 3,947 cases. The total number of infected patients stood at 66,002 and whereas with 68 deaths on the same day, the total deaths stood at 2,301. The national capital has been witnessing over 3,000 cases per day for some time and more than one third of the total cases were added in the previous week. But how did the situation worsen to this extent, even after having one of the best health infrastructure in the country hosting a slew of healthcare facilities run by the central government, three municipal corporations, Delhi Government and ESI, among others? Why did the multiple governments running parallel healthcare institutions fail in handling the epidemic even when global health agencies have laid down a universal formula of testing, tracing and treatment?
Reports maintain that although the virus came with those who came from outside the country, cases were soon reported among the middle class and lower middle class sections in the city. Jahangir Puri, a densely populated area of lower middle-class population in North Delhi reported the outbreak with maximum number of cases in initial days. Soon, the neighbouring Azadpur Mandi--one of Asia's biggest grain and vegetable market-- too became a hotspot. But the area consistently saw lax handling with administration summing up its responsibility by declaring areas "containment zones."
Ashwin Bagri, who represents Jahangirpuri as a Councillor in the Municipal Corporation of Delhi, sheds some light on the crisis. Bagri argued that the crisis resulted only after the local bodies and the Delhi Government failed to take coordinated action.
Talking to NewsClick, he said, "We witnessed the first death in the area when Anjuman bibi who lived in C block died after complaining of respiratory issues. The doctors did not bother to test her for infection. It was only after her burial it was found that she was infected. Later, it was found that the people who had participated in her last rituals were also infected. Now, going by the rules, the people living in the area should have been screened by taking their temperature and advising them to follow protocol for prevention. Rather, the administration chose to declare it a containment zone with no person deployed to look after their daily needs. The people started roaming to buy necessities like vegetables and medicines and infecting others. When I complained about the issue, the district administration told me that the screening will be done by local ASHA workers. When I contacted the local dispensary, I was told that neither they were equipped with thermal thermometers or gloves or any other protective gear. They were told to go and write names in a register. As a result, 16 ASHA workers were also infected.Did the administration not know that the situation required more manpower? The sanitation staff will get sick with infection and they would need replacement. But did they hire additional staff? Certainly not. Even today, there are no proper arrangements for sanitisation. What can you expect with these arrangements?"
He went on to add, "Given the gravity of the situation, I protested to get the healthcare workers tested at Babu Jagjivan Ram Hospital in the area which is the first stop for 7 lakh residents to seek any treatment. The test results were mind boggling. Seventy-five healthcare workers including doctors were infected and they were treating people without knowing it. Even in this situation, the Delhi Government and the Municipal Corporation have failed to come to a consensus and deal with the pandemic."
A Delhi Government teacher, requesting anonymity, deployed for facilitating the staff in containment zones made similar complaints. He told NewsClick, "We have been given the responsibility for coordinating with the civil defence and other staff to check with their needs. What perturbs me more is that I am working consistently on the ground. My health is fine but I could be a potential carrier for other people in my family and vicinity. In this situation, I think we must be tested as we have never been tested since we were asked to join duty on April 2. I know a friend who literally had to fight with the district administration to get him tested after he started showing symptoms of infection."
But it is not only government employees who are complaining about limited testing. A look at testing figures in the city suggest that the city administration continued to keep the number of tests low even when the ratio of positive patients to the number of tests soared to highest levels. The testing continues to remain stagnant even after the Delhi High Court reprimanded the government for "abysmal" testing. The High Court, in its observations had said, "Testing done from 18thJune, 2020 are abysmal. Delhi Government has not conducted more than 50% of the tests and failed to keep the target."
Malini Aisola, Co-Convenor, All India Drug Action Network, told NewsClick that tests by the Delhi Government reveal an unclear picture of the city. She said, "If you look at the daily health bulletin, you will find no break up of rapid antigen tests and RT-PCR tests. While antigen testing has been ramped up since it was introduced in the last few days, the number of RT-PCR tests don't appear to have increased. While results of rapid antigen tests are available in a short time, it also carries a high probability of false negatives because of which ICMR (Indian Council of Medical Researhc) has recommended that negative results be confirmed through RT-PCR. Currently, we do not have clear picture about how this is being managed in Delhi."
Responding to the question why Delhi is facing a severe crisis even when the global health agencies have laid out clear recommendations for handling the outbreak, she said, "The Delhi Government faltered in important ways. A good opportunity to ramp up testing capabilities and prepare hospitalisation capacity was during the lockdown. This was also a time when contact tracing and isolation was most critical because of lower numbers of positive cases. Government could have mobilised its workforce and done this more intensely. Sadly, by the time of easing restrictions, Delhi's track record of contact tracing had become abysmal. We know several clear instances where even families were not contacted after a family member was found to be positive."
Public Healths Experts Point Out Lack of Coordination Between MCD and State Govt
Public health experts also maintain that a majority of the efforts went in vain due to lack of coordination among Delhi Government and municipal corporations, which have been under the ruling Bharatiya Janata Party for more than a decade. Indranil Mukherjee from Jan Swasthya Abhiyan said that the public health strategy was wrong from initial days, addinf, "The public health strategy took a wrong turn when the Centre divided the country into zones, created containment zones and then simply sat down. It's fine that the containment zones were created to restrict the movement of infected persons. But the experience suggested a thorough screening of residents in the entire area. The next step should have been to set up fever clinics to regularly monitor and counsel the patients. Why did it not happen? Obviously, there was lack of coordination and efforts were more concentrated on creating ICU beds, arranging ventilators and fixing the norms for testing, etc. Local bodies could have played the role in putting people in quarantine."
"Apart from coordination, an effective prevention plan could not be put into place because the bodies do not have enough public health workforce. For example, the sanitation work in the city is done by domestic breeding checkers. Currently, their number is one fifth of the requirement. Now, when you do not have human resources, how will you form your strategy?," he further questioned.
Devender Sharma, President, Domestic Breeding Checkers' Workers' Association corroborated Mukherjee's findings and emphasised that workers have been abandoned without much security even in pandemic. Apart from ASHA workers and teachers, the districts administration have also deployed domestic breeding checkers for thermal screening, sanitisation, fogging and other prevention related works. Popularly known as DBCs, the workers of MCD were employed to combat the outbreak of dengue in the national capital in 1996 claiming 430 lives.
Sharma told NewsClick that the workers have been assigned duties without any insurance even in midst of the pandemic. He said, "Presently, the workers are deputed for screening patients and sanitisation, and we could be soon deployed in isolation centres too. The saddest part of the job is that the workers are getting infected every day and they have no security in form of insurance. We have been working without regularisation for years. Even now as we talk, we have not received our salaries for three consecutive months. Remember its a meagre sum of Rs 13,000. What motivation a common worker would have in these times when the administration is forcing us to work without salaries and threatens us if we protest the status quo. I think the virus has also spiralled out due lack of enough manforce. Currently, the municipal corporation has 1,100 vacant posts for field workers. We suggested that the posts could be filled by bringing in the checkers but the corporations did not act."
State Govt Blames Centre
However, the officials of the Delhi Government believe that the virus spread multiplied in absence of clear strategy by the Centre. A senior advisor to Government of Delhi who did not wish to be named, told NewsClick, "The first case of coronavirus was reported on January 30 this year but the Centre waited till mid-March for any action. It was state governments which were acting on their own discretion. When it realised the situation was slipping out of hand, it started imposing directives on us. Let me give you the latest example. We opted that people with mild symptoms could be put in home quarantine. They were required to visit the hospital when they complained about difficulty in breathing. Meanwhile, our doctors and counsellors guided them regularly. Now, I deal with grievances sections of the hospitals. I receive this common complaint that I am feeling depressed because the person on my neighbouring bed has died. Now, if you are admitting person with mild symptoms in the hospital, you are exposing him to these situations. You never know how would a person react to it? He may dive into shock or depression. Secondly, we could save beds for more critical patients. Now, the policy was changed without any consultation with the Delhi Government. I think this is really a problem."
On being asked why the state government did not consider using mohalla clinics for testing and other purposes, the advisor said, "The size of these clinics were a problem. Now, we have only two rooms in these clinics and we could have very limited testing. Thus, we relied on our hospitals or camps set up in different districts."To the question on allocation of resources, the advisor said, "The Centre could certainly have allocated more resources to Delhi. I really do not understand why it allocated only 265 beds in AIIMS Delhi whereas the actual strength of the institute is around 2,400 beds. Similarly, it could have asked the students studying with it to provide services but it did not happen. Now, we are managing with our own strength."
Get the latest reports & analysis with people's perspective on Protests, movements & deep analytical videos, discussions of the current affairs in your Telegram app. Subscribe to NewsClick's Telegram channel & get Real-Time updates on stories, as they get published on our website.
Subscribe Newsclick On Telegram