COVID-19: How India and COVAX failed the South Asian Countries
While South Asian countries struggle to get their vaccination drive on track after India defaulted on its commitments, the global platform COVAX has also fallen way short. The results are low vaccination and commercial purchases at high prices.
Representational use only.
Countries in South Asia are grappling with domestic vaccine shortages and only a fraction of their population has been vaccinated till date. As the threat of new COVID-19 variants looms large, the countries are trying their best to secure more doses, knocking on every door.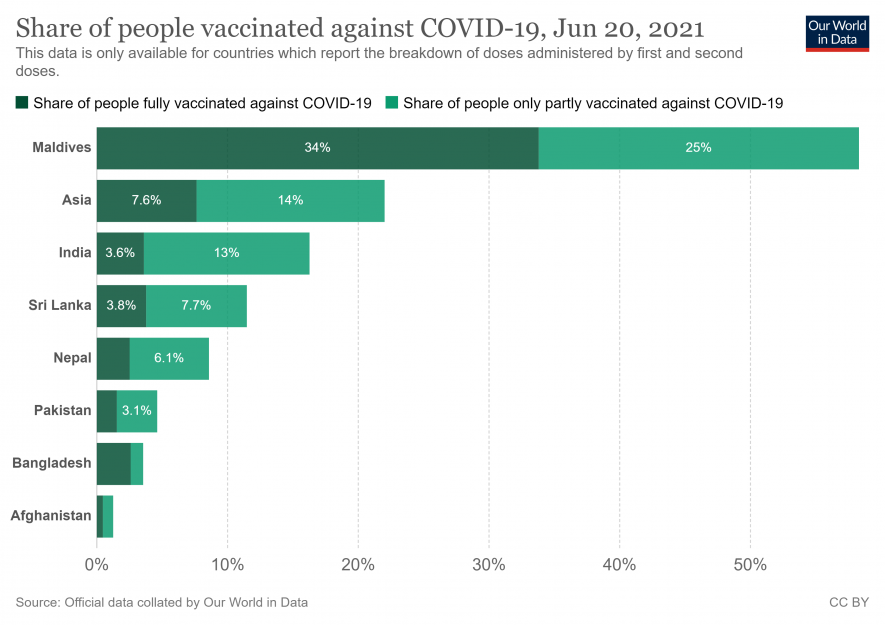 Barring Maldives, in all countries in South Asia, the proportion of fully vaccinated people –those who have received two doses – is less than the average percentage of Asia (7.6%). Sri Lanka (3.8%) and India (3.6%) lead the group in percentage of vaccinations administered among the South Asian countries. While Bangladesh and Nepal have fully vaccinated about 2.6% of their population, Pakistan has managed only 1.5%.
India's Failed Vaccine Diplomacy
In January, India started external supplies of vaccines as part of its vaccine diplomacy. However, under the Vaccine Maitri programme, India had only sent a fraction of vaccines to these countries before it abruptly stopped the delivery in March 2021. The Indian government discontinued the supply of vaccine to other countries amid its own COVID-19 surge since March, thus, leaving these countries in the lurch.
India supplied these vaccines in the form of grants, commercial sales by the manufacturers and through COVAX (COVID-19 Vaccines Global Access). Figure 2 gives the details of the vaccine supply by India to other South Asian countries as updated on May 29.
This breach of commitment forced neighbouring countries like Bangladesh and Nepal to halt their vaccination programme and explore other sources. It was only in June that some of these countries had been able to resume their vaccination programme.
With the WHO approval to Sinopharm in May, China has now replaced India in supplying vaccines to South Asia. China has signed agreements with Nepal, Bangladesh and Sri Lanka for the supply of vaccines with a non-disclosure clause for prices and quantities. This is also being seen as helping China diplomatically.
According to reports, these countries are paying a higher price for the Chinese vaccine as compared to Covishield from the Serum Institute of India; for instance Sri Lanka is reportedly paying $15 and Bangladesh $10 for Sinopharm. Further, according to reports, countries are tapping into other sources too. For instance, Sri Lanka is exploring vaccines from Japan, Nepal has approached Denmark and Bangladesh has appealed to its diaspora in the United States.
Pakistan has primarily used Chinese vaccines – Sinopharm, CanSinoBio and Sinovac – and recently signed an agreement with Pfizer for 13 million doses of its vaccine and is negotiating for ten million doses of Russia's Sputnik V.
In Afghanistan too, amid rising COVID-19 cases, the three million doses the country expected to receive by April by the World Health Organisation (WHO) will not be delivered until August. India had already stopped supply in March after giving 9.68 lakh doses under Vaccine Maitri. Afghanistan has also purchased some doses of Sinopharm from China.
COVAX – Falls Short of Expectations
The COVAX platform, a global vaccine platform started a year ago, has been struggling with its intended vaccine delivery programme. The rich countries which were expected to contribute to COVAX largely bypassed it and focussed on their own bilateral purchases.
According to a Lancet article: "Of the 2·1 billion COVID-19 vaccine doses administered worldwide so far, COVAX has been responsible for less than 4%. The original notion of a global vaccine hub more or less collapsed, and COVAX ended up using a traditional aid-financed approach, which has left lower-income countries wholly at the mercy of wealthy nations and profit driven companies".
The richer countries have vaccinated a substantial proportion of their population and have procured much more quantities of vaccine than required. On the other hand the poor countries of Africa, Asia and Latin America are falling short of even a second dose of vaccines for a limited proportion of their population.
In addition, as the Lancet article noted, despite shortage of vaccines in COVAX, it is contractually obliged to reserve one in five doses for rich countries. As of late May, COVAX had supplied about 80 million doses to low and middle income countries and 22 million doses to rich countries.
Of the allocated number of doses, COVAX has shipped only a small fraction of doses to the countries. For the South Asian countries, apart from India, which is also a contributor to COVAX, the doses that have reached these countries are way less than the allocated amount.
While Nepal, Sri Lanka and Afghanistan have received only 18% of their allocated share from COVAX, Bangladesh has received a meagre one per cent. The country will be procuring the single-dose Janssen vaccine through COVAX, but it will be available only from June 2022.
Commercial Purchases at High Prices
The result of lack of supplies from COVAX has been that countries in South Asia have had to purchase vaccine doses commercially.
Domestically, there are varying prices for different vaccines. There is also a difference between the prices being provided in the open market and that through governments. The COVAX AMC ceiling price for each dose is three dollars.
Although the G7 has pledged one billion doses, experts have called it as "a drop in the ocean" or "offering crumbs". With a nearly 6.8 billion unvaccinated population across the globe requiring 13.6 billion doses, the promised billion doses form just 7.4%. More recently, the US announced it was giving away 55 million doses with 16 million for Asia.
Such a meagre contribution from the richer countries is a mockery when the number is juxtaposed with quantities of vaccines that they have hoarded, which are many times over their vaccination requirements. In contrast, poor countries are struggling to provide vaccines to their population and are exposed to greater risk from the new variants being reported. Could the inequalities get any harsher?
Get the latest reports & analysis with people's perspective on Protests, movements & deep analytical videos, discussions of the current affairs in your Telegram app. Subscribe to NewsClick's Telegram channel & get Real-Time updates on stories, as they get published on our website.
Subscribe Newsclick On Telegram