The Real Struggle for Life Goes On, As a Temple of Dreams Rises
In the past four months, lakhs of working people have been gathering strength to resist a brutal onslaught on their lives, livelihoods and future.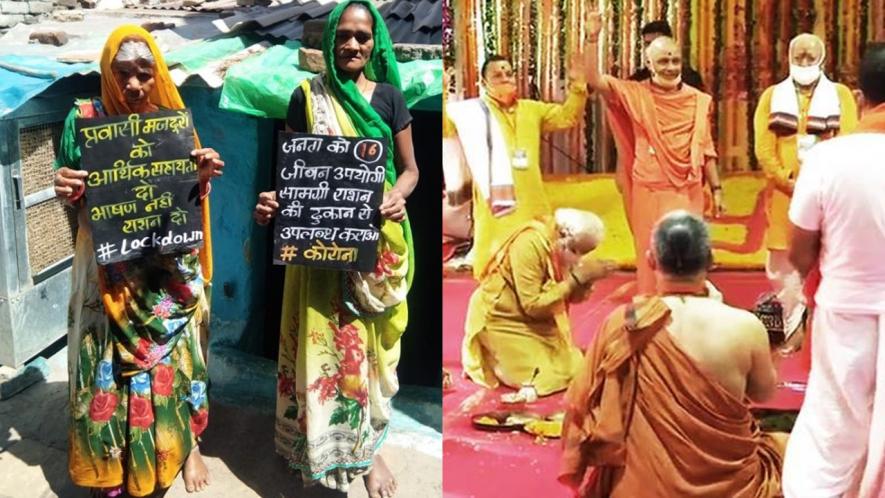 (Left) Protesters hold placards demanding financial assistance for migrant workers and dry ration during a nationwide protest on Apr 21. [File Photo] (Right) PM Narendra Modi 'Bhumi Pujan' event in Ayodhya on Aug 8. [Image Courtesy: Financial Express] 
Unknown to most middle class Indians who cherish their lives in the magical bubble of TV channels and social media, there is a gathering storm that is, sooner or later, going to burst in. A glimpse of it will be seen on August 9, just five days after PM Modi, clad in "golden" vestments, laid the foundation stone of the grandest of temples in Ayodhya. You may recall that August 9 is celebrated as Quit India Day, in memory of the movement of 1942, which was the final push by Indian people to be rid of the brutal British colonial rulers. This year, it will see a protest day in which lakhs of workers, employees, agricultural workers, informal sector workers, government scheme workers, and farmers will hold protest actions across the country demanding income support, more food, more jobs, end to privatisation and selling off of public assets, and other such demands, all related to protecting their lives and livelihoods, indeed their future itself. They will also show the unity of working people against religious divisions being fostered by the Bharatiya Janata Party/Rashtriya Swayamsevak Sangh.
The foundation stone laying is a dream come true, as doyens of the movement demanding its construction have said. Indeed, it has led many to power that is beyond any dreams. But it is also a dream being sold to those who are struggling to survive in the face of a deadly economic crisis, that has seen record levels of joblessness, falling incomes and consumption expenditures, a deathly slowdown of the economy with consequent loss of jobs, and an increasingly unprofitable agrarian sector that has left millions of farmers pauperised. Then this year, the coronavirus pandemic struck. In four months, nearly 20 lakh persons have been infected and 40,000 have died. It is an unprecedented calamity, turned even deadlier due to the groping, stumbling leadership of the Modi government, which pretended to be strong and decisive, but allowed the pandemic to spread its tentacles to all corners of India. 
The gathering storm is people rising to not only reject the politics of temple building and religious bigotry, but also demanding a better, more dignified life. Why is it a storm? Why not just one of those inconsequential protests that periodically happen? Have a look at what has been going on in different parts of the country over the past few months to understand the scale of pent-up anger and discontent. [This is not an exhaustive list, just illustrative.]
April-May 2020: "Not Speeches But Food"
Devastated by the sudden lockdown announced by Modi on March 24, lakhs of workers and employees lost their jobs and incomes, families were on the brink of starvation and a dark cloud of the pandemic stretched across the horizon, threatening all. The government refused to distribute sufficient food grain and other essentials to all needy people, refused to ensure a minimum income for families, refused to care for lakhs of migrant workers stranded in distant cities. 
On April 21, in what was perhaps the first ever protest by people against these hostile policies anywhere in the world, over 4 lakh people demonstrated outside their homes demanding relief. Organised by the Centre of Indian Trade Unions (CITU), one of the biggest trade unions of India, the central slogan was "Bhashan Nahin, Ration Chahiye (Not speeches, we want food)".

On May 14, nearly 3 lakh frontline workers in the fight against COVID-19 held protest demonstrations across the country demanding better protective gear and better terms of service. The central slogan was "Phool Nahin, Suraksha Chahiye (Nor flowers, we want protection)", as a counter to the government's call to shower flowers on essential services workers.

On May 16, called Kisan Samman Diwas (Farmers' Honour Day) thousands of farmers held protests demanding better prices for their produce, at the call of two major joint platforms of farmers, the All India Kisan Sangharsh Coordination Committee (AIKSCC) and Bhumi Adhikar Andolan.

On May 22, 11 central trade unions and dozens of independent federations joined hands in calling for a protest day demanding jobs, wages for lockdown period, protective gear, income support, more food grain for families, etc. Nearly 7 lakh workers in almost all major industrial belts took part in this huge concerted protest action.

On May 27, another protest was organised by the AIKSCC raising the demands of farmers, with thousands participating.
Also read: Towards a Political Paradise of Caged Parrots
June July: Struggles Erupt
As the lockdown was eased in stages and even as the pandemic continued to spread, the government had come out with a slew of policies designed to privatise agriculture production and trade, and allowing profiteering, forced states to adopt legal measures to dilute or do away with protective labour laws in order to intensify exploitation, sped up sale of profit-making public sector units, invited foreign investment in the country's natural resources like coal, and still refused to spend any money to provide relief to lakhs of workers and employees who had lost their jobs. In the face of this onslaught, the struggles and protests took on a wider scale.
On June 1, over 50,000 women protested across the country at the call of the All India Democratic Women's Association (AIDWA) demanding income support for needy families, more food grains, etc.

On June 4, led by the All India Agricultural Workers' Union (AIAWU), thousands of landless labourers and small farmers held protests demanding better wages, food grains and income support. Wages of agricultural workers have been practically stagnant for the past two years.

On June 25, nearly one lakh ASHA workers held protest demonstrations across various states demanding better protective gear, better salaries and service conditions. ASHAs are village-level health workers, responsible for monitoring COVID outbreaks currently.

On June 26, over 50,000 workers in the government-run mid-day meal programme protested against non-payment of wages and onerous conditions. 

On July 2-4, a historic three-day strike was observed by over 5 lakh coal workers to warn the government not to go ahead with inviting foreign investment in coal mining. 

On July 3, a massive protest was observed across the country with over 10 lakh workers participating at the joint call of 11 central trade unions and independent federations. They were demanding better wages, income support to needy families, food grains, and end to privatisation and dilution or scrapping of labour laws.

On July 10, around 2 lakh anganwadi workers and helpers protested against squeezing of funds from the ICDS and closure of anganwadis during lockdown period, causing an expected surge in malnutrition among children.

On July 13, over two lakh construction workers protested against the merging of a law specifically meant for their protection with the general Code, and diversion of its fund collected to other purposes.

On July 16-17, CITU led demonstrations at over 700 railway stations across the country to protest against privatisation of railways announced by the Modi government.

On July 23, a workers-peasants joint demands day was observed with over 2 lakh people participating. Called for by the CITU, AIKS and AIAWU, they were protesting against ordinances on privatisation of agricultural trade, scrapping of labour laws and for basic needs.
August: Scale and Sweep Increases
Many big protests are emerging and planned for this month as the diverse struggles of the past few months coalesce, and gain strength. Meanwhile, numerous smaller struggles are taking place all over the country as angry people fight back despite the raging pandemic.
On August 4, over 80,000 defence production employees held demonstrations at the gates of their production units protesting against the impending privatisation ordered by the "patriotic" Modi government.

On August 5, thousands of road transport workers held protests across India, at the call of the joint platform of Central Trade Unions. They were demanding revocation of a new law that favours big transport companies. App-based transport employees too joined in.
In the coming days, two major actions are already planned and preparations are in full swing. On August 7-8, an unprecedented strike by all scheme workers – numbering over 60 lakh – has been called by the joint platform of central trade unions. And then on 9 August, again at the joint platform's call, but supported by the AIKSCC, a gigantic jail bharo satyagraha is going to take place.
This then is the way the storm of peoples' discontent has gathered and is now challenging the Modi government. It is the fundamental battle of our times, taking on all the ills of the present regime and asking for an alternative path for India. It is this that will build the future of India, not the dreams of temples.
Also read: Ayodhya's Celebration is Incomplete Without Srinagar's Sorrow
Get the latest reports & analysis with people's perspective on Protests, movements & deep analytical videos, discussions of the current affairs in your Telegram app. Subscribe to NewsClick's Telegram channel & get Real-Time updates on stories, as they get published on our website.
Subscribe Newsclick On Telegram