COVID-19: 'No One Will Turn to Us,' says LNJP Hospital CMO on 'Negative Media Campaign'
Ritu Saxena added that the hospital is faced with a shortage of staff as doctors are unwilling to join, fearing infection.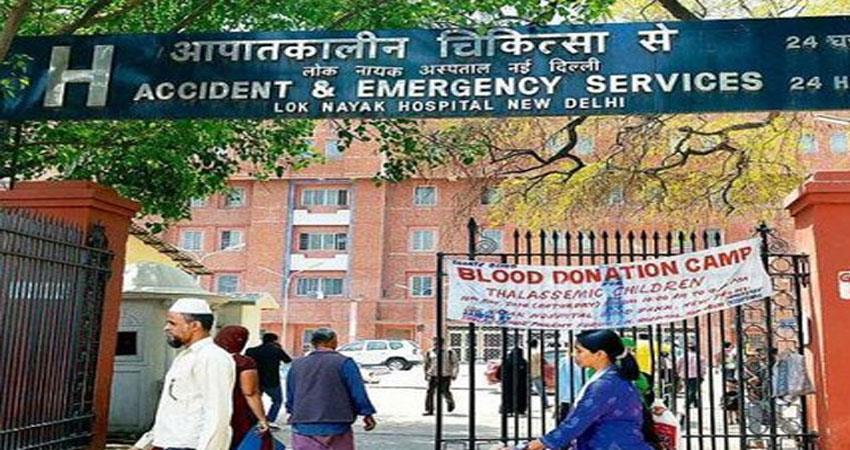 Sanjay Ram, a tailor, visits the Lok Nayak Jai Prakash (LNJP) Hospital almost on a daily basis to enquire about his younger brother Hem Chandra. His brother is being treated for COVID-19 and cancer at the COVID-19-dedicated institution.
Chandra was being treated for cancer at the Sri Balaji Action Medical Institute and was scheduled to undergo a surgery on April 16. However, the hospital tested him for COVID-19 prior to the surgery and his test results came back positive on April 15. He was subsequently transferred to LNJP Hospital for further treatment.
"He has been admitted to the hospital for two months now and we occasionally come to know about his condition. Being a patient who requires critical care, he also needs a care-giver. But there is nobody at the facility to assist him. We were informed that he has been operated twice, but we do not know the exact details. My brother is in pain and I cannot do anything about it," said Ram.
"We have spent whatever we had," said Ram. He worked at an export house before the lockdown was imposed but has now been rendered jobless. "I do not have a single penny to support my brother family or my family. As far as his treatment goes, my brother told me that nobody pays heed to his complaints, even when his diapers require changing. We have been barred from entering the hospital. I am completely helpless," he added.
Ram's story is synonymous with those of hundreds, who are eagerly waiting for the return of their loved ones from hospitals. LNJP hit headlines when videos of corpses piling up in the corridors of the hospital went viral on social media. The saga of mismanagement, however, appears to be rooted in a slew of decisions taken by the Delhi Government. LNJP, the largest COVID-19 facility with 2000 beds, continues to function below its capacity despite the total number of active cases in Delhi at 27,741.
Before the pandemic struck, the Delhi High Court ordered an inspection of Delhi's government hospitals, while hearing the plea of a pregnant mother who lost her nine-month-old foetus owing to carelessness. The committee's findings and subsequent submissions by Delhi Government revealed that hospitals were working with only 2/3rd of the required staff, and almost 33% posts were lying vacant. Aside from the shortage of doctors and paramedical staff, the hospitals were facing an acute shortage of sanitation workers.
Speaking to NewsClick, members of the Nurses Union at LNJP said that the hospital had 1,200 nurses but only 800 out of them were available for work. Shaukat Ali, Secretary, Delhi State Hospitals Nurses Union, said: "We are short on manpower. Though there are around 1,200 nurses, some are in-charges and assistant nursing superintendents and a few are allotted to do other work – as a result, only around 900 remain as staff nurses. Of these, few are on maternity leave. Immuno-compromised staffs are not assigned COVID-19 work. In all, the total strength of nurses would be around 800. Also, of the 1,200, 923 nurses are permanent employees and the rest are on contracts," said Ali. He mentioned that the lack of staff has started to take a toll on patients.
Ali said that the viral video was from the medical ward, which has a large number of cases. "Attendants are not allowed inside and most of the patients are unconscious. Most of these patients are senior citizens who need help in using washrooms, eating food and in changing their clothes. Given the strength of the nursing staff, and in the absence of attendants, two nurses take charge of the ward in eight-hour shifts. After the episode, four ventilators have been issued to all medical wards," he said. Ali mentioned that the wards in question will soon be turned into Intensive Care Units (ICU). They would then have 12 members of staff, as opposed to six in medical wards, with four members of staff present during shifts.
He said that there are 20 patients in the ICU at the moment, with four members of the nursing staff appointed to them at any given point in time. "Our medical wards have been converted into ICU set-ups and there are about 35 patients in each (of the make-shift ICUs). As of now, there are only four staff members to attend to these patients in one shift," he added.
As per the recommendations of the Indian Nursing Council, there should be one staff nurse for every ICU bed. In special wards, the ratio of patient to staff is 4:1. "The government has already posted some members of staff from all government hospitals to private hospitals, as nodal officers. Eight members have also been appointed from LNJP. About 70 nurses have tested positive from the hospital and staff shortage is a major issue here," he added.
Nurses maintain that the crisis was amplified after the hospital reversed an earlier decision to reserve a fraction of its workforce and deploy the rest of its staff.
Ali explained that during the initial phase (February-March), the hospital had three categories – Active, Quarantine and Reserve. If the hospital needed two staffers in one ward, it created a batch of six members. Two of them would be working, two others were in quarantine and the remaining duo was in reserve. However, back then, only two blocks had been allotted for COVID-19. "Now the entire hospital is for COVID-19 patients. So we do not have staff for that system," he added.
Prateek Goel, General Secretary of the Resident Doctor's Association at LNJP, told NewsClick that the sudden burden of patients has left them with few options. "As of now, doctors are working for 12 hours a day while wearing PPEs. The situation is so grim that a few staffers collapsed due to suffocation. The hospital is understaffed; we have 1,200 doctors but we need at least 30% more staff to ease the pressure. The situation is more acute in Departments of Medicine and Anesthesia, which are working at less than 50% strength. It is these departments that are primarily dealing with a greater workload. Sometimes, we find only one ward boy for 50 patients," he added.
Out of 436 sanctioned posts for sanitation staffers, 167 posts remain vacant.
Ritu Saxena, the Chief Medical Officer of LNJP Hospital, told NewsClick that their biggest challenge is the "rising (cases of) infection among healthcare workers. It is quite a challenge. Doctors get demotivated and it takes a lot of energy to bring them back to work," she said.
Saxena admitted that recruitment has not taken place but refused to confirm or reveal the exact number of vacancies. "At present, doctors are unwilling to join as they fear the risk of infection. As far as the vacant beds are concerned, I think the negative media campaign tarnished our image. The case was aired for hours on end on a private channel. Nobody will turn to us if one paints this image for the public in the middle of a pandemic," she said.
Get the latest reports & analysis with people's perspective on Protests, movements & deep analytical videos, discussions of the current affairs in your Telegram app. Subscribe to NewsClick's Telegram channel & get Real-Time updates on stories, as they get published on our website.
Subscribe Newsclick On Telegram