Small Farmers, Big Crisis, and SMS is no Solution, Say Farm Leaders
The lockdown has got the government talking about agri 'reforms' again, but the exploitation of India's weakest farmers continues unchecked.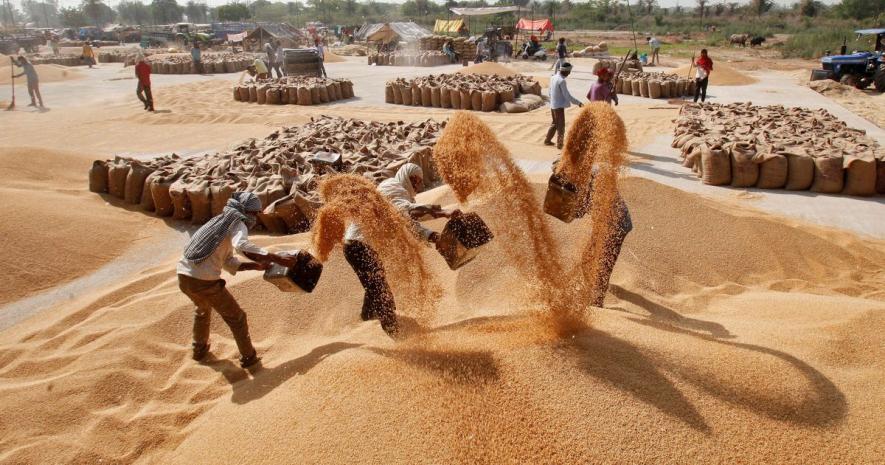 Representational image. | Image Courtesy: Scroll.in
It is a cruel irony that in the sixth week of the nationwide lockdown, the government is talking up omnibus agriculture "reforms" as if they can mitigate the growing distress in rural India. Reforms, no doubt, implies stricter compliance with online registration and payment rules, more focus on market-based pricing, and other such changes, which small and marginal farmers have always struggled to comply with.
Instead of "reform", the question before the government should be how farmers are expected to cope with a lockdown if they do not live near a large mandi or town. This year, the Centre has set a countrywide procurement target of 4.07 million tonnes for just the wheat crop. This target is far from being met in any of the big wheat-producing states. But the question is not just of wheat. The crisis of procurement, harvesting and taking-to-market applies to all cereals and vegetables.
Consider the woes reported by farmers over the last few days. They are saying that the government has announced Rs 1,925 per quintal MSP this year for wheat procurement, but they are unable to bring their products to market at all because of the near-collapse of procurement and transportation systems. The continued interference of brokers and middlemen explain why farmers are angry in Madhya Pradesh, but instead of solving their problems they were lathi-charged by police.
In Uttar Pradesh, one of the large farming states, small farmers are completely confounded by the online procurement system. The situation in Haryana is similar, where only 24% of the usual quantity of wheat for this time of the year was procured by April 27.
Such is the situation that former Union Minister and BJP leader Chaudhary Birendra Singh has himself said that a manifesto should be created, after due negotiations between middlemen at mandis (wholesale markets) and farmers, so that purchases can start immediately.
His voice joining the many voices in the Opposition camp who have been insisting that the farmers should immediately be provided cash so that they can resume farming activities. The only way to ensure this is to ensure timely—immediate—sale of their produce and make instant payments. If this does not happen, the farmer will start falling prey to starvation.
Many farm leaders, including former Maharashtra Member of Parliament Raju Shetty, VM Singh in Uttar Pradesh, Amra Ram, a former MLA from Rajasthan's Sikar, and Uttar Pradesh Congress president Ajay Kumar Lallu, told this writer that one result of farmer's desperation will be that they will sell their farmlands to local bigwigs and moneylenders at throwaway prices. They also point towards a growing fear that farmers will be compelled to mortgage their holdings if the lockdown-related crisis is not resolved.
It is the responsibility of the government to save farmers and agriculture, but farm leaders don't see that sense of urgency in its decisions yet.
Amra Ram says that a strategy will have to be worked out by farmer's representatives, but first the lockdown must come to an end. According to VM Singh, farmer's organisations are limited by the lockdown too. It is difficult to hit upon a strategy while all movement is restricted.
The lockdown has also meant that many farmers across northern states have not been able to harvest their standing crops. Recently, when the central government said that farm work could continue, provided physical distancing norms were followed, agriculturists heaved a sigh of relief. But this was short-lived joy, for rain and hail followed, damaging their standing crop. In many places, wheat is being rejected because its quality has deteriorated because it got soaked in water.
According to Lallu, in view of the current crisis, farmers need more assistance, but if a farmer wants to sell his wheat crop in Uttar Pradesh, he must first register online. This means downloading a form on to a computer, filling his own and his father's name, their addresses in Hindi and English, providing complete details of the land, including a computerised record of the location of the farm, and providing an Aadhaar or photo identity card, along with the mobile number and a photocopy of the farmer's bank passbook.
Even share croppers are being asked for these details. Can small farmers who live in remote villages complete such formalities during a lockdown, when they could not in normal times? Farmers do not own smartphones, nor are cyber cafes open to help them these days. Thus there is a wide and growing chasm between procurement centres and farmers, which middlemen and brokers are filling to their own advantage.
Farmers complain that at procurement centres 6-7 kg of their grain is not being counted per quintal of measurement. This, if true, is sheer injustice. This is another reason why farmers are feeling compelled to sell their produce to traders at a price lower than the MSP.
Not just wheat, vegetable farmers are also reeling under the lockdown. First, consumption dwindled. Then the police stopped their produce from reaching cities. So they have sold their produce locally at throwaway prices. Lallu says, "The government must compensate farmers for the damage caused by unseasonal rains and hail. Also, their debt and electricity bills should also be forgiven."
In Rajasthan, the lockdown has created problems in purchase of barley, gram and mustard. The state's leading farm activist, Ama Ram, says that small farmers are on the verge of destruction. "On the one hand their produce is not getting the right price, on the other hand milk and animal husbandry have come to a complete standstill," he says.
About 35% of farmers in Rajasthan depend on the milk and animal husbandry business," Amra Ram says. "Due to a month of closure, they have not been able to supply milk even to the government-run dairies." Even tea stalls and sweet shops have been closed. Small farmers are finding it hard to feed their families.
In Rajasthan bigger landlords are holding on to their produce for a few days to sell at suitable prices when there are spikes in demand. This game of wait and watch is impossible for small farmers. "They are leading a financially tight life; they need money as soon as possible," says Amra Ram.
While the pace of purchases is slow, the quality of wheat produced in Madhya Pradesh is considered very good. In cities it is priced at Rs 35 a kilo, while flour is sold at Rs 40 a kilo. Yet the farmers are selling at below the minimum price.
At wholesale markets, it is the traders who fix prices and farmers have no choice but to sell at those rate. Officially the MSP is Rs 4,425 for mustard, Rs 4,875 for gram and Rs 1525 for barley, but farmers are not getting these rates. Amra Ram explains why: For the past several years, rural capitalists have been buying land from poor farmers. Due to this, the number of landless farmers is increasing. "Private hospitals, coaching operators, local businessmen, mining mafia and builders are also buying cultivated land, which helps disguise their earnings as agricultural income—which gets a tax exemption," he says.
It is in this context that the central government and many states run by the BJP are reposing faith in purely technocratic interventions. These will not resolve rural India's immediate crisis, forget the longer term. In Madhya Pradesh, the government happily claims that only farmers who have got an SMS message will be allowed inside mandis (for physical-distancing reasons), but the actual process of procuring their produce is barely making progress.
There are reports of police repressing farmers at Sheopur and Jabalpur in Madhya Pradesh. There was an uproar at a sales centre in Sheopur because a farmer's wheat was rejected. The incident had former Chief Minister Kamal Nath remind the ruling BJP government of the Mandsaur firing.
In Haryana, only 21.60 lakh metric tonnes of wheat had been procured until 27 April, compared with 91 lakh metric tonnes on the same date in 2019. Congress leader and former minister Randeep Surjewala says, "In the last one month, [Chief Minister Manoharlal] Khattar's government has changed the rules half a dozen times, but none of the changes helped farmers."
For example on 26 March, the state government announced a bonus of Rs 50-125 per quintal, but not one penny was disbursed until late last month. On 13 April, it was decreed that payments would be made online, to farmer's bank accounts in seven private banks. This decision was rolled back a few days later. On 21 April, the state decided to procure wheat through panchayats instead of adhatis (middlemen), but this order was also withdrawn.
On 24 April came an order from the Modi government to make direct payments to farmer. So on 27 April the Khattar government issued such a decree too. But now it is being said that wheat will not be purchased at any procurement centre or grain market.
"Both cereals and vegetables are bought from farmers at lower prices and sold to consumers in cities at high rates," says Maharashtra's Raju Shetty. "This year wheat is being bought from farmers at Rs 19.25 per kg, but in the market it will be sold for Rs 30 or above," he says. This Rs 10.75 per kilo hike in prices, Shetty says, is unjustified. "The manner in which some people have profited during this lockdown may foster a black economy in coming days. It is also possible that this black money will be used to purchase land," he says. Other than ensuring remuneration, he feels the answers to India's agrarian crisis also lie elsewhere. "To save farmers and agriculture the government will have to reduce interest rates on farm loans," he says. He feels it can do this by reducing the interest banks pay out to wealthy depositors.
People, including their governments, forget that even industry can run only when there is demand in villages. "This demand can grow only when money comes into the hands of farmers, labourers and the rural poor," reminds VM Singh.
Whatever the government decides as it thrashes out its second relief package, it certainly is strange that farmers buy manure, seeds and diesel at fixed prices, but don't get the MSP that has been fixed for their produce.
The author is a freelance journalist. The views are personal.
Get the latest reports & analysis with people's perspective on Protests, movements & deep analytical videos, discussions of the current affairs in your Telegram app. Subscribe to NewsClick's Telegram channel & get Real-Time updates on stories, as they get published on our website.
Subscribe Newsclick On Telegram