Maharashtra: Delays in Procurement, Reduced Rates Leave Cotton Farmers Rattled
Out of total 410 lakh quintal of cotton production estimated this year, only 108.98 lakh quintal have been procured by the government and private markets so far.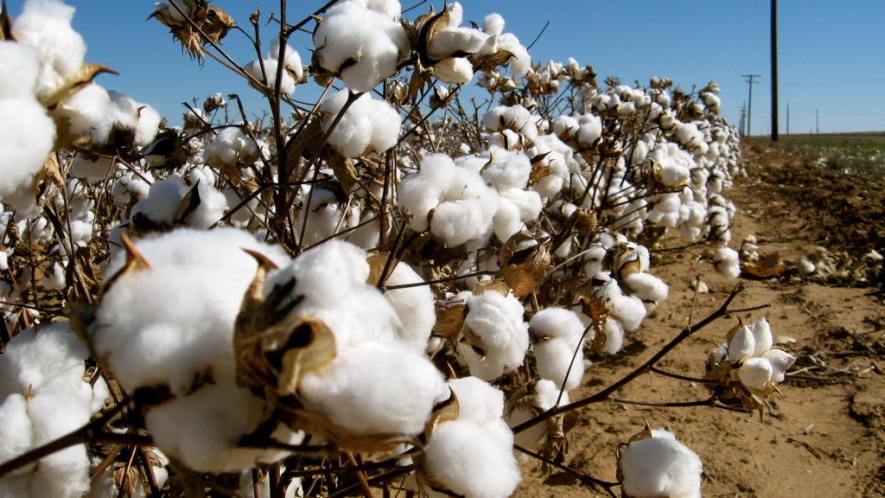 Representational image. | Image Courtesy: Wikipedia
The COVID-19 induced lockdown and the consequent limitations on transport and gathering has left cotton farmers in Maharashtra rattled, as 60% of the cotton harvest in the state is yet to be procured. 
According to the Marketing Department, this year the total area in the state under cotton is 43.84 lakh hectares, increased from last year's 42.54 lakh hectares. So, this year the increase is of almost 70,000 hectares. 
It was estimated that there will be 410 lakh quintal of cotton production this year, as per the Marketing Department. Till now, 110 lakh quintal of cotton have been procured in the state via multiple agencies. On May 21, the total procurement of Cotton Corporation of India, the state's cotton federation, some direct centres of marketing department and Agricultural Produce Market Committees (APMCs) stood at 86.21 lakh quintal. Private procurement was almost 21.27 lakh quintal. 
Before the lockdown began in Maharashtra on March 22, total procurement was around 1.5 lakh quintal. So, 108.98 lakh quintal of cotton have been procured from farmers till now. This means that nearly 300 lakh quintal of cotton is still lying with the farmers.
The CCI was running 83 procurement centres in Maharashtra prior to the lockdown, whereas, the cotton federation had 74 centres. The cotton procurement was stopped by March 22. For the next entire month, there was no procurement. The centres resumed their operations again on April 27. CCI centres re-opened on May 3. Since then, CCI is running 83 centres whereas, state's federation department is running 80 centres.
Also read: Maharashtra: Tur Farmers Await Payment After Procurement by FCI and NAFED
However, this delay in cotton procurement has badly hi the farmers. The MSP for cotton is dependent on the quality and type. This year, due to the government's delay in procurement and almost all private markets being closed, the rate of cotton has gone down to about Rs 5,200 per quintal.
Madhukar Dupare is a cotton farmer from Selu tehsil in Parbhani district. He still has almost six quintal of cotton in his yard, and has been able to sell only three quintal till now. "There is queue to get token. It is getting delayed as only 20 trucks are allowed to enter the market per day. So, a few farmers from our village managed to sell our cotton together. I could sell only three quintal," he told NewsClick. 
Meanwhile several farmers waited a long while for the government procurement process to begin, before they finally went to private market. Shrikant Shitole from Majalgaon teshil of Beed sold his four quintal cotton for Rs 2,900 on Thursday, May 21 in the private market. "What else we can do? Can't wait long for government centres to open. I still have ten to twelve quintal cotton. I have to pay the labourers who are plucking the cotton. So, I decided to sell in private for this rate. Now I can wait for few more days," said Shitole. 
To cultivate cotton in one acre land, a farmer requires one and half bags of seeds at least. One seed bag comes for Rs 750. So, the seed cost goes up to Rs 1,000. Fertiliser and spray costs between Rs 800 to 1,000. A one acre farm generally produces 3 to 4 quintal cotton. And the plucking of cotton needs Rs 700 to 1,000 per quintal. This shows that the production cost of one quintal cotton is nearly Rs 2,400. If a farmer has to sell it for just Rs 2,800 to 3,000, there is hardly any benefit for the farmer. The government MSP comes to the rescue of farmers in such situations, however, the delays by procurement centres have become major hurdle for cotton farmers.
Manik Kadam. a farmers' leader from Parbhani district, slammed the state as well as central government for their failure in creating a mechanism for cotton growers in this lockdown time. "All APMCs in the state gets around 80 to 100 trucks/tractors per day. If you allow only 20 of them to get inside, where will these farmers go? Government should have opened more centres in villages to procure the cotton. In doing so it could have avoided gathering of people at one place and also could have averted the current problem of cotton procurement," he added. 
Also read: COVID-19 Lockdown: UP Flower Farmers Forced to Feed Yield to Cattle in Absence of Buyers
In a meeting held in Mumbai on Thursday, the state marketing department has decided that the remaining procurement must be completed by June 10. On the same day, the Meteorology Department predicted the arrival of monsoon in the state on June 11. Even though the cotton growing area is a late receiver of monsoon, the procurement needs to be completed before monsoon begins in the state. 
Farmers are also complaining about the unnecessary issues being created at procurement centers regarding quality. "The second quality cotton is fetching less money. Farmers have already faced losses. The government should ensure that this year they will procure all the cotton as per MSP," Kadam said. 
But the state government said that it can't decide on the issue. "CCI is the chief procurement agency. We have requested the Centre's Textile Ministry to consider the demand. But it is up to them to decide," said Balasaheb Patil, state's marketing minister. On being questioned about the delay in procurement, Patil cited COVID-19 as the reason and fear of farmers gathering at market yards. "Yavatmal was one of the first districts to get COVID-19 cases. It is the hub of the state's cotton production. So, to avoid further panic, the district administration may have taken decisions according to local situation," he added.
Get the latest reports & analysis with people's perspective on Protests, movements & deep analytical videos, discussions of the current affairs in your Telegram app. Subscribe to NewsClick's Telegram channel & get Real-Time updates on stories, as they get published on our website.
Subscribe Newsclick On Telegram