Government Abandons the Poor: NGOs, Activists Struggle to Feed Them
The state alone has the capacity to provide for India's poor. It is the state's duty to provide relief for those rendered hungry by its own decisions—and people's right to claim it.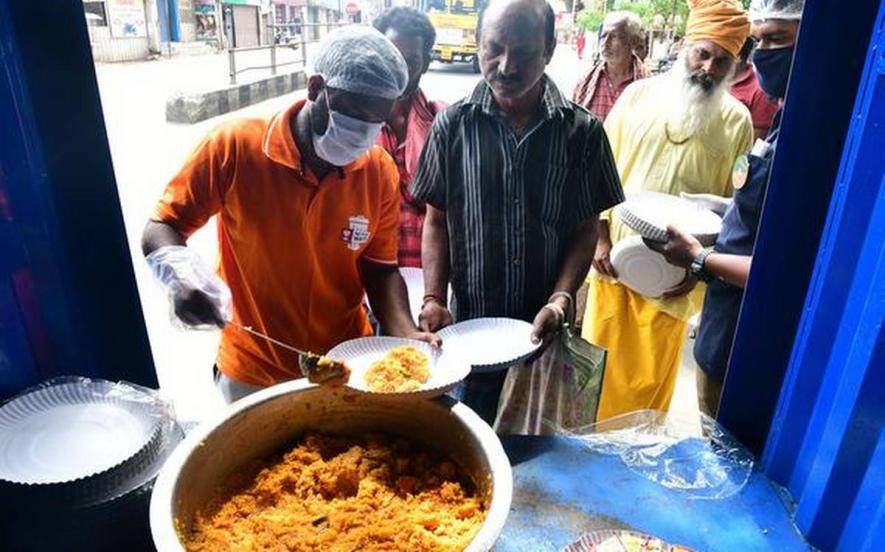 Image Courtesy: The Hindu
In the eye of the rising Covid-19 storm, non-government organisations, big and small, are performing a gargantuan task. They have been trying to feed the people who have been left unattended by the central and state governments across the country. These organisations and individuals are doing what governments should have done—providing relief and support to those who have lost sources of income and savings due to the forty-day lockdown.
A Union government report submitted in the Supreme Court earlier in April acknowledged that as many as 84,26,509 (84.2 lakh) people had been fed during the first two weeks of the lockdown. Out of these, some 54.15 lakh people were provided food by state governments while the rest—30.11 lakh—got food and provisions from NGOs.
Social activists engaged in relief work say the last month-and-a-half the most challenging phase they ever went through. Yet, the very fact that the NGOs could make this enormous effort despite bottlenecks and the challenges posed by a pandemic is a telling commentary on the conditions in India.
True, NGOs can only fill a part of the gap created by the poor planning and implementation of relief efforts by the Centre and states. Still, it is worth noting that according to the government's figures, in around 13 states and Union Territories, the NGOs have outperformed state governments and their agencies in feeding the poor—most of whom live in cities, and are largely migrant workers.
Besides, this official data includes only those people who have been supported by registered NGOs. Those who were provided assistance by unregistered organisations, or by Good Samaritans, will take the tally up.
It is now turning out that in some states, only NGOs provided the needy some succour—the governments were nowhere in the picture. In Gujarat, Andhra Pradesh and Mizoram, for instance, NGOs provided 92.8%, 91.7% and 88.5% of all meals.
Apoorvanand, a professor in Delhi University, tells me that the government seems to have completely abandoned the poor and the migrant labourers. "I have heard of the huge numbers being cited by governments of the number of people they are feeding. I don't know where they are doing this—it is not visible on the ground," he says. Where people are actually being provided food, the servings are insufficient; half a spoon of rice instead of the recommended two spoonfuls. "Plus, given the complaints about high-handed attitudes at the relief camps, many have stopped going to take these meals," he says.
The recent figures revealed by the government are a good explanation for the lack of enthusiasm towards its recent performance. Some may be tempted to claim that the work done by NGOs exposes the high capacity of India's NGO sector to take on a challenge. Yet what it reveals also is their resolve not to abandon the weakest during their biggest life crisis. The same can hardly be said about the State.
This is why Rohit Kumar, of Friends for Secularism, has a grouse over the government's repeated demand that people must look after each other during the lockdown. "What are they for then," he asks rhetorically, then referring to the public intellectual Arundhati Roy's recent statement, that the lockdown is akin to an X-Ray that has suddenly revealed everything that is wrong with our system, he says: "The biggest failure of our system is that it is not compassionate," Kumar says.
"A compassionate government would have put systems in place before the lockdown and earmarked money for the poor. It would have set up feeding stations for migrant workers instead of letting the police beat and humiliate them," he says.
It is because of the lack of initiative from the government that many people have jumped into the fray and started doing relief work. Abul Hasan, an IT consultant says he was moved by the plight of the poor rickshaw pullers who were going hungry. "Those who had been earning a livelihood were rendered destitute by the shutdown. Those who had never begged in their lives were suddenly left to fend for themselves without any source of income," he says.
Hasan had never done 'social service' before. At first, he helped just one rickshaw puller who lived close to his home. Soon he realised that not just he, hundreds others were starving. He started to get more requests for help. "Soon so many were appealing for help that I had to seek my friends' support in feeding them," says Ikram.
And he is not alone. "It is the lockdown that has brought many hard-working people to the edge and not Covid-19", Apoorvanand says. The gravity of this situation has dawned on innumerable people, especially the youth. "Many of our young women and men had never seen starving people before and now they are seeing a huge number of them. This seems to have completely shattered their world-view," says Apoorvanand.
For over a month, Sana Khan has been providing relief along with a band of volunteers, and she has found the government's efforts "half-hearted at best". "The Centre lacks political will, while Delhi's relief camps are not functioning properly," she says.
Indeed, people have no idea where the funds donated to PM-CARES have been utilised, if any of it has been disbursed yet. And in Delhi, the e-Coupon Seva seems to be "on/off Seva". And the Public Distribution System has given little to hope for as well. "We were surprised that grains of wheat were distributed instead of flour: during a lockdown, it is difficult to get grains ground to consumable form," Sana says.
Besides, the perception that distributing rations fulfils the state's responsibility is not grounded in compassion either. People need vegetables, milk, pregnant women need assistance—the lockdown has not taken any of this into account.
But it is only the state that can provide relief to the massive numbers of India's poor—to which have been added an equally large number of those who have lost their savings, and lost their sources of income, and thus been rendered paupers during the lockdown. "Resources are the only problem," as Khan says, of the community-led and NGO-led efforts. "We have catered to a large number of families, and many others are doing the same, yet the demand is never fulfilled," she says.
The magnitude of the crisis is huge and these private, semi-organised and NGO efforts are reeling under the pressure.
Tasnim Dhinojwala, a Delhi-based film-maker, says that much more needs to be done than is at present. "Whenever I get an SOS call for food and we reach the spot we got a call from with rations, the number of people awaiting relief is almost thrice the list we were given. There have even been stampede-like situations, and people have run after our vehicle. It is difficult to comprehend," she says.
In these situations, the private parties providing relief are tempted to try and segregate the most needy from the slightly less needy and so on—but this kind of effort is bound to fail, for it is inherently futile. The problem is not that the less needy may take away what is meant for the poor. The issue is that the state alone has the capacity to take care of all the millions who have been rendered helpless and fragile by its own decisions.
The author is a writer and columnist. The views are personal.
Get the latest reports & analysis with people's perspective on Protests, movements & deep analytical videos, discussions of the current affairs in your Telegram app. Subscribe to NewsClick's Telegram channel & get Real-Time updates on stories, as they get published on our website.
Subscribe Newsclick On Telegram