COVID-19 Looms Over North-East, But is it Prepared?
Confirmed cases have exploded, especially in Assam, whose decrepit health facilities will be severely tested in coming weeks.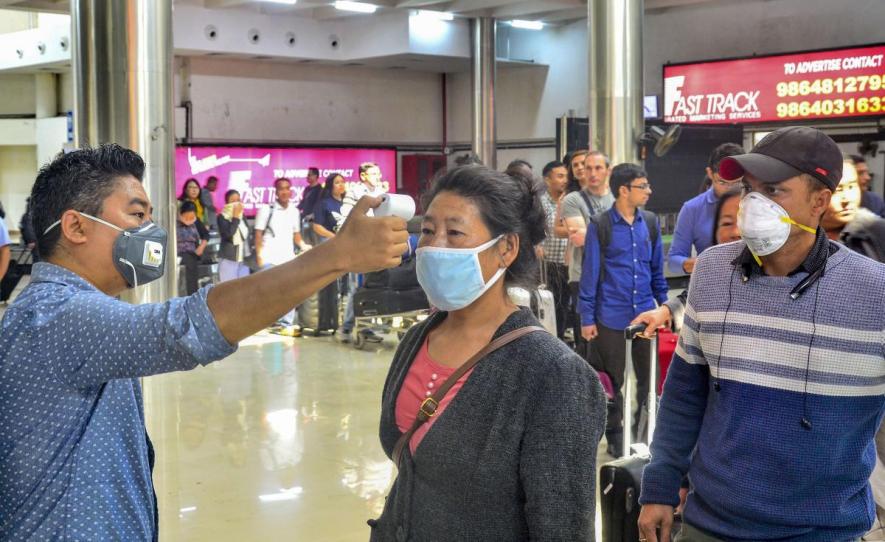 Passengers undergo a thermal screening test in the wake of novel coronavirus scare at Dimapur airport in Nagaland. (Representative image/PTI Photo)
Through the sultry summer months of April and most of May, the eight states in North-Eastern India – Assam, Arunachal Pradesh, Mizoram, Nagaland, Meghalaya, Manipur, Tripura and Sikkim – with a combined population of about 4.6 crore, were sitting pretty. The region seemed to have been spared the ravages of novel coronavirus.
In two months, from March 24 (when the first sudden lockdown was announced) through to May 24, the combined case load in the region increased to just 564, with only five deaths, according to Health Ministry data. This led to self-congratulation in government circles, and a sense of complacency grew. The people in Assam celebrated the usually exuberant Rongali Bihu for the first time in restrictive lockdown conditions, but they were also relieved of being largely spared of the disease.
Then everything went haywire in June. First, the pandemic exploded: between May 24 and June 24, confirmed cases sky-rocketed sixteen-fold, from 564 to a jaw-dropping 8,756. [See chart below] As if this was not enough, there was a horrendous blowout in Baghjan oil well in Assam on June 9, and then an early monsoon caused the first round of floods, affecting over 2.5 lakh people and leaving 16 dead across 16 districts. Meanwhile the coronavirus continued to spread.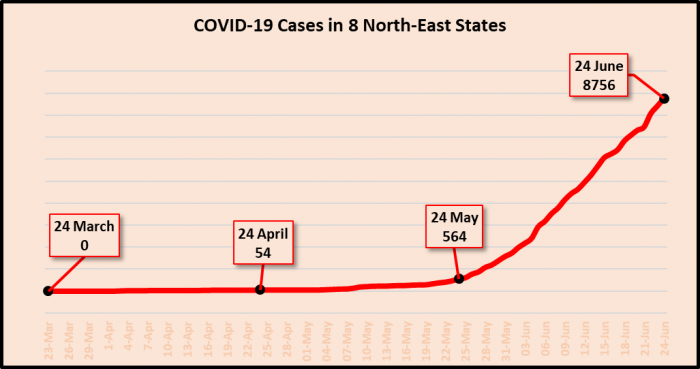 Most of the COVID-19 positive cases are from the largest state in the region, Assam, which reported confirming 5,831 cases, that is, over two-thirds of the cases. Tripura, with 1,259 cases is a distant second, with 14% of cases. Cases have similarly increased in Arunachal Pradesh and Manipur though the total numbers are still small.
The initial sparse spread of coronavirus in the NE region was because of its low population density and low level of urbanisation. Only about 18% of the region's inhabitants live in urban centres as per Census 2011, compared with India's average of 31%.
Some states have a high urban population, like Mizoram with 52% and Manipur, with 32%. But the region's largest state Assam, with nearly three quarters of the population, has only 14% people living in urban areas. In addition, the less industrialised, largely agrarian economy does not invite much inward flow of people, thus limiting transmission of the coronavirus. But the virus had not been defeated yet.
Returning Migrants May Have Caused Surge
The most likely cause for this explosion in COVID cases in the last week of May is the easing of lockdown in other parts of the country, which led to thousands of out migrants from NE states to return to their homes. The sudden declaration of the lockdown on March 24 trapped many migrants, including students, in far-flung places of the country, and the easing led to a mass return.
The numbers are ambiguous, but media reports suggest over one lakh migrants returned by trains, though thousands more came by other transport too. Although all returnees were put in quarantine, but the conditions were not very pleasant, and ultimately, these facilities were overwhelmed. So, people were asked to undertake home quarantine.
Testing for COVID was done primarily of returnees and contacts of those infected. But it was very low: by May 24, some 94,000 tests had been done, but by June 24, this had risen to only 1.65 lakh. That's an average daily testing rate of about 2,364 tests for the whole region, for the last month.
Crumbling Health Infrastructure
"Assam has one of the poorest health systems in the country, and that is reflected in its abysmal health indicators. The present state government has not improved it much, and it is already under immense strain," says Suprakash Talukdar, a long-time activist and leader of the Communist Party of India (Marxist).
According to the government think-tank NITI Aayog's latest report on Health Index in the country's states, the region's eight states have a severe shortage of specialist doctors and general medical officers. The vacancies for specialists in district hospitals range from 16% in Mizoram to a high of 70% in Arunachal Pradesh, with Assam itself having 47% vacancies.
Similarly, vacancies for general medical officers in primary health centres range from just 2% in Mizoram, to over 30% in Arunachal Pradesh and Meghalaya, and 43% in Manipur. In Assam, this shortage is nearly 26%.
With this kind of shortage of key medical personnel, the NE region's states were required to quickly and substantially boost their facilities to deal with the pandemic. The two months lead that the region's states got, could have been used for this.
But reports indicate that this has not been done. A study by Princeton University's Centre for Development Economics & Policy, published in April this year, points at a serious lack of special facilities to deal with COVID-19. [See chart below]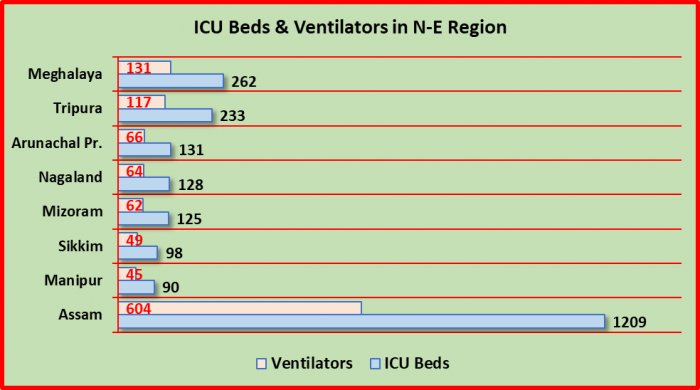 As can be seen, there are a total of 2,276 ICU (intensive care unit) beds and just 1,138 ventilators in the whole region. To get a sense of the dramatic inadequacy of these facilities, compare this to the current number of active cases (as on June 24), which are 3,680. Of course, not all will need ICU or ventilator facilities, but then, even if one-third of the cases spend a week each in need of critical care, the facilities will get overwhelmed.
And, the cases are bound to rise in the coming days. How the states' governments are planning to handle this surge is not known. As is commonly being said in Guwahati is that the state's health minister and ruling Bharatiya Janata Party's trouble shooter, Himanta Biswa Sarma, is busy handling the Manipur government crisis, ferrying BJP MLAs to Delhi, and so on. Incidentally, Sarma has been health minister continuously since 2006 – so the neglect of the system is largely his responsibility.
Impact on Economy
Another looming challenge before the region is the damage caused to the economy by the extended lockdown, which was eased a bit in June, but has now been re-imposed in some parts, including Guwahati.
A report on the economic impact of the pandemic (and the lockdown measures) on Assam's economy, prepared by the government- supported OKD Institute of Social Change & Development, in Guwahati, says that the state's Gross State Domestic Product (GSDP) suffered a loss of 8% due to the lockdown, which is equivalent to over Rs.27,000 crore.
The report estimates that the lockdown will leave the livelihood of 67 lakh people vulnerable, and that the unemployment rate may be up to 27%, which translates to about 27 lakh jobless persons in the state. The state government's revenue, too, is expected to suffer losses in the range of Rs.12,423 crore to Rs. 18,236 crore, the report estimates.
The return of migrants will aggravate the crisis in two ways, says Bhupen Sarmah, professor at the OKD Institute. First, it will increase unemployment in the state, as the returnees will try to get local jobs. The second impact will come from the stopping of remittances usually sent by migrant workers.
"The remittances sent home by these migrants were vital for the agrarian economy, and its stoppage has led to a very damaging effect on farmer households, especially small and marginal ones. The returnees will also need jobs, and this will worsen the already dire unemployment situation in Assam, and other states," Sarmah added.
The eight North-Eastern states thus face a dire future, at least for the coming several months, if not years. They have to hunker down to try and escape the pandemic, for they face a highly inadequate healthcare system if infected, and they also are in the grip of a severe economic crisis, which is all encompassing. Can the state governments lead them wisely through these times?
Get the latest reports & analysis with people's perspective on Protests, movements & deep analytical videos, discussions of the current affairs in your Telegram app. Subscribe to NewsClick's Telegram channel & get Real-Time updates on stories, as they get published on our website.
Subscribe Newsclick On Telegram