COVID-19: Loss of Work, Lack of Support Push Thousands of Sex Workers to a Corner
Threats from police, abuse, violence and stigmatisation have exacerbated for sex workers during the countrywide lockdown, who stare and hunger and joblessness.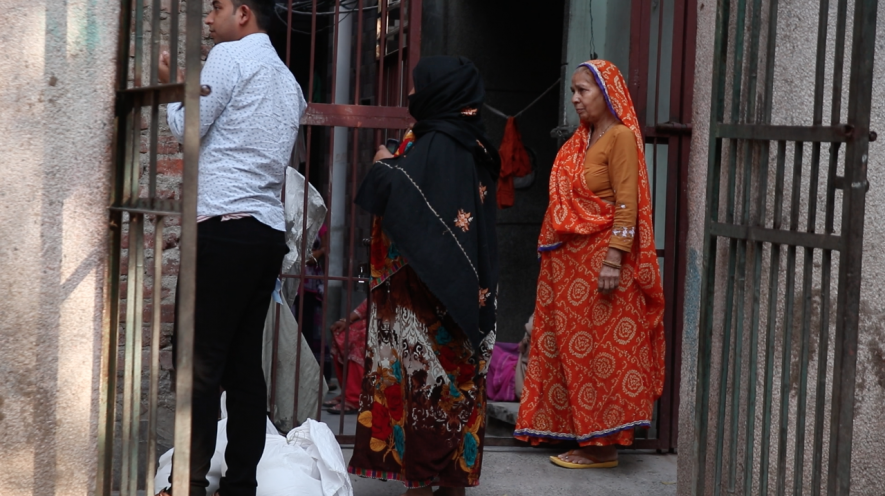 Sex Workers relief. Photo credit: Sandeep Yadav - Karwan e Mohabbat
"This work is a gamble… Some days you get more and some days you have to get by with nothing. That's how it is. But now with the lockdown…One could die not of the disease but of hunger in this situation. That's how it is with us these days."
This is the predicament of every daily wage worker in India. But these words weren't spoken by a construction labourer, or a rickshaw puller, or a domestic worker. The speaker is *Sunita, a home-based sex worker living in Shakurpur in Delhi with her parents and her two daughters who know nothing of her work, just that she does a "job".
The COVID-19 pandemic in India has demonstrated the fissures in society unlike any other crisis in the past several years. While the middle and upper classes ward off boredom with the multiple means of entertainment available to them, millions of India's daily wage and migrant workers are struggling to feed themselves on a daily basis. The threat of starvation and the uncertainty that they may not be able to return to work for another several months pulls at them.
Sunitasays that in her line of work, it started days before even the "Janta Curfew" on March 22. Like others in her area, she reduced the number of new clients she was meeting since March 13, due to the threat of the virus. "Since the Janta Curfew, we have completely stopped. We can't even go outside. And we have lost our only source of income," she says.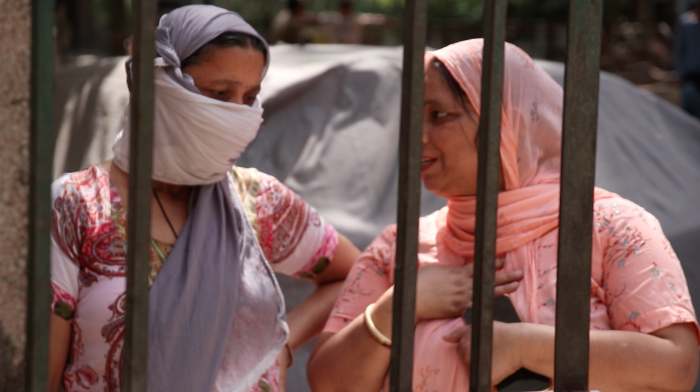 Sex Workers relief. Photo credit: Sandeep Yadav - Karwan e Mohabbat
Sex workers are daily wage workers, but their work remains unrecognised and stigmatised. Their labour is not recognised by institutions of State, police or family. The Immoral Traffic (Prevention) Act of 1956 deems their very means of survival as illegal. They regularly face abuse and harassment from their families, landlords, police, health workers, clients, and others around them. There are several layers to the marginalisation they face, which is exacerbated during the national lockdown in India.
In Delhi, there are an estimated 5,000 sex workers, some of whom are based out of G.B. Road, while others are scattered in unauthorised colonies around the city as they are home-based sex workers. "Social distancing" is a distant possibility for several of those based in brothels or for the transgender women living in cramped accommodations in the city's underbelly.
I spoke to three women based in North-West Delhi, where many home-based sex workers live. They spoke about loss of work, lack of support from the Central or Delhi governments, threats from police, and facing stigma from those around weighing heavily on them and threatening both their physical and mental health during this time.
Sex Workers and "Relief Package"
Sex workers have always found it difficult to acquire identity documents and ration cards. In 2016, about 20% of Delhi'ssex workers had voter ID cards. Even fewer have BPL (below poverty line) cards. Many of them aremigrant workers, so it becomes even more difficult for them to get BPL cards where they live and work.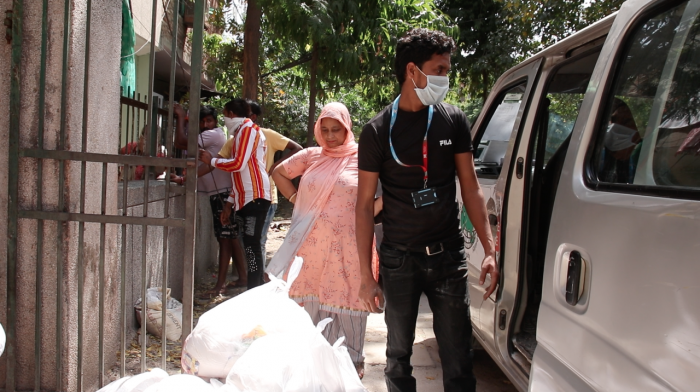 Sex Workers relief. Photo credit: Sandeep Yadav - Karwan e Mohabbat
Jaya* has been living in Delhi for 18 years. She moved to Delhi from Aligarh, Uttar Pradesh. Separated from her husband years ago, she lives with her three children who don't know about her work.Her pained voice over the phone described the unpredictable situation and not having any means of support other than NGOs as of now.
Finance Minister Nirmala Sitharaman's Rs1.7 lakh crore relief package has not supported most of Delhi's sex workers. Their work is unregistered, and without ration cards they are unable to access most of the schemes under the package. Jaya does not have a ration card either. She says though she had tried opening a Jan Dhanbank account earlier, she was unsuccessful. Only a few of her acquaintances have received money in their Jan Dhan accounts.
In Shakurpur, where she lives, there is a government school where one can get cooked meals twice a day. However, she has seen people standing in line from 10 a.m to only get one scoop of rice and one scoop of dal at 1 p.m. For someone with three children like her, she says it is impossible to make them stand in line with her or to feed them with just this amount of food.
In a few colonies of NW Delhi, such as Prem Nagar, the closest government school (serving 2,000 residents -- sex workers, widows, disabled persons, elderly and HIV positive persons) is 6km away and the road is not fit for cars or scooters. People can only reach there by walking.
Seeing this situation, Jaya has been relying on ration kits from NGOs and borrowing from the ration shop nearby. But she does not want to continue borrowing from him for fear of being asked for sexual favours in the future.
Like Jaya, Sunita too has not received any support from the government. She lives with her two daughters, parents, brother, sister-in-law, her ex-husband and his wife. From Shakurpur, Sunita has walked 8 kilometres to Sultanpuri to collect ration from Kusum, President of the All India Network of Sex Workers (they cannot deliver ration, as they don't yet have permission from the authorities). She does not have a ration card and despite having an Aadhar card, could not register for an e-pass to claim ration because she doesn't have access to a smartphone.
It is impossible for Jaya to continue to get ration from Sultanpuri, as it is too far for her to go and carry it back, and the police barricades on the way mean she has to come up with a story or an excuse. The last time, she was only able to go through because she begged them that she does not have any food at home and was only going so far because it was free.
Facing Abuse and Violence on Multiple Fronts
It is not hidden that India has seen a surge in domestic violence related complaints since the lockdown. Many have lost their jobs and the financial and emotional stress on poor households has multiplied tremendously. For sex workers living with their families or husbands, having lost their source of income can push them to deeper disempowerment and a loss of bargaining power in the household.
Sunita relayed her friend's situation, who is facing abuse from her husband on a regular basis - "Late at night when she is sleeping, around 2 a.m, he would wake her up and beat her. He tells her, "Bring me money." She is stuck there...You tell me, when everything is closed from factories to shops, how will the poor woman alone bring him anything?"
Coming from the private sphere to the public, police harassment is not unknown to sex workers in Delhi and didn't stop with the lockdown either. Before the COVID-19 crisis, they would have to regularly pay off the police ("hafta") in order to continue working.
According to Jaya, it is like a negotiation or agreement. She says: "When we want something from them, we also have to give something. We cooperate a little, so they cooperate a little. So we do it."Since their work has stopped, these regular payments have stopped as well. But these same police officers who used to extort from them now threaten them with jail if they try to work. Jaya was told by some police officers that if anyone was caught coming to meet her, she would be sent straight to jail.
While sex workers in Delhiare aware about not breaking lockdown rules, there is a heightened sense of fear from police these days. Those who are involved in ration distribution work amongst their community are constantly facing roadblocks in their interactions with the police.
In one instance, Jaya acquired ration and tried to distribute some of it to other sex workers in her area. The police stopped her and told her not to distribute. She had to plead with them, "Aapko dikh raha hai log bhukhe pyaase pareshan ho rahe hain. Ham log kuch kar rahe hain, nahikarengetohinkyakyahoga?" (You can see that people have been hungry and suffering. We are trying to help them, if we stop then what will happen to them?)
In these desperate times, a possible source of support for sex workers issome of their previous clients.Jaya was contacted by an old client who offered to lend her some money. But she does not want to run the risk of being in debt to him and later having to comply with unreasonable requests for a few hundred rupees. "Kalko koi bole aisakar do mere saathyawaisakar do…main yehnahichahti" (Tomorrow if someone says do this with me or do that...I don't want that).
These multi-forked crises are not the end of the story. The threat of COVID-19 looms large in any case, but for those who are HIV positive,the lack of access to regular supply of anti retro viral therapy (ART) could itself prove lethal. Some are able to access medicines with their patient cards but only a month's supply. They don't know when they will step out next for the medicines if the lockdown is extended. For one of Sunita's acquaintances, who has recently been diagnosed and wants to start ART, the process is even more difficult, as already overburdened hospitals are not able to attend to her.
The labour and lives of sex workers have been undervalued and denigrated even before the lockdown. Holding on to life by a thread, they have now been pushed over the edge and are left without any safety net, except their own community and help from relief groups.
For most women sex workers, the earnings before COVID-19 lockdown wereRs 500-1,000 rupees a day. Most clients would not pay more than a few hundred rupees. They doubt that they can resume their work even after the lockdown is lifted, as the threat of the coronavirus would continue to loom over their heads. Sex workers groups feel it is unlikely that these women will be able to go back to work in the next two to three months.
According to Kusum*, sex workers across India are desperate for support. The demand for rations is much higher than its supply. Already being a group vulnerable to poverty and hunger, she fears some women are at risk of greater health problems if they are not provided nutritious food and a three-month supply of essential medicines, like ART, immediately. "Their source of livelihood is finished. Money aside, hunger is one of their needs which should be fulfilled" says Kusum.
If things continue this way, the sex workerswonder which authority will take the responsibility to make sure they are not left behind in the response to the pandemic – gripped by joblessness and hunger.
(*All names are changed to protect the privacy of interviewees)
The writer works with the Centre for Equity Studies.
Get the latest reports & analysis with people's perspective on Protests, movements & deep analytical videos, discussions of the current affairs in your Telegram app. Subscribe to NewsClick's Telegram channel & get Real-Time updates on stories, as they get published on our website.
Subscribe Newsclick On Telegram