COVID-19: Orphaned Children Await MP Govt Compensation, CM Claims 173 Already Received 1st Instalment
Even after losing both his parents within a span of 48 hours, instead of mourning, 16-year-old Hanushish Devariya is being forced to run from pillar to post for their death to be certified as COVID-19 casualty so that he can avail the CM's ambitious scheme.
Representational use only.
Bhopal: "When will mummy and papa return from the hospital, Dada ji (grandfather)? When will we be able to meet them?," these are two questions that 65-year-old Mahesh Satya of Madhya Pradesh's Khargone district, faces multiple times a day from his grandchildren, six-year-old Mitushka and four-year-old Akshay.
Mahesh Satya and his wife Parvati (63) lost their son Amit Madhusudhan Satya (43) and daughter-in-law Sangeeta Satya (41) to COVID-19 during the second wave recently. Except their eldest daughter 17-year-old, Anushka, the two younger children do not yet know that their parents are no more.
Satya, who is a resident of Gogwa village, said, "They cry recalling their mother at night, but their eldest sister Anushka and grandmother try to console them." 
Amit, a journalist who lived and worked in Khargone, succumbed to the virus on April 6 in Indore, where he was under treatment. His wife tested positive for COVID-19 a day after her husband's death and she too succumbed on April 28 in Burhanpur district of Madhya Pradesh. 
Mitushka, Akshay and Anushka are among the 199 children who have been identified by the Bharatiya Janata Party-led Madhya Pradesh government as COVID-19 orphans and are entitled for a monthly pension of Rs 5,000 each, free ration and free education under the Mukhayamantri Bal Seva Yojna announced on May 13 by Chief Minister Shivraj Singh Chouhan. The MP government transferred the money into the bank accounts of 173 children on May 30.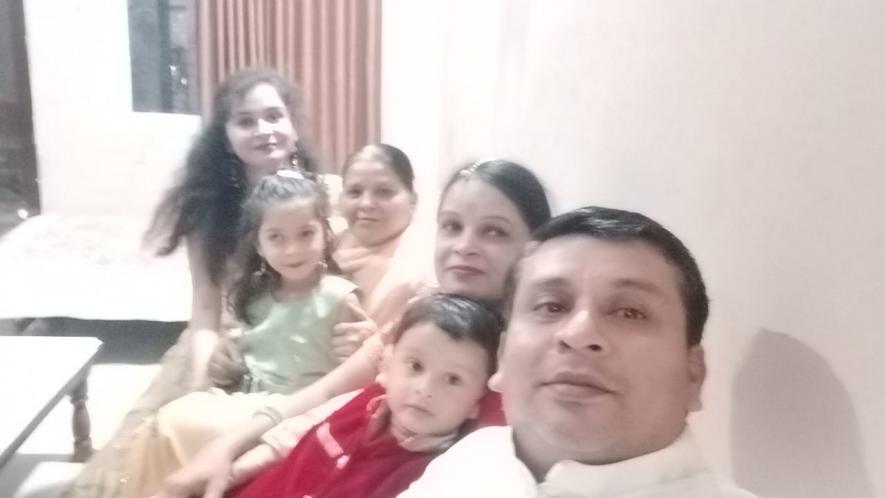 Amit Madhusudhan Satya and his wife Sangeeta Satya with their children.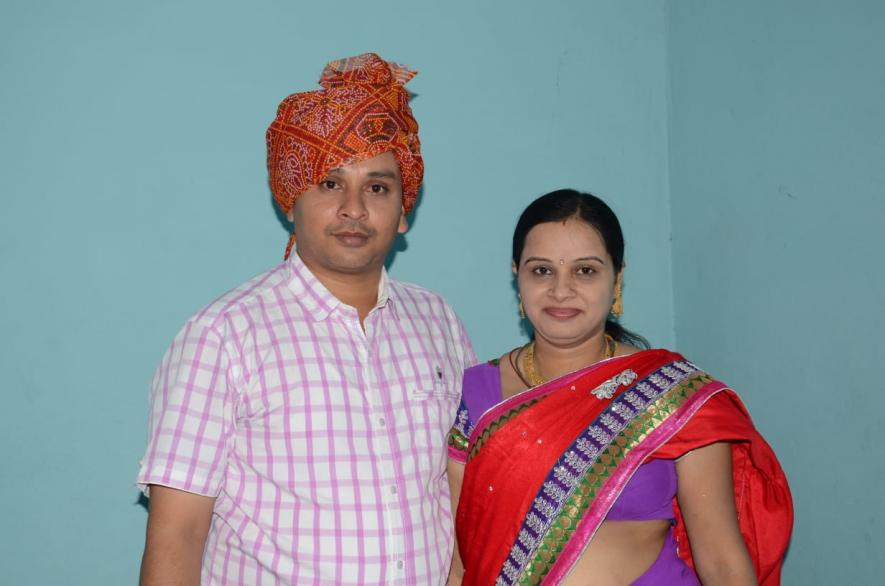 Amit Madhusudhan Satya and his wife Sangeeta Satya with their children. 
"They will not face any challenges from education to shelter until we are alive," said Mahesh, adding, "But, if the state government implements the scheme properly, only then we can be assured of their security after our death."
He added that his son Amit has left behind a home loan of Rs 6 lakh.
"He wanted to see his daughter become an officer in the Reserve Bank of India," Mahesh, who runs a hardware shop in Gogwa, said. "As their grandfather, giving them the best possible education is now my responsibility and somehow I will fulfil it," he added.
Like Mahesh, Subhash Raikwar, the maternal grandfather of five-year-old twin sisters Mahi and Ruhi, is also struggling to tell the kids that COVID-19 pandemic has taken away their parents.
Raikwar, from Bhopal, has been trying to avoid the question whenever the children ask to see their parents. He said that when they first came to stay with him in April 2021, he had promised to take them to the nearest hospital where their parents are undergoing treatment once the lockdown was lifted. 
His son-in-law Mohanlal Barve (50) succumbed to COVID-19 at Bhopal's Hamidia Hospital on April 25, two weeks after testing positive. While his wife, Reetu, who had contracted the virus with her husband, was found dead in the room that she was isolated in, on May 3.
"Both the girls make plans to tell stories and list their complaints when they meet their parents. When they fight over shows to watch on the television and toys, they still say, 'I will complain to mummy and papa'," Raikwar said in a low voice, while his granddaughters watched television at his home in Bhopal's old city, Budhwara. 
"They don't eat or sleep properly. They cry late into the night. They keep asking, 'when will the lockdown end dada? I'm missing mummy'," he said. 
Now, with restrictions easing and the deadlier second wave of the pandemic seemingly starting to ebb, Raikwar knows he can no longer delay telling the five-year-old twin sisters that their parents have died of COVID-19. 
"They are so young, I hope they would slowly forget their parents and early life. I don't have the words or courage to tell them," he said, adding, "I will enroll them in a different school in a different location so that they can forget the past."
Mahi and Ruhi have also been identified through a network of anganwadi workers across the state and enrolled under the Mukhayamantri Bal Seva Yojna and are entitled to receive a monthly pension of Rs 5,000 each, free ration and free education.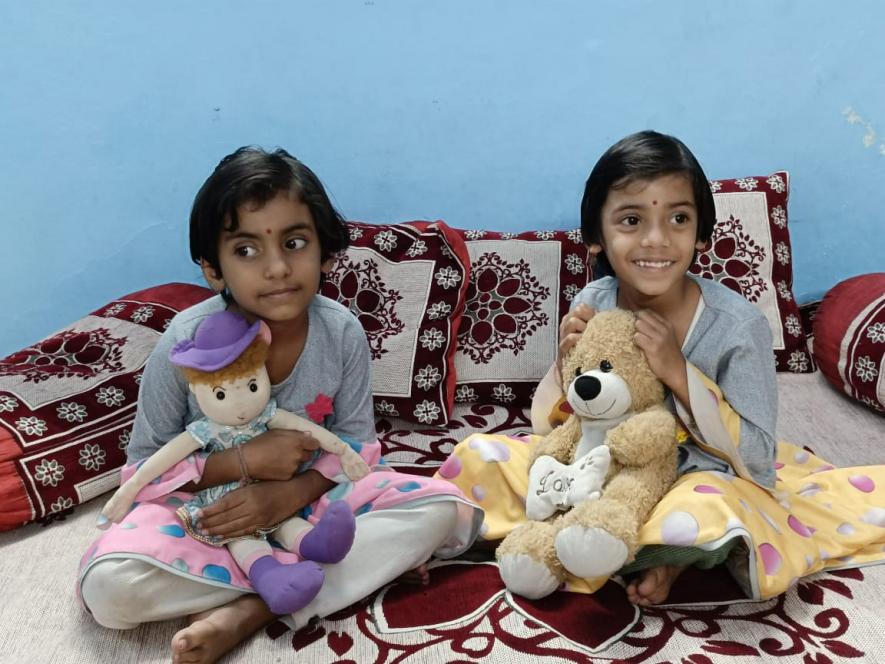 Mahi and Ruhi at their grandfather's house.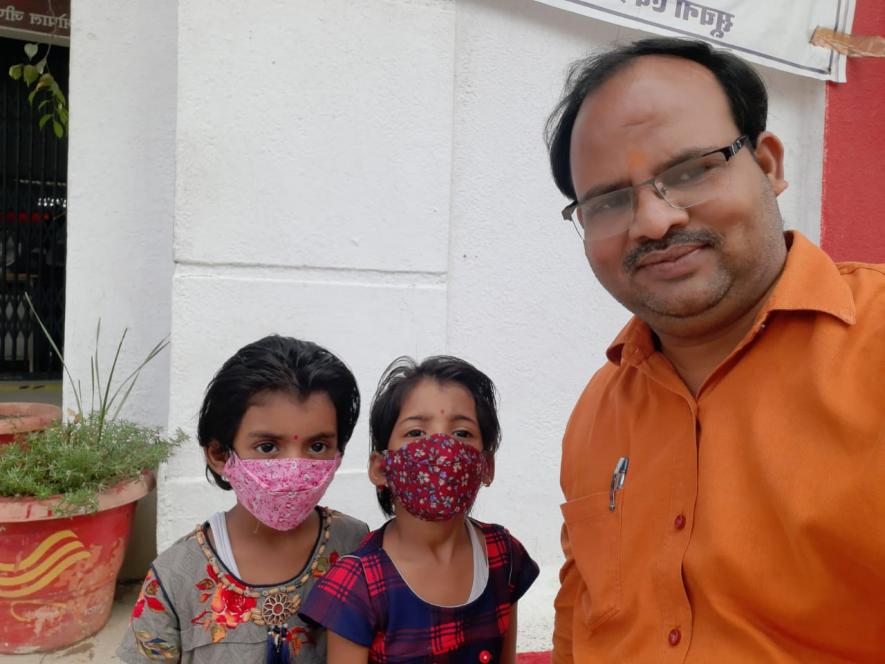 The twin sisters, Mahi and Ruhi with their grandfather, Subhash Raikwar
Under the scheme, the beneficiaries studying in private schools are entitled to an additional Rs 10,000 a year. Further, Rs 1.5 lakh will be given to those who crack engineering entrance exam, and the entire education fees of those pursuing medicine after cracking NEET and law through NLU will also be borne by the government.
CM Chouhan, announcing the payment of the first instalment, said, "I hope the children will work hard and make the dreams of their parents come true. I'm your mama, the state government is with you at every step. I urge the society to support these kids and don't leave them alone."
Days after the Ministry of Women and Child Development said that 577 children across the country had been orphaned during the second wave of the pandemic, on May 30, 2021, Prime Minister Narendra Modi announced a slew of welfare measures for children who have lost their parents to COVID-19, including a monthly pension, education in Sainik School and Navodaya Vidyalayas, a total amount of Rs 10 lakh when they turn 18, and providing for their education under the "PM-CARES for Children" scheme.
Raikwar, who runs a small printing press in Bhopal's old city, said that he hopes that he can avail both the central and state schemes. "I'm capable of looking after both the kids, but the governments' schemes will help me to provide them with the best possible education," he said. 
Bhopal-based child rights activist Archna Sahay welcomed the state and the Centre's initiative for orphaned children. She said, "The initiative taken first by the state government and later by the Centre will help the orphaned children to get better education and life. It gives these children a sense of security, so they can live a peaceful life."
"Not only the activists, it is the duty of every citizen to identify more and more children who become orphans during the pandemic and enrol them for the government's benefit," she added.
'Struggling to Get my Parents Death Certified as COVID-19 Casualty'
Meanwhile, CM Chouhan has claimed that the officials have gone all out to identify children who have lost their parents during the pandemic, but there are many children who have been left out due to bureaucratic measures. Sixteen-year old Hanushish Dehariya from Bhopal lost both his parents to COVID-19, but he is struggling to get his parents' death certified as COVID-19 death.
Dehariya claimed that his father Girish Dehariya died in a private hospital in Bhopal on April 18 and the crematorium mentioned the same reason of death in the certificate which they make based on the papers they receive from the hospital with the body.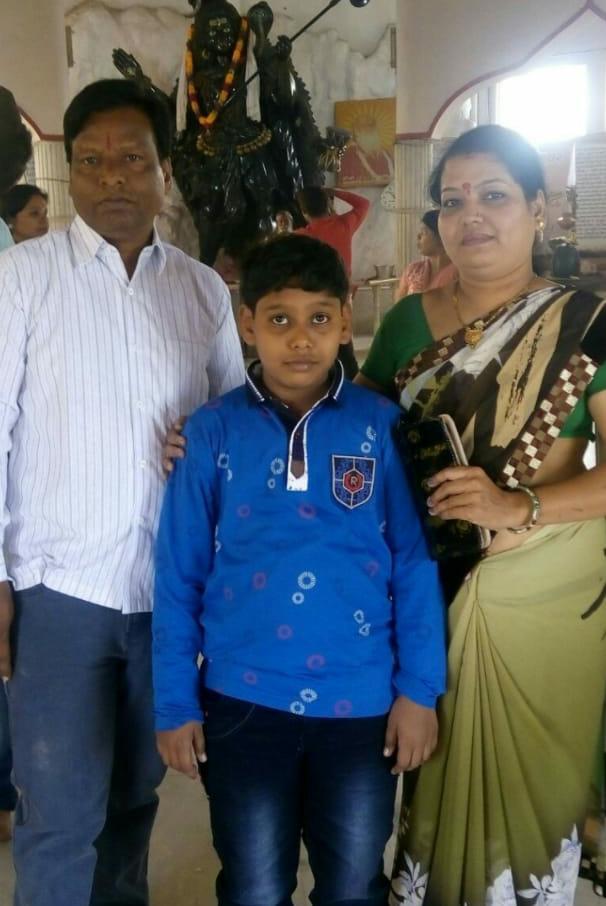 Hanushish Dehariya with his mother and father.
"But, the Bhopal Municipal Corporation issued a certificate without mentioning the reason of death. Now, I have nothing to prove that he had died of COVID-19," said Dehariya.
His mother, who was an assistant professor in a government college in Seoni, also succumbed to the virus in Betul District Hospital within 24 hours of the death of his father on April 19.
"She was kept in the COVID-19 ward and was undergoing treatment for the same. She died soon after. But the hospital administration is refusing to give a death certificate with COVID-19 casualty stating that she died as a suspected COVID-19 patient," he told NewsClick. 
"How will children like me be able to avail any government facilities, if we cannot prove that our parents are COVID-19 casualties," he questioned.
Even after losing both his parents within a span of 48 hours, instead of mourning the 16-year-old is forced to run from pillar to post for their death to be certified as COVID-19 deaths so that he can avail the CM's scheme.
A Month After Turning Orphans, 3 Siblings Await Govt Benefits
Dhanna Chauhan, a retired school teacher from Kamalganj neighbourhood of Madhya Pradesh's Shivpuri district, lost his daughter-in-law Neelu Chouhan to COVID-19 on May 3 leaving three children behind – two girls and a boy – all less than 10 year old. They are still waiting for government benefits.
Chauhan had already lost his son Naval Chauhan a year ago owing to illness.
On the midnight of May 3-4, the driver of the private Siddhivinayak hospital, where Neelu was undergoing treatment for COVID-19, reportedly dropped her body outside her home when she succumbed to the virus on the way to Shivpuri Medical College and Hospital. She had been referred to the government hospital by Siddhivinayak administration.
As the video of her body lying outside the home went viral on social media, several social groups as well as the district administration reached out to the children to support. The Shivpuri district administration also extended also handed over Rs 6,000 to the kids and promised to send Rs 51,000 to the bank account.
However, according to the children's grandfather, they are yet to receive any money as promised by the district administration over a month ago. Not only that, Dhanna added that even though the children, now orphaned, are entitled to receive Rs 5,000 a month, free ration and free education, no such benefits have been accrued so far.
Get the latest reports & analysis with people's perspective on Protests, movements & deep analytical videos, discussions of the current affairs in your Telegram app. Subscribe to NewsClick's Telegram channel & get Real-Time updates on stories, as they get published on our website.
Subscribe Newsclick On Telegram