COVID-19 Pandemic Brings Glaring Gaps in Delhi's Healthcare Services into Focus
Non-Covid patients needing treatments like dialysis and chemotherapy are being ignored even as doctors from various hospitals say that the PPE kits are of inferior quality and that they are not being screened at all.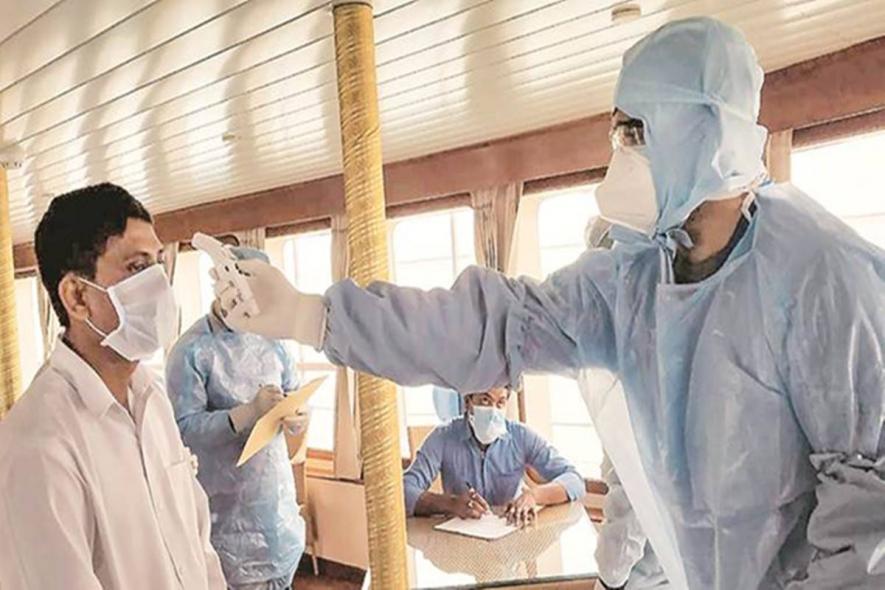 New Delhi: With a continuing rise in the number of cases of COVID-19 in the national capital, glaring gaps in the Delhi government's healthcare system are coming to the fore. While Chief Minister Arvind Kejriwal successfully used his government's healthcare initiative of mohalla clinics — a major poll plank after the subsidised power bill — to get elected, the pandemic has exposed the flaws in the system with medical staff, patients and sanitation workers in different stages of worry.
After the government declared its five flagship hospitals — Lok Nayak Jai Prakash Narayan (LNJP) Hospital, GB Pant Hospital, Rajiv Gandhi Super Speciality Hospital, Guru Tegh Bahadur (GTB) Hospital, Deen Dayal Upadhyay Hospital and Dr Baba Saheb Ambedkar Hospital — would fight COVID-19, patients suffering from other diseases and conditions like renal failure, cancer and HIV, who regularly need access to hospitals, are facing hardships, with only emergency services functional and most OPDs and operation theatres closed.
Different departments in non-COVID hospitals are functioning at bare minimum capacity. The stringent lockdown has also worsened the situation.
Those undergoing treatment for kidney ailments and thalassaemia are going through challenging times. Dialysis patients are struggling for medicines and access to dialysis centres. With most government hospitals dedicated to treating cases of COVID-19, healthcare facilities that provide free dialysis have been unable to do so, citing a lack of staff.
Shyam Kumar Chabra, a resident of Mehrauli, undergoes dialysis thrice a week at Max Hospital. However, he was referred to LNJP Hospital three days ago since he tested positive for COVID-19.  He said he still has not undergone dialysis at LNJP. "I have not undergone dialysis for the past three days and I am in great difficulty," he added.
Muneer Ahmad, 60, had undergone a kidney function test at Shanti Mukand Hospital at Karkardooma and was found to be suffering from renal failure on February 28. He was advised to undergo dialysis twice a week, and it was being done in the same hospital under the EWS quota.  All of a sudden, he was allegedly refused dialysis and was told the hospital did not have beds for patients belonging to the economically weaker section.
He has not undergone dialysis since March 12 and was turned away by LNJP and Lal Bahadur Shastri Hospital. The doctors then referred him to Safdarjung Hospital.
"Taking him to Safdarjung from Laxmi Nagar on a scooter is not possible because he cannot sit for long and the policemen also do not allow a pillion rider. I cannot afford a three or four wheeler because I do not have the money. I am a driver and out of a job because of the lockdown," Muneer's son, Israr Ahmad, told NewsClick.
Israr took his father to Dharamshila Narayana Superspeciality Hospital near Ashok Nagar for admission under EWS category, but he was turned away by authorities who allegedly said they only take up referral cases.
After running from pillar to post, Israr took his father back to Shanti Mukand Hospital, which finally agreed to perform the dialysis but handed him a list of diagnostic examinations to get done before the procedure. He was also asked for test results for COVID-19.
The costs that private hospitals offer paid services at, are unaffordable for many. Even for paid dialysis, hospitals are cutting down on time, which lead to symptoms showing up within two days.
"Dialysis patients must continue with regular treatment and take extra precautions. Skipping dialysis leads to serious adverse effects and increases risk of hospitalisation," said Dr Vishnu, a senior nephrologist with a private hospital.
Nidhi, a dialysis technician at Shanti Mukand Hospital, said the patient needed to bring test reports for COVID-19 as a lot of patients are asymptomatic patients and normal screening at the hospital does not serve any purpose. "I have asked him for a few important diagnostic tests which cannot be performed at the hospital because most of the services are closed due to shortage of staff. We are taking extreme care before letting any patient inside because 14 members or our staff are in quarantine after coming into contact with a positive patient," she said.
Forty-eight-year-old Chandrapal, a resident of Sangam Vihar, had a severe heart attack recently. There were blockages in his coronary arteries and he had been advised surgery. He was scheduled to undergo the surgery at Safdarjung Hospital on April 10 which was cancelled because of COVID-19. His family alleged that he has not been given another date and has been told to return when the ongoing crisis is over.
"My father is now bed-ridden, he does not look good. He often complains of severe chest pain. We took him to a private hospital at Kailash Colony but we cannot afford it as it is too costly. My father is the primary bread winner of the family; he stitches clothes at a tailoring shop. We also support the family's income with the daily wages we get but that stopped because of the lockdown. He needs surgery as soon as possible, but no government hospital is ready to admit him," said Chandrapal's younger son Yogesh.
Similarly, Maitri had been undergoing treatment for oral cancer at the All India Institute of Medical Sciences (AIIMS). On March 13, she was informed that she needed urgent surgery. However, all OPD services at AIIMS have not been functional and doctors are not performing surgeries. She is in severe pain as the ulcers on her tongue have started bleeding.
"We go to AIIMS' emergency section almost on a daily basis. At present she is surviving on pain killers and some medicines to stop the bleeding. But the doctors have told us that they cannot do much as all other services have been suspended by the government," her husband told NewsClick.
Almost all outpatient chemotherapy services have been shut down at AIIMS. Though the oncology department at Safdarjung Hospital is functional, those who need chemotherapy cannot go there.
After he developed some symptoms, 29-year-old Razzaque Sheikh had himself tested by Dr. Lal PathLabs and he tested positive on April 23. His wife Farzana Sheikh said that the same afternoon, she took him to RML Hospital, which referred them to LNJP Hospital.
"After examining his test results they referred him to Burari quarantine facility, which was not functional then. We went back to to LNJP. Then we were asked to go to Model Town quarantine centre, which also refused to admit him. We returned to LNJP to be sent to Wazirabad quarantine facility. The authorities there also refused to admit my husband, saying that they will take him in only after the hospital sends us in an ambulance with its staff. We came back to LNJP where doctors finally admitted him in the isolation ward the next day at noon," she added.
The couple lives at J.J. Colony in Bhalswa with four others, including a child. Interestingly, the couple kept moving from the hospital to different quarantine centres via auto rickshaw. The hospital, despite knowing that one of them was COVID-19 positive, did not care to isolate him and send him in an ambulance.
Razzaque is doing well at LNJP, while his wife and other family members are quarantined in their house. "ASHA workers have come by between 3 to 4 times to check for fever. The police keep a watch on us. But we have not been screened so far despite the fact that I was with him all the time, even after he tested positive," she said.
A senior doctor at Kasturba Hospital acknowledged that state governments and the Centre had failed to run other medical services parallelly.
 
"They should have improved medical infrastructure. Makeshift and separate isolation wards should have been created. Other departments should have been allowed to function with proper arrangements, keeping the safety of medical professionals and patients in mind. What is happening now is that patients' access to hospitals have been restricted. Only emergency services are operational in all hospitals. All departments are either closed or working at the bare minimum. When the departments are not open, where will patients who have chronic diseases such as diabetes or conditions go? What will happen to cancer patients who need chemotherapy? Emergency services are run by senior and junior residents in Delhi government's hospitals. Senior and permanent doctors have been engaged in administrative work," he said.
He claimed that there was a drastic fall in the footfall of patients because of suspension of services and restrictions. "We were used to 250 patients in our paediatrics department OPD on a daily basis; a number which is now down to between 10 and 15. These are people who live in the vicinity of the hospital. Similarly, the gynaecology department used to treat around 350 patients daily. But the number has now fallen down to around 20. Since operation theatres are closed, delivery cases are referred to bigger hospitals on some pretext or the other," revealed the doctor.
Kasturba Hospital is a hospital with 450 beds, situated in the thickly-populated walled city area of Delhi, on the Urdu Bazar Road.
'We need basic facilities, not flower petals'
Doctors and paramedical staff accuse the government of failing to provide basic facilities to healthcare workers dealing with cases of COVID-19.
A doctor at the COVID ward in LNJP Hospital said the personal protective equipments (PPE) being supplied by hospital authorities were not of good quality. "There is substandard or an inadequate supply of PPE kits in many COVID-19 hospitals. The kits we get do not fit many of us. The goggles are of such bad quality that they often crack. We do not have access to complete PPEs, making us vulnerable to the infection. There is no proper arrangements for isolation of doctors and paramedics. We have to face the wrath of patients because of the inferior quality of food provided to them. Even nurses who have to serve for long hours do not get nutritious food," he complained.
The absence of good quality PPE kits, said a doctor at Dr B.R. Ambedkar Hospital, is leading to infection among healthcare professionals. At least 32 medical staff at the hospital were recently tested positive. "Few days ago, a pregnant woman was admitted to the hospital. She was asymptomatic and had hidden her medical history. Later, she died in the hospital," said the doctor.
Sixty-five healthcare workers were found to have been infected by COVID-19 at Babu Jagjivan Ram Hospital. The situation is forcing them to go into quarantine, leading to a shortage of doctors in many top hospitals in the country. Since the numbers of health workers are inadequate, they have to work for longer to attend to COVID-19 patients, leading to an increased risk of infection. 
With doctors and other healthcare personnel testing positive for COVID-19, many hospitals have stopped screening them. A nurse at Delhi's RML Hospital (under the Central government) alleged that "the hospital authorities have stopped screening us. Their focus is to fudge the numbers. Only those whose condition deteriorates are being screened. Those who exhibit symptoms are either isolated in a separate area in the hospital or sent to Safdarjung Hospital."
She said it was discouraging many others who wished to lead from the front, as they are concerned about their own lives and well-being.
A lab technician at the Narela quarantine centre said laboratory staff are extremely vulnerable because they collect test samples of the suspected patients, and the threat to them is largely being ignored.
"We come in direct contact with patients or suspected patients while taking their swab samples. After completing our shift, we go home, posing the threat of infection to the rest of the family. We urge the government to make arrangements for our stay," she said.
It is reported that many doctors, nurses, paramedics and other staff in non-COVID hospitals are either getting infected or reported as contact to infected persons and medical directors of respective hospitals are indiscriminately sending them in quarantine either at hostels or their homes for 14 days. This practice is causing an unnecessary shortage of doctors and staff at hospitals. It seems it is happening because either hospitals are not following standard SOPs or such persons are not following guidelines prescribed for healthcare workers.
"In view of above, all medical directors are directed to obtain written explanation from all such person as how these persons got infected or become a contact in spite of wearing required protective gears, maintaining safe distance and following precautions prescribed for healthcare workers. Further, medical director is required to constitute a team of doctors to ascertain whether a contact fulfils the Government of India guidelines to be declared as the contact of positive patient," read the order, which was later withdrawn.
Calling it an insensitive move, doctors have opposed it. "The doctors and other healthcare workers are falling sick because the government has failed to provide basic facilities and services to them in several hospitals. If the government, health agencies and hospital administration really want to prevent such a catastrophe from happening, they must provide basic facilities to healthcare providers. It is stressful and demotivating for healthcare professionals to work in a life-threatening environment without proper facilities," said AIIMS Residents' Doctors Association President Dr Adarsh Pratap Singh.
He said the non-availability of PPE kits to doctors treating non-COVID patients also result in infections as the majority of patients were asymptomatic. "Today, PPE is a must for every doctor. As the numbers of hotspots are increasing, so are the asymptomatic COVID-19 positive patients," he added.
In addition, he said, health workers need safer accommodation because they are at risk while commuting. "They need accommodation at safer places, closer to their respective hospitals," he added.
A doctor from Maharaja Agrasen Hospital told NewsClick: "The showering of flower petals by the military appeared to be a kind of formality like Republic Day. We do not need the pomp and show. The government needs to ensure our safety and security. We have no money for health workers and the health sector; our salaries are being deducted. The military should not waste money."
'All is well'
Responding to the allegations, Delhi Health Minister Satyendra Jain did his best to dodge questions and said the government is trying its best to address all the issues.
"We are ensuring availability of PPE kits to all hospitals. Doctors, paramedics and sanitation workers are corona warriors. We are doing our best to address all their grievances. We accept that they are overburdened and we acknowledge their efforts. We are regularly screening them and trying to take care of them. So far, the situation is completely under control. There is nothing to worry about," he said.
Asked about the collapse of regular health services, he added: "Our non-COVID hospitals are functioning and there is no problem. Patients who come in are being taken care of. We are making sure that no one is denied medical treatment."
On the slow and lesser number of screenings, he said that the government will now get testing done from private labs in Noida. "The decision has been made to bring down the time for results. Delhi is conducting the maximum number of screenings across the country and we will further boost the numbers," he added.
Get the latest reports & analysis with people's perspective on Protests, movements & deep analytical videos, discussions of the current affairs in your Telegram app. Subscribe to NewsClick's Telegram channel & get Real-Time updates on stories, as they get published on our website.
Subscribe Newsclick On Telegram