COVID-19 Lockdown: Gurugram's Domestic Servants Cry for Help as Memsahibs Turn a Blind Eye
Most of these domestic workers received salaries only upto February 2020 and are unable to access government relief packages either due to inadequate relief or lack of ration cards.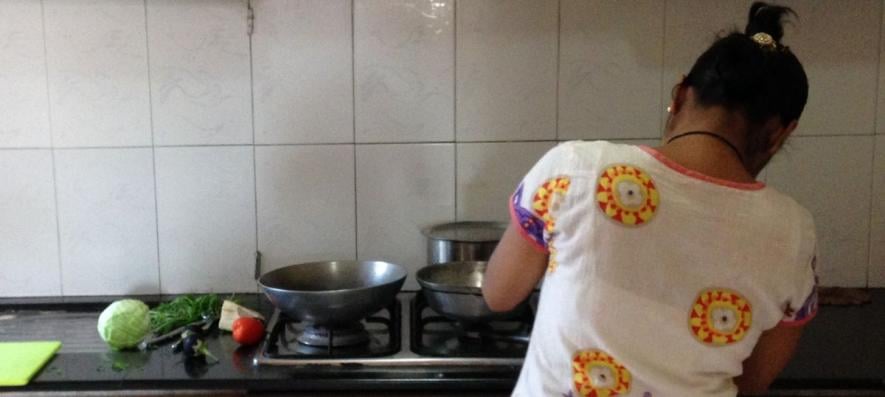 Representational image. | Image Courtesy: Scroll.in
"I have ration that will suffice for the next 5-6 days," says 25-year-old Ruby Devi, who lives in sector 45 in Gurugram, a sprawling township, approximately 40 km from the capital city of Delhi.
Ruby works as a cook in her neighbourhood and after the COVID-19 lockdown, has been spending the better part of her day sitting at home. She had received monthly wages for one month she had worked for before the lockdown was enforced across India from March 24. 
"Bas sarkar se chahiye kahin ki madad bhej de (All I want from the government is to send some help)," says Ruby as she holds the duppatta covering her head close to mouth. Hailing from Berhampore district, 200 km to the north of Kolkata, it was the opportunity to earn Rs 4,000-5,000 per month by making meals at nearby flats which brought Ruby all the way to Gurugram.
She is not the only one bearing the brunt of lockdown. Around 500 families comprising mostly of domestic workers in Gurugram have been struggling to get rations following the lockdown in their area. With only few days of ration left at their homes, domestic workers are now demanding immediate relief from the Haryana government. Some of them also want to return to their hometowns and have been demanding that alternate arrangements for transport be made immediately.
On April 18, a local NGO, Gharelu Kamgar Union, wrote a letter to the district collector of Gurugram apprising the administration of the dire situation with "workers not having enough food or money to last them through the lockdown" in five localities - Saraswati Kunj, Chakkarpur, Wazirabad, Badshahpur and Ghata Village. The letter was written two days after a migrant labourer allegedly committed suicide in Saraswati Kunj following his inability to fend for a family of five after selling his mobile phone for Rs 2.500. His wife, a domestic worker, is currently out of work and has four kids to support.
Kajal Mahato who lives in Harijan Basti of Phase 5, too, has been fraught with a similar problem. Though she has a ration card, long queues for procuring food grains under the government-run public distribution system (PDS) means, that people like her are often left out as the supply is exhausted even before Kajal's turn comes. Her desperate call to the memsahib (her employer) she works for also didn't yield any result.
Also read: COVID-19: Gurugram Workers Continue to Struggle with Hunger and Distress, Govt Relief Inadequate
"Malkin (master) either doesn't take my calls or tells me to come to work. How can I go out during lockdown? Police often catches hold of people like us and charges fine," says Kajal as she admits that ration in her household is almost over.
According to Dr Maya John, convener of the Gharelu Kamgar Union, areas like Badshahpur are among the worst affected when it comes to having sufficient stock of rations. John has been sending memorandums to district administration regularly as and when she receives distress calls from workers in these areas. 
Another problem being faced by activists working at the grassroots is that of accessing rations through the 'temporary e-ration coupon'. Commonly referred to as distress coupons, several state governments introduced 'temporary e-ration coupon' an online system of registration in April for BPL families who could avail rations by submitting certain details such as Aadhaar number, Voter ID card and their photo along with family details.
Online registration is, however, not that easy and usually follows a 4-step process: generating a login using mobile number and OTP (one time password), selection of Assembly constituency, submitting locality details and uploading related documents.
The newly introduced system hasn't lived up to the expectations of people though. "Our trade union activists are helping domestic workers in filling the e-coupon forms still people are not getting rations. It is quite evident there is neither a system in place nor management of services," says John.
Vinita Kushwaha, another domestic worker has been running from pillar to post trying to get a new ration card made, the old one being redundant since that has her old address.
"The only ration card I have is on the address of my village. I don't have a ration card at my current address. You tell me What should I eat now? Dal, chawal, atta, everything is finished," she says. 
Most of the migrant domestic workers inhabiting congested settlements in the millennium city of Gurugram belong to Bihar, Uttar Pradesh and Bengal. Underlying the plight of these domestic workers lays the fragmented citizenship of urban settlements like Gurugram where class divide has exacerbated the woes of the marginalised section. In a 2012 research paper published in the Economic & Political Weekly, Thomas Cowan had explained this divide in the context of Chakarpur village of Gurugram where sudden development widened the gap between the local land owners and migrants who later came in search of better opportunities. Typical rural set-up of Chakarpur began to change in the 1990s with real estate player DLF beginning to buy properties from local landowners belonging to dominant caste. Not all landowners benefited from the land deals as some of them were left out in the buying spree thus, kickstarting a cycle of exclusion or 'urban insurgency' (term used by Cowan in his research paper) even as neoliberal agents pushed the city towards becoming a global hub of IT companies and start-ups. As per the Census 2011, Haryana is among five states along with Maharashtra, Gujarat, Delhi and Uttar Pradesh that houses 50% of India's total inter-state migrants.
Also watch: COVID-19 Lockdown: For India's Migrant Workers, Precarious Becomes More Precarious
That sense of exclusion continues to pervade as is evident in the attitude of residents of gated communities who have chosen to ignore the pleas of these women entrusted with cleaning their homes and cooking meals for entire family. Most of the domestic workers received wages only upto February which was the period when there was still no restriction on movement. For someone like Sulekha who belongs to Katihar district in Bihar and had migrated to Gurugram six months ago, current crisis is a double whammy as she has neither savings left nor can she go back till lockdown is lifted. Similar fate has befallen Saira Bibi from Murshidabad district in Bengal who had come to the millennium city four months ago and currently 'has nothing to eat' post lockdown.
An NGO, International Commission for Jurists (ICJ), in its recent briefing paper released on April 27, has pointed fingers at the Indian government "for falling short of its obligations to guarantee right to food during the COVID-19 pandemic".
 According to Maitreyi Gupta, ICJ India Legal Adviser, "The government has a duty to ensure to domestic workers nutritional minimum essential food that is physically and economically accessible. In the absence of this, domestic workers have a right to access justice systems such as courts, including through a PIL process, and the police as well as their local municipal bodies to remedy this failure.'
The question is whether the state government or the Centre should offer relief wages to domestic workers in order to help them cope during the current situation. In another report, titled, '21 Days and Counting' released by SWAN (Stranded Workers Action Network), a collective of civil society groups, it was revealed that around 89% of migrant labourers didn't receive wages despite the March 29 circular by the Ministry of Home Affairs stating that 'employers should pay the workers full wages'. Speaking to NewsClick, Prof Rajendran Narayanan, faculty at Bengaluru's Azim Premji University and one of the co-authors of the SWAN report said, 'It's the responsibility of the employers to ensure full payment of wages since it's a legal mandate under the Minimum Wages Act. So now it's the responsibility of the State, either it forces the employers to pay it or makes an alternate arrangement from its own corpus of funds.'
Narayanan emphasises on the fact that with "78.8 million tonnes of food grains available currently with the Food Corporation of India, we have three times more than the buffer stock. Why just rely on ration shops, in cities like Delhi and Gurugram, in every ward, multiple spaces on government land such as malls, schools and colleges should be opened up for stocking and distribution of rations." 
Meanwhile, Kajal Mahato has only one appeal from the concerned authorities, 'Hum bheekh nahi maang rhe (we are not begging for alms). Since our work has been stopped by the government, they need to ensure supply of rations.'
The author is a Delhi-based journalist.
Get the latest reports & analysis with people's perspective on Protests, movements & deep analytical videos, discussions of the current affairs in your Telegram app. Subscribe to NewsClick's Telegram channel & get Real-Time updates on stories, as they get published on our website.
Subscribe Newsclick On Telegram