What's Common to Three Covid Kings -- India, US & Brazil
These three countries, with over a million COVID-19 cases each, followed similar stumbling paths, making similar mistakes.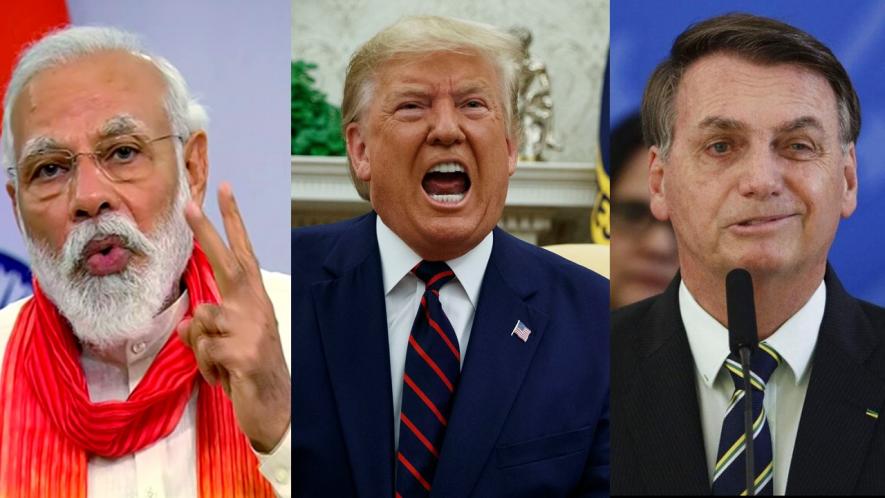 As of July 18, worldwide confirmed cases of COVID-19 pandemic have reached a staggering 1.41 crore (14.1 million). Of these, nearly half (48%) are in just three countries – who wear the dubious crowns of the Covid Kings. These are the US, Brazil and India, with some 67 lakh confirmed cases among them. [See Chart below, based on data from Johns Hopkins Coronavirus Resource Center] Others making up the top 10 include Russia and the UK in Europe, Peru, Chile and Mexico in Latin America and Iran in Asia.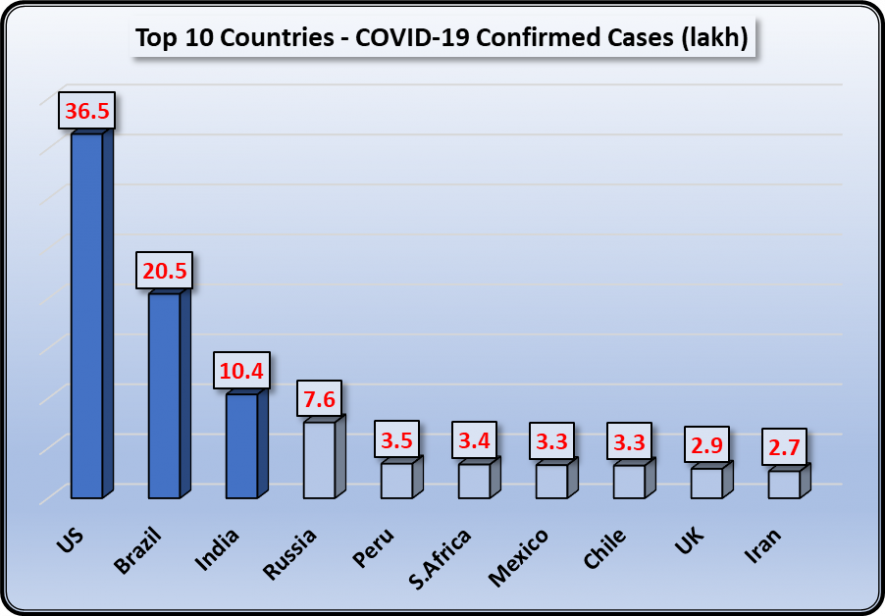 This is not just a case of blind chance or the moving finger writing and moving on. These million cases+ countries have something more in common. Since the pandemic shows no sign of flattening in these countries – quite the contrary – it is worthwhile to see where the US, Brazil and India went wrong, costing a chilling loss or debilitation of human lives, and the misery that accompanies this raging disease.
It is easy to observe that these three countries have populist leaders, adept at pretending to be outsiders who would stamp out decay and corruption, put the glory of the nation before everything else and strong-arm their policies in the face of any moribund resistance.
Undoubtedly, Donald Trump, Jair Bolsonaro and Narendra Modi had these features, with a very thin line separating them from authoritarian control, if any. They are also standard bearers of free market, globalisation and the power of corporations.
Maybe because of these characteristics, or maybe some other factors thrown in, they have all ended up contributing to what can only be called a humanitarian disaster in their own countries.
No Faith in Testing
President Trump is these days fond of boasting that the US has carried out over 44 million COVID-19 tests, the most by any other country. But not so long ago, he was refusing to take the pandemic seriously, and very reluctantly allowed testing – but those kits turned out to be faulty. A crucial six-week delay prepared the ground for the current surge in the pandemic, helped along by other mistakes.
Bolsonaro, too, has never believed in the pandemic – calling it a "little flu" – and testing in Brazil is severely deficient, with over 950,000 samples in backlog and labs lacking testing reagents. According to MSF, an international health NGO, Brazil is currently testing only about 7,500 samples per million people.
In India, the Modi government never showed any faith in testing, perhaps realising that it would need a gigantic effort – and resources – that it was loth to invest. After maintaining an effective silence on it, it passed on the responsibility to state governments, which has resulted in a wide range of testing intensity.
On an average, India is testing about 9,289 samples per million per day. A direct result of these low testing rates, whether in Brazil or India, is that there is gross underestimation of the actual number of infected cases. Experts think that real numbers may be two to five times the ones being reported today.
Without timely testing, and without subsequent follow-up of tracing contacts and isolation, the pandemic was bound to get out of hand – as it has done in all three countries.
Put it on the People
All three leaders effectively shifted the responsibility of battling the pandemic on to the people. Modi did it by warning them that it's a dangerous disease, only by their resolve and strength can it be contained, and asked people to remain at home and maintain distance.
The other two, Trump and Bolsonaro, were the opposite – they dismissed the disease as a will o' the wisp, and implied that people could go about their lives like before. Both wore a mask for the first time in the past week only. Though these positions were quite the opposite of what Modi was maintaining, in practice, it meant that the people had to fend for themselves.
For a country like India, with millions living in abject poverty, the advise – whatever its soundness – meant little. They followed it to the extent they could but then hunger drove people out in search of work and food.
In Brazil and the US, the wrong message meant that people who would otherwise have been able to wear masks or maintain some amount of distancing did not do it. In effect, either way it all ended up with a surge in COVID-19 cases.
Economy is More Important
Again, for different reasons, and driven by different compulsions, all three leaders were bent upon 'reopening' the economy. This has undoubtedly led to a surge in cases.
In Modi's case, the labyrinth he found himself – and the country – lost in was of his own making. A premature and very stringent countrywide lockdown, when the total number of confirmed cases was just around 500, went on for nearly two months. It destroyed the economy, leaving at least 12 crore (120 million) people jobless and the earnings of over 80% of the population snatched away.
Free foodgrain distribution and transfer of some crumbs into bank accounts helped a bit, but was far from sufficient. There was no way people would have accepted any further lockdown measures – this became evident when millions of migrant labourers started openly flouting the lockdown and walking back to their villages. One estimate says that 971 people died in this period due to exhaustion, hunger, accidents, or even suicide. Meanwhile, the corporate sections, too, were pressing for starting work. So, Modi finally started easing the lockdown since June. The pandemic, which had been simmering till then, exploded with nearly two-thirds of the total confirmed cases till now, arising since June.
For Trump, the economy was crucial – it is his ticket to the second term. He was leading in all polls before the pandemic because of an uptick in employment and general prospects of the economy looking good after a long time. But, with the spread of coronavirus and lockdowns in states, the economy stumbled, jobless numbers went through the roof and Trump's USP vanished into thin air. So, he strained at the leash throughout, first denying the pandemic, then accepting only to quickly start saying that it's under control, let's open up and get back to normal. Incidentally, he is trailing badly in opinion polls.
Bolsonaro was never keen on closing down anything, he fought with provincial governments, sacked two health ministers, kept on denying and – as time passed and Brazil's highly unequal society started to feel the pressure of not earning – ultimately threw his hands up and allowed states to do their bit. (Modi is also doing the same thing now.)
Healthcare in Shambles
None of the three leaders paid sufficient attention to building up the necessary healthcare infrastructure to meet pandemic needs. Essential equipment procurement was delayed, no programme for training additional staff was undertaken, no plan for handling the surge of patients put in place, decisions were made post facto.
In India, low testing combined with a relatively lower urban population and a younger population, has perhaps caused less pressure on hospitals and general healthcare services, except in hotspots like Mumbai and Delhi. But in the coming days, with studies predicting that cases will surge uncontrollably, this too is going to come back and haunt the Modi government.
So, the personalities are similar, tactics to deal with pandemic similar with some differences in expression, and having led their respective countries through different paths, Trump, Bolsonaro and Modi have reached the same place – they are the Covid Kings.
Get the latest reports & analysis with people's perspective on Protests, movements & deep analytical videos, discussions of the current affairs in your Telegram app. Subscribe to NewsClick's Telegram channel & get Real-Time updates on stories, as they get published on our website.
Subscribe Newsclick On Telegram