COVID-19 Pandemic Woes: An 'Opportunity' for the Private Sector and NITI Aayog?
A largely unregulated sector has seen instances of gross overcharging and unnecessary treatment. The Clinical Establishments Act is far from being implemented while the NITI Aayog advocates for incentivising private players.
A 45-year old patient was admitted to one of Delhi's best-known private hospitals with complaints of breathlessness. He was lucky enough to be able to get an oxygen-bed at a time when the health system across India, and in Delhi, seemed to be collapsing and gasping for breath. He was kept in the Intensive Care Unit and was apparently showing signs of improvement. Although the family was not allowed to meet him over the next few days, they were hopeful that the situation was getting better. Without much information coming in though, the family learned one night that the patient had been put on a ventilator. He lost his battle a few hours later. For the treatment administered for about a week, the family, which had no earning member other than the deceased, was charged with more than five lakh rupees.
This is one among numerous cases where a family shelled out a substantial sum for admission to a private hospital; several such reports surfaced from different parts of the country – Delhi, Kolkata, Mumbai, to name a few.
The private sector proved to be largely ineffective in dealing with the COVID-19 crisis, with instances of profiteering prompting the Centre and some state governments to invoke powers under the National Disaster Management Act and State Epidemic Acts and to bring in price caps, which are temporary in nature. However, even this did not deter the private sector from overcharging, and in many cases the caps were not adhered to – that when the country was facing an unprecedented pandemic.
Lack of Regulation of Private Health Sector
The private sector in health has been flourishing without much regulation over the past few years. The weakening of public health care has helped in the proliferation of the commercial sector, leading to huge profits while taking advantage of the information asymmetry that generally characterises health care.
Civil society organisations have been advocating for the implementation of the Clinical Establishments Act (2010). In July 2021, the Supreme Court admitted a petition by the Jan Swasthya Abhiyan which demanded the operationalisation of the Act to ensure affordable and quality healthcare guaranteed under the Constitution. The petition submitted that neither the Central nor state governments had taken sufficient steps to ensure that the provisions of the Act were implemented.
"The private sector healthcare delivery system in India has remained largely unregulated and uncontrolled. Problems range from inadequate and inappropriate treatment, excessive use of higher technologies and the wasting of scarce resource to serious problems of medical malpractice and negligence," the CEA bill had noted.
Accordingly, the Act provided for registration and regulation of all clinical establishments in the country with a view to prescribe minimum standards of facilities and services provided by them. Under the CEA 2010, conditions for registrations, which are required to be framed and notified, include:
minimum standards of facilities and services,

minimum requirement of personnel,

provisions of maintenance of records and reporting,

fixation of rates for each type of procedure and services within the range of rates determined by the Central Government issued from time to time, in consultation with the State Governments
Although the Act was notified in 2012, it is applicable in only 11 states and 6 union territories till date. Moreover, except for the minimum standards of medical diagnostic laboratories being notified in 2018, the minimum standards have still not been notified for other requirements, a decade later.
The regulation of rates forms one of the most crucial aspects of CEA 2010. The JSA petition noted that the "National Council has not undertaken any specific steps to promote transparency in rates in the private health sector till date." The subcommittee on rate standardisation has been dissolved and the responsibility for rate standardisation shifted to the 11 states and 6 UTs which have adopted CEA 2010. Of these, only Chandigarh and Dadra-Nagar Haveli responded till date.
The JSA petition pointed out that "the technically complex task of developing standard rates for numerous medical procedures cannot rest on individual State/UT Governments" and should be the responsibility of a central authority or the National Council.
Unless the standards and guidelines under the CEA 2010 Act are notified, they are not in force; the Clinical Establishments are not granted permanent registration and they are functioning only under provisional registration even in those States and UTs which have accepted the Act.
Growth of the Indian Private Sector – Rising Costs and Diminishing Care
India's healthcare industry has been growing at a Compound Annual Growth Rate of around 22% since 2016," a NITI Aayog report said. Private sector expenditure has been growing at a much faster rate when compared to government expenditure, The per capita private health expenditure in India is much higher than the per capita government health expenditure, and rising at a faster rate (Figure 1). The high out of pocket expenditure (63%) is one of the main fallouts of this development, which pushes nearly 63 million people every year below the poverty line.  
Figure 1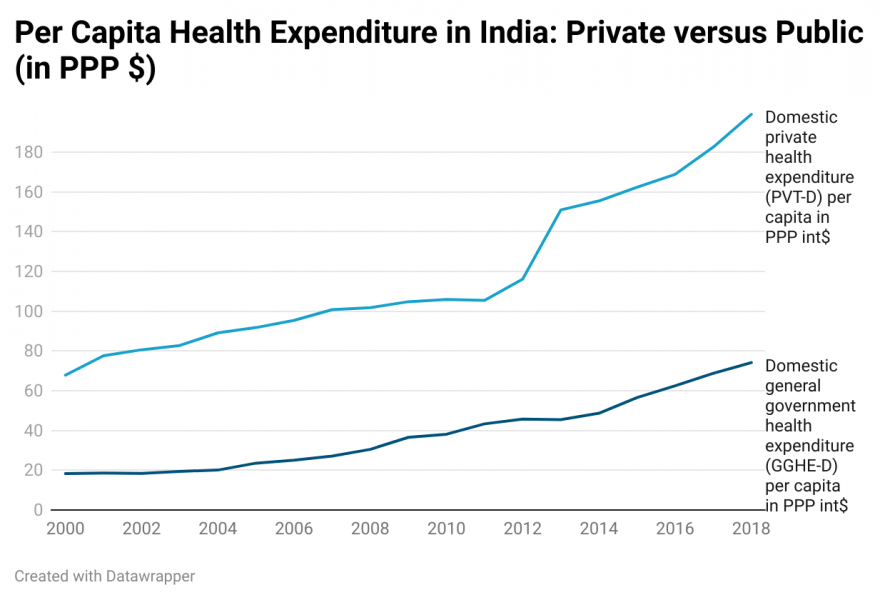 Source: WHO Global Health Observatory
Further, a look at the comparative costs per case in government and private hospital showed the extent to which costs escalate by one availing services in private sector (Table 1). In rural area, costs per hospitalisation case in private facility was nearly six times the cost in a government facility. For urban areas, this factor increases to eight times.
Source: NSSO Report 75th Round
A recent analysis by Indranil and Montu Bose debunks the myths surrounding the efficiency and reach of private sector in health. It shows how the private sector has failed to reach people in rural areas. Nearly 67% of corporate hospitals are located in big cities. It also shows that the utilisation of private facilities in rural areas has declined – "In 2014 out of every 100 hospitalisation cases, 58 were treated in private hospitals. In 2017-18, this has declined to 54". Their analysis also showed that between 2014 and 2017-18 (respective NSSO surveys) while public sector cost in real terms has decreased in both urban and rural areas, private sector costs have increased in rural areas and marginally declined in urban areas. "In urban areas, people had to pay 3.6 times more in private sector compared to public hospitals in 2014. In rural areas this ratio is 3.3 times. In 2017-18, cost ratios increased to 5.8 and 5 for urban and rural areas respectively".
Report of the Special Rapporteur on extreme poverty and human rights (2018), United Nations, had showed that privatisation has a negative impact on people living on lower incomes or in poverty. The report pointed out that "privatisation often involves systematic elimination of human rights protections and further marginalisation of the interests of low-income earners and those living in poverty" and that "the existing human rights accountability mechanisms are clearly inadequate for dealing with the challenges presented by large-scale and widespread privatisation".
NITI Aayog and Private Sector – Cashing in on Peoples' Health Requirements
Both NITI Aayog and the private sector are eyeing an investment opportunity. "An ageing population with a growing middle class and greater longevity will boost the demand for health services in India as well as increasingly favour wellness and preventative services".
A recent NITI Aayog report, titled 'Investment Opportunities in India's Healthcare Sector' came about when the country was grappling with a severe health crisis and people were dying in scores. It talked about using COVID-19 as an "attractive investment opportunity" to expand hospital segment to Tier 2 & 3 cities. In such times, when the exploitation of patients at the hands of private facilities abounds, the document said nothing about the regulation of the private sector; it only talked about ease of doing business and increasing profits in the hospital segment!
Interestingly the NITI Aayog document also mentioned that "leading private hospitals may witness growth in the gynaecology and obstetrics segments". It must be noted that there are already concerns regarding the rise in caesarean sections across the world and the World Health Organisation has called for a more women-centred care. In India, studies have been conducted which conclude that "the rising trend in C-section rates in the private sector cannot be explained by medical reasons alone. The odds of C-section among women who chose to deliver in private was over four times higher than women who chose to delivery in public facilities". These studies observe "physician induced demand" and "perverse financial incentives" in the private sector.
Experience of PMJAY during Pandemic
The experience of one of the flagship programmes by the government – the Ayushman Bharat PM Jan Arogya Yojana (PMJAY) – has been not very encouraging during the pandemic. PMJAY provides a health cover of Rs 5 lakh per family per year for secondary and tertiary care hospitalisation. PMJAY aims at providing this health cover to the bottom 40% of the Indian population – over 10.74 crores poor and vulnerable families (approximately 50 crore beneficiaries).
In response to an RTI filed in May 2021, the National Health Authority informed that up to the first week of June 2021, a total of 23.78 lakh "admissions" were authorised under PMJAY for COVID-19 out of which there were nearly 17 lakh testing counts and 6.05 lakh admissions for treatment, which only accounts for a fraction of the eligible beneficiaries and has been a source of discontent among the beneficiaries availing it as they had to shell out money at private facilities.
For decades now, India has witnessed the unbridled proliferation of private, commercial, corporate-scale establishments in the health sector. More recently, policy documents have largely refrained from any mention of regulation of the private sector. In fact any mention of regulation is seen by the current government as curtailing the entrepreneurship of the private players. The result is exploitation of patients with exorbitant bills, unnecessary procedures and even denial of care. The only way out is to regulate the private sector and build a strong public health system. The foremost step to tackle the current mess in the health sector in India "would be to build a strong pro-people non-commercialised public system as an alternative to the dominant for-profit sector", write Indranil and Bose.
Get the latest reports & analysis with people's perspective on Protests, movements & deep analytical videos, discussions of the current affairs in your Telegram app. Subscribe to NewsClick's Telegram channel & get Real-Time updates on stories, as they get published on our website.
Subscribe Newsclick On Telegram