COVID-19 in UP: No Food, No Money, No MGNREGA Work, Second Wave Forcing Migrant Workers to Die by Suicide
According to union leaders, due to the panchayat polls from April to May in Uttar Pradesh, there was a halt in MGNREGS work, and the demand for labourers further slumped due to the complete lockdown that followed soon after.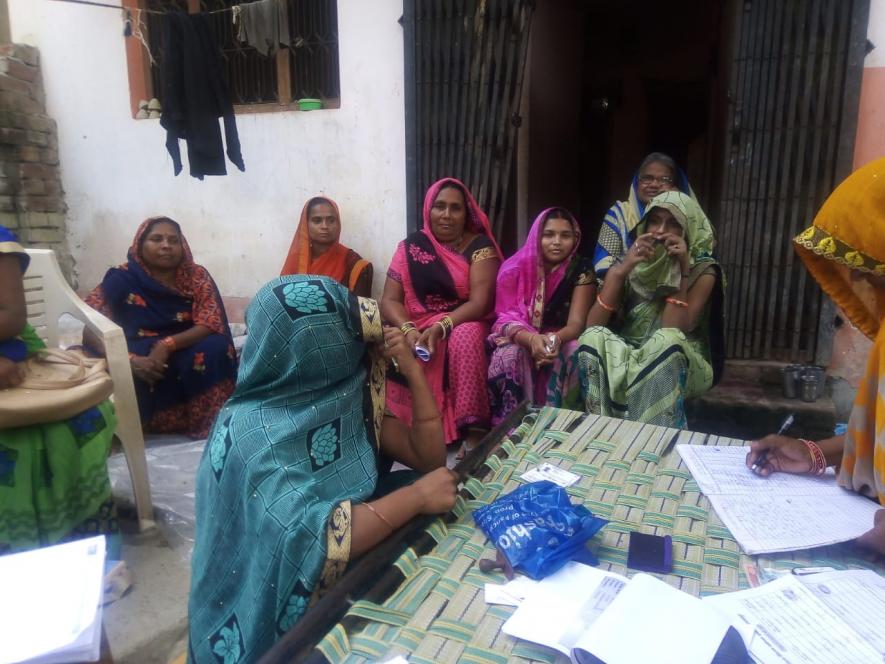 Lucknow: Brindaban Banjara (40), a security in-charge at Paragon footwear in Nangloi area of Delhi used to earn Rs 22,000 per month before the pandemic hit. But, within a span of three months, his life was upturned. While his family somehow survived by borrowing money from local moneylenders – at an exorbitant interest rate of 5% and earning enough for one meal through odd jobs in the village during the first wave, the second wave of pandemic has dwindled his earnings to zero, he said.
A native of Banda district, which reportedly sees the highest rates of migration in the country, Banjara added that the ration distributed through the Public Distribution System (PDS) in the village is highly inadequate and that they cannot rely on the government for anything.
"Khane ko ghar me kuch nahi hai, sarkar kuch kar nahi rahi hai, chori kare ab khane ke liye? (There is nothing to eat in the house, the government is not doing anything either. Should we take to stealing to eat?)," a distraught Banjara told NewsClick, adding that they are wandering from door to door in search of employment in the village but no one really cares.
"Five kg of wheat and the same amount of rice is being distributed per month by ration distributors. How will one survive in such less ration? It seems that even if we survive the pandemic, hunger will kill us soon," he claimed. 
A similar ordeal was narrated by Saleem, a labourer at a chemical-making unit in Surat, who had returned to his village along with his friends after the factory owners deserted them. "The harsh reality is that migrant workers are nobody's concern. We have no money, no food and the government has left us on our own. What should we do? In my village, scores of labourers have started begging door to door as there is no ration left at home," he said, his voice emotional. 
The sole breadwinner of his family of six, he said that they are even unsure whether they will be able to afford their next meal. "The situation in the village is worse since all our savings are exhausted. If the government does not pay attention to this, the situation will soon be out of hand like corona," he added.
Highlighting the crisis facing by migrant workers in the village, Raja Bhaiya of the Vidya Dham Samiti, which works to raise awareness about the pandemic in Banda district, said, "Bundelkhand region records the highest migration for work in the country and Banda district is on the top in terms of migration of labourers. It is also one of the most backward regions on development parameters according to the Human Development Index. There is no job here hence half of the population of the region migrates to the big cities— Delhi, Mumbai, Gujarat for their livelihood."
He went on to add, "They are mostly employed at brick kilns, some are bonded labourers and a few among them work in companies as daily wagers. These people do not get jobs directly but through middlemen's help, who charge a hefty amount from them in return. The middlemen usually give some money to the families of the bonded labourers and employ them and keep them trapped so that they cannot go to their village."
"Their woes do not end here, when they migrate to other cities in search of livelihood, their names are removed from the ration card. When they somehow manage to reach home, they find that their name are not in the ration list, and therefore, cannot access PDS ration," Raja Bhaiya told NewsClick, adding that at least 5-7 workers have died by suicide due to the financial crisis in Banda district. He also claimed that the number of workers who have died by suicide in Bundelkhand region since the pandemic hit last year is over 1,000 but it has not been reported. 
Explaining the details about their abject living conditions and its effect on mental health, he said, "These workers are suffering from depression due to various reasons – inability to pay back loans taken for survival, inability to pay the advance money from the middlemen despite working for years and now there is hardly any ration in their home."
He cited two mains reasons behind the deepening crisis – the loss of jobs following the lockdown and the unexpected health crisis caused by the second wave. "Most of them gave up and have no courage left to migrate again due to the lockdown. Many of them have left their wives and children at their maternal home and they wander here and there," he stressed. 
NO WORK UNDER MGNREGA IN UP 
The situation in Gorakhpur, UP CM Yogi Adityanath's home district, is also no different. The migrant workers who came back to Uttar Pradesh during the second wave of COVID-19 are uncertain of their future, with bleak job prospects. 
Gayan Mati (45), a widow and a native of Taran Chak village in Gorakhpur district, has been living in penury with her family of six, which includes three young daughters who will attain marriageable age in a few years.
"My husband died five years back, after which I used to earn by working as cleaner at people's houses in my village. But to the lockdown and fear of COVID-19, people are avoiding giving work at home and even the meagre Rs 700 that I used to earn is lost since the three months," Mati told NewsClick, adding that even under the MGNREGA (Mahatma Gandhi National Rural Employment Scheme), there is no surety of work every day and if anyone managed to get work, payment was not on time. 
She also complained of not getting adequate ration through PDS and accused the ration dealer of working under the influence of "corrupt people". 
Like Gayan Mati, Ranjit Kumar, a daily wager from Gorakhpur, is facing a similar situation. "For the past few months, I am surviving on the mercy of others. People give us money; some buy me food or vegetables. I never imagined that I will have to stand and beg in my own village," he said.
Ranjit further added, "My last earning was Rs 450, a day before the panchayat polls (April 19), when a 'thekedaar' took me to Gorakhpur and a few others to clean a septic tank and clean garbage. There has been no work since then, what option do I have other than begging?"
According to union leaders, due to the panchayat polls from April to May in Uttar Pradesh, there was a halt in MGNREGS work, and the demand for labourers further slumped due to the complete lockdown that followed soon after. 
Dinkar Kapoor, president of the Workers' Front, said, "After the Election Commission announced the gram panchayat polls in December last year, the charges of pradhan were taken and since then the work under MGNREGA has stopped in Uttar Pradesh. The newly elected village head took the oath on May 27, probably work may resume now,"
Brij Bihari, general secretary of Mazdoor Kisan Manch, Uttar Pradesh, said, "There are 19 blocks in Sitapur district and about 4,500 workers are connected with our organisation. There is a shortage of work after panchayat polls was announced in the state. The officials would assure that workers will get 100 days of employment as guaranteed under the Act but hardly anyone gets even 70-80 days. Besides, the officials of the Department of Rural Development and Panchayat don't maintain the workers' attendance on cards because of which they lose their right to unemployment allowance."
In his view, the government had not done much in terms of bringing a new policy or a new law that addresses the crisis of migrant labourers as they had promised last year.
Meanwhile, there is no data on how many contractual workers have returned to Uttar Pradesh during the second wave of the pandemic. As per data collected by the UP government in 2020, more than 21 lakh migrant labourers had returned to Uttar Pradesh from different parts of the country in over 1,500 special trains.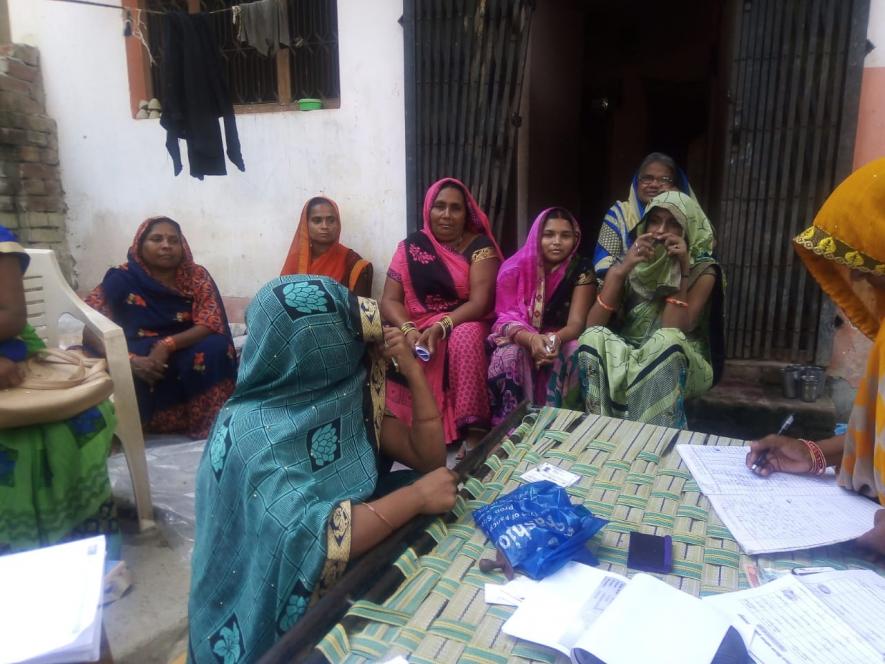 While union leaders allege otherwise, Yogesh Kumar, Additional Commissioner, MGNREGA in UP said that the number of labourers working daily under MGNREGA has increased from 2.49 lakh to 14.89 lakh within a month. With the significant increase in demand for work, efforts have been made to connect the villagers with employment at the government and administration levels. Along with MGNREGA, the focus is on speeding up the construction of roads, bridges, drains, etc. in rural areas and the state is providing maximum employment. 
Kumar said, "Continuous efforts are being made to provide employment to the workers under MGNREGA in the state. After the pace of the second wave slowed down in the rural areas, a large number of migrants workers have stayed in villages, who are in search of work. The migrants are joining MGNREGA to meet their immediate needs in these testing times. Therefore, the department has increased the work under schemes related to water conservation along with PM and CM housing under MGNREGA. Around 10 crore saplings are to be planted in rural areas under MGNREGA. Besides, digging pits and beautification of ponds are also being done."
Amid this, a scam has been unearthed related to MGNREGA in Maharajganj district. As per reports, MGNREGA and Forest Department personnel together made payments of about Rs 25.87 lakh "fraudulently" without doing any work on a pond.  After which, on the instructions of the District Magistrate, a case has been registered against many employees including the retired SDO of the Forest Department.
According to the reports, in the year 2018-19, the work of beautification of a pond was done by the gram panchayat in Tola Bariarwa of Paratawal block, but villagers protested regarding the quality of pond and the work was stopped. Meanwhile, payment from the block was also kept on hold, which was later fraudulently transferred.
Get the latest reports & analysis with people's perspective on Protests, movements & deep analytical videos, discussions of the current affairs in your Telegram app. Subscribe to NewsClick's Telegram channel & get Real-Time updates on stories, as they get published on our website.
Subscribe Newsclick On Telegram