Amid COVID-19, Volunteers Win Hearts with Their Acts of Kindness in Kashmir
While Afaq has dedicated himself to saving precious lives, a group of anonymous volunteers have joined hands to help the families of COVID-19 victims to bid respectful adieu to their kin by making funeral arrangements.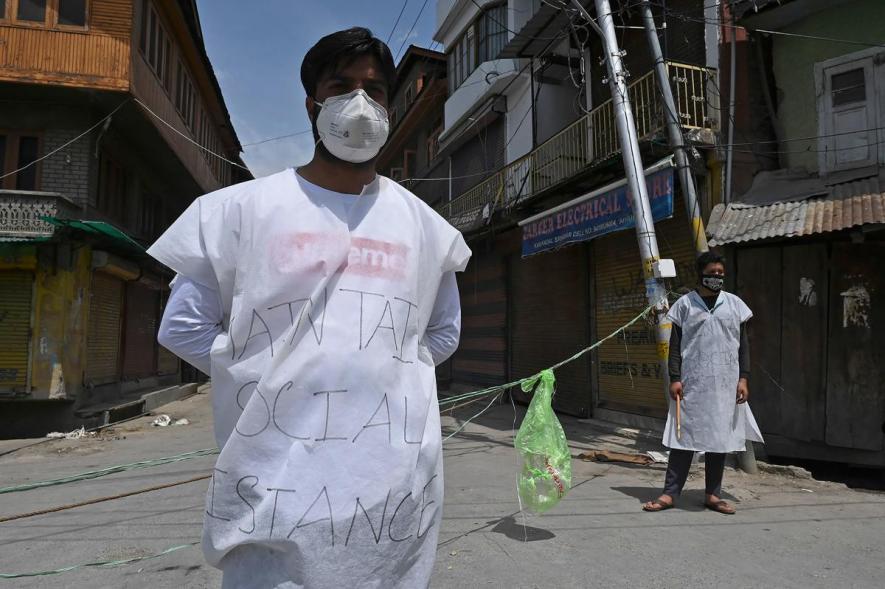 While the country continues to battle with COVID-19 pandemic, volunteers in Kashmir are going the extra mile by setting up grassroots community groups or working alone to lend a helping hand to those in need.
Thirty-six years old Afaq Rashheed, a cancer patient, is busy arranging the medicine inside his home in Srinagar's Batamaloo area. In a short while, the medicine will be dispatched to several needy patients across the Valley who are unable to afford during this pandemic. He said, "I suffered a lot to fight cancer, sold my wife's jewellery and took a loan. The pandemic has worsened the situation for cancer survivors and I was sharing their burden in every possible way."
Although he comes under the high-risk category of contracting the disease, it has not deterred him from helping people. "I have been fighting cancer for the last four years.I cannot sit at home and wait for my death. I want to inspire other survivors," he said.
Apart from providing medicine to needy, he has been saving lives by donating blood to accident victims, pregnant women, and even dialysis patients. "Everyone is scared to visit the hospital these days for the fear of getting the virus. So, I decided to save lives by donating blood along with my volunteers," he said.
He now has a team of over 150 members who remain on their toes for any eventuality. "Every member has donated blood at least once in the last three months. I receive calls and SMS on a daily basis. I am happy to serve people," he said.
Anonymous volunteers Make Funeral Arrangements for COVID-19 Victims
While Afaq has dedicated himself to saving precious lives, a group of anonymous volunteers have joined hands to help the families of COVID-19 victims to bid respectful adieu to their kin by making funeral arrangements.
Ashfaq, 32, who founded this group, is the only known face of this group. Everyone else is working with secrecy to avoid a backlash from the community or family. He said that he has formed the group to remove the stigma regarding the body of the victims. "People still believe the dead can spread the infection while WHO has clearly said that a body cannot spread the virus. But people still disrespect the bodies out of the fear," he said.
He runs a departmental store in Srinagar's Bemina area and uses all the earnings for the cause. "Whatever I earn, I use it to meet the expenses of the group. I even prepare PPEs kits myself," he added.
He started the group after witnessing the treatment of a COVID-19 victim in his locality. "Apart from the medical team, no one was there to bury him. Even his family members were looking from a distance," he said. He immediately rushed to his shop and grabbed some PPE suits and handed them over to the family members. "The family members wore the suits and participated in the funeral. The family thanked me afterward with teary eyes. I felt immensely satisfied," he said. That night he could not sleep as the scenes of the victim being buried in an empty corner of the graveyard kept him awake. "Why was he not buried near other graves? Did they fear for their dead as well? This disturbed me and I started this (group)," he said.
The members of his group have participated in the funerals of all the victims who have died in Srinagar. "Normally the family members are under quarantine and unable to participate. We become their families. We are doing this for humanity, let everyone come together in these dark times," he said.
Kashmir Worst Affected Division
Jammu and Kashmir on Monday, June 22, reported 132 fresh COVID-19 cases and three deaths in the last 24 hours, taking the total tally to 6,088, according to data released by the government.Out of the newly reported cases, ten are from Jammu while 122 are from Kashmir division, the report said.
Of the two divisions, Kashmir has been worst affected by the pandemic with around 80% (1,928 out of 2,472) of the total positive cases reported from the region. Out of total 85 deaths that the union territory witnessed due to COVID 19, 75 have been reported from the valley.
Although the administration has partially opened the markets and public transport in Srinagar, the upward trend in the number of positive cases only suggests that things are only going get worse. People belonging to lower income groups will once again bear the brunt.
The effect of the lockdown on women has also been worse.
Irfana Zargar, 25, rose up to the occasion and decided to distribute sanitary pads among the needy out of her own pocket. So far, she said, she has distributed nearly 5,000 sanitary pads in the last three months in and around Srinagar.
However, in the absence of ample public transport facilities, she is facing a lot of difficulties in reaching out to the needy. "In the initial days, it was very difficult to venture out without proper permission as all the routes were sealed. I somehow managed," she said.
She added that she resorted to social media for outreach and majority of the requests come through these platforms. "I received several requests from my locality and surrounding areas. After receiving the request, I would drop the napkin at their doorsteps myself," she said.
Majority of the women who approached her were single mothers, widows and handicapped women who had a meagre source of income. "Their financial problems doubled due to the pandemic as all their source of income stopped," she said. Not only females approached her, some males too asked for help. "Some 2,000 males approached me. Some men visited my home to get pads for their family members," she said.
She is an employee of Srinagar Municipal Corporation and buys the sanitary pads out of her own pocket, she said, adding, "Every month I start buying new pads after receiving the salary which is my only source of income. I am doing this for my father who left me three years back."
Contractors Come Together to Help Now Jobless Transporters
Kashmir has witnessed two back-to-back lockdowns in the last nine months and that has had devastating effects on the lives of transporters in the Valley and the pandemic has left them jobless. Some people have formed community groups to help them. Farooq Ahmad, a contractor by profession, has brought together a group of around 30-40 contractors and other businessmen in Srinagar to identify needy transporters including drivers and conductors in their locality. Talking about his initiative, Ahmad said, "We have identified around 500 families who were dependent on the transport sector and have been providing them financial assistance for the past two months. We do not want anyone to die due to hunger."
"Although some a semblance of normality has returned, the public buses continue to remain off the roads. No one is thinking about them, so we decided to come forward and help them. We want others to imitate us as such people are in every community. Let us fight this demon of pandemic together," he finally added.
Get the latest reports & analysis with people's perspective on Protests, movements & deep analytical videos, discussions of the current affairs in your Telegram app. Subscribe to NewsClick's Telegram channel & get Real-Time updates on stories, as they get published on our website.
Subscribe Newsclick On Telegram