COVID-19: Amid Mass Funerals, Shortage of Beds, Gujarat Continues to Under-Report Cases and Deaths
District-level data of cases and deaths from primary health centres, crematoria and mortuary vans don't match those from district authorities and state health department.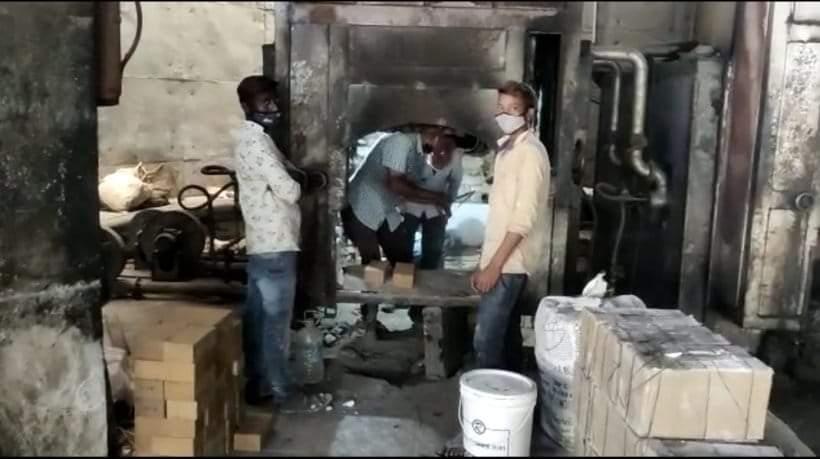 In Zarpara, a village in Mundra, Kutch, three people had tested COVID positive on April 23 this year, according to the data of the primary health centre. The same day's list prepared by the district authority, the total number of COVID positive cases for Mundra taluka was shown as two.
Naran Gadhvi, a farmer and resident of Zarpara village said he, his father and son tested COVID positive. But, as per district authority data, there were zero new cases on April 26 in Mundra taluka.
"My father tested positive on April 23, my son on April 26. However, district authorities are not taking the cases of villages into account. By April 27, there were 10 COVID positive cases in my village, the day I too tested positive for COVID-19," Gadhvi told NewsClick.
On April 27, the Gujarat High Court reprimanded the state government while hearing a PIL taking a suo motu cognizance of the COVID-19 situation in Gujarat (The Gujarat CJI in early April this year had directed the HC to register a PIL on the COVID situation in the state based on media reports).
"Your affidavit doesn't give the real picture of ground realities, it rather paints a rosy picture," the HC told the Bharatiya Janata Party-led Gujarat Government, headed by Vijay Rupani.  
Data Mismatch
Noticeably, the data from hearse vans or shav vahini run by the Fire and Emergency Services under the four major civic bodies don't match the number of deaths being accounted by the civic bodies. Shav Vahinis in four major municipal corporations – Ahmedabad, Surat, Vadodara and Rajkot -- accounted for 4,761 more bodies from 2020 (onset of the pandemic) till March this year, than between 2019-2020. This year the Fire and Emergency Services transported 55,603 bodies compared with 50,842 in 2019-2020.
In addition, multiple private mortuary vans run by various NGOs and organisations that ferried bodies from both government and private hospitals to crematoria and burial grounds remain unaccounted so far.
In Surat, the Fire and Emergency Services ferried 2,104 more bodies till March this year, than in 2019-2020 in their 20 shav vahini vans. However, as per Surat Municipal Corporation, 888 people died in the city till March 31 this year.
On April 16, as many as 78 persons had died in the state due to COVID-19, as per state health data. However, as per reports in local media organisations, on the same day at least 689 bodies were cremated or buried in just Ahmedabad, Surat, Vadodara, Rajkot, Bhavnagar and Gandhinagar following COVID-19 protocol.
On May 5,  a total of 12 obituaries were published in a local Gujarati daily from Kheda district of people who had succumbed to COVID-19, while state health department data claimed that only two deaths were related to COVID-19 in Kheda that day.
On the same day, 141 obituaries from across the state were published in just two major Gujarati daily newspapers, while state health department data recorded 133 deaths in the state on May 5.
Mass Funerals, Filled up Burial Sites
A make-shift open cremation ground was set up by the Vadodara district administration in three villages for cremating bodies of COVID-19-related deaths in the last week of April. This is in addition to the crematoria in the city that is managed by the city civic body.
Noticeably, the Vadodara Municipal Corporation has also set up additional wooden pyres in lesser used crematoria in Kalali and Jambuva in the city outskirts since mid-April.
In Ahmedabad, as Christian burial grounds filled up, the Catholic Diocese of Ahmedabad asked families to consider cremating their kin dying of COVID-19.
In Surat, since the beginning of the second wave of the pandemic in March this year, the two major crematoria have witnessed bodies lined up and waiting at least 8 to 10 hours. After the chimney of the Kurukshetra crematorium bent due to overheating and continuous use and gas furnace of Ashwini Kumar crematorium began to melt, a crematorium that had been closed for 15 years had to be reopened. Locals claim, at least 100 bodies are being cremated daily in the open at the old crematorium, which doesn't have modern facilities.
Hospitals Running out of Beds, Oxygen
On May 1, GK General Hospital, run by the Adani Foundation, the only major hospital in Kutch district, declared it had run out of beds with oxygen facility for COVID patients and closed its doors temporarily to new admissions.
In last week of April, in an affidavit submitted to the High Court, during the hearing of the suo motu PIL on COVID situation in the state, the Gujarat government admitted that there was shortage of beds and manpower. The government  informed the court that there were 52,036 patients on oxygen support across the state and that oxygen demand had risen from 58 tonnes on March 15, 2021 to 1,000 tonnes on April 24, 2021.
On April 27, representatives of the Indian Medical Association (IMA) of Surat met the district collector and claimed that at least 400 hospitals in the city, with about 4,000 patients, would have to start discharging patients if oxygen supply was not restored.
Around the same time, SSG Hospital in Vadodara, the biggest COVID facility in the city, had to move patients to other hospitals owing to shortage of medical oxygen. HCG, one of the largest private COVID facilities in Ahmedabad, also went into panic in the last week of April, with just two hours of oxygen left for patients. The oxygen was arranged at 3 a.m at night from a hospital run by the Ahmedabad Municipal Corporation.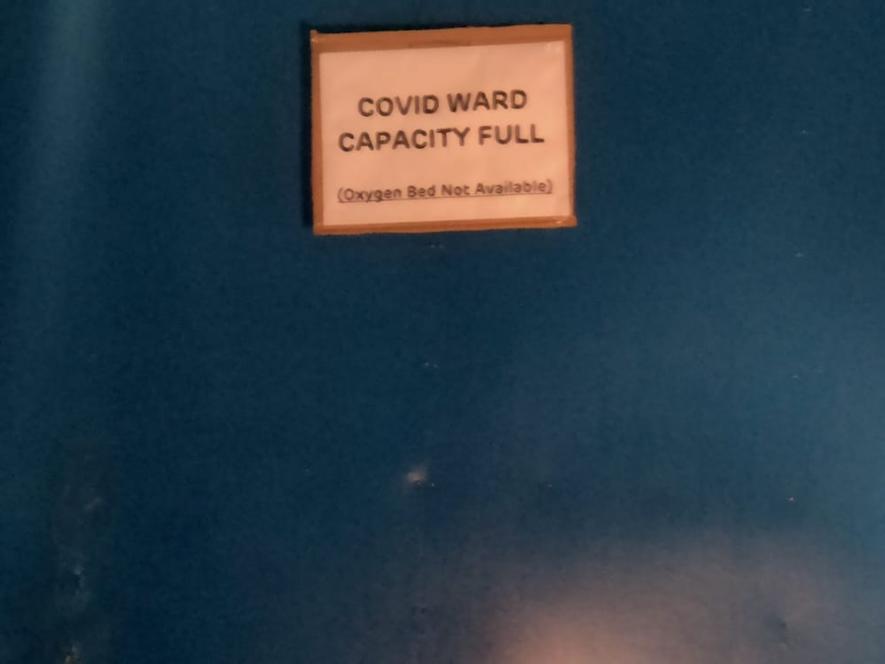 On April 24, two hospitals – Ameena Khatun in Ahmedabad and Bhagyodaya in Kadi, Mehsana district, put on hold new admissions till they restocked oxygen.
Owing to shortage of beds, the wait to get admitted in the 1,200-bed COVID facility in Ahmedabad Civil Hospital was 7 to 8 hours through the last week of April, while the waiting time for 108 GVK EMRI ambulances was 36 to 48 hours.
Get the latest reports & analysis with people's perspective on Protests, movements & deep analytical videos, discussions of the current affairs in your Telegram app. Subscribe to NewsClick's Telegram channel & get Real-Time updates on stories, as they get published on our website.
Subscribe Newsclick On Telegram